Smoked Salmon Charcuterie Board
I started planning for my meat-free Shavuot Holiday meals and wanted to make something totally different from my usual, but still delicious, traditional dairy foods. Our family really likes lox and bagels, so I thought what if I found some fish shaped cutting boards and used those to make my very first charcuterie board? And so…the Smoked Salmon Charcuterie Board concept was born.
Mocking the mother is a very important step to preparing the Smoked Salmon Charcuterie Board
It's hard to admit, but I've never made a charcuterie board. It's very trendy now to make them, and people even give classes. So, when my very creative College Senior came home I asked for help putting together the concept.
I was mocked.
Shocking.
It turns out that it's not a char-cut-erie board but pronounced char-cute-erie board and the ch is pronounced "sh" not "ch".
So sue me.
Anyway, said college age child did help put together the concept along with some very beautiful examples I found online. Here is one I found from @kalemaybe that really inspired me. I loved how colorful it was as well as how many fresh veggies were on the board.
But…I wanted to shape it like a fish.
Fish Shaped Smoked Salmon Charcuterie Board
Maybe it's a little silly, but I was obsessed with finding a fish shaped platter for the Smoked Salmon Charcuterie Board. I spent quite a bit (read: ridiculous amount) of time online scouring different sites for the perfect board. I ended up ordering two so that I could do a trial on one and a final on the other.
In the end I ended up making two different ones that I loved.
The blue band around the fish also gave the board a pop of color that I thought was particularly lovely.
What goes on a Smoked Salmon Charcuterie Board?
Smoked Salmon, Veggies, Cheese, Crackers.
Last week I was at the National Restaurant Association Show and found the Acme Fish Company booth. They had a brand new smoked salmon that has Togarashi spice crusted on it. Togarashi spice was very popular at the show, so if you haven't heard of it get ready to see it in a lot of places.
Factoid moment from the Acme website:
Inspired by the Japanese seasoning shichimi togarashi, meaning "seven-flavor chili pepper", our Smokehouse Exclusive Togarashi Smoked Salmon is a multifaceted flavor experience! Lightly spicy, with a tang of citrus and ginger, and rounded out with umami notes that hint of seaweed, this delightfully complex spice complements our delicate smoked salmon.
Acme Smoked Fish goes back to 1906. Togarashi seasoning dates back, at least, to 17th century Tokyo (where it may, or may not, have been used on smoked salmon). Joined together, these two histories make up over half a millennium of fish enrichment. When you taste our Togarashi Seasoned Smoked Salmon, you'll pay homage to centuries of Japanese culinary tradition AND experience the cutting edge in smoked fish flavor innovation!
They were super nice and told me that if I come back at the end of the show they would give me a few products to use on my Smoked Salmon Charcuterie Board!!!
First was the Togarashi Smoked Salmon, second were smoked salmon pinwheels.
The only downside to the pinwheels is that they contain dairy cream cheese, so if you're dairy free or keep Cholov Yisroel you'd have to leave them off or make your own.
Putting the Smoked Salmon Charcuterie Board Together
As you know by now, any trip I take to a new grocery store I consider a super fun field trip. I went to the new(ish) Amazon Fresh store in a nearby suburb of hometown Chicago. It was my first time there and definitely an experience.
One of the cool things about the store is that you can actually leave without going through a checkout line.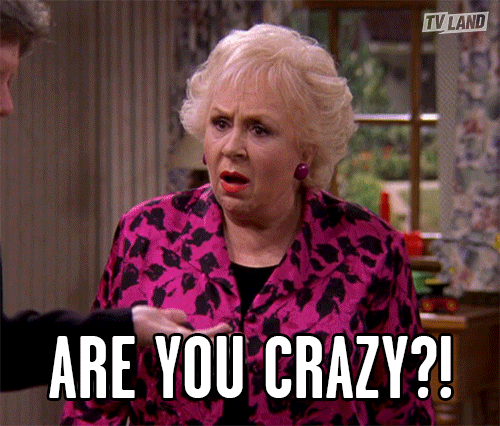 I just couldn't do it and ended up going to a checkout line anyway. They were super incredibly nice and even gave me a coupon for my order. Maybe next time I'll be more daring and pretend to steal my groceries even though I'm magically paying for them.
Anyway…back to the ingredients. The Amazon Fresh stores are where your Amazon Fresh orders are actually fulfilled. As a result there are a lot of interesting and fresh products on the shelves. I found a bunch of gluten free cracker brands that I hadn't seen before. I bought several packages of round and rectangular shaped crackers, not knowing which would work best on the board.
One of my favorites was the Mary's Gone Crackers Super Seed round crackers. They are crunchy and flavorful and the fats are from healthy nuts and seeds. The other one I ended up using was the Blue Diamond Almond crackers. I've had those before and they are always tasty.
Arranging the Boards
First I sliced all the produce using a mandoline. A mandoline slicer is incredibly helpful when assembling the board. You get thinly and uniformly sliced vegetables which makes the board more attractive. If you don't have one don't despair, just use a very sharp knife to thinly and evenly slice the produce.
With all the round shapes, I realized it would be super cool to line them up like fish scales, with the smoked salmon in the middle. I used the Acme Smoked Salmon Pinwheels as the tails, and the Good Planet plant based smoked gouda cheese wedges as the mouth.
Purple onions ended up being beautiful fanned fins, with sliced black olives as fish bubbles.
For the Second Smoked Salmon Charcuterie Board
I had found a beautiful round block of Miyoko's Creamery Classic Double Cream Chive Artisan Vegan Cheese and knew it had to go on the board. Due to the way I laid out the first board, I decided to make the round cheese the center showcase of the second board, and it worked well.
While the first Smoked Salmon Charcuterie Board used the Blue Diamond Almond Crackers, I used the Mary's Gone Crackers on the second. They were the perfect deliciously crunchy dark contrast the board needed.
Here's what you need to make the Smoked Salmon Charcuterie Board
As I, and Dear Husband, always say "You are the executive chef in your kitchen. If you'd like to use different ingredients than are listed in the below recipe, feel free to do so. I will not come into your kitchen to check (probably)." These ingredients are a guideline. Feel free to be creative with your Smoked Salmond Charcuterie Board, and make sure to upload your pictures and tag @koshereveryday when you do! Can't wait to see them!!!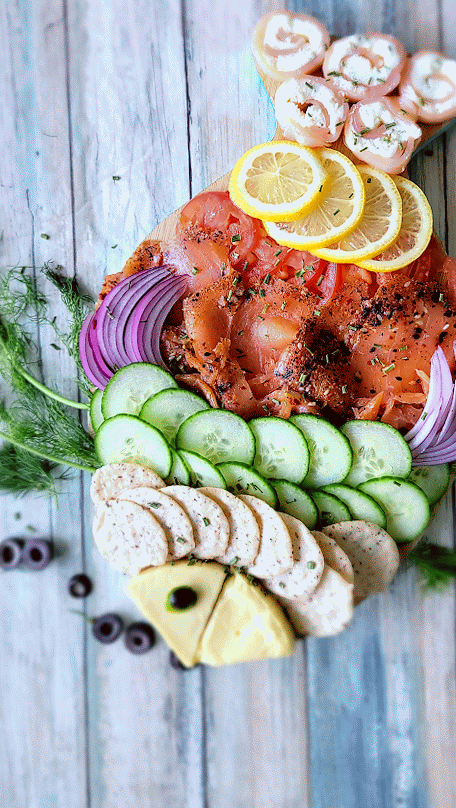 Print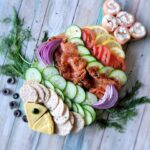 Smoked Salmon Charcuterie Board
Author:

Prep Time:

45 minutes

Total Time:

45 minutes

Yield:

2

Smoked Salmon Charcuterie Boards

1

x

Category:

Main Dish

Method:

Slicing

Cuisine:

Gluten Free

Diet:

Kosher
---
Description
This Smoked Salmon Charcuterie Board is made with premium Togarashi Smoked Salmon, gluten free super seed and almond crackers, loads of fresh veggies, and dairy-free cheese (except the pinwheels) this is a gorgeous Shavuot or brunch charcuterie board!
---
1

package round crunchy crackers

1

large English cucumber, thinly sliced

1

purple onion, cut into thin wedges and then fanned out

2

roma tomatoes, thinly sliced

2

lemons, thinly sliced

1

(2.25-ounce) sliced black olives

4

–

8

ounces

(Togarashi) smoked salmon

1

package (plant based) cheese wedges

1

(6.5-ounce) block (plant based) cream cheese, can be flavored
smoked salmon pinwheels (optional)
dill for garnish
---
Instructions
Assemble the board from tail to head to mimic scales.
Garnish with black olives for bubbles and the fish eye.
Add fresh dill to garnish.
Serve chilled.
---
---
Notes
You can adjust the ingredients according to your preferences.
If you don't have a fish shaped board, feel free to assemble the ingredients on a flat board.
Keywords: Charcuterie, Charcuterie Board, Smoked Salmon Charcuterie Board, Gluten Free, Shavuot, Nine Days
Recipe Card powered by
More Super Salmon and Fish Recipes
HERE'S SOMETHING NEW – THE KOSHER EVERYDAY AMAZON INFLUENCER STOREFRONT!
I'm excited to announce the launch of my brand, spankin' new, Amazon Influencer storefront. The purpose of this store is to share with you all of my favorite tools, ingredients and accessories that I use on Kosher Everyday. If there's something you'd like to see please let me know and I'll make sure to add it. I'm updating the storefront all the time.
I'd love to hear what you think!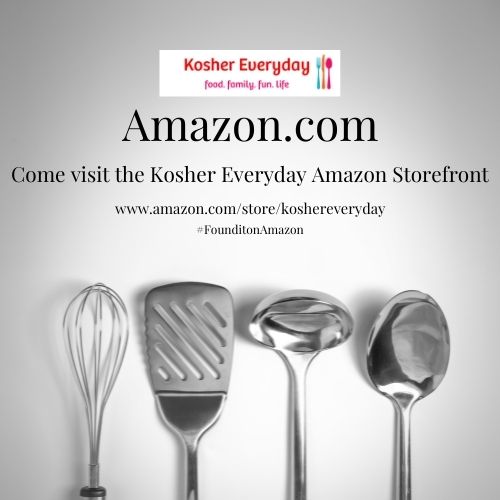 FOLLOW ME!
Don't forget to follow Kosher Everyday on Instagram @koshereveryday! and on Facebook You don't want to miss all the fun and interesting posts and reels that can be found nowhere else!
You can find reels showing how to make most of my recipes on Instagram!
Also, make sure to tag @koshereveryday when you make Kosher Everyday recipes! I LOVE to see your creations!!!
Please note that this post contains affiliate links. Thanks for your ongoing support!