This year at Kosherfest I had the privilege of meeting Levana Kirshenbaum. Dynamic, emphatic, and a true food expert, she was one of the expert panelists at the Kosherfest food panel session (I got to be part of the audience). I was immediately drawn to Levana – how could I not be…she's a passionate foodie! A successful restaurateur, Levana really knows food! I was able to speak with Levana after the presentation and was extremely impressed by how warm, welcoming and enthusiastic she was. I purchased her original (beta) copy of her latest cookbook, The Whole Foods Cookbook, and parted with a promise to keep in touch.
It turns out that many years ago, while living in New York as a cash-strapped engineering graduate student, I had the privilege of being taken to Levana's restaurant on a date. The food was amazing (the date…not so much – not dear husband so I guess it all worked out for the best) and I still remember how good the meal was after all these years. I was really looking forward to my new (beta version) cookbook, and was eagerly anticipating going through it. I found it a little hard to read, so when I saw online that Levana had re-done the book, I eagerly requested a copy. I love the new updated version!! Levana's new and improved The Whole Foods Cookbook is a gorgeous cookbook with a gajillion recipes. It's nearly 400 pages long! You can tell that this is truly one of Levana's life's works, written straight from the heart with love. You can hear Levana talking to you throughout the book. It's written as if she's sitting across the kitchen table from you, giving advice and encouragement while you cook.
As I stated in my last blog, I have been spending the time between Mincha and Maariv the past few weeks going through Levana's new release of The Whole Foods Cookbook. It's such an impressive work that I wanted to make sure that I was sufficiently diligent. The introduction is really long. To sum up Levana's philosophy: 1. Make everything from scratch with fresh, healthy ingredients. And… 2. Store bought products and mixes are insipid (Levana's word…she uses it twice!). That being said, the recipes are outstanding. Each recipe comes with multiple variations – so if you like a recipe, you can make it again…but a little differently. I liked so many recipes in the book that I had trouble deciding which ones to make and review. I had originally planned on writing this review last week but I wanted to make more recipes to write about! I also love the fact that each recipe indicates whether it is kosher for Passover or gluten free (great for the GFE – Gluten Free Eater!) and has a specific index in the back of the book for each.
YUM!!!
I ended up making three recipes from the book, Chicken and Mushrooms (how could I not…we lovemushrooms here in the Matten house!!), Herb Roasted Salmon Medallions, and Preserved Lemons. I made the chicken for Shabbat dinner last week. It was fantastic!!! It was amazingly easy to make and the taste was incredible. I loved that it was fresh, healthy, and only needed a few ingredients which I already had in the house. To quote Levana – YUM!! The reality is that Levana has around two dozen quick variations of the Chicken and Mushrooms recipe – Chicken and fill in the blank. Really – Chicken and (pick one): celery, potatoes, mushrooms, fennel, potatoes, swiss chard, sweet potatoes, carrots, turnips, plantains, tomatoes, olives, garlic, artichokes, corn….you get the idea. Levana also describes the benefit of each of the ingredients – I learned SO much.
How pretty is this?
(And delicious too!!!)
I made the Herb Roasted Salmon Medallions for dinner on Thursday night. I figured that with Shavuot quickly approaching, having another delicious fish recipe in my pocket was just good planning. I have started growing my summer herbs, so conveniently had basil, rosemary and parsley on hand. The salmon rolls were delicious! Fresh and very lemony, I was thrilled to have some leftover to eat for lunch Friday – and they were great cold. The idea of "butterflying" salmon (splitting it open to make a wider thinner piece of fish – just like you do with beef or chicken) was new to me, and it opened up a whole new way to make salmon. These would be great for a pretty and refreshing Shabbat or Yom Tov (think Shavuot!) appetizer.
I told you I had a lot of lemons!
With life being incredibly overwhelming and crazy lately, I haven't been doing my usual pantry and refrigerator inventory checking before doing my weekly shopping. As a result, I have somehow accumulated an incredibly large stock of lemons (really…"Oh look, lemons are on sale! Do I have lemons in the house? I don't think I do…I had better buy half a dozen to make sure…."). So, when going through Levana's book I came across a recipe for Preserved Lemons and a bunch of delicious sounding recipes using them, I knew I had found a partial solution to the lemons overtaking my house! Conveniently, my kids had just finished a jar of pickles so I had the perfect jar on hand. I didn't have enough sea salt, but I assumed that kosher salt would work just as well. It takes a while for the lemons to preserve, a few weeks, so I'll have to keep you posted. A jar of lemons in salt is definitely a conversation starter though!
The lemons preserving…
we'll see how they
turn out!!
All in all, Levana's book is packed with terrific (mostly) healthy recipes (I had to raise one eyebrow really high when I came across the hot chocolate mix with 3 cups of sugar….LOL!) I'm really looking forward to making some of the dressings, soups and desserts – they all look fabulous and I'm sure will taste delicious!! I highly recommend The Whole Foods Cookbook, it's a great way to add healthy, fast, dishes to your family's meals – and it's pretty to look at too!
You can find more information about Levana's book here: http://www.levanacooks.com/category/whole-foods-cookbook/
Print
Chicken and Mushrooms
---
16

pieces chicken with skin on

2 teaspoons

turmeric

2

pounds whole domestic or crimini mushrooms, the smaller the better

3 cups

water
---
Instructions
Place all the ingredients in a wide heavy pot.
Bring to a boil, then reduce the flame to medium and cook covered for about 1 hour.
Transfer the chicken pieces onto a platter.
If the sauce is not thick enough, reduce it on a high flame, uncovered, just a few minutes until it reaches the consistency of maple syrup.
Pour the sauce over the chicken.
Serve hot.
---
---
Recipe Card powered by
Print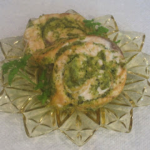 Herbed Roasted Salmon Medallions
---
3 tablespoons

olive oil
Juice and peel of 2 lemons

1

bunch flat parsley
Sea salt and freshly cracked pepper to taste
A handful of fresh herbs of your choice: thyme, basil, rosemary, tarragon, chervil, etc. (no more than 2 kinds), leaves only

6

cloves garlic

1

side salmon, skinless and boneless, about

4

pounds trimmed
---
Instructions
Place all but the last ingredient in a food processor and grind until you obtain a smooth paste.
Preheat oven to 425° F.
Cut he salmon into 10 strips, reserving the tail end for another use.
Cut each strip through their thickness, leaving them attached at one end.
You will get long thin strips.
Rub each strip with the paste, then roll tightly and secure with toothpicks.
You will get neat little cylinders (medallions).
Place the medallions in a pan just large enough to contain them.
Roast 20 minutes.
Serve warm or at room temperature.
Garnish with lemon slices and chopped herbs.
---
Recipe Card powered by
Preserved Lemons
---
8

to

10

large thick-skinned lemons
Coarse sea salt
---
Instructions
Wash and dry the lemons thoroughly.
Remove any green points attached to the ends of the lemons.
Cut them in quarters lengthwise.
Place 2 to 3 pieces in a clean wide-mouth quart-sized glass jar, top with a thick layer of salt.
Repeat
Lemon, salt, lemon, salt, and so on, all the way to the top, pressing down hard as you go to draw out the juice.
Don't worry if the juices don't appear immediately; they soon, will, with all that salt.
The lemons should be totally submerged by their own juice, and reach all the way to the top of the jar.
Top with an extra layer of salt to enur that no lemon skin is exposed (or it will mold).
You will need 2 jars.
Place the jars in a dark cool place (I keep mine under the sink).
They will be ready in two weeks, at which point they should be refrigerated.
To use, take out a quarter of lemon at a time.
Discard the pulp, rinse the skin thoroughly, and mince.
Add to fish and chicken dishes, bean soups, salads, and salsas.
Makes about 2 quarts.
After the two weeks of pickling at room temperature, store refrigerated.
---
Recipe Card powered by
This years Mother's Day Omelet!
It was delicious! Made with the
fresh herbs from our window sill!
Way to go girls! Thanks…I LOVE you!!!
KosherEveryday is one of the finalists for the
2011 CBS Most Valuable Blogger Awards!!