Break-Fast Fish is all about tradition
Almost my entire life my family has gone to the same shul, heard the same melodies during Yom Kippur Davening, and broken the Yom Kippur fast at my parent's house.
It's a long standing tradition. In our family tradition is incredibly important.
We still daven at the shul my grandparents davened at. I make a lot of the same recipes my grandmothers made. I feel there is importance to customs and continuity. They help define who and what we are.
Food is tradition
Every Pre Yom Kippur meal, was had at my parent's house. We always had the same meal: Round Challah, melon as an appetizer, super clear chicken soup with large carrot and celery pieces and Kreplach, and boiled chicken used to make the chicken soup (I always brought along ketchup).
After the fast we would reconvene at my parent's house for the break-fast meal. It nearly always consisted of round challah, borscht with potatoes and sour cream, cottage cheese with fruit (you could only have the cottage cheese if you had fruit with it – like canned pineapple), American cheese slices, ice cream with bananas, and our absolute favorite "Break-Fast" Fish.
Traditional Break-Fast Fish
The fish would be prepared before Yom Kippur (it's even better prepared in advance and reheated). We would break our fast on whatever was handy, but the real meal centered around the fish. There never seemed to be enough. Not because my Mother (KIH) didn't make enough, but because we ate so much of it.
The tradition continues…
In the past few years, after my Dear Father (a"h) and Mother (a"h) have passed away, I've taken over the preparations of Yom Tov foods and meals. The ability to carry on the practices of previous generations has beauty and special meaning.
Once again, this year I'll be making Kreplach, Chicken Soup, and "Break-Fast" Fish. Here are the recipes, I hope that they might become part of your family traditions too.
Here is a link to the article and recipe for Kreplach I wrote after my Father (a"h) passed away in 2012: Kreplach and Knishes…The Tradition Continues . I have found that this recipe also works well if you substitute a one to one gluten free flour for the Kreplach dough.
The Recipe for Break-Fast Fish
While we do eat this fish year round, it's a special dish that we have after fast days like Tisha B'Av (the ninth day of the Hebrew month of Av when the Jewish Temple in Jerusalem was destroyed), or after the Yom Kippur fast.
Here's the recipe.
Print
Traditional "Break-Fast" Fish
Author:

Prep Time:

20

Cook Time:

50

Total Time:

70 minutes

Category:

Fish

Method:

Baking

Cuisine:

Gluten Free

Diet:

Kosher
---
Description
After the fast we would always go to my parents' house for a break-fast meal consisting of round challot, sliced melon, borscht with potatoes and sour cream, and Break-Fast Fish. The fish was made in advance and was the highlight of the meal. Flavorful, melt-in-your mouth fish covered with rich sauce and aromatic sautéed vegetables. Even the picky eaters in the family couldn't resist Bubbie & Zaide's fish. It made the conclusion of fasting somehow better for all of us.
---
2

large onions, diced (around

3

–

4

cups)

3

large stalks celery, thinly sliced (around

2 cups

)

3

large carrots, diced (around

2

to

2

1⁄2 cups)

2

cloves garlic, crushed

11⁄2

lbs. white mushrooms, sliced

2

Tbsps. extra virgin olive oil

2

lbs. fish, sole, flounder, whiting or pollack, de-boned and skinless

1⁄2 cup

bread crumbs (can be Glu

ten

Free)

3 tablespoons

margarine
nonstick vegetable spray

1

jar (24 to 26 oz.) pasta sauce with mushrooms
---
Instructions
In a large skillet or wok, heat the oil over medium heat. Add the onions, celery, carrots and garlic. Sauté until vegetables are soft and the onions are slightly caramelized. Add the mushrooms and sauté until most of the liquid is evaporated and the mushrooms are soft. Set aside.
Spray a large baking sheet with nonstick spray. Place fish in a single layer on the baking sheet. Sprinkle bread crumbs over the fish. Dot the margarine over the fish. Broil on medium heat for 5 minutes until the margarine is melted and the bread crumbs are slightly browned.
Change the temperature of the oven to 350˚.
Spoon the pasta sauce over the broiled fish. Evenly top with the sautéed vegetables. Bake for 30 minutes. Serve hot.
---
Notes
I use the frozen fish portions that usually come in bags.
This fish is excellent re-heated.
If you do not wish to use onions or garlic in this recipe you can substitute two bunches of green onion and garlic oil for the garlic/olive oil.
Nutrition
Serving Size:
Calories:

219

Sugar:

9.4 g

Sodium:

835.8 mg

Fat:

6.5 g

Carbohydrates:

21.2 g

Protein:

19.7 g

Cholesterol:

52.7 mg
Keywords: Nine Days, Healthy Fish, Fillet of Sole, Fish with Vegetables
Recipe Card powered by
View this post on Instagram
More fabulous fish recipes
CHECK OUT THE KOSHER EVERYDAY AMAZON INFLUENCER STOREFRONT!
I'm excited to announce the launch of my brand, spankin' new, Amazon Influencer storefront. The purpose of this store is to share with you all of my favorite tools, ingredients and accessories that I use on Kosher Everyday. If there's something you'd like to see please let me know and I'll make sure to add it. I'm updating the storefront all the time.
I've put together a complete Gluten Free Challah Storefront with everything you need to make fabulous Gluten Free Challah!
Additionally there is a brand new Sukkot Storefront with fun and beautiful items to help enhance your holiday!
I'd love to hear what you think!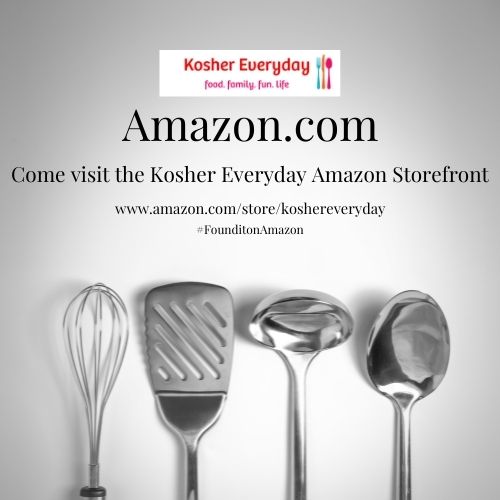 FOLLOW ME!
Don't forget to follow Kosher Everyday on Instagram @koshereveryday! and on Facebook You don't want to miss all the fun and interesting posts and reels that can be found nowhere else!
You can find reels showing how to make most of my recipes on Instagram!
Also, make sure to tag @koshereveryday when you make Kosher Everyday recipes! I LOVE to see your creations!!!
Please note that this post contains affiliate links. Thanks for your ongoing support!