"Parmesan" Chicken & Life's Analogies
I originally published "Parmesan" Chicken & Life's Analogies in October of 2017. What's sadly funny about this post is that when I go back to it, nothing has really changed. Life is still crazy, and I often say that I feel like I'm in the middle of a marathon that I haven't trained for. However, no matter how completely insane my life gets, I'm still cooking!
Updating "Parmesan" Chicken
This year I'm re-posting "Parmesan" Chicken with an updated recipe right before the Purim Holiday. One of the concepts behind the holiday is hidden miracles, and that things are not always as they seem. It seemed particularly fitting to update a seemingly "unkosher" kosher recipe specifically for Purim, as it's not what it seems as well!
What I changed in the "Parmesan" Chicken recipe
I didn't change a lot about the original recipe, just tweaked it. All the way back in 2017, I was still a GFE (Gluten Free Eater) and most of my recipes at the time were gluten optional.
Making the stuff that causes me pain optional
To go along with the whole "lifes analogies" section of the post, I'm still dodging body deforming orbs (see below). I have more health issues as time goes on and part of dealing with that is figuring out what foods just don't agree with me. I generally avoid garlic and onion, and as a result, I'm making those ingredients optional with great alternatives for them listed in the recipe instructions.
I also am adding an option to use some grated plant based parmesan in addition to the shredded to give a little boost of flavor to the recipe.
Finally, rather than 6 chicken cutlets cut into 12, I'm suggesting four thick or eight normal sized cutlets for the recipe. It's just a more reasonable alteration.
And now… a blast from the past: "Parmesan" Chicken 2017
Here's the original post from 2017 (plus some new pics!). As much as things change…they stay the same!
Lifes Analogies
How can I accurately describe my life? I have often compared my life to the Monster's University race, where Mike Wazowski and Sully are racing while being pelted with body deforming orbs. Life is a race with challenges constantly being thrown at you, and regardless you have to finish the race – even with body altering orb impediments.
Here's another description I recently shared with Dear Husband. My life is like a game of Chutes and Ladders. You plug along until you get to the top of the board, then unexpectedly you hit one of those mega long slides which sets you back, and you have to start all over from the beginning. Mind you there are also the huge ladders (hooray!). All the simchas and fantastic things happen too. Such a great analogy – right?
My lifes chutes…
SO, what's with all the drama? This happened…right after Rosh Hashanah. Sigh. No kickboxing for a while I guess….
And still I managed to make Dairy Free "Parmesan" Chicken
However…I did manage to make some incredibly yummy chicken even while impaired! To console myself over my miserable condition, I took a field trip to Whole Foods. Now for some people, that may not be their idea of fun, but me…I LOVE perusing the aisles of nearly any store looking for new and exciting products. I also wanted to see if there were any major changes since Amazon took over the store (not so many). While checking out the vegan cheese section, I came across Dairy Free Parmesan Cheese by one of my favorite companies Follow Your Heart!!!
Dreaming of non-kosher foods….
Now I'm the girl who dreams about cheeseburgers and pepperoni pizza, so finding a vegan parmesan made me extremely happy (ladder going up!). I experimented with my first batch using the chicken tenders from the chicken breasts I was preparing for another recipe. The "Parmesan" Chicken was a HIT! Everyone at the table raved about how excellent the "Chicken Parm" was. The BT's at the table, who had actually had real Parmesan Chicken in a previous lifetime, attested to the quality and tastiness of the dish. YAY!
Dairy Free "Parmesan" Chicken was such a huge success I made it again…and again…
I ended up making a whole new batch of "Parmesan" Chicken for Sukkot, for our "treif" meal (Where I did make Kosher versions of pepperoni pizza, meat lasagna and meat nachos). The chicken was very easy to make (even "hand"icapped as Dear Daughter quipped), and there were very few leftovers (happy and sad all at once!).
For those of you who shun mock dishes, it wasn't too "treif" tasting. Really.

And just in case you were worried…
And as a follow up, the hands are out of the braces BH!!! As for the rest of my life…I'll keep you posted…
So…what analogies would YOU use to describe your lives??? Leave your descriptions in the comment section…I'd love to hear what you come up with!
Here's the (updated) recipe for Dairy Free "Parmesan" Chicken
Print
"Parmesan" Chicken
Author:

Prep Time:

20 minutes

Fry time:

30 minutes

Cook Time:

30

Total Time:

80 minutes

Yield:

8

large cutlets

1

x

Category:

Poultry

Method:

Frying

Cuisine:

Gluten Free

Diet:

Kosher
---
Description
Dairy Free "Parmesan" Chicken is a super flavorful take on the original "non-kosher" version of this classic recipe. Made with plant based parmesan, Dairy Free "Parmesan" Chicken is a dream come true! Served with your favorite fresh fettucine, it's the perfect special family dinner, Shabbat or Holiday main too! So delicious and super simple to make!!
---
For the Egg Mixture
1

cup

liquid egg, or five large eggs, room temperature, lightly beaten

1 tablespoon

avocado/extra virgin olive oil, or 1 tablespoon garlic oil (omit the garlic powder)

1 tablespoon

onion powder (optional), or

1 teaspoon

asafoetida powder (optional)

1 tablespoon

garlic powder (omit if using garlic oil)

1 teaspoon

black pepper
For the Chicken
non-stick vegetable spray

8

chicken breast cutlets, or 4 thick (split in half to make

2

thin cutlets ecah totalling 8)

1

cup

corn or potato starch

3

cups

Panko crumbs (Gluten-Free)
avocado oil for frying

1

(28-ounce) jar Pasta Sauce with Mushrooms

8

ounces

shredded plant based "Parmesan" cheese

or 4 ounces shredded plant based "Parmesan" plus 1/4 cup grated plant based "Parmesan"

1

pound

fettuccine (Gluten-Free)
Fresh parsley for garnish
---
Instructions
Preheat oven to 350°F.
Cover a large baking sheet with foil and spray with non-stick vegetable spray. Set aside.
For the Egg Mixture
In a medium casserole (8×8-inches), whisk all the Egg Mixture ingredients together until completely blended.
Set aside
For the Chicken
Place the starch in a 9×13-inch pan and the panko crumbs in a separate 9×13-inch pan.
Thoroughly coat each piece of chicken with starch, then completely cover with egg mixture.
Place the coated cutlet in the Panko crumbs and press the crumbs into the chicken. Make sure that the chicken is completely coated with the Panko Crumbs.
Repeat with all the chicken breasts.
Heat frying oil in a large skillet over medium/high heat. Place several cutlets in the pan and fry on both sides until golden brown.
Set the fried cutlets on the prepared baking sheet. Repeat with the remaining cutlets.
Spoon the sauce over the cutlets, then sprinkle the "cheese" over the top.
Spray a large piece of foil with non-stick spray. Loosely cover the chicken, sprayed side down.
Bake for 15 minutes, then remove foil and bake for an additional 15-20 minutes until cheese has melted slightly.
While the chicken is baking, prepare fettuccine according to package directions.
Serve hot chicken over the fettuccine, spooning additional pan sauces over the pasta, garnishing with fresh parsley.
---
---
Notes
You can find vegan "Parmesan" at Whole Foods or ask you local grocer. If you can't find "Parmesan" another shredded vegan "cheese" will also work.
An easy way to make cleanup simple is to use disposable pans for the eggs, starch and parmesan.
This recipe makes 8 large "Parmesan" Chicken Cutlets. You can slice them and serve them that way or cut each breast in half (if they're not thick) after cooking.
If you're not into frying with oil, you can fry the chicken using your air fryer (according to your manufacturers directions).
Asafoetida powder is a powder that is often used as an onion powder substitute. It tastes and smells very similar to onion powder but…not onions. You use much less of it than you would onion powder as it's super concentrated.
Nutrition
Serving Size:

6

Calories:

839

Sugar:

10.5 g

Sodium:

1439.8 mg

Fat:

22.3 g

Saturated Fat:

8.4 g

Carbohydrates:

116.3 g

Fiber:

6.5 g

Protein:

40.6 g

Cholesterol:

182 mg
Keywords: Dairy Free, Parmesan Chicken, Kosher, Gluten Free, Plant based cheese
Recipe Card powered by
Dairy Free "Parmesan" Chicken instructions from 2017!!!
And Now For The Chicken!!!
More Marvelous Chicken Recipes
CHECK OUT THE KOSHER EVERYDAY AMAZON INFLUENCER STOREFRONT!
I'm excited to announce the launch of my brand, spankin' new, Amazon Influencer storefront. The purpose of this store is to share with you all of my favorite tools, ingredients and accessories that I use on Kosher Everyday. If there's something you'd like to see please let me know and I'll make sure to add it. I'm updating the storefront all the time.
I've put together a complete Gluten Free Challah Storefront with everything you need to make fabulous Gluten Free Challah!
Additionally there is a Small Appliance Storefront with many awesome small appliances that I recommend for your kitchen…even if you have a small space!
I'd love to hear what you think!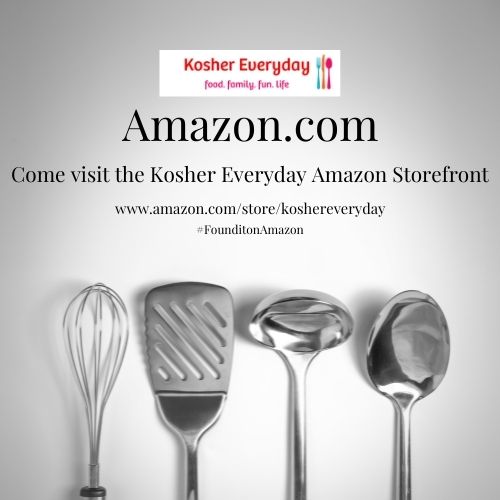 FOLLOW ME!
Don't forget to follow Kosher Everyday on Instagram @koshereveryday! and on Facebook You don't want to miss all the fun and interesting posts and reels that can be found nowhere else!
You can find reels showing how to make most of my recipes on Instagram!
Also, make sure to tag @koshereveryday when you make Kosher Everyday recipes! I LOVE to see your creations!!!
Please note that this post contains affiliate links. Thanks for your ongoing support!
Oh and because I love Hast Knives and have a media affiliate relationship with them you get a 15% discount for using the code KED15 when you order: