How Ranch Almond Chicken Came to be
I'm sure you're wondering how Ranch Almond Chicken came to be. Here's the excitingly dramatic story.
(Updated re-post from March 2021)
Around two months ago, Dear Husband and I took a trip to Dubuque, Iowa.
As a #Chicagogirl, I was looking for a place to go that was so quiet it was COVID-19-friendly, and within a few hours' drive. Basically, Dear Husband and I needed to get away from everything before I completely lost it.
I was very close to losing it.
Anyway, Dubuque, Iowa is in the middle of nowhere and is really quiet. Really, really quiet.
It was perfect.
One of my all time favorite things to do is to visit grocery stores in different cities to check out all the new and exciting Kosher products that I haven't found in my local stores. I've even gotten Dear Husband to be excited about it (or at least he pretends to be for my sake).
The local groceries in Dubuque are Hy-Vee and Piggly Wiggly in nearby Galena, IL.
Yes, there really is a store called Piggly Wiggly and I had to go in! We went in the middle of a snowstorm and bought a brush to clean the snow off my car. But I digress…
We went to the Hy-Vee, masked and sanitized, to get our groceries for the week. We found a huge selection of Walden Farms products. I was dancing in the aisle! Really.
As you know from previous posts, I'm trying to figure out my health situation and am very limited in what I can eat. Sugar is out. Carbs (except super healthy ones) are out. Joy is out – just kidding…sort of.
Walden Farms makes a bunch of dressings that are Sharon Matten friendly. We bought a chocolate sauce (awesome!) and ranch dressing.
I decided to make some chicken breasts incorporating the dressing and my diet-friendly almonds.
AWESOME!
And that's how Ranch Almond Chicken was born.
The Making of Ranch Almond Chicken
Since we're kind of limited in what we can eat for Passover, this recipe is perfect. While the dressing I'm using is no longer the Walden Farms variety (not Kosher for Passover), but a Kosher for Passover brand, the recipe still turns out great. I normally would add a teaspoon of ground mustard to the ground almond flour, but instead I modified the recipe to contain Kosher for Passover imitation mustard. The result just a good.
The triple coating of the chicken makes it crazy crispy and delicious, with the inside chicken moist and juicy. Totally worth the effort of all the dipping.
And aren't we supposed to dip not once, but twice on Passover?
Here's the Ranch Almond Chicken recipe
Print
Ranch Almond Chicken
Author:

Prep Time:

20 minutes

Cook Time:

40 minutes

Total Time:

60 minutes

Yield:

10

servings

1

x

Category:

Poultry

Method:

Frying

Cuisine:

Gluten Free

Diet:

Kosher
---
Description
This crunchy, juicy chicken will quickly become a family favorite!
---
8

large chicken breasts, tenders removed and used in the recipe (around

3

pounds)
For the almond coating
2

cup

almond flour

1

cup

tapioca or potato starch

2

cup

slivered almonds
For the plain tapioca coating
1

cup

tapioca or potato starch
For the egg mixture coating
2 tablespoon

avocado or safflower oil

3/4

cup

egg (around 4 large eggs)

1

cup

ranch dressing (Kosher for Passover)

1 tablespoon

mustard (imitation – Kosher for Passover)
For the finishing
Oil for frying – I prefer avocado or safflower oil
Baking sheet covered in foil and sprayed with nonstick spray or coated in oil.

1/2

cup

ranch dressing for drizzling (Kosher for Passover)
---
Instructions
For the almond coating
In a large casserole dish, combine the almond flour, tapioca starch and slivered almonds. Set aside.
For the egg mixture coating
In a large bowl, whisk together the avocado oil, eggs, ranch dressing and mustard. Set aside.
For the tapioca coating
Place the tapioca starch on a large plate or in a casserole dish. Set aside.
To make the chicken
Take a chicken breast and coat it in the plain tapioca flour. Shake of any excess flour.
Dip the floured chicken into the egg mixture until completely coated. Shake off any excess egg, however make sure there is no uncoated tapioca flour showing.
Carefully place the egged chicken into the almond flour mixture. Press the almond mixture onto both sides of the chicken. Repeat with the remaining chicken breasts and tenders.
For the finishing
Preheat oven to 350°F.
Heat the oil in a large skillet over medium/high heat.
Place coated chicken breasts in the oil and fry until browned on both sides. Place on the prepared baking sheet. Repeat with the remaining chicken.
If the chicken pieces are very large and need additional baking time: Place the baking sheet into the oven, uncovered, for 20 minutes until the chicken is completely cooked through.
Drizzle the Ranch Almond Chicken with the 1/2 cup ranch dressing just before serving.
---
Notes
If making this recipe not on Passover, feel free to substitute 1 teaspoon of ground mustard instead of the Kosher for Passover imitation mustard.
I also use the tenders in this recipe. If you include them then there are 10 servings.
Use whatever variety of Kosher for Passover imitation mustard you can find. While I'm not sure a "honey mustard" would work an imitation Dijon or similar variety would be great.
Nutrition
Serving Size:
Calories:

603

Sugar:

3.2 g

Sodium:

291.6 mg

Fat:

34 g

Saturated Fat:

3.7 g

Carbohydrates:

43.7 g

Fiber:

4.4 g

Protein:

17 g

Cholesterol:

90.6 mg
Keywords: Ranch Chicken, Almond Chicken, Chicken Recipe, Fried Chicken, Gluten Free, Chicken, Dairy Free, Passover, Pesach, Kosher for Passover
Recipe Card powered by
More Passover Recipes
Please let me know what your favorite Passover foods are. I'd love to hear from you!
I'm sure you're looking for Passover recipes…
Here are a ton! Click on the image!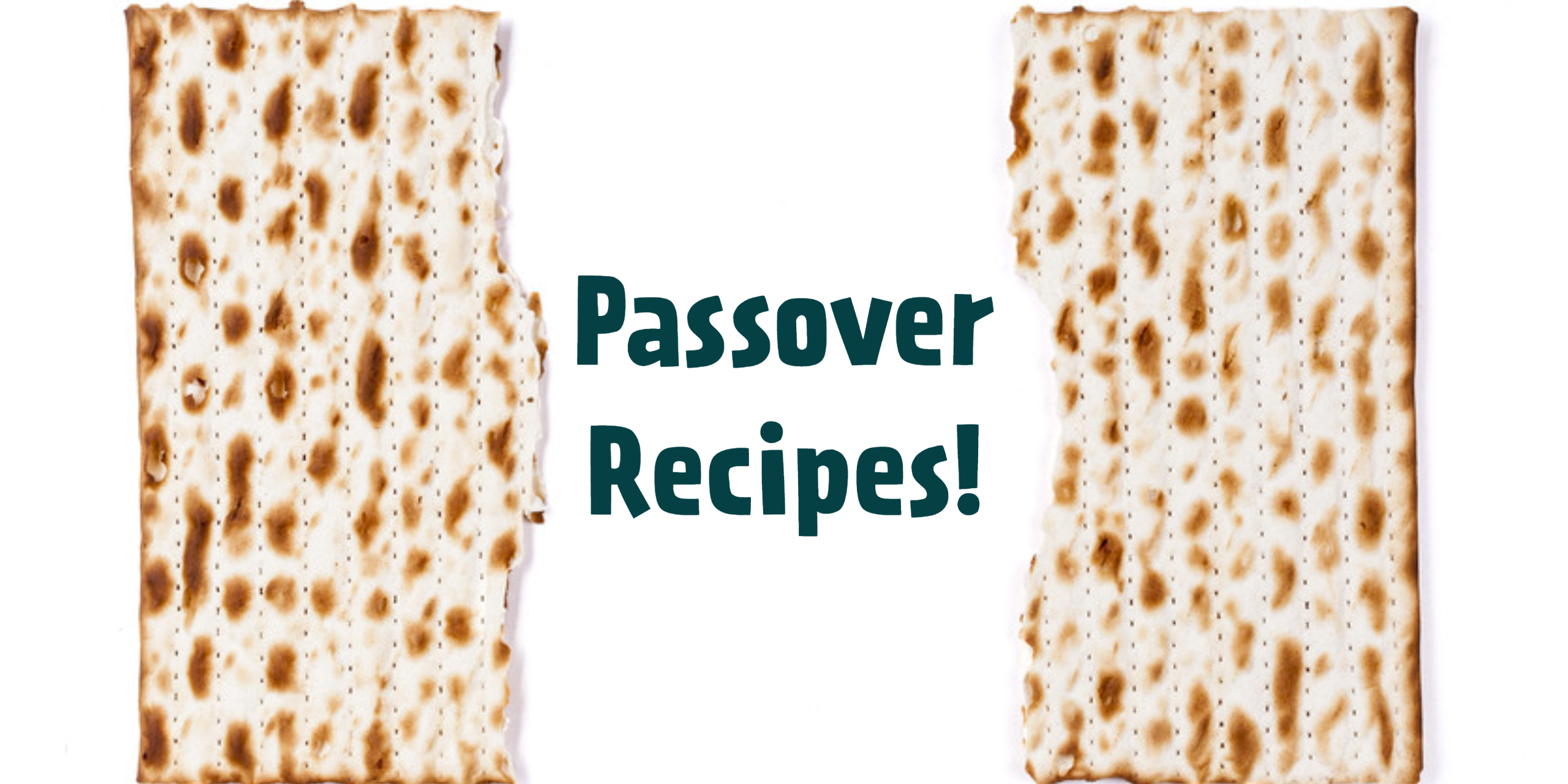 Shabbos Under Pressure means pressure free Passover!
FYI: I'm here to help make it way easier for you and reduce your pressure with my book "Shabbos Under Pressure". I've found that using my electric pressure cooker to prepare for Passover, makes the cooking way easier and more efficient. For example, instead of cooking a huge pot of chicken soup on the stove for three hours, taking up valuable space on my stovetop, I can make even better soup in just an hour/hour and a half in my Instant Pot. I've even put together a Shabbos Under Pressure Passover Recipe Guide to help you convert the recipes in the book to Passover friendly recipes. If you don't already have "Shabbos Under Pressure" now would be a great time to order it to ensure that you receive it with enough time to plan and cook your Passover meals.
You can order it here: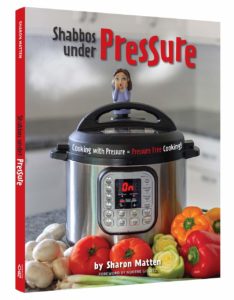 Here's the Passover Under Pressure – The Shabbos Under Pressure Passover Guide: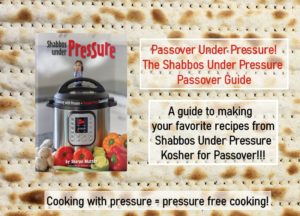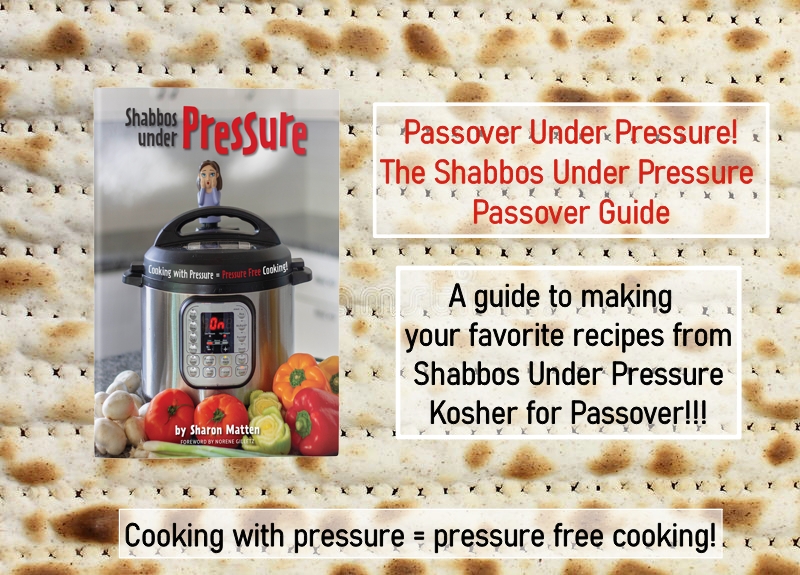 Make sure to follow Kosher Everyday on Facebook and Instagram so you don't miss the latest and greatest Passover recipes and fun from Kosher Everyday!
To help you in your search, here are a few links to optional Pareve, Kosher for Passover imitation Ranch Dressings:
Blanchard and Blanchard Ranch Dressing found at Walmart.com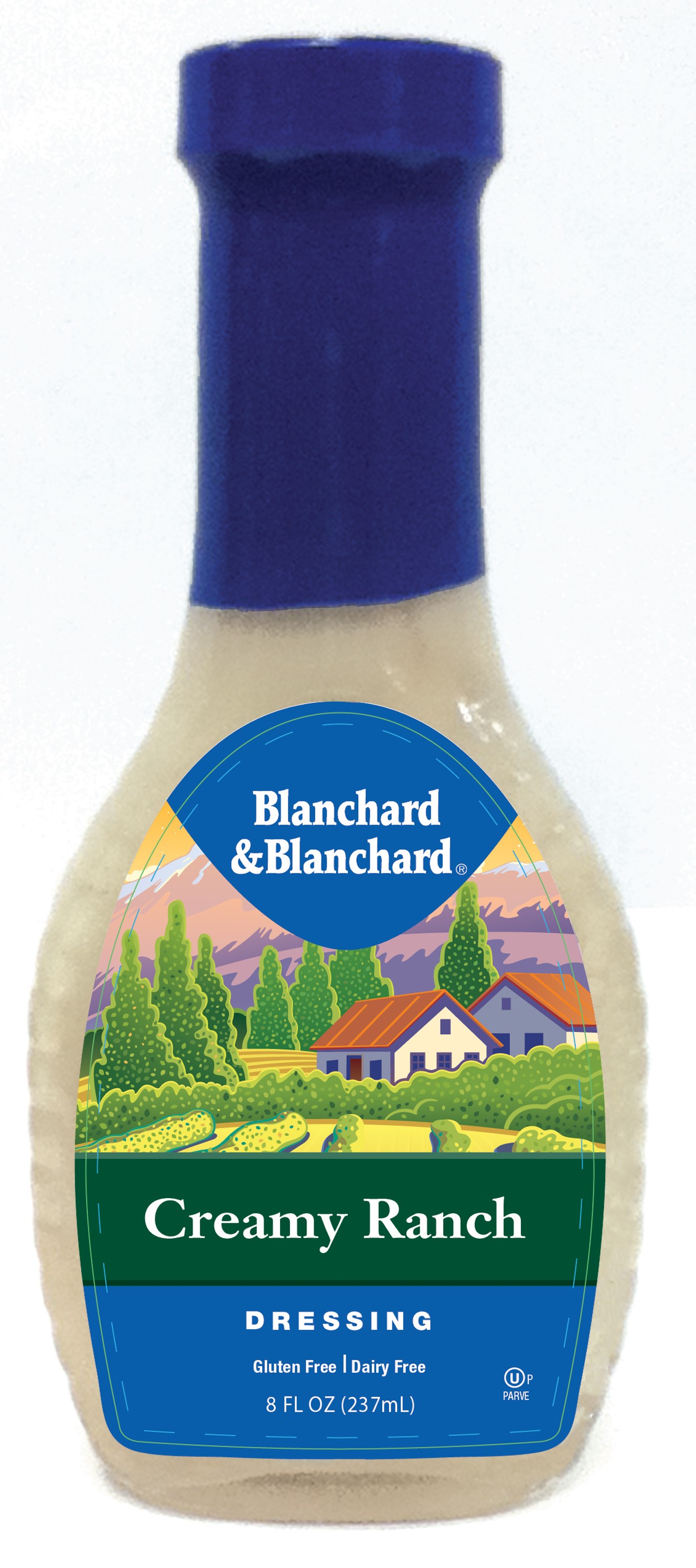 Haddar Ranch Dressing from Aviglatt.com
Tonelli Ranch Dressing from Kayco.com
Lieber Ranch Dressing from Joyspantry.com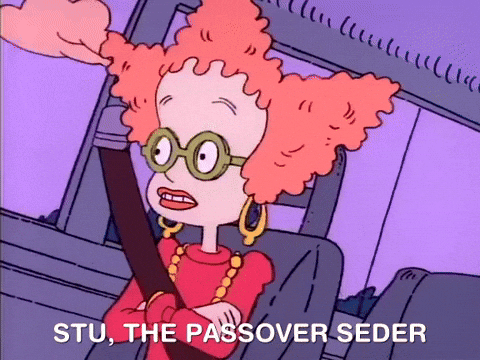 MAKE SURE TO CHECK OUT MY "I CAN'T BELIEVE THEY'RE PASSOVER BAGELS"!!
PASSOVER IDEA LIST ON AMAZON
I also put a Passover Idea List on Amazon.
These are item's I recommend to help make your Passover even more wonderful.
FOLLOW ME!
Don't forget to follow Kosher Everyday on Instagram @koshereveryday! and on Facebook You don't want to miss all the fun and interesting posts and reels that can be found nowhere else!
You can find reels showing how to make most of my recipes on Instagram!
Also, make sure to tag @koshereveryday when you make Kosher Everyday recipes! I LOVE to see your creations!!!
Please note that this post contains affiliate links. Thanks for your ongoing support!