Quinoa Almond Crusted Turkey Tenders
Quinoa Almond Crusted Turkey Tenders is one of my most surprising recipes to date. One again, our friend TikTok showed us that you can take cooked quinoa and coat chicken with it, fry it and it will come out crispy.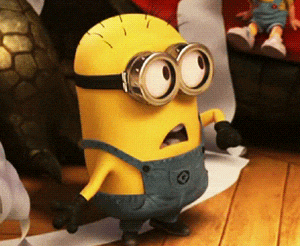 I know. It kind of defies logic.
Making Quinoa Almond Crusted Turkey Tenders
I decided to make this recipe for several reasons.
First, I'm trying to clean out my cabinets and I happened to have a lot of quinoa. Black and white.
Second, I went to Costco, where Kosher poultry is significantly cheaper than anywhere else. At the time, all they had were chicken thighs, monster drumsticks and turkey tenders.
I bought them all.
Using Quinoa in recipes
Quinoa is not a new ingredient for me. I've used it in salads, side dishes, and even have used the flour to make Quinoa Tortillas.
It would not have occured to me to use it cooked as a poultry (note the useage of poultry meant to include chicken and turkey!) coating. I probably would have come up with a batter that used quinoa flour to coat the chicken/turkey for an amazing fried chicken/turkey.
I still may.
Using different types of quinoa for Quinoa Almond Crusted Turkey Tenders
If you want to learn all about the plethora of health benefits of quinoa, you can read all about them on Simplyquinoa.com. Quinoa is a complete source of plant based protein, is high in fiber, vitamins and minerals, and is a complex carb. That's a lot to ask of any food!
White quinoa is light and fluffy with a mild flavor, while black quinoa has a crunchier, nuttier flavor. Red quinoa is a cross between the two.
If you buy a tri-colored quinoa it will most likely have all three, with a wonderful flavor profile.
Ultimately, I made my own blend of black and white the first time I made the recipe because it's what I was trying to use up. I think a combination of quinoa is best for this recipe, like a blend of black and white quinoa or a tri-colored. If you only have white quinoa you can use that as a last resort.
Using turkey tenders for Quinoa Almond Crusted Turkey Tenders
I originally went to Costco with the intention of purchasing chicken tenders/breasts to try the quinoa recipe.
They were out.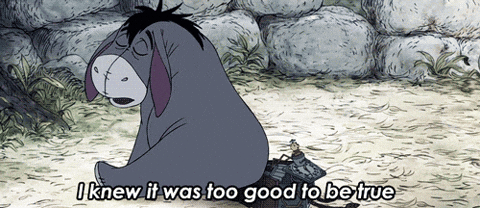 But…
They had turkey tenders instead.
I decided to try them.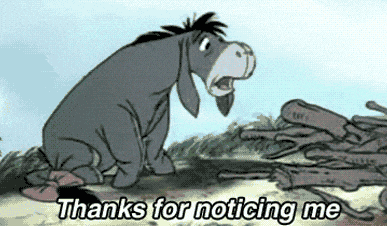 And…they were fantastic!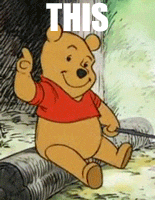 They were moist and flavorful and delicious! I'm not sure that chicken tenders would have been as…tender!
Adding a little kick to Quinoa Almond Crusted Turkey Tenders
Back to the whole kitchen cleaning experience.
One of the items I have in my fridge is Gochujong paste.
I know you're all shocked by that fact.
Given that I just published two terrific recipes containing Gochujong Paste it should come as no surprise.
I decided to toss some gochujang paste into the egg mixture for a little kick. I'd like to say it was a complete stroke of genius, but it was more like dumb luck.
For Passover I'm adding some sriracha sauce instead. You can also use chili powder or another of your favorite spicy condiments. Passover is a little more difficult so I say be a little more flexible. This is a recipe where any spiciness will work. Just make sure to add it to the egg mixture so the flavors are uniformly blended.
Adding a little extra crunch to Quinoa Almond Crusted Turkey Tenders
While the quinoa ends up being crunchy, I wanted to add a little extra crunchiness to the coating.
Since the black (and red) quinoa has a nuttiness about it (kind of like me 😉 ) I figured adding a nut like slivered almonds would not only be super tasty and crunchy, but would also be super pretty.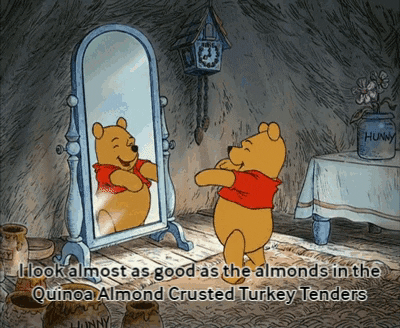 Wait… Quinoa Almond Crusted Turkey Tenders aren't actually fried????
Here's the biggest shocker of all.
The Quinoa Almond Crusted Turkey Tenders aren't actually fried!
They're baked!!!
I also used my favorite pans for baking crispy chicken. They are non-stick with ridges so they allow air to circulate and crisp the chicken/turkey tenders. I make sure to use a non-aerosal spray so the pans don't get gummy, and it makes cleaning the pans pretty simple.
I had originally bought mine at Aldi – the Crofton Oversized Grill Pan. But as you already know, things you find at Aldi are fleeting so here's something (affl) that I found on Amazon that's pretty similar.
They also make silicone baking mats with elevated "pyramids" that work great for tenders, you just need to find one that fits your pan.
Additionally, part of the secret to making the chicken/turkey crispy is adding a little bit of oil to the egg mixture and then spraying the outside of the chicken with non-arosol non-stick spray.
Here's the recipe for Quinoa Almond Crusted Turkey Tenders
This recipe is perfect for year round meals or for Passover. I love it for Passover because it's different than the typical roasted chicken or turkey that is frequently served. These are pretty large tenders, which is great because they're great as leftovers!
I'm adding a link below for tri-color quinoa, Kosher for Passover below. Please keep in mind that according to the OU Kosher certification, quinoa needs to have a Kosher for Passover symbol for the brands it specifies. PLEASE make sure to consult with your personal LOR to determine what works for you.
Print
Quinoa Almond Crusted Turkey Tenders
Author:

Prep Time:

30 minutes

Cook Time:

90 minutes

Total Time:

2 hours

Yield:

18

tenders

1

x

Category:

Main Dish

Method:

Baking

Cuisine:

Passover

Diet:

Kosher
---
Description
Quinoa Almond Crusted Turkey Tenders are crunchy and juicy, topped with healthy quinoa and protein packed almonds. The turkey stays super juicy inside while the baked turkey tenders are coated with a super crispy, addictive, slightly spicy quinoa and almond coating. I used black and white quina for extra nutty flavor. Your whole family will go insane for these surprisingly different turkey tenders!
---
For the Crust
2

cups

quinoa (1 cup white/1 cup black or 2 cups tri-color), thoroughly rinsed until water runs clear

4

cups

water

1 tablespoon

garlic oil or

1 tablespoon

oil + 1 minced garlic clove/1 teaspoon garlic powder

1 teaspoon

Kosher salt

1

cup

blanched slivered almonds
For the Egg Mixture
1

cup

egg (around 5 large), room temperature

2 tablespoons

extra virgin olive or avocado oil

1/4

cup

gochujang or sriracha sauce
For the Turkey Tenders
Nonstick spray or oil to grease pan

3

–

pounds

turkey tenders, each tender split into 2 long strips

1

cup

corn/potato starch
---
Instructions
For the Crust
Combine the quinoa, water, garlic oil and salt together in a large pot with a lid (6-8 quarts). Cover the quinoa, stir to blend, then bring the water to a boil over high heat.
Reduce the heat to low, then cook for 15 minutes until all the water is absorbed. Remove the quinoa from the heat. Leave covered for 5-10 minutes, then uncover and fluff with a fork.
Allow the quinoa to cool completely, then stir in the blanched almonds.
Transfer the quinoa to a 9×13-inch baking pan. Set aside.
For the Egg Mixture
In a large casserole dish or 9×9-inch pan, whisk together the egg, oil and sriracha sauce. Set aside.
For the Turkey Tenders
Preheat oven to 350°F.
Grease a large baking sheet (or two).
Place the starch in a 9×13-inch pan.
Place a turkey tender into the starch and thoroughly coat on both sides, gently shaking off any excess starch.
Transfer the tender to the egg mixture, turing to completely cover with egg, carefully shaking off a little of the excess egg.
Place the tender in the quinoa coating and press into the quinoa, turning to cover on both sides. Transfer onto the prepared baking sheet.
Repeat with the remaining turkey tenders.
Bake for 50-60 minutes until golden brown. Can be served hot or cold.
---
Equipment
---
Notes
Can't find tri-colored or colored quinoa (Kosher for Passover) you can use white quinoa with similar results.
If your family has nut allergies, simply leave out the almonds.
Kosher for Passover sriracha may not be available in your area so simply combine 2 teaspoons chili pepper flakes, 2 teaspoons maple syrup and 1 tablespoon garlic powder and add it to the eggs.
If you like your turkey tenders less/more spicy adjust the amount of gochujang/sriracha accordingly.
No garlic oil and don't tolerate garlic, leave the garlic out.
Chicken tenders can be substituted if you can't find turkey tenders in your area.
Nutrition
Serving Size:

1 tender

Calories:

237

Sugar:

0.9 g

Sodium:

382.8 mg

Fat:

9.4 g

Saturated Fat:

1.2 g

Carbohydrates:

15.9 g

Fiber:

2.6 g

Protein:

20.9 g

Cholesterol:

86.8 mg
Keywords: Quinoa Chicken, Quinoa Turkey, Kosher for Passover, Pesach, Gluten Free, Dairy Free
Recipe Card powered by
Here's How I made Quinoa Almond Crusted Turkey Tenders on Instagram
View this post on Instagram
More Quintessential Quinoa recipes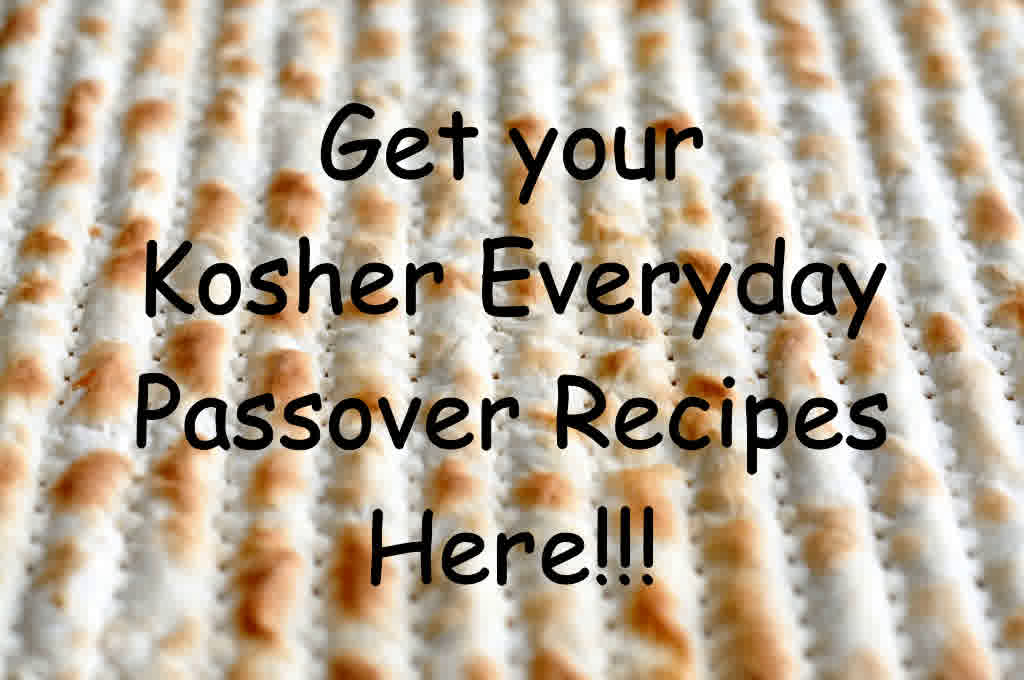 SHABBOS UNDER PRESSURE MEANS PRESSURE FREE PASSOVER!
FYI: I'm here to help make it way easier for you and reduce your pressure with my book "Shabbos Under Pressure". I've found that using my electric pressure cooker to prepare for Passover, makes the cooking way easier and more efficient. For example, instead of cooking a huge pot of chicken soup on the stove for three hours, taking up valuable space on my stovetop, I can make even better soup in just an hour/hour and a half in my Instant Pot. I've even put together a Shabbos Under Pressure Passover Recipe Guide to help you convert the recipes in the book to Passover friendly recipes. If you don't already have "Shabbos Under Pressure" now would be a great time to order it to ensure that you receive it with enough time to plan and cook your Passover meals.
You can order it here: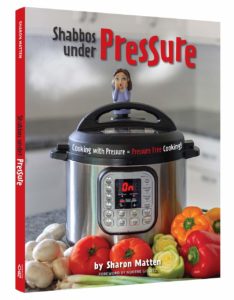 Here's the Passover Under Pressure – The Shabbos Under Pressure Passover Guide: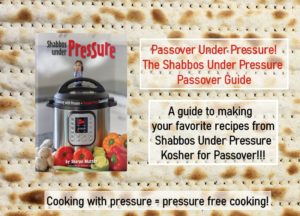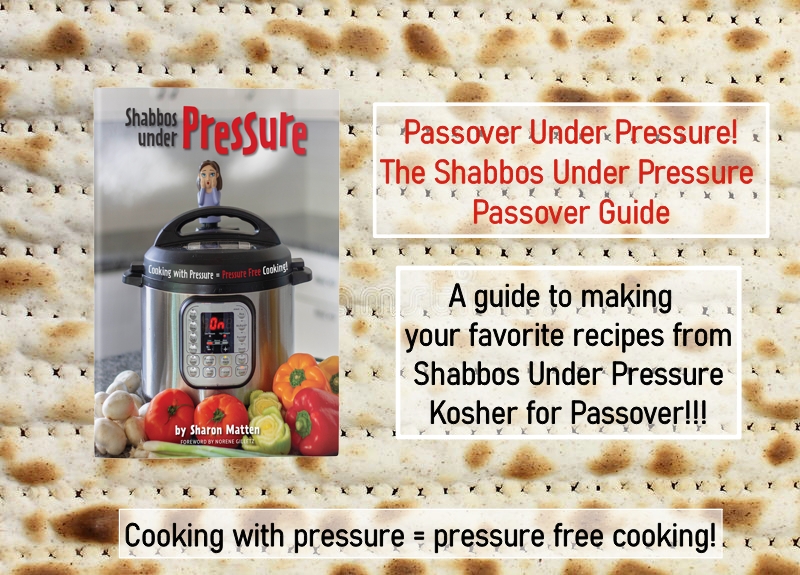 MAKE SURE TO CHECK OUT MY "I CAN'T BELIEVE THEY'RE PASSOVER BAGELS"!!
PASSOVER IDEA LIST ON AMAZON
I also put a Passover Idea List on Amazon.
These are item's I recommend to help make your Passover even more wonderful.