The Kreplach Family Tradition – with "six-sigma" quality
My Dad (z"l) always made the kreplach for Yom Kippur. Under my Mother's (z"l) watchful eye he would make the kreplach using my Bubbies' recipe with the precision of an engineer. We always laughed that he actually measured the kreplach dough squares with a ruler to ensure that each one was exactly the same as all the rest…we had the only "six sigma" quality kreplach anywhere.
For those of you that don't know, kreplach are traditional meat filled "pasta" triangles. They're traditionally eaten right before the Yom Kippur fast, as well as other Jewish holidays like Rosh Hashanah, on Hoshana Rabbah and Simchat Torah. Some people even fry them for Chanukah when there is a tradition of eating foods fried in oil.
(Note: this post was originally posted in 2012 right after my father passed away. Sadly my mother has since passed away as well, but the traditions continue with love in my heart for both of them.)
My parents had a medieval looking grinder that belonged to my Bubbie (z"l). They would attach with the grinder's clamps to a folding chair.
While I was able to "observe" the process when I was younger and still living at home, in recent years when I would try to come over to make the kreplach with my Dad somehow they were always done by the time I got there. We think that my Dad would actually get up before minyan3 to make them and was done making them before 6:45 AM!
The Kreplach tradition continues…
This year I intended to carry on my Dad's tradition of making the kreplach. As hard as it would be to make them instead of my Dad, I had hoped to make them with my Mom, using my Bubbies' recipe. Sadly, Mom's in the hospital again and I ended up making them myself. Sigh. Before making them I asked my Mom for the recipe – I wanted to make sure that I was doing it right.
I knew where the grinder was and had permission from Mom to use it, and she told me that I had almost remembered the recipe correctly…I was missing the ginger.
I roasted the Chuck Roast with lots of onions and spices a few days in advance and when I was ready to make the kreplach the morning of Erev Yom Kippur, it was nice and chilled.
Putting tradition into practice
I made the kreplach dough in the food processor, and realized afterwards that if I really wanted to have made them the traditional way I should have made the dough by hand, oh well…I guess I blended "old school" with "new school".
I let the kreplach dough rest while making the filling. I hand diced two large onions ("old school") and browned them in some olive oil. I was almost about to pull out a folding chair to hook the grinder to, when I realized that there was a spot on my island that would work, and I clamped the grinder to my island.
I took around a pound and a half of the Chuck and cut it into large chunks that would fit into the grinder. Slowly and carefully, I put some meat and onions into the grinder, turned the crank, and watched in awe as the kreplach filling came out of the grinder. It was a beautiful thing.
I added a little bit of ground ginger, as per Mom's instructions, and the filling was ready to go. Sigh. In Dad's honor I pulled out my cutting board that has a ruler imprinted on it, and carefully rolled the dough until it was "kreplach thin".
I even pulled out a traditional ruler, and proceeded to painstakingly measure each kreplach square. In my Dad's defense, it occurred to me that if you really want to make sure that all the kreplach are the same size, there really is no other way to do it! (Maybe that's the engineer in me!!).
I filled and sealed the kreplach and cooked them in a pot of boiling water.
I was pretty psyched. I had done it!! Sigh. The only problem was that I had a lot of filling left over. In my zealousness to make the filling (and with the fun of using the nifty grinder) I made too much filling. I covered the rest of the filling with plastic wrap and stuck it in the fridge. I figured I could do something with it later.
And the Kreplach verdict is…
I was anxious and nervous as I brought my Mom some of my Yom Tov chicken soup and kreplach later that morning. Did I honor my Dad's memory, or were my kreplach a bust? I held my breath as my Mom slowly ate the hot chicken soup and bites of fresh kreplach. Tears rolled down my face as her eyes lit up and she exclaimed "These are really good!" Baruch Hashem4!!
And then there were knishes!
I then confessed to my Mom that in my enthusiasm I had made too much filling. "Oh, that happened to us all the time!" she confided. "My mother used to make knishes out of the rest of the filling!"
Fantastic!! I now had a plan. I went home, grabbed a knish dough recipe off the internet, and proceeded to make two dozen meat filed knishes for our pre-Yom Kippur seudah5.
The tradition continues…at my house…
Every year we always had the pre-Yom Kippur seudah at my parents' house. Although we had convinced them to come to us for nearly every other Shabbat and Yom Tov meal, Yom Kippur belonged to my parents.
Sadly, this year we had the seudah with my immediate family at my house. I was determined to uphold my parent's traditions even though things had changed. It was a huge comfort to have the kreplach and knishes that my Bubbie, Dad and Mom used to make. Sigh.
Mom's still in the hospital, and this morning I brought her some of the knishes that I had made. "Just like your Bubbies, she would have been proud!" she kvelled. I was glad.
May you all have a Happy and Healthy New Year.
Here's the recipe for Traditional Kreplach and Knishes
You can make the recipe for Kreplach and Knishes gluten free by using gluten free 1:1 flour. It works really well.
Print
For both Kreplach & Knishes (Filling)
Author:

Prep Time:

10 minutes

Cook Time:

20 minutes

Total Time:

30 min

Category:

Soup

Cuisine:

Jewish

Diet:

Kosher
---
Description
This savory, traditional kreplach filling has a secret ingredient – ginger that makes it extra special! Don't forget to caramelize and brown the onions for the most flavor.
---
1 1/2

pounds cooked Chuck Roast, cooled and cut into large cubes

2

large onions, diced

2 tablespoons

olive oil

1/4 teaspoon

ground dried ginger
---
Instructions
Heat oil in a large skillet.
Add the onions and cook over medium-high heat until onions are browned.
Set aside to cool.
Using a grinder of your choice, grind together the meat and onions.
Stir in the ginger until well combined.
---
---
Notes
I roasted the Chuck covered, covered with sliced onions, garlic powder, onion powder and paprika. Rule of thumb is 15 minutes per pound at 350° F.
Keywords: Kreplach, knish, filling, meat filling, Yom Kippur, Sukkot
Recipe Card powered by
Print
---
Description
These are my family's traditional kreplach. The recipe has been handed down for generations. I make them gluten free by substituting 1:1 gluten free flour for traditional flour.
---
2 cups

all-purpose flour (can be 1:

1

glu

ten

free)

2

large eggs

2 tablespoons

water
---
Instructions
Carefully mix the dough ingredients together to form a smooth dough.
Allow the dough to rest for 30 minutes before rolling.
Roll the dough as thin as possible.
You can even use a pasta roller to thinly roll out the dough.
Measure the dough and cut out 2" squares.
Place a little bit of the filling into the center of the square.
Brush the edges of the dough with egg wash and pinch to seal.
Bring a large pot of water, a tablespoon of salt, and a tablespoon of olive oil to a boil.
Add the kreplach and boil for 20 minutes.
Serve hot with your favorite chicken or beef soup.
---
Notes
Kreplach can be made in advance and frozen raw in a single layer. When ready to use, simply remove from the freezer and cook in simmering water until cooked through, around 30 minutes.
Recipe Card powered by
Print
Meat Knishes
Author:

Prep Time:

10 minutes

Cook Time:

35

Total Time:

45

Yield:

2

4

1

x

Category:

Appetizer

Method:

Baking

Cuisine:

Jewish

Diet:

Kosher
---
Description
These knishes are the perfect addition to any Shabbat or Holiday meal. You can make them in advance and freeze them, then bake to perfection when you need them.
---
3 cups

all-purpose flour (can be 1:

1

glu

ten

free)

1 tablespoons

baking powder

3/4 teaspoons

salt

6 tablespoons

pareve margarine

1 cup

+ tablespoon warm water
Non-stick vegetable spray
Kreplach Meat Filling (see above)
---
Instructions
Preheat oven to 350° F.
Cover two baking sheets with aluminum foil and spray with non-stick vegetable spray. Set aside.
Combine ingredients in a large bowl. Knead until smooth.
Divide the dough into 3 even balls.
For each dough ball, roll the dough into a long 8" log. Cut the dough evenly into 8 1" pieces.
Roll each piece of dough into a 3"- 3 1/2" round.
Place a scoop of meat filling into the middle of the dough. Bring the edges of the dough to the middle over the meat and pinch to seal.
Repeat with remaining dough.
Place 12 knishes on each baking sheet.
Bake for 35 minutes until golden brown.
---
---
Notes
If freezing the raw knishes to use later, add an extra 10 minutes to the baking time.
Keywords: Knishes, Meat Knishes, Shabbat, Yom Tov, Yom Kippur
Recipe Card powered by
View this post on Instagram
More Yom Kippur and Sukkot Recipes
challah recipe?
I often get request for my Gluten Free Oat Challah Recipes. I developed three different recipes that can be braided, washed and benched upon.
The first is my Original Oat Challah recipe. It's simple, not too sweet and delicious.
The second is my Honey Oat Challah Recipe. It's a reader favorite! It's sweet, easy to make and braid and delicious too!
The third is my Water Oat Challah Recipe. Completely plant based and vegan, you can still braid it and wash and bench. It's lighter than the other two recipes and easy to make.
Here are the recipes:
CHECK OUT THE KOSHER EVERYDAY AMAZON INFLUENCER STOREFRONT!
I'm excited to announce the launch of my brand, spankin' new, Amazon Influencer storefront. The purpose of this store is to share with you all of my favorite tools, ingredients and accessories that I use on Kosher Everyday. If there's something you'd like to see please let me know and I'll make sure to add it. I'm updating the storefront all the time.
I've put together a complete Gluten Free Challah Storefront with everything you need to make fabulous Gluten Free Challah!
Additionally there is a brand new Sukkot Storefront with fun and beautiful items to help enhance your holiday!
I'd love to hear what you think!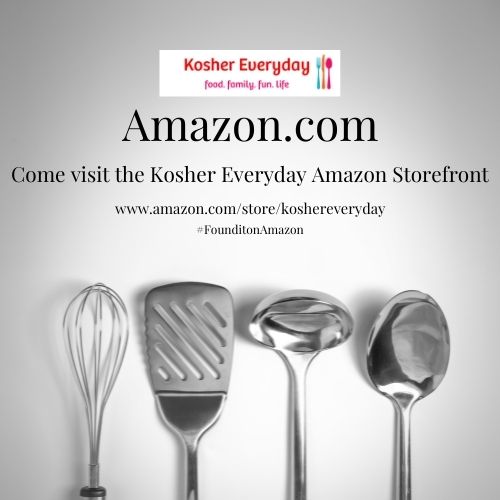 FOLLOW ME!
Don't forget to follow Kosher Everyday on Instagram @koshereveryday! and on Facebook You don't want to miss all the fun and interesting posts and reels that can be found nowhere else!
You can find reels showing how to make most of my recipes on Instagram!
Also, make sure to tag @koshereveryday when you make Kosher Everyday recipes! I LOVE to see your creations!!!
Please note that this post contains affiliate links. Thanks for your ongoing support!
Glossary:
Z"L: Zichrono Livracha – May his memory be a blessing

KIH: Kein Iyna Hara – Yiddish for without an evil eye.

Minyan: Services in the synagogue

Baruch Hashem: Thank G-d

Seuda: A "ritual" meal