Once upon a time there was a Chicago Girl who had a LOT of friends who were gluten intolerant. She really liked having them over for Shabbat meals, so she developed a recipe for Gluten Free Oat Challah. Everyone LOVED the challah, in fact it was SO popular that it was even published in Mishpacha Magazine, and then in the Kosher Scoop cookbook!! Cool right?
Then, the unthinkable happened. The Chicago Girl became gluten intolerant herself!!! Gasp! She ended up spending a lot of time making gluten free oat challah for herself, her family, and her gluten intolerant friends.
One day, the Chicago Girl thought "I bet there is a way to make this most excellent gluten free challah even better! So she thought, and she thought, and she tried different recipe changes and finally came up with a super moist, super delicious gluten free oat challah upgrade: The Gluten Free Honey Oat Challah. By substituting about half of the processed sugar (Oh no! Not processed sugar!) with some all natural honey (oh yes!) the challah was moister, with a natural sweetness that was extremely tasty!
All of the Chicago Girl's friends and family were extremely excited about the new and improved challah! In fact, the Chicago Girl made a super large Gluten Free Honey Oat Challah for sheva brachot for a GFE (Gluten Free Eater) kallah (bride). As it turns out, the guests all ate the gluten free challah instead of the glutenous one – and they didn't even realize it was gluten free!!!!! Hooray!
And so this story has a happy ending after all. The End.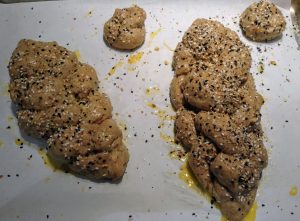 (Videos to follow…)
And now for the rest of the story:
So…if you haven't figured it out already…I'm the Chicago girl! I know you are all shocked by that revelation!
Here is a really important GFE challah making tip that I discovered the hard way. Accurately measure all the ingredients. One erev Shabbat I didn't…adding way too much of the dry ingredients. The challah literally sucked every ounce of moisture from our bodies leaving us dry, skin covered skeletons, without a drop of liquid in our dehydrated bodies. Ok, so it wasn't quite that bad…but trust me…ACCURATELY measure the ingredients! Also, it really pays to use a brand new bottle or can of carbonated seltzer water with all of it's fizz intact. I once had only raspberry seltzer in the house and the challah came out surprisingly delicious.
Final challah point – if you double this recipe you will be making more than 5 pounds of challah dough and you can actually take challah with a bracha! Bonus!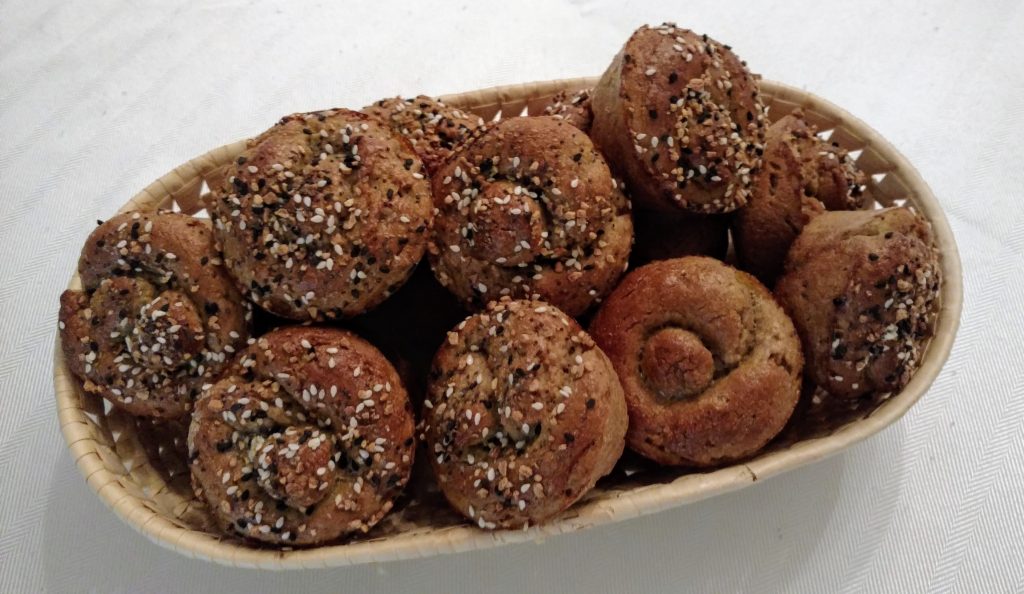 Ok – one more thing…really! The amazing Gluten Free Expo is coming to the Chicago area this weekend!!! AAAAAAAAAAAAAAAAAAAAAAAAAAAAAAA!!!! I'm going with my handy dandy media pass and will be doing all the fabulous social media stuff to keep you posted about the exciting new and improved GFE Kosher Products…so stay tuned throughout the day on Sunday, April 23rd!!!
Print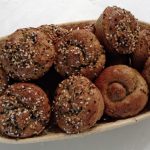 Honey Oat Challah – Gluten Free
Author:

Prep Time:

20

Cook Time:

30

Total Time:

50 minutes

Yield:

8

1

x
---
Description
An updated version of my famous Gluten Free Oat Challah
---
4 tablespoons

yeast

2 tablespoon

sugar

1 cup

warm water

9 cups

(

1150g

) certified gluten free oat flour (whisk to remove lumps)

1 1/3 cup

(

195g

) tapioca flour (starch)

2 2/3 cup

(

450g

) potato starch

2 tablespoon

xanthan gum

1/2 cup

sugar

1 cup

honey

2

teaspsoons salt

8

large eggs

1 cup

canola oil

2 cups

seltzer

2

large egg

2 tablespoons

warm water
sesame seeds, poppy seeds, dried onion (optional)
---
Instructions
Preheat oven to 350° F.
In a small bowl combine the yeast, tablespoons of sugar, and warm water. Allow the yeast to proof for 5 minutes.
In a large mixing bowl whisk together 9 cups oat flour, tapioca flour, potato starch, xanthan gum, sugar and salt. Make a small well in the center of the dry ingredients. Add the eggs, honey, canola oil, seltzer and proofed yeast into the well in the dry ingredients. Mix until the ingredients are just smooth and combined. Allow the dough to rest for 2-5 minutes. If the dough is particularly sticky or loose add an additional ½ cup of oat flour and mix until the dough is smooth. Spoon into braided loaf pan, or form small dough balls and place into standard loaf pan to form braids. Cover the loaves or rolls and let rise for one hour. If baking in a standard loaf or muffin pans, combine the large egg and warm water and brush over the risen loaf. Top with sesame or poppy seeds if desired. Bake for 30 minutes until golden brown.
---
Notes
Make sure the water is "baby bottle warm" not hot when you proof the yeast.
You can roll small pieces of dough into challah knots to be baked in muffin tins. Sprinkle your rolling surface with a little oat flour first.
My absolute favorite challah topping is the "everything" mix!
---
Recipe Card powered by