My Pomegranate Obsession
I've been a little obsessed with pomegranates lately.
It has to do with the fact that with Rosh Hashanah upon us, I think a lot about the symbolic foods that are eaten during the Holiday.
Pomegranates have a lot of symbolism.
Pomegranates are said to have 613 Arils/seeds in each pomegranate. No…I haven't counted…it's symbolism. This represents the 613 mitzvot in the Torah, making it a symbol for righteousness. If you can follow all 613 mitzvot in the Torah, that would make you golden, right?

Pomegranates are one of the seven special species in Israel.

Pomegranates are a symbol of love and fertility – and are mentioned in Shir Hashirim*.

Because of the season, pomegranates are often used as a "shehechiyanu" fruit on the second night of Rosh Hashanah.

Pomegranates are one of the "simanim" used on Rosh Hashanah and the blessing "sheyirbu zechuyotenu ki'rimon" that our merits should multiply like a pomegranate is said.
*9 Jewish Things about Pomegranates from My Jewish Learning.
That makes pomegranates pretty awesome in my book!
Pomegranate Pilaf…an easy one
I've been sharing quite a few pomegranate recipes lately, but of course there had to be a pomegranate rice. The recipe list just wouldn't be complete without one.
What makes this pilaf recipe so interesting is that I add pomegranate tea to it.
Have you ever been to the open market, Machaneh Yehuda, in Jerusalem? You can find spice stores up and down the aisles. Most sell loose tea, my favorite, that is basically dehydrated fruits that are rehydrated into fruit tea when you add water.
Pomegranate tea is basically dehydrated pomegranate, and other fruits and spices, to make a delicious fruit tea.
So…by adding pomegranate tea to Pomegranate Pilaf, we are able to give it an awesome boost of flavors.
I also use fragrant basmati rice, pomegranate juice and dehydrated pomegranate arils to give this pilaf so much pomegranatey flavor.
Here's the recipe
There's a link under the recipe for the dehydrated arils. Don't worry if you can't get them. Just substitute additional dehydrated cranberries. It's nearly as good, but not quite.
Print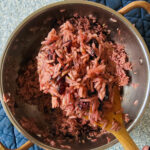 Pomegranate Pilaf
Author:

Prep Time:

5 minutes

Rice resting time:

15 minutes

Cook Time:

15 minutes

Total Time:

35 minutes

Category:

Grains

Method:

Cooking

Cuisine:

Plant Based

Diet:

Kosher
---
Description
Pomegranate Pilaf is filled with flavor from pomegranate tea, juice and dehydrated arils. This succulent rice makes a perfect seasonal Rosh Hashanah side dish.
---
2

cups

basmati rice

2

cups

pomegranate juice

1

cup

water

1/2 teaspoon

kosher salt

1/8 teaspoon

freshly ground black pepper

1 tablespoon

canola oil

4

pomegranate tea bags

1/4

cup

dehydrated pomegranate arils

1/2

cup

dehydrated cranberries (Craisins)

2 tablespoons

honey
Additional pomegranate arils for garnish
---
Instructions
Place the basmati rice, water,pomegranate juice, salt, black pepper, and canola oil in a large pot.
Cut open the tea bags and add the contents to the pot. Stir to blend.
Cover the pot with a tight fitting lid and bring to a boil over high heat.
Reduce the heat to low and simmer for 15-20 minutes until all the liquid is absorbed. Allow the rice to rest for 15 minutes.
Add the pomegranate arils, dried cranberries and honey to the rice. Toss until completely blended.
Serve garnished with fresh pomegranate arils. Can be served hot or cold
---
Equipment
---
Notes
If you don't have dehydrated pomegranate arils, you can substitute and additional 1/4 cup of dried cranberries.
Nutrition
Serving Size:
Calories:

161

Sugar:

20.2 g

Sodium:

85.3 mg

Fat:

2.2 g

Saturated Fat:

0.2 g

Carbohydrates:

35.2 g

Fiber:

0.8 g

Protein:

1.3 g

Cholesterol:

0 mg
Keywords: Pomegranate, Pilaf, Side Dish, Rosh Hashanah, Rosh Hashana, Plant Based, Gluten Free, Dairy Free, Nut Free
Recipe Card powered by
View this post on Instagram
SHABBOS UNDER PRESSURE
One of the fabulous prizes in the Rosh Hashanah 2021 Giveaway was my Electric Pressure Cooker cookbook! It's got a ton of great, delicious and super quick recipes that are perfect for Rosh Hashanah!
Like…
Traditional Chicken Soup, Gefilte Fish, Pomegranate Chicken, Coca Cola Roast, Hot Tamale Apples and much much more!
Here's a link!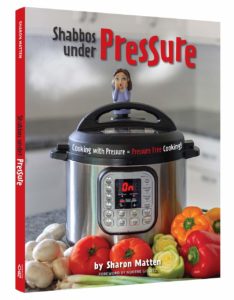 MORE FABULOUS ROSH HASHANAH RECIPES
Here are some links to more wonderful Rosh Hashanah recipes!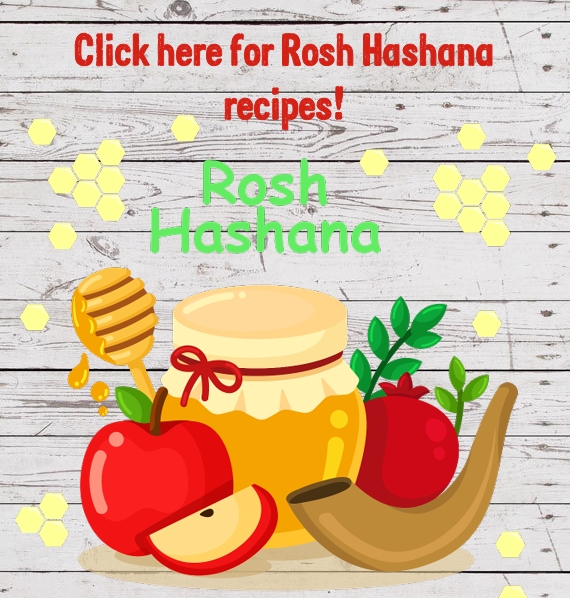 What recipes would you like to see for this upcoming Rosh Hashanah? I'd love to get your feedback?
What are you making for the Holiday?
FOLLOW ME!
Don't forget to follow Kosher Everyday on Instagram @koshereveryday! and on Facebook You don't want to miss all the fun and interesting posts and reels that can be found nowhere else!
You can find reels showing how to make Brown Sugar Meringue with Apple Filling and many other recipes on Instagram!
Also, make sure to tag @koshereveryday when you make Kosher Everyday recipes! I LOVE to see your creations!!!
Please note that this post contains affiliate links. Thanks for your ongoing support!