Candy Corn and White Chocolate Chip Cookies
If you're looking for a super fun fall, gluten free, cookie recipe then the Candy Corn and White Chocolate Chip Cookies recipe is what you're searching for. The cookies are soft and delicious with sweet white chocolate chips and colorful candy corn interspersed throughout.
They're addicting.
How I came up with the recipe for Candy Corn and White Chocolate Chip Cookies
The concept was created during one of my weekly concept meetings with Adam – The Social Media Guy. We were brainstorming fall recipes and started talking about the ubiquitous candy corn. It's one of those fall candies that you see everywhere this time of year. While it's true that not everyone loves candy corn (you know who you are), it just seemed like a super fun ingredient to add to a fall recipe.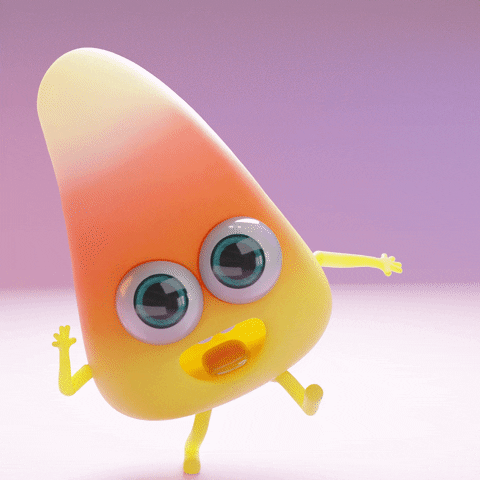 I came up with the recipe for Candy Corn and White Chocolate Chip Cookies by merging together a bunch of my favorite cookie recipes. How fun is that???
Then, I added some creamy white chocolate chips to enhance the flavor of the candy corn. These cookies were going to be a super sweet treat.
Let go of Perfection
I really love the recipe for Candy Corn and White Chocolate Chip Cookies, and I really hate the recipe for Candy Corn and White Chocolate Chip Cookies.
Here's why.
Candy Corn is…Candy
I started out by searching for kosher brands of candy corn. The first one I found was by Jelly Belly, you know…the company that makes all the millions of flavors of jelly beans.
It turns out that Jelly Belly candy corn is really just candy corn shaped jelly beans disguising and traditional candy corn.
Quiz question #1
What happens when you heat candy?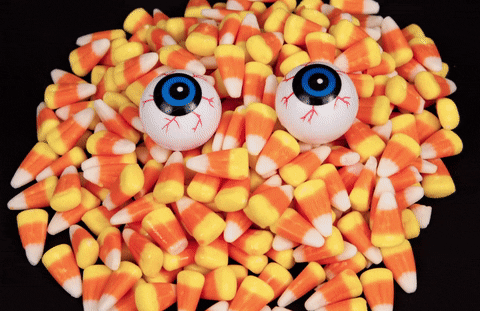 Answer to Quiz question #1
It melts.
Especially if it's jelly beans.
Using a different brand of candy corn for the Candy Corn and White Chocolate Chip Cookies
The first batch of cookies tasted great but other than that they were an epic fail.
The cookies were basically flat, and the candy melted and ran all over the pan.
We ended up bagging them up and taking them with us to Pittsburgh, where, by the time they reached Dear Son and Dear Daughter-In-Law's house they were a bag of crumbs. Dear Creative Daughter-In-Law served the cookie crumbs on top of strawberries with whipped cream for a delicious dessert, so all was not lost.
I decided to order another brand of candy corn, this one from Oh Nut's. They seemed to be a more traditional type of candy corn and I was stoked to try them out.
I'm a slow learner sometimes
While I did improve the cookie texture on my next attempt, the candies still melted.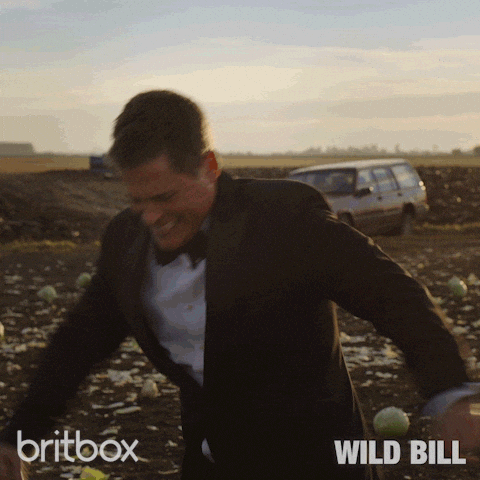 Dear Social Media Guy was not helpful (although he thought he was) and kept telling me that the cookies didn't look pretty. Then he proceeded to send me pictures of pretty candy corn cookies.
It was annoying.
Six batches of Candy Corn and White Chocolate Chip Cookies later…
I finally got pretty cookies.
Don't be fooled.
The truth is to get this perfection (which made Dear Social Media Guy weep with joy), I had to use a bigger cookie scoop, freeze the candy corn before adding them to the cookies, then make sure that none of the candy corn was touching the edges of the cookies where they would melt onto the cookie sheet if unprovoked.
If I wasn't sufficiently careful then some of the cookies still melted. I did get a great batch of mostly perfect cookies though.
I had even tried pressing the candy corn onto the tops of the cookies after scooping them instead of adding them to the cookie dough before scooping. It worked but they weren't terribly pretty.
And the consensus about Candy Corn and White Chocolate Chip Cookies is…
Candy Corn and White Chocolate Chip Cookies are completely delicious and wonderful with melted candy corn! Dear Husband couldn't stop eating the imperfections and is very irritated with me right now for having so many mouth watering cookies in the house.
It turns out that the candy corn kind of hardens into a crunchy candy and it's really really good in the cookies offset by the creamy white chocolate chips.
Go figure.
While I wasn't able to get picture perfection out of the smaller cookies, we really liked how they tasted. We even liked the melted candies.
Perfection is Perfection is Perfection
Ok, so the perfect cookies were prettier, and seemed to taste a little better than their ugly cookie siblings but we loved all of them. Differently if not equally.
Just saying.
Here's the Recipe for Candy Corn and White Chocolate Chip Cookies
The choice is yours: Big, perfect cookies or smaller with melted candy. Both are super delicious and super fun.
Print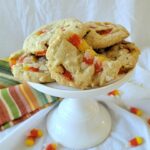 Candy Corn and White Chocolate Chip Cookies
Author:

Prep Time:

20 minutes

Cook Time:

12 minutes

Total Time:

32 minutes

Yield:

45

small cookies, 24 large cookies

1

x

Category:

Dessert

Method:

Baking

Cuisine:

Gluten Free

Diet:

Kosher
---
Description
Candy Corn and White Chocolate Chip Cookies are super fun, gluten free, soft, delicious, and loaded with sweet white chocolate chips & colorful fall candy corn.
---
1

cup

plant based butter (2 sticks), cold

3/4

cup

granulated white sugar

3/4

cup

light brown sugar, Domino brand

2

large eggs, cold

1 teaspoon

pure vanilla extract

3

cups

flour, gluten free

1 teaspoon

baking soda

1 teaspoon

salt

12

ounces

candy corn, frozen for at least 1 hour

8

ounces

white chocolate chips
---
Instructions
Preheat oven to 350°F or 325°F convection.
Line 3 baking sheets with parchment paper or silicone mats. Set aside
In the large bowl of a mixer, blend the plant based butter, granulated sugar, brown sugar, eggs and vanilla using the paddle attachment.
Add the flour, baking soda and salt. Blend until combined.
Mix in the candy corn and the chocolate chips.
Using a cookie scoop, scoop the cookie dough onto the prepared baking sheet. For perfect cookies, use a larger (3-tablespoon) scoop, and make sure there is no candy corn at the edges of the cookies.
Bake for 12 minutes (turning the pans clockwise for even baking at 8 minutes) for smaller cookies and 14 minutes for larger cookies.
Allow the cookies to cool completely before serving.
Cookies can be stored in an airtight container.
---
---
Notes
I prefer a higher quality plant based butter like Country Crock sticks or Fleischmann's unsalted.
YES the brand of brown sugar does matter. I started out with another brand and quickly remembered from my pastry chef days that Domino brand works best in cookies. It does matter.
I don't refrigerate my cookie dough after making it, so I like my ingredients to be cold. I use plant based butter and eggs straight from the refrigerator.
Keywords: Candy Corn Cookies, White Chocolate Chips, Gluten Free, Gluten Free Recipe, Gluten Free Cookies, Dairy Free, Nut Free, Pareve, Fall Cookies
Recipe Card powered by
Here's how I made them! Check it out on Instagram @koshereveryday
View this post on Instagram
More Captivating Cookie Recipes
CHECK OUT THE KOSHER EVERYDAY AMAZON INFLUENCER STOREFRONT!
I'm excited to announce the launch of my brand, spankin' new, Amazon Influencer storefront. The purpose of this store is to share with you all of my favorite tools, ingredients and accessories that I use on Kosher Everyday. If there's something you'd like to see please let me know and I'll make sure to add it. I'm updating the storefront all the time.
I've put together a complete Gluten Free Challah Storefront with everything you need to make fabulous Gluten Free Challah!
Additionally there is a Small Appliance Storefront with many awesome small appliances that I recommend for your kitchen…even if you have a small space!
I'd love to hear what you think!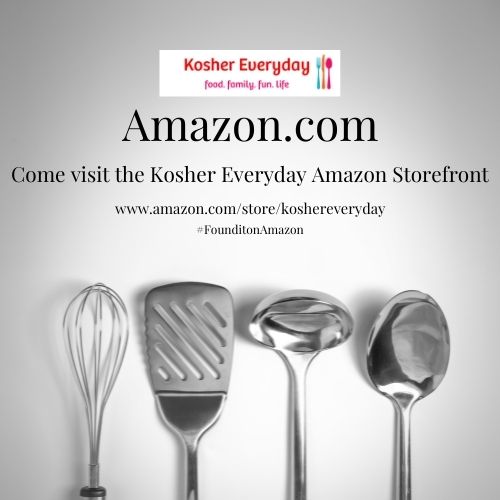 FOLLOW ME!
Don't forget to follow Kosher Everyday on Instagram @koshereveryday! and on Facebook You don't want to miss all the fun and interesting posts and reels that can be found nowhere else!
You can find reels showing how to make most of my recipes on Instagram!
Also, make sure to tag @koshereveryday when you make Kosher Everyday recipes! I LOVE to see your creations!!!
Please note that this post contains affiliate links. Thanks for your ongoing support!