Sheet Pan Apple Cobbler with Pecan Crumble
It's apple season! Fall is the time when the most beautiful apples can be found in local stores and for picking in nearby orchards. There is nothing like a field trip to the orchard and plucking shiny red, juicy, crisp apples directly from the trees.
We used to take the kids apple picking, building up the excitement of the experience until the kids were literally bouncing in their seats when we got close.
We'd purchase a couple of bags/bushels for the family to fill, anticipating a leisurely day amongst the trees. Five minutes later all the bags and bushels were full with the kids asking for more.
Sigh.
After gifting anyone who might want some of our surplus of apples, it was time to cook up the ones that wouldn't be eaten.
And so…I came up with Sheet Pan Apple Cobbler with Pecan Crumble.
Making Sheet Pan Apple Cobbler with Pecan Crumble
I sometimes have trouble with quantity control.
During the High Holidays we feed so many people, it's sometimes hard to estimate how much food to buy. This year I felt more out of sync than normal for some reason, and I didn't prep menus and meal plans the way I normally do. It made for an interesting, slightly chaotic holiday season.
One of the things I bought a lot of was apples.
Why I bought a lot of apples
First, I bought a lot of apples for Rosh Hashanah. They are so symbolic and there are a ton of apple dishes that can be made for the holiday.
Assuming you're up for making them.
We had leftover apples.
What to do with all the apples I bought
Then I bought more apples because they were so pretty. I was at a store and the apples came in these cute bags and looked so perfect I just had to buy them!
Bottom line: lots of apples.
One of my family's all time favorites is apple cobbler. With so many apples, I could make apple cobbler.
How to make Sheet Pan Apple Cobbler with Pecan Crumble
There are many ways to peel and core an apple. Some people swear by "apple peelers" which are similar to a spiralizer but peel apples. I can see how it would be a-peeling, but I'm an old fashioned girl lol, and peel my apples by hand. It's how my Mother (a"h) did it and so did her mother. Sometimes you stick with tradition 😎 .
I use a simple apple slicer and coring device to divide and core the apples, then use a sharp paring knife to remove the peels from the slices.
I find that eight slices from an apple works pretty well in this type of cobbler. If you prefer you can use another of my favorites, the Gefu slicer, which gives you 16 slices per apple.
You end up with a bowl of evenly sliced apples. It's a beautiful thing.
Once you've taken care of the apples the rest of the recipe is easy!
Sheet Pan Apple Cobbler with Pecan Crumble is made on a … Sheet Pan!
Basically, the whole recipe is made in one large bowl and one half sheet pan. That means not a lot of cleanup and mess.
Woot.
I made my recipe with around five pounds of apples. Five pound may seem like a lot, but it's really not. Once the apples are peeled, cored and baked they reduce quite a bit.
That being said, if five pounds of apples seems like a lot of apples, you can easily halve the recipe and use only two and a half pounds. I wouldn't recommend using less as this is a deliciously popular apple dish.
Print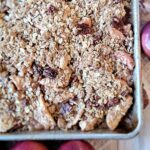 Sheet Pan Apple Cobbler with Pecan Crumble
Author:

Prep Time:

30 minutes

Cook Time:

30 minutes

Total Time:

60 minutes

Yield:

1

half sheet pan

1

x

Category:

Dessert

Method:

Baking

Cuisine:

Plant Based

Diet:

Kosher
---
Description
Sheet Pan Apple Cobbler with Pecan Crumble is the perfect, easy way to use all those fabulous, seasonally perfect, delicious apples! Made on one sheet pan, packed with flavor and topped with a crunchy pecan crumble, it's a delicious family dessert, treat or fruity party dish. It shouldn't be called a cobbler, it should be called a gobbler!
---
For The Apples
5

pounds

Fuji apples, peeled and cored

1/4

cup

lemon juice

1/2

cup

flour (gluten free)

1 tablespoon

apple pie spice

3/4

cup

sugar

1/2 teaspoon

kosher salt
For the Pecan Crumble
4 tablespoons

(

1/2

stick) plant based margarine

1/2

cup

flour (gluten free)

2

cups

old fashioned rolled oats

1/2

cup

light brown sugar

1 tablespoon

apple pie spice

1

cup

pecans, coarsely chopped
nonstick spray
To Finish
Vanilla ice cream, or your favorite flavor
---
Instructions
Preheat oven to 375°F, 350°F convection.
Spray a half sheet pan with nonstick spray. Set aside.
For the Apples
Place the peeled and cored apples in a large bowl. Sprinkle the lemon juice over the apples and toss until completely coated.
Add the flour, apple pie spice, sugar and salt and mix until the apples are completely covered with the flour mixture.
Evenly spread the apples onto the prepared baking sheet. Set aside.
For the Pecan Crumble
Place the plant based margarine, flour, oats brown sugar and apple pie spice into a large bowl. You can use the apple bowl if you like.
Smush the margarine into the oats/flour using your fingers or a fork, until completely blended and clumps start to form. Blend in the pecans.
Evenly distribute the crumble mixture over the apples.
Spray the top of the crumble with nonstick spray.
To Finish
Bake for 30 minutes until the top is golden brown.
Serve immediately topped with your favorite ice cream.
---
---
Notes
This recipe can be halved if desired.
You can make this recipe in two 9×13-inch baking pans.
Nutrition
Serving Size:

1 giant scoop

Calories:

367

Sugar:

40.6 g

Sodium:

93.3 mg

Fat:

10.7 g

Saturated Fat:

2.5 g

Carbohydrates:

65.1 g

Fiber:

7.3 g

Protein:

4.1 g

Cholesterol:

0 mg
Keywords: Gluten Free, Plant Based, Apple Cobbler, Apple Crisp, Pareve, Meat Free, Dairy Free
Recipe Card powered by
View this post on Instagram
More Amazing Apple Recipes
CHECK OUT THE KOSHER EVERYDAY AMAZON INFLUENCER STOREFRONT!
I'm excited to announce the launch of my brand, spankin' new, Amazon Influencer storefront. The purpose of this store is to share with you all of my favorite tools, ingredients and accessories that I use on Kosher Everyday. If there's something you'd like to see please let me know and I'll make sure to add it. I'm updating the storefront all the time.
You can find all my Must Have Kitchen Tools including ones like the Gefu Apple Slicer and Corer!
I've put together a complete Gluten Free Challah Storefront with everything you need to make fabulous Gluten Free Challah!
Additionally there is a Small Appliance Storefront with many awesome small appliances that I recommend for your kitchen…even if you have a small space!
I'd love to hear what you think!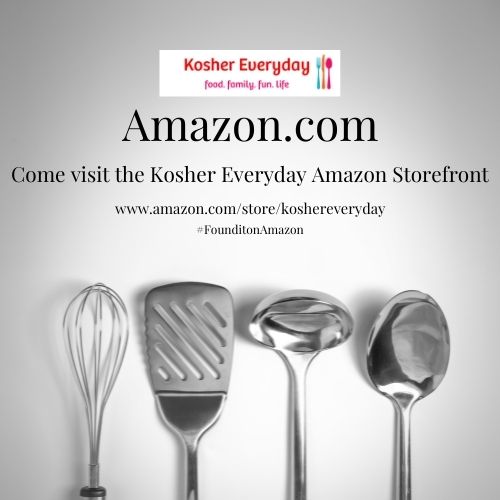 FOLLOW ME!
Don't forget to follow Kosher Everyday on Instagram @koshereveryday! and on Facebook You don't want to miss all the fun and interesting posts and reels that can be found nowhere else!
You can find reels showing how to make most of my recipes on Instagram!
Also, make sure to tag @koshereveryday when you make Kosher Everyday recipes! I LOVE to see your creations!!!
Please note that this post contains affiliate links. Thanks for your ongoing support!