It's in the "Bible"
I have an extensive cookbook collection. I've spent a lot of time over the years collecting interesting and unique cookbooks. I also collect recipes online that I think I'll use as a family staple. Gluten Free Fruited White Chocolate Oatmeal Cookies were developed by combining some of the best attributes of my favorite cookies and then making them gluten free.
It's loads of fun.
Back to the "Bible"
I store my absolute favorite recipes in what my family has taken to calling the "bible". NO ONE except family members are allowed to read my "bible". I'm happy to share most recipes, but the ones in the "bible" are family only.
One of the recipes in the "bible" is for oatmeal raisin cookies. It's really outstanding.
No. I'm not sharing that one 😆
Many years ago, while I was working as a personal pastry chef, I modified that recipe to be Fruited White Chocolate Chunk cookies. I sold them to many happy customers. Recipes I use(d) professionally as a Personal Pastry Chef I don't share, for understandably good reason.
I decided to convert that recipe to gluten free and share it with you. In this case, converting the recipe by just using 1:1 flour didn't exactly work…I needed to play with it a little.
We have a lot of cookies in the house and I had to taste them all…just to make sure the recipe is perfect for you.
You're welcome 😉
Why Gluten Free Fruited White Chocolate Oatmeal Cookies are so good
They just are.
Ok, I'll tell you.
The sweet tartness of the dried papaya, dried pineapple and dried cranberries are balanced by blending in the white chocolate chips. All that fruity, white chocolatey heaven is supported by whole grain oats. Not the instant kind, or cheap kind that get mushy or lost in a recipe. The quality oats that will hold up the ingredients.
Good quality oats (gluten free of course) are like the best supporting actor in a movie. While the dried fruit and chocolate might be the lead actors in the play that is this cookie, they couldn't do their parts without the outstanding performance of the oats.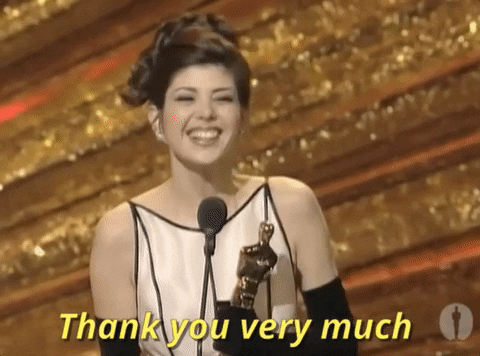 Here's the Recipe
I surprisingly didn't have all the ingredients in the house. It's been a while since I sold my pastries, and my inventory reflects that. I ended up ordering a bunch of the ingredients from Amazon. They were super fresh, which really impacted the quality of the final cookies. I also made a special trip to Walmart to get a few last minute ingredients as well.
I tried several brands of white chocolate chips in these cookies and found that the Walmart brand pareve white chocolate chips are really the best.
Quality of the ingredients makes a difference here.
Convection mode
I baked these cookies at 330°F convection mode. What convection mode does is cook by circulating hot air around the food you're cooking. It's what allows you to bake three trays of cookies at once, and they all come out exactly the same – perfectly.
You don't want to use convection bake here – unless you were baking a single tray. Convection bake heats from the bottom of the oven (like bake mode) but also circulates air. When doing multiple racks you want to use convection mode.
If you don't have a convection oven, I'd bake the cookies at 365°F. I've found over the years that the cookies bake better at a slightly higher temperature than 350°F.
It's important to know your oven and how it bakes. I strongly recommend getting an oven thermometer and placing it in the center of your oven. It will determine if your oven is really baking at 350°F or instead is baking hotter at say, 360°F.
Here's an example of an inexpensive oven thermometer.
Print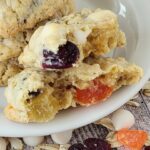 Gluten Free Fruited White Chocolate Oatmeal Cookies
Author:

Prep Time:

20 minutes

Cook Time:

12 minutes

Total Time:

22 minutes

Yield:

45

-

54

cookies

1

x

Category:

Cookies

Method:

Baking

Cuisine:

Gluten Free

Diet:

Kosher
---
Description
The sweet tartness of the dried papaya, dried pineapple and dried cranberries are perfectly balanced by the white chocolate chips. These delicious oatmeal cookies are a party in your mouth and are perfect for a brunch, party or Shabbat treat.
---
1 cup

plant based butter (

2

sticks)

1 cup

brown sugar

1 cup

granulated sugar

1 tablespoon

pure vanilla extract

2

large eggs

2 cups

1:1 gluten free flour

2 cups

old fashioned rolled oats (not instant)

1 teaspoon

salt

2 teaspoons

baking powder

1 cup

white chocolate chips

1/2 cup

dried diced pineapple

1/2 cup

dried diced papaya

1 cup

sweetened dried cranberries
---
Instructions
Preheat oven to 330°F Convection or 365°F non-convection oven.
Line three baking sheets with parchment paper. Set aside.
In the bowl of an electric mixer, using a paddle attachment, blend together the margarine, brown sugar, granulated sugar and vanilla. Mix until smooth.
Add the eggs and mix until blended.
Next add the flour, oats, salt and baking powder. Mix until completely blended and smooth.
With the mixer running on the lowest setting, blend in the pineapple, papaya, cranberries and white chocolate chips.
Using a cookie scoop, scoop cookies onto the prepared baking sheets. Bake for 8 minutes, then rotate each pan 180° and bake for an additional 4 minutes. The rotating ensures even baking for all the cookies.
Remove the cookies and, if possible, allow to cool before eating.
---
Equipment
---
Notes
Use high quality oats for this recipe.
These cookies freeze very well. I usually line them up sideways in a pan. Make sure they are stored in a completely airtight container.
If this recipe makes too many cookies for your family (gasp!), you can halve the recipe with good results.
It's very important to use relatively fresh baking powder. Baking powder can loose its rising power if kept too long. Replace it every 3-4 months if possible.
Nutrition
Serving Size:

1 cookie

Calories:

135

Sugar:

14.7 g

Sodium:

87.3 mg

Fat:

4.1 g

Carbohydrates:

23.2 g

Protein:

1.3 g

Cholesterol:

9.1 mg
Keywords: Cookies, Gluten Free Cookies, Oatmeal Cookies, Dried Fruit Cookies, Gluten Free, Dairy Free, Meat Free, White Chocolate
Recipe Card powered by
More Super Gluten Free Snack Recipes
FOLLOW ME!
Don't forget to follow Kosher Everyday on Instagram @koshereveryday! and on Facebook You don't want to miss all the fun and interesting posts and reels that can be found nowhere else!
You can find reels showing how to make most of my recipes on Instagram!
Also, make sure to tag @koshereveryday when you make Kosher Everyday recipes! I LOVE to see your creations!!!
Please note that this post contains affiliate links. Thanks for your ongoing support!