Looking to give someone something sweet for Chanukah? Try "Something Sweet" by Miriam Pascal, creator of overtimecook.com! It's a wonderful cookbook for those that are looking to bake…something sweet. It's perfect for the beginner as well as the more advanced baker. The recipes are easy to follow too – Miriam put a
lot
of time into making sure that the recipes were easy to read and execute. She also worked hard to eliminate some of the "unhealthier" ingredients like margarine and uses oil in her cookies instead.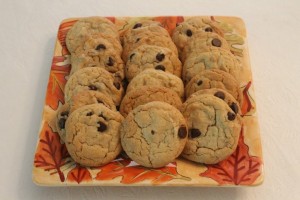 I spent a little time talking to Miriam about her journey into baking, transitioning from her "boring" (her words) old job to her interesting new baking and blogging/writing job. She works really hard to accommodate her readers and you can see it in the quality of her recipes.
As a baker myself I find the "litmus test" of a good baker or cookbook is how their chocolate chip cookies turn out…the most basic recipe, but sometimes the hardest to execute. We're all on a quest for the ultimate chocolate chip cookie recipe, right? Given that Miriam's chocolate chip cookie was made with oil, I was curious as to how it would compare to another fabulous chocolate chip cookie that always gets rave reviews (wink, wink). I made the cookies and gave them to a panel of seriously discerning pastry snobs (my kids). They gave the cookies two thumbs up. They said that although the texture was different than the ones they were used to, they were still really good – just different. High praise indeed. Really.
I also wanted to review another non-traditional recipe in the book, so I made the Caramel Popcorn. It wasn't too hard to make at all. I can't make it again though. I want to. I can't . If I do I'll eat the whole recipe again and gain 100 pounds and want to make more, again..and again. Can't. Make. More. Caramel. Corn. Sigh.
You can find "Something Sweet" on amazon.com. to order click below:
Print
No-Margarine Chocolate Chip Cookies
Cook Time:

9

Total Time:

9 minutes

Yield:

4

1

x
---
1 cup

oil

1 cup

brown sugar

1/2 cup

sugar

2 teaspoons

vanilla extract

1 teaspoon

baking soda

1 teaspoon

salt

2

eggs

2 tablespoons

cornstarch

2 1/2 cups

flour

1 1/2 cups

good-quality chocolate chips
---
Instructions
Preheat oven to 375℉.
Line 2 baking sheets with parchment paper; set aside.
In the bowl of an electric mixer on medium speed, beat together oil and sugars until smooth and creamy.
Add vanilla, baking soda, salt, eggs, and cornstarch, beating well to combine after each addition.
Reduce mixer speed to low.
Add flour; beat until just combined.
Add chocolate chips; stir until evenly distributed.
Using a medium cookie scoop (or heaping tablespoon), drop dough onto prepared baking sheets.
Bake for 8-9 minutes, until tops are set.
Do not overbake.
---
Recipe Card powered by
Print
Easy Homemade Caramel Popcorn
---
Popcorn
3 tablespoons

oil

1/2 cup

yellow popcorn kernels
Caramel
5 tablespoons

butter or trans-fat-free margarine

3 cups

sugar

1 cup

water

1 1/2 tablespoons

kosher salt

1/2 teaspoon

baking soda
---
Instructions
Prepare the popcorn
Heat oil in a large pot over medium heat.
To make sure oil is hot enough, drop in one corn kernel.
When it pops, pour the rest of the kernels into the pot; cover pot.
Keeping the cover on, shake the pot to help popcorn pop evenly and prevent burning.
When the popping sound slows, remove pot from heat.
Pour the popcorn into a large, greased, heatproof bowl.
Prepare the caramel
In a medium pot, melt butter over medium-high heat.
Add sugar, water, and salt.
Stir until sugar has dissolved.
Cook mixture over medium-high heat, without stirring, for 15-20 minutes, until it begins to brown around the edges.
Meanwhile, measure baking soda, grease two heatproof spatulas or spoons, and line a baking sheet with parchment paper.
Coat parchment with nonstick cooking spray.
Time is of the essence in the next step so have everything handy and be ready to work quickly.
Once sugar mixture begins to brown around the edges, remove pot from heat; add baking soda.
Whisk for about 10 seconds.
Mixture will bubble vigorously and thicken.
Quickly pour sugar mixture over popcorn and toss with the two prepared spatulas until all popcorn is evenly coated.
Pour popcorn onto prepared baking tray and set aside to cool.
Once cooled, break into chunks and enjoy!
---
Recipe Card powered by