The Making of Spinach Strawberry and Mango Salad
Spinach Strawberry and Mango Salad is not a new Kosher Everyday concept. I originally posted a very similar recipe all the way back in May 2011, Spinach Salad with Mangos and Strawberries. That recipe was created right after Passover of that year, and the intense desire to eat way healthier after the Passover food overindulgence was super strong.
This year, during Shavuot, I updated the recipe to make it a little heartier.
OK, truth: The new Spinach Strawberry and Mango Salad really came as a result of having a bunch of ingredients in my fridge that I thought would go really well together.
What was in my fridge?
It really all began the last day of the holiday. I had some washed spinach in the fridge, strawberries that would become questionable in a day or so, and a mango.
There was an audience of people hanging around the kitchen island (im)patiently waiting for me to be finished so we could have lunch. I knew this salad had better be worth the attention it was getting or I'd get a one star review at lunch.
And nobody wants that.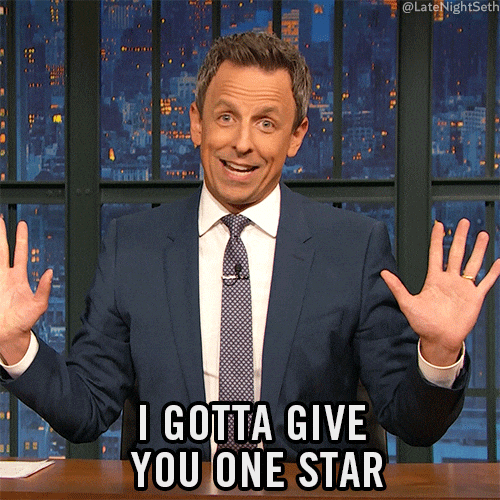 I tossed the spinach, sliced strawberries and diced mango in a salad bowl.
There also was a tub of cooked quinoa that I had made for Dear Miss "C", who is allergic to everything but quinoa and air – and sometimes is even allergic to air. Being that it was the last day of the holiday, I knew that there was enough for me to MacGyver an awesome salad. I tossed in some quinoa thinking that the quinoa would absorb some of the liquid from the dressing, strawberries and mango.
There was an audience of people hanging around the kitchen island (im)patiently waiting for me to be finished so we could have lunch.
I decided to add some slivered almonds, green onions, some tangy plant based feta and ready made raspberry vinaigrette.
The result elicited a round of applause from my spectators.
The salad was transferred to a serving bowl and the result was considered a rousing success!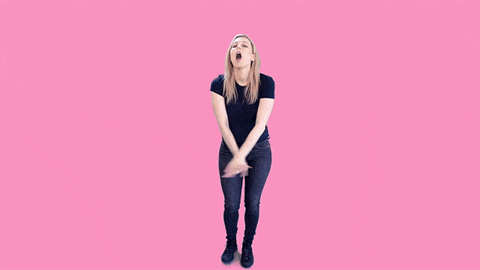 A little more about the Spinach Strawberry and Mango Salad Ingredients
I have to admit, this is a pretty simple salad. There are a few small tips I'm going to share with you.
How to cut a mango
There are actually several ways to cut a mango. One important tool, which I would have thought ridiculous until I fell in love with it, is the mango cutter.
It easily slices around the mango seed, leaving you with two clean mango halves.
You also can simply use a sharp knife and slice around the mango seed, but it's not nearly as slick.
Dicing the mango
I realize this is a lot of information about mangos, but trust me… this is valuable mango trivia.
There are two ways I like to dice a mango. First way is to slice each half into long thick slices, carefully slice the mango from the peel with a sharp paring knife, then dice the slices.
That method works pretty well. Just make sure the knife is sharp or you'll end up with a mushy mango.
The second way I actually videoed way back in 2011 and put it on my YouTube Sharon Matten Channel. I was way thinner and my kitchen was way cleaner. Sigh.
Washing the quinoa
Washing the quinoa may seem like a pain, but it's a really important step in the quinoa making process. The quinoa has a soapy tasting coating, and you want to wash that off. The consensus is that you rinse the quinoa until the water is clear. For this salad I like to use a rainbow or mix of different colored quinoa. It's just prettier.
Adding the Feta to the Spinach Strawberry and Mango Salad
Adding the (plant based) feta is completely optional. It does give a creamy tanginess to the salad that's completely fabulous, however if you don't have it the salad will still be delicious.
When I made the salad on Shavuot I used the Follow Your Heart Plant Based Feta Crumbles. I used around a cup but you can add according to your personal preferences.
Here's the recipe for Spinach Strawberry and Mango Salad
Print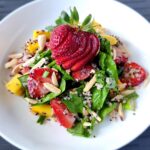 Spinach Strawberry and Mango Salad
Author:

Prep Time:

20 minutes

Total Time:

20 minutes

Yield:

8

servings

1

x

Category:

Salad

Method:

Chopping

Cuisine:

Plant Bassed

Diet:

Kosher
---
Description
Spinach Strawberry and Mango Salad is bursting with healthy spinach, fresh strawberries, bright mango, hearty quinoa, crunchy almonds and a light fruity vinaigrette. You can add some (plant based feta) for a tangy creaminess. This is the perfect summer salad your whole family will love!
---
10

ounces

baby spinach

1

pound

strawberries, sliced

2

mangos, diced (around

2 cups

)

1

cup

slivered almonds

2

cups

cooked quinoa

2

large green onions, sliced (around

1/2 cup

)

1/2

–

1

cup

(plant based) feta, optional

1/2

cup

light raspberry or fruit flavored vinaigrette
additional strawberries and slivered almonds for garnish.
---
Instructions
Place the spinach in a large bowl.
Add the strawberries, diced manto, green onions slivered almonds and quinoa. Toss to combine.
Toss in the feta, if using, then drizzle the dressing over the salad.
Garnish with additional sliced strawberries and slivered almonds.
---
---
Notes
It is better not to store this salad combined…You can prep all the ingredients in advance and store them individually in airtight containers. Then, when you are ready to serve the salad, simply toss them all together in your salad bowl.
The feta cheese is optional. You can add plant based or dairy feta to the salad if you like.
Nutrition
Serving Size:
Calories:

210

Sugar:

9.8 g

Sodium:

32.6 mg

Fat:

10.3 g

Saturated Fat:

0.9 g

Carbohydrates:

25.6 g

Fiber:

6.1 g

Protein:

7.6 g

Cholesterol:

0 mg
Keywords: Strawberry, Spinach, Mango, Quinoa, Salad, Summer Salad, Dairy Free, Gluten Free, Plant Based, Pareve, Shabbat Salad, Healthy Salad
Recipe Card powered by
More Super Salads
HERE'S SOMETHING NEW – THE KOSHER EVERYDAY AMAZON INFLUENCER STOREFRONT!
I'm excited to announce the launch of my brand, spankin' new, Amazon Influencer storefront. The purpose of this store is to share with you all of my favorite tools, ingredients and accessories that I use on Kosher Everyday. If there's something you'd like to see please let me know and I'll make sure to add it. I'm updating the storefront all the time.
You can find all the cool serving pieces that were shown above as well as other fabulous serving pieces in my Decorative Serving and Kitchen Items section.
I'd love to hear what you think!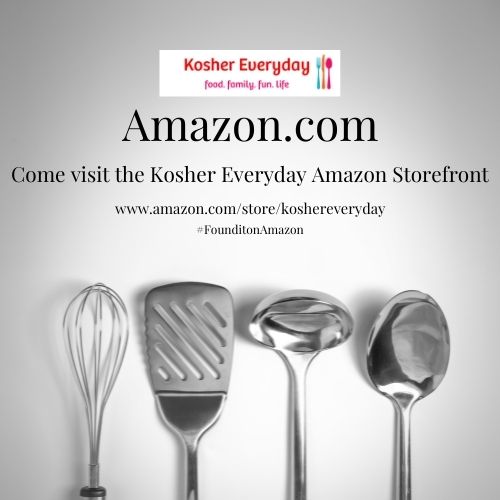 FOLLOW ME!
Don't forget to follow Kosher Everyday on Instagram @koshereveryday! and on Facebook You don't want to miss all the fun and interesting posts and reels that can be found nowhere else!
You can find reels showing how to make most of my recipes on Instagram!
Also, make sure to tag @koshereveryday when you make Kosher Everyday recipes! I LOVE to see your creations!!!
Please note that this post contains affiliate links. Thanks for your ongoing support!