Spinach Salad with Mangos
& Strawberries – It even
looks fresh & healthy!!
Must have SALAD! After the eight straight days of nearly non-stop eating, with a LOT of matzoh, I am feeling the irrepressible need to eat a lot of vegetables and salad!! In addition to the vast quantities of chicken and beef that I prepared for the meals, I really did try to include a significant number of healthy, vegetable based side dishes. Even so, there were a lot of meals, a veritable non stop food fest! Now that Pesach is over, we feel the need to do a menu reset.
These strawberries are HUGE!
My youngest daughter and I were in the mega fruit store this week and the strawberries were on sale for 59¢ a pound!! These were the biggest, most beautiful strawberries we had ever seen!! At that price we brought home eight pounds of delicious ripe strawberries for us and two pounds for my parents. That's a significant amount of strawberries! A few pounds were to be washed, and eaten whole as an after school mouthwatering, healthy snack. Another two pounds were for Strawberry Rhubarb Sauce (so good it could be a dessert), and the rest for Shabbat salads & fruit trays.
One of our family's favorite salads is the Spinach Salad with Mangos and Strawberries. My youngest daughter begs for this salad with the sweet name "That Fruit Salad". It's so easy to make, I try to indulge her as often as possible, especially now that strawberries are in season. One of the best parts of making this salad is using one of my all time cool gadgets – my mango cutter. I love a great gadget. The mango cutter solves the problem of cutting around the irregularly shaped mango seed. Every time someone sees me use it they can't believe how easily it cuts the seed out of the mango. If you are having trouble believing me…I'll show you how easy it is!!
The rest of the salad is easy to make too. It's made with a light dressing, washed fresh baby spinach, fresh, juicy, sliced strawberries, and all the diced mangos you cubed after using the cool mango cutter. If you're a little nutty you can top the salad with chopped walnuts, but the salad is great without them also. I always make a lot of this salad because with it's fresh taste it's really popular!
My husband's favorite salad is Cole Slaw with Shredded Chicken. I discovered this recipe a few years ago when trying to make egg rolls for Pesach. I had made a filling for the egg rolls and realized that the filling was great on it's own! A few minor modifications and this crunchy, flavorful, healthy salad became another family favorite.
We are all feeling the need to get back to a healthy eating rhythm – we're literally counting the days until the next chag!
Print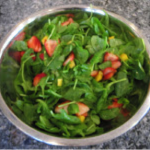 Spinach Salad With Mangos And Strawberries
---
10 ounces

fresh baby spinach, washed & dried

2

large mangos, peeled and diced

1

pound strawberries, thinly sliced

1 cup

chopped walnuts (optional)

1/2 cup

white vinegar

1/2 cup

Splenda (or sugar)

2 tablespoons

canola oil
---
Instructions
In a small bowl, combine vinegar, Splenda and canola oil.
Set aside.
In a large bowl, combine spinach, sliced strawberries, and diced mango.
Toss to combine.
Pour dressing over the salad.
Toss to coat.
Sprinkle the walnuts over the salad.
Serve chilled.
---
Notes
Note
When mangos aren't in season, or I don't have any handy, I use one or two snack sized containers of diced peaches. The salad is still great and there isn't a big difference in taste! How easy is that!
Recipe Card powered by
Print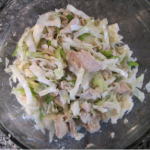 Cole Slaw With Shredded Chicken
---
1/2

small green cabbage, shredded

2

stalks celery, thinly sliced

1/2

medium onion, thinly sliced (about

1/2 cup

)

2

chicken breast halves

2 tablespoons

canola oil

1 teaspoon

kosher salt

1/2 teaspoon

black pepper
---
Instructions
Place the chicken breast halves in a medium saucepan.
Cover with water.
Cook over medium heat for 20 minutes until chicken is cooked through.
Remove chicken from water and cool for 10 minutes.
Shred the chicken with a sharp knife.
Combine all the ingredients in a large bowl.
Toss to evenly coat.
Allow to sit for 30 minutes before serving.
Enjoy!
---
Recipe Card powered by
I'd love to hear from you!! Please feel free to leave comments, suggestions and recipes after each blog!!! Don't forget to pass this blog on to your friends and family!!