Grilled Steak Salad and Roasted Sweeet Potato Salad
The Grilled Steak Salad and Roasted Sweet Potato Salad was created in collaboration with Mariano's. Yes. Mariano's.
It's been an incredibly fun experience working with the Mariano's grocery store people. They're crazy nice and great to work with. We actually did a field trip through my local Mariano's, and it was a most excellent experience.
The Grilled Steak and Roasted Sweet Potato Salad with Balsamic Apricot Dressing post is sponsored by Mariano's.
In case you were wondering.
How I developed the Grilled Steak Salad and Roasted Sweet Potato Salad recipe
When I'm feeling particularly lazy, I zip on over to my local Skokie branch of Mariano's where they have Kosher grills, one for meat and one for fish. You can purchase your favorite Kosher meat/fish and they will grill it free of charge while you shop for your other groceries.
It's a wonderful thing.
Back to being lazy.
One of my favorite things to order, especially on a busy Thursday night, are the Pub Burgers.
For less than $10 you get two huge, grilled, restaurant quality burgers. They're incredible.
And then there's the grilled steak
Not only will Mariano's grill burgers, but they also make the most fabulous grilled steaks. Especially if I'm in the store buying my Lazy Grilled Pub Burgers, buying grilled steak for Shabbat is a no-brainer.
A few weeks ago, I was feeling particularly lazy and did my whole Pub Burgers and Grilled Steak extravaganza order. I ended up using the steak in an amazing salad. I tucked that salad away in my brain's recipe file folder and went to take my Shabbat nap.
Then Mariano's Contacted me
As a #Chicagogirl, there is a kind of symbiotic relationship between me and the Kosher Mariano's. I try pretty hard to support establishments that support me, a Kosher eating individual.
Mariano's is definitely at the top of that list.
While this may be a sponsored post, I don't take jobs where I don't already love the product. If I didn't love Mariano's I wouldn't have taken the job.
Just saying.
I pulled the Grilled Steak and Roasted Sweet Potato Salad recipe out of the cluttered file cabinet
When trying to come up with the perfect recipe, I immediately thought of the Mariano's Grilled Steak Salad recipe. I mean, all the ingredients were already Mariano's specific.
It was fated to be.
Making Grilled Steak and Roasted Sweet Potato Salad
Here's how I made the Grilled Steak and Sweet Potato Salad. It's pretty simple, using ingredients you most likely have already, even on Passover.
Originally, I intended for this salad to be a "leftovers" option from your Seder foods.
Everyone has leftover romaine lettuce from the Seders, and if you have leftover roast you could cut it up and use it in this salad. The roasted sweet potato is easy to make and if you're roasting sweet potatoes as a side dish, making a batch of diced ones isn't a big stretch.
If you're not a #Chicagogirl like me, it's a viable option.
The Romaine Lettuce in the Grilled Steak and Sweet Potato Salad Recipe
What's super convenient is that you can usually purchase pre-washed romaine at Mariano's.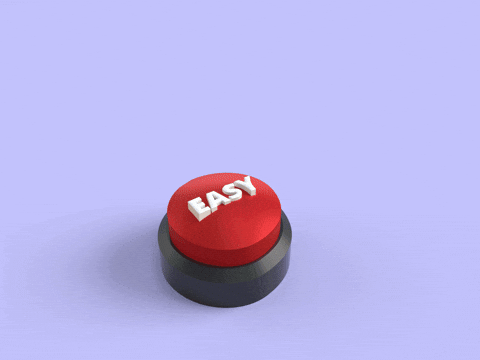 The Grilled Steak in the Grilled Steak and Roasted Sweet Potato Salad Recipe
If you can't get your grilled steak already done at Mariano's you can always grill your own, or use leftover roast from your Passover meals. I personally love the flavors of the fire grilled steak so I'm voting heavily for that option.
It really enhances the flavor profile of the salad.
The Roasted Sweet Potatoes in the Grilled Steak and Roasted Sweet Potato Salad Recipe
I bought beautiful, fresh sweet potatoes, peeled and diced them, then roasted them with a little oil, salt and black pepper.
That's it.
Making a salad with fresh, easy ingredients is extremely important when developing a salad recipe for Passover. We're all busy. We need simple, fresh, straightforward recipes to balance the more time consuming fancy ones.
This is a simple one.
In addition to roasting two medium sweet potatoes, you can roast a whole batch of sweet potatoes and use them as a healthy side dish for your Passover meals.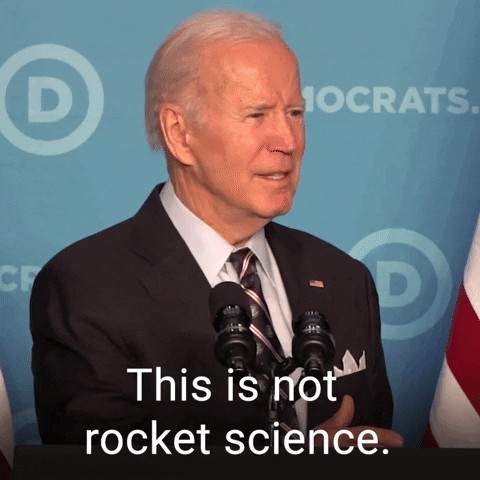 The Candied Pecans
I was making the recipe for the Mariano's Grilled Steak and Roasted Sweet Potato Salad in the middle of turning over my kitchen for Passover. At the time I didn't have all my Passover pots and pans out, and had acess to a limited number of utensils and baking sheets.
Normally, I make my candied pecans on a burner in a skillet with just pecans and sugar.
That wasn't happening.
I went to plan B.
I put pecans in a disposable aluminum pan, tossed them with brown sugar and gave them a healthy spray of olive oil spray.
Then I said a little prayer to the candied pecan god and waited.
It worked! It wasn't quite as good as the skillet method, but if you're not able to make the stovetop version, the brown sugar method works very well as a plan B alternative!
The Balsamic Apricot Dressing
Confession time:
Originally the dressing for the salad was supposed to be a Balsamic Maple dressing. It was delicious.
When I did my super fun field trip to Mariano's I discovered that there wasn't any Kosher for Passover pure maple syrup in the store.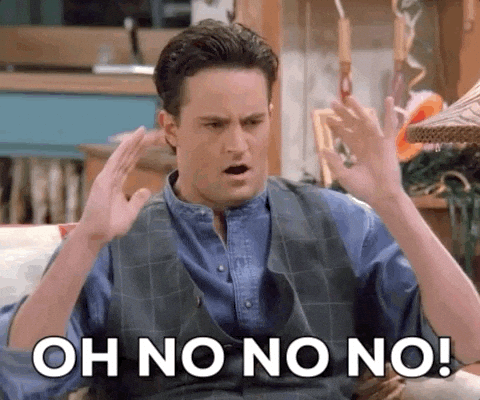 After a very brief freak out, I went around the Passover shelves to figure out a creative solution. The no brainer one was to substitute honey for the maple syrup.
Too easy.
I wanted a salad dressing that leant a whole new dimension of flavor to the salad and complimentd the ingredients. We found a beautiful jar of Tuscanini Italian Apricot Spread on the shelf. It looked smooth and delicious.
I blended the Kosher for Passover balsamic vinegar with the apricot preserves and it ended up being so much better than I even expected it to. The apricot flavor complimented the sweet potatoes and added a great balance to the smokiness of the meat.
The Tuscanini preserves are strongly recommended because of how the fruit is blended. It makes whisking the dressing fairly simple without big clumps of apricot. Unless you like clumps of apricot.
Here's the recipe for Grilled Steak and Roasted Sweet Potato Salad with Balsamic Apricot Dressing
You'll love how straightforward and relatively easy this salad is to make. If you want to make this salad a little ahead before serving, simply prepare the salad ingredients in advance and toss them all together when ready to serve.
Print
Grilled Steak and Roasted Sweet Potato Salad with Balsamic Apricot Dressing
Author:

Prep Time:

45 minutes

Cook Time:

45 minutes

Total Time:

90 minutes

Yield:

1

large salad

1

x

Category:

Appetizer

Method:

Baking

Cuisine:

Gluten Free

Diet:

Kosher
---
Description
Grilled Steak and Roasted Sweet Potato Salad with Balsamic Apricot Dressing is a colorful and delicious work of art!
Grilled Steak and Roasted Sweet Potato Salad with Balsamic Apricot Dressing starts with fresh Mariano's ingredients, like Kosher Grilled Steak made fresh as you wait! There's warm, roasted sweet potatoes, crunchy candied pecans, zesty craisins and delicious hearts of palm in this well rounded salad. The dressing is made from two simple ingredients: balsamic vinegar and apricot spread. Grilled Steak and Roasted Sweet Potato Salad is great as an appetizer, side salad or a whole meal!
This recipe is sponsored by Mariano's stores.
---
For the Dressing
1/4

cup

balsamic vinegar

1/2

cup

apricot preserves
For The Salad
1 1/2

pounds

sweet potato, peeled, cut into 1/2-inch cubes

1 tablespoon

extra virgin olive oil

1/2 teaspoon

kosher salt

1/4 teaspoon

freshly ground black pepper

1

cup

whole pecans

1 tablespoon

light brown sugar

1/4 teaspoon

extra virgin olive oil

1

pound

grilled steak, thinly sliced

1

(14.1-ounce) can whole hearts of palm, drained, cut into halves lengthwise, then cut into

1

-inch pieces

1

cup

sweetened dried cranberries

1

cup

sliced green onions
---
Instructions
For the Dressing
In a small bowl, whisk together the balsamic vinegar and apricot preserves until smooth.
Can be stored in an airtight container in the refrigerator until ready to use.
For the Salad
Preheat oven to 350°F. Grease a shallow 9×13-inch baking sheet. Set aside.
In a large bowl, coat the sweet potatoes with the tablespoon of olive oil, salt and black pepper. Transfer to the prepared baking sheet and bake for around 45 minutes, stirring halfway through, until lightly browned.
In a shallow 9×13-inch pan, toss the pecans with the brown sugar and 1/4 teaspoon olive oil. Bake for 10-15 minutes, stirring halfway through, until the sugar has melted and the pecans are toasted. Cool completely.
Place the romaine in a large salad bowl. Top with the grilled steak, roasted sweet potatoes, candied pecans, hearts of palm, sweetened dried cranberries and green onion.
Pour the prepared dressing over the salad. Toss before serving if desired.
Can be made up to two hours in advance without tossing, tightly covered in the refrigerator, reserving the dressing to pour over the salad just before serving.
---
Equipment
---
Notes
Here is alternative recipe for Candied Pecans. If making this salad for Passover, leave out the corn syrup.
You can use leftover romaine from your Seder meals.
If you have leftover roast, simply thinly slice around a pound and add it to the salad instead of grilled steak (but Mariano's grilled steak is always the best).
Nutrition
Serving Size:
Calories:

287

Sugar:

23.9 g

Sodium:

306.9 mg

Fat:

11.1 g

Saturated Fat:

1.4 g

Carbohydrates:

43 g

Fiber:

5.1 g

Protein:

8.1 g

Cholesterol:

13.1 mg
Keywords: Steak Salad, Sweet Potato Salad, Kosher for Passover, Pesach, Gluten Free, Dairy Free, Non Gebroks, Dinner Salad
Recipe Card powered by
More Salad, Vegetable and Plant Based Passover Recipes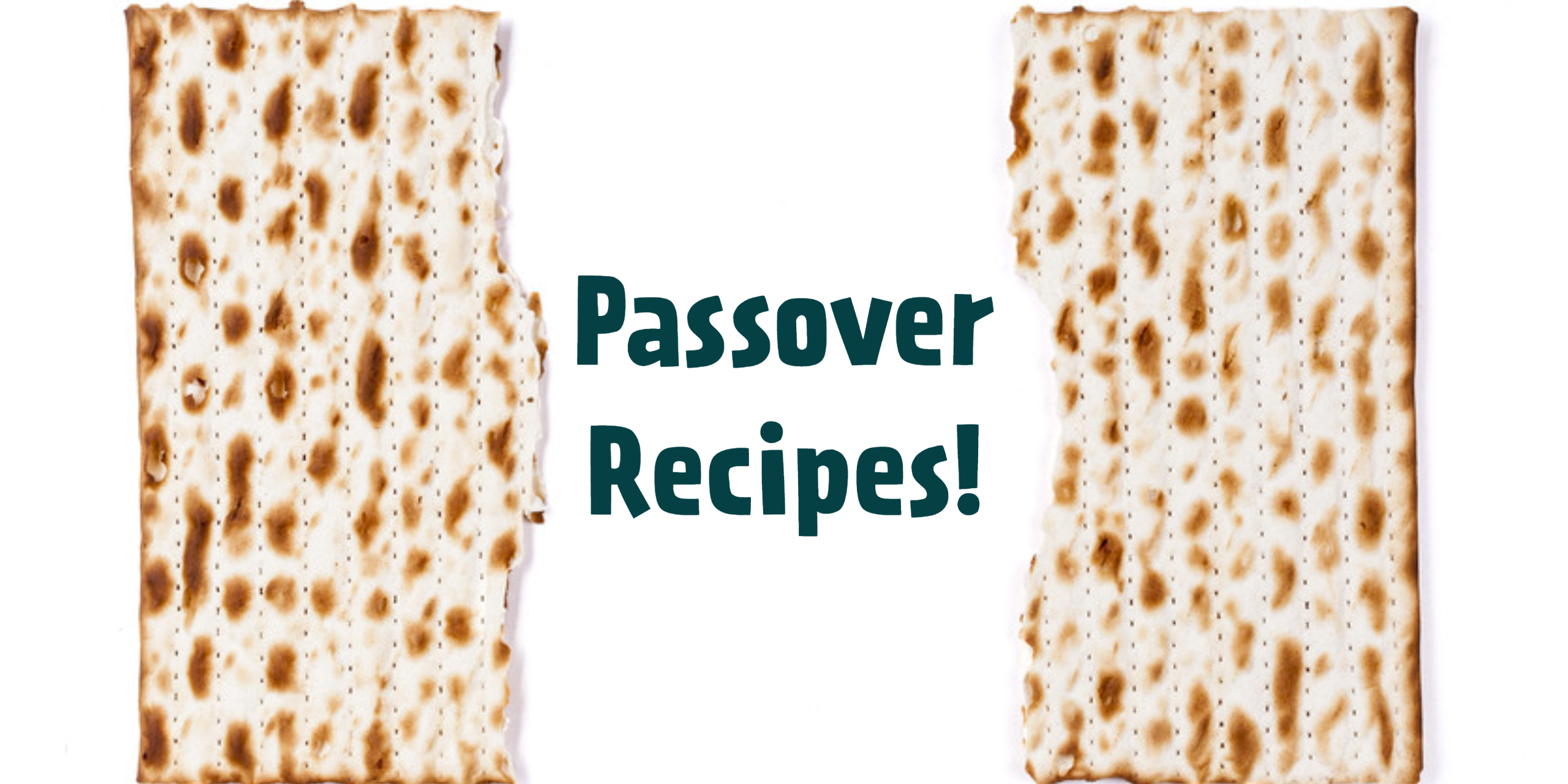 SHABBOS UNDER PRESSURE IS GREAT FOR PASSOVER!
FYI: I'm here to help make it way easier for you and reduce your pressure with my book "Shabbos Under Pressure". I've found that using my electric pressure cooker to prepare for Passover, makes the cooking way easier and more efficient. For example, instead of cooking a huge pot of chicken soup on the stove for three hours, taking up valuable space on my stovetop, I can make even better soup in just an hour/hour and a half in my Instant Pot. I've even put together a Shabbos Under Pressure Passover Recipe Guide to help you convert the recipes in the book to Passover friendly recipes. If you don't already have "Shabbos Under Pressure" now would be a great time to order it to ensure that you receive it with enough time to plan and cook your Passover meals.
You can order it here: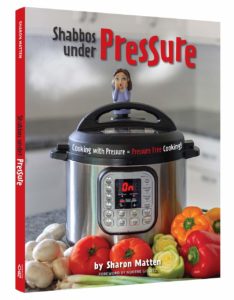 Here's the Passover Under Pressure – The Shabbos Under Pressure Passover Guide: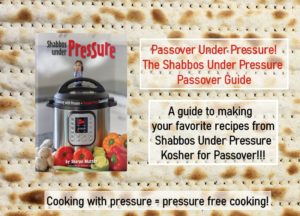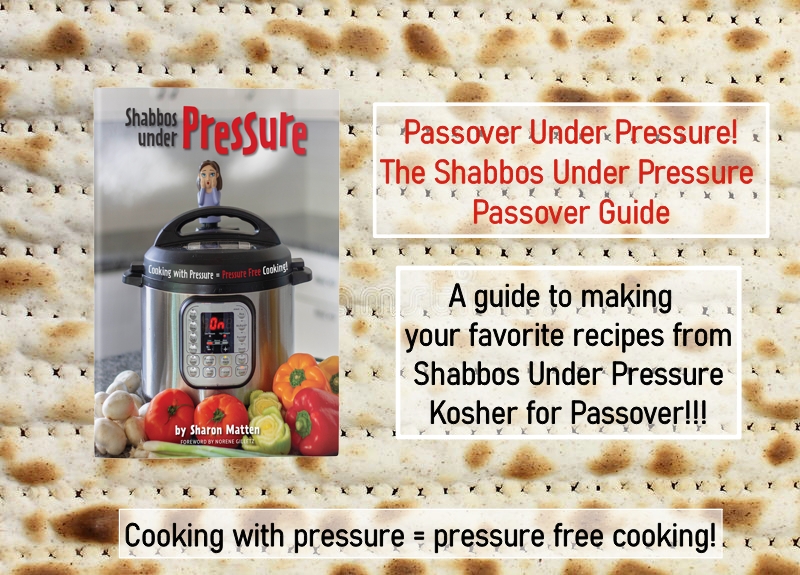 Make sure to follow Kosher Everyday on Facebook and Instagram so you don't miss the latest and greatest Passover recipes and fun from Kosher Everyday!
Thanks again Mariano's for sponsoring this recipe and post!