Fall is the time for pomegranate and mango
It's that wonderful time of year where some of my most favorite fruits and vegetables are currently in season. I was recently at our local grocery store and found fresh cranberries, pomegranate and mango, all available at sale prices. I was a little taken aback…I certainly didn't expect mangoes and cranberries available at the same time.
At Trader Joe's I found Pomegranate Vinegar and our absolute favorite Delecata squash. We love to stuff the halves of the squash with nuts, fresh cranberries and apples then serve them quartered. They are sweet and creamy and you can even eat the skin!
It's that time of year…
A while back our family was invited to a Sukkot night meal at Margo's Sukkah – our Kosher Me & Gluten Free friend. She made a "to die for" kale salad, that I couldn't seem to eat enough of. The texture of the kale was really unusual…softer than normal kale but still crisp. Deliciousness. Then she told me her secret. You need to create a "Kale Spa" (my words not hers).
Basically, before you make the salad you need to actually massage the kale. You see, in the growing process the kale gets really stressed. It's a hard job growing all that leafy, calcium filled goodness. When I was done preparing the kale, it was the most relaxed kale around. Then it went into the fridge to chill – I mean, it just had a massage…I didn't want to stress it out further!
The dawn of Kale Pomegranate and Mango Salad
After seeing the mango's and pomegranates in the store, and getting my kale therapy instructions, I knew a fabulous Kale Pomegranate and Mango Salad was in order. This is a relatively simple salad to make with just a few ingredients. You can make your own Honey Pomegranate dressing, or I recommend using a ready made outstanding Brianna's Blush Wine or Ken's Lite Raspberry Walnut Vinaigrette.
The idea is to use a slightly sweet dressing to compliment the fruit, but have it be tangy enough that the salad isn't cloyingly sweet. I also found a large bag of ready made Fisher Glazed Pecans at Restaurant Depot to toss in the salad.
If you can't find them you can always make your own Candied Pecans, or just use unglazed ones.
Oh, and as a PSA, it's not a good idea to feed your guinea pig kale every day. Why? There is too much calcium in the kale. Once in awhile a little is ok, but not every day. OK? Good.
Print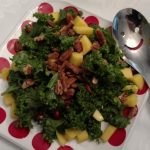 Fall Kale Pomegranate & Mango Salad with Honey Pomegranate Dressing
Author:

Prep Time:

15

Total Time:

15 minutes

Category:

Salad

Method:

Tossing

Cuisine:

Plant Based

Diet:

Kosher
---
Description
This is a healthy, fruity, tangy, delicious fall salad. Super simple to make and perfect for fall and Rosh Hashanah!
---
For the salad
10 ounces

fresh, cut kale

2

ripe mangoes, peeled and diced

2

pomegranates, arils removed

1

large shallot, finely diced

1 1/2 cups

glazed pecans

2 tablespoons

canola or olive oil
For the Honey Pomegranate Dressing
1/4 cup

honey

1/2 cup

pomegranate vinegar

1 tablespoon

canola or olive oil
---
Instructions
For the salad
Place the kale in a large bowl with the oil. Gently massage the kale, incorporating the oil into the kale. Add the mangoes, arils, and diced shallots.
For the Honey Pomegranate Dressing
Combine the honey, pomegranate vinegar and oil in a small bowl, then whisk until mixture is completely blended.
To Finish
Toss with the Honey Pomegranate dressing, then sprinkle with the glazed pecans.
---
Notes
Substitutions
Pomegranates: Dried Cranberried
Shallot: small red onion, sliced green onion
Pomegranate Vinegar: Balsamic Vinegar
Glazed Pecans: Plain Pecans or Candied Pecans (recipe below)
Dressing: Briannas Blush Wine Dressing or similar.
Nutrition
Serving Size:
Calories:

265

Sugar:

28 g

Sodium:

110.2 mg

Fat:

13.7 g

Carbohydrates:

36.5 g

Protein:

4.4 g

Cholesterol:

0 mg
Keywords: Pomegranate, Kale, Mango, Pecans, Salad, Plant Based, Gluten Free, Dairy Free, Meat Free
Recipe Card powered by
Print
Candied Pecans
Author:

Prep Time:

5 minutes

Cook Time:

15 minutes

Total Time:

20 minutes

Yield:

1.5 cups

1

x

Category:

Nuts

Method:

Cooking

Cuisine:

Plant Based

Diet:

Kosher
---
---
1 cup

whole pecans

¼ cup

sugar

1 tablespoons

corn syrup
---
Instructions
Line a cookie sheet with parchment paper or a silicone mat. Set aside.
Combine sugar and corn syrup in a medium skillet. Add pecans and stir until pecans are coated.
Cook over medium heat, continuously stirring with a wooden spoon or heat resistant (silicone) spatula until sugar coating begins to brown slightly, being careful not to burn the sugar.
Immediately turn pecans onto prepared baking sheet, spreading and separating with the wooden spoon or heat resistant spatula.
When the pecans are completely cooled break apart any large clumps of pecans.
Serve in salads or as a snack.
---
Notes
This recipe can be used to candy any nuts or seeds.
Nutrition
Serving Size:
Calories:

126

Sugar:

8.8 g

Sodium:

1.7 mg

Fat:

9.8 g

Trans Fat:
Carbohydrates:

10.2 g

Protein:

1.2 g

Cholesterol:

0 mg
Keywords: Candied Pecans, Glazed Pecans, Pecans
Recipe Card powered by
MORE FABULOUS ROSH HASHANAH RECIPES
Here are some links to more wonderful Rosh Hashanah recipes!
What recipes would you like to see for this upcoming Rosh Hashanah? I'd love to get your feedback?
What are you making for the Holiday?
KOSHER EVERYDAY ROSH HASHANAH GIVEAWAY!
Make sure to enter the fabulous Rosh Hashanah Giveaway!
The Prizes include:
1. The fabulous cookbook "Shabbos Under Pressure – Cooking with Pressure = Pressure Free Cooking" by (me!) Sharon Matten @koshereveryday
2. Beautiful Premium Hard Rock Maple Challah/Apple Board 18×12" 1 1/4" thick from @sophistiplate (Value $125)
3. Gorgeous Glass and Silver Stainless Honey Pot with tray and Honey Server from @thetrendytable
4. Hand made Rosh Hashanah Challah Cover by @kidskippot
5. Sweet and special! Two 16 ounce jars of honey from @rockland_honey
Here are some extra coupon codes that you can use at these sites:
Sophistiplate – use code KOSHEREVERYDAY 20% OFF
Kids Kippot – use code KOSHEREVERYDAY 10% OFF
FOLLOW ME!
Don't forget to follow Kosher Everyday on Instagram @koshereveryday! and on Facebook You don't want to miss all the fun and interesting posts and reels that can be found nowhere else!
You can find reels showing how to make Brown Sugar Meringue with Apple Filling and many other recipes on Instagram!
Also, make sure to tag @koshereveryday when you make Kosher Everyday recipes! I LOVE to see your creations!!!
Please note that this post contains affiliate links. Thanks for your ongoing support!