Spaghetti Squash with Peanut Sauce
Spaghetti Squash is a fabulous, almost magical vegetable when made properly. It resembles angel hair pasta, and is way lower in calories and much more nutritious than traditional pasta. They key is not overcooking the squash, and making sure the spaghettis are completely separated. I was looking online for a new recipe for spaghetti squash and I came across a recipe (from another website) for Spaghetti Squash with Peanut Sauce that contained Bok Choy. I was intrigued…
Making the original Spaghetti Squash with Peanut Sauce and then updating it
I'm sure you're wanting to know where the original recipe came from. The issue with that is that after making it, Dear Husband and I didn't really like the taste. While there were elements we liked, the ratios of the ingredients didn't work for us and we didn't love the flavors.
I also adjusted the cooking time of the squash so that it wouldn't overcook. It's a common issue with spaghetti squash. If you overcook it, it becomes mush. Cooking it properly gives you perfect pasta strands that resemble angel hair rice noodles.
Since I don't speak negatively about people, if you really need more information DM me and I'll send you the link.
What we did like about the Original Spaghetti Squash with Peanut Sauce
The original recipe wasn't all bad. There were aspects of the recipe that we really did like.
The addition of Baby Bok Choy
Dear Husband and I really liked the fact that the recipe contained baby Bok Choy. While it's a little bit of a pain to wash and check for bugs, the end result is worth the effort. Baby Bok Choy adds flavor, nutrition and a burst of color to an otherwise neutral colored dish.
The Peanut Butter Sauce Concept
The idea was that the spaghetti squash would be coated with a peanut butter sauce. The problem with the original recipe was that there were only two tablespoons of smooth peanut butter in the whole recipe.
Really.
That had to change. I mean if you're going to have a peanut sauce, make it super peanut buttery!
Chinese Five Spice
I don't have a lot of experience with Chinese Five Spice. During a recent expedition to The Spice House in Evanston, IL we updated some of our spices and purchased some that sounded interesting. One of our updated spices was Chinese Five Spice. Since I hadn't really been using it frequently, the one I had was essentially void of flavor. The new, Spice House one, was definitely not void of flavor.
It added a depth of flavor to the recipe that I wasn't expecting, so while I changed the amount of Chinese Five Spice in the recipe, I still kept it in.
Lime Juice
Lime juice in the recipe was unexpected. It added the acidity and brightness the spaghetti squash needed.
Look at me, sounding all Food Networky.
The issue was that there was way too much lime juice in the original recipe. It became overpowering and took over the whole dish. I did include a little lime juice in my recipe for Spaghetti Squash with Peanut Sauce, but only a little.
Creamy vs Super Chunky Peanut Butter for Spaghetti Squash with Peanut Sauce
I'm sorry, but if you're making a peanut focused dish, make it super peanutty! I added a whole half cup of Super Chunky peanut butter to the new recipe.
There's also whole, dry roasted peanuts in the update.
It's awesome.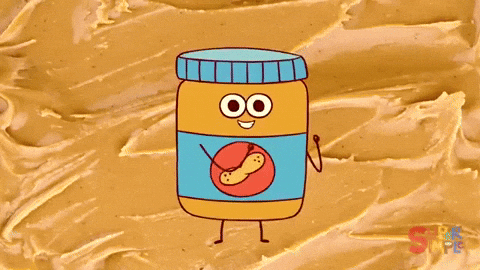 Super Firm or High Protein Super Firm Tofu
To make this dish even more outstanding, and completely plant based, I diced my absolute favorite Super Firm Tofu and added it to the dish instead of chicken.
Super firm tofu is not like other tofu's that fall apart when you add them to recipes. Super firm tofu has a similar consistency to a solid cheese, like paneer. It won't fall apart when browning, and holds it's shape and texture in stir fries and soups.
I usually buy mine at Trader Joe's, but you can find similar products by brands like Nassoya and Hodu in other stores as well.
Red Pepper, Garlic Oil, Homemade Crushed Red Pepper and Green Onions
These are all new additions designed to add color, nutrition and flavor to the updated Spaghetti Squash with Peanut Sauce.
Here's the recipe for Spaghetti Squash with Peanut Sauce
As with nearly every recipe I publish, you can always add your own favorite vegetables to this stir fry. I also was discussing with my PT guys today that if you're not a spaghetti squash fan, you can always use a different type of noodle like rice noodles or ramen. It's totally up to you!
Print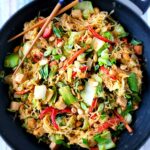 Spaghetti Squash with Peanut Sauce
Author:

Prep Time:

30 minutes

Cook Time:

45 minutes

Total Time:

75 minutes

Yield:

8

servings

1

x

Category:

Main Dish

Method:

Stir Fry

Cuisine:

Plant Based

Diet:

Kosher
---
Description
Spaghetti Squash with Peanut Sauce combines perfectly cooked spaghetti squash, browned tofu and a colorful variety of fresh vegetables topped with a heavenly peanut sauce. The Baby Bok Choy and sliced red peppers add a vibrant, nutritious burst to this dish and the dry roasted peanuts and super chunky peanut butter add a satisfying crunch. This is a dish that will make your whole family love eating vegetables!
Naturally plant based and gluten free too!
---
For the Spaghetti Squash
1

–

1 1/2

pounds

spaghetti squash

1/4

cup

water
For the Tofu
16

ounces

super firm/high protein tofu, completely dried, diced

1 tablespoon

garlic oil

1 tablespoon

toasted sesame oil

1/2 teaspoon

Chinese Five Spice
For the Peanut Sauce
1/2

cup

peanut butter

2 tablespoons

toasted sesame oil

2 tablespoons

soy sauce

1 teaspoon

freshly squeezed lime juice

1 tablespoon

light brown sugar

1 teaspoon

dried ginger

1/8 teaspoon

crushed red pepper
To Finish
1

pound

Baby Bok Choy, sliced

1

large red pepper, thinly sliced

3

large scallions, thinly sliced

1/2

cup

dry roasted peanuts
additional dry roasted peanuts and sliced scallions for garnish
---
Instructions
For the Spaghetti Squash
Cut the spaghetti squash into quarters, then completely remove the seeds. Transfer to a large microwave safe bowl.
Add the 1/4 cup water, cover with microwave safe plastic wrap and microwave on high for 10 minutes, 12 minutes if you have a lower powered microwave.
Remove from the microwave and allow to cool until cool enough to touch.
Using a large (soup) spoon, scoop the "spaghetti" out of the peels and into a large bowl being careful not to break the strands.
Carefully separate the clumps of spaghetti squash until there is a large bowl of spaghetti.
Taking a a cup or two at a time, gently squeeze out all the liquid from the squash. Once all the spaghetti squash has been drained return it to the bowl.
For the Peanut Sauce
While the spaghetti squash is cooking, prepare the sauce.
In a large 4 cup measuring cup or bowl, whisk together the peanut butter, toasted sesame oil, soy sauce and lime juice until completely blended.
Stir in the brown sugar, dried ginger and crushed red pepper until combined.
Set aside.
For the Tofu
Heat the garlic oil and toasted sesame oil in a large wok over medium-high heat.
Add the tofu and sauté until browned, stirring frequently.
Once the tofu is browned on all sides, add the Chinese Five Spice and toss until the tofu is completely coated.
To Finish
Add the Baby Bok Choy to the tofu and sauté until soft, then add in the sliced red pepper and toss to combine.
Spoon the prepared peanut sauce into the wok and toss until all the ingredients are completely coated.
Add the spaghetti squash into the wok and very gently stir until the spaghetti is covered with peanut sauce.
Sprinkle the dry roasted peanuts and sliced green onions over the top of the spaghetti. Carefully stir to combine.
Serve hot topped with additional dry roasted peanuts and sliced green onions.
---
---
Notes
Be careful not to overcook the spaghetti squash. Overcooking with make the strands very soft and will result in a mushy stir fry rather than spaghetti like strands. The squash may seem a little hard when you remove it from the peel but it will cook a little further in the wok.
If you are not a spaghetti squash fan (gasp!) feel free to use rice noodles or ramen instead.
Our family likes our food spicy, but to accommodate the masses I only added 1/8 teaspoon crushed red pepper to the recipe. If you like your food a little spicier, feel free to add more.
As always, you can use any of your favorite vegetables in this dish.
Nutrition
Serving Size:
Calories:

325

Sugar:

7.1 g

Sodium:

201.4 mg

Fat:

24.1 g

Saturated Fat:

4.2 g

Carbohydrates:

17.1 g

Fiber:

4.8 g

Protein:

14.5 g

Cholesterol:

0.4 mg
Keywords: Spaghetti, Spaghetti Squash, Plant Based, Gluten Free, Dairy Free, Vegetarian, Vegan, Pareve, Meat Free
Recipe Card powered by
Here's my Instagram reel on how to make Spaghetti Squash with Peanut Sauce
View this post on Instagram
More Perfect Pasta Recipes
CHECK OUT THE KOSHER EVERYDAY AMAZON INFLUENCER STOREFRONT!
I'm excited to announce the launch of my brand, spankin' new, Amazon Influencer storefront. The purpose of this store is to share with you all of my favorite tools, ingredients and accessories that I use on Kosher Everyday. If there's something you'd like to see please let me know and I'll make sure to add it. I'm updating the storefront all the time.
You can find all my Cookware and Bakeware including ones like the HexClad 14 Inch Hybrid Stainless Steel Frying Pan with Lid, Stay-Cool Handle – PFOA Free, Dishwasher and Oven Safe, Non Stick with lid on my storefront.
I've put together a complete Gluten Free Challah Storefront with everything you need to make fabulous Gluten Free Challah!
Additionally there is a Small Appliance Storefront with many awesome small appliances that I recommend for your kitchen…even if you have a small space!
I'd love to hear what you think!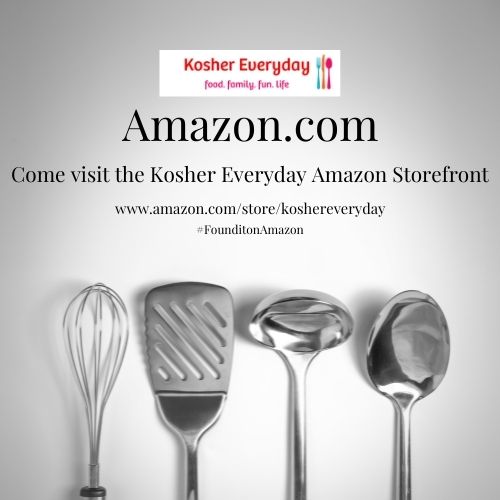 FOLLOW ME!
Don't forget to follow Kosher Everyday on Instagram @koshereveryday! and on Facebook You don't want to miss all the fun and interesting posts and reels that can be found nowhere else!
You can find reels showing how to make most of my recipes on Instagram!
Also, make sure to tag @koshereveryday when you make Kosher Everyday recipes! I LOVE to see your creations!!!
Please note that this post contains affiliate links. Thanks for your ongoing support!
Oh and because I love Hast Knives and have a media affiliate relationship with them you get a 15% discount for using the code KED15 when you order:
Sp