Making Gochujang Caramel Cookies
When I told people that I was making Gochujang Caramel Cookies the first reaction was "Gochu what?"
To make this simple, Wikipedia defines Gochujang as:
"Gochujang or red chili paste is a savory, sweet, and spicy fermented condiment popular in Korean cooking. It is made from gochu-garu, glutinous rice, meju powder, yeotgireum, and salt. The sweetness comes from the starch of cooked glutinous rice, cultured with saccharifying enzymes during the fermentation process."
This super creative cookie is fast becoming one of my all time favorites.
The Original recipe for Gochujang Caramel Cookies
It's no surprise to anyone that I love thinking out of the box.
Box? What box?
When I find a cool recipe that has a weird ingredient I'm intrigued. Especially when it comes from one of my all time favorite food recipe websites, The New York Times. The original recipe was created by Eric Kim For the NYT. Here's a link to the original recipe for Gochujang Caramel Cookies.
The Challenges with updating recipes I find online
The challenge with cool recipes is, of course, making them gluten free, dairy free, ensuring that the weird ingredient(s) is/are fairly easy to obtain, and that they can be procured with a Kosher certification.
It's not always so simple.
Finding the Gochujang for Gochujang Caramel Cookies
I did an initial search on one of my favorite shopping websites, Instacart. We have a family cart for Instacart and my kids who don't have easy access to groceries use it often. Contrary to popular opinion, the prices are fairly competitive, and the groceries come straight to your door fairly quickly.
For a hermit like me it's wonderful.
Back to gochujang.
I did an Instacart search and had trouble finding it with a Kosher certification. There were varieties of gochujang sauces, not paste, that might have had a certification, but it wasn't clear and I didn't want to take a chance.
I did an Amazon search (my second favorite shopping site) and found several different brands that had a reliable certification.
I ordered the one that was the most reasonably priced and would come the quickest.
The best laid plans…
You know it's coming…
I excitedly opened the package with the gochujang paste, only to realize that I had accidentally ordered gochujang powder.
Sigh.
I ended up making the most incredible Gochujang Chicken Wings (stay tuned…) for Shabbat using the powder, and had to re-order the gochujang paste.
Note: Gochujang comes in different forms. There is also a sauce. You want the paste, not the powder and not the sauce.
Wahoo! The Gochujang Paste for the Gochujang Caramel Cookies finally arrived!
I was super excited. The paste kind of looks like a thick tomato paste.
It's really unlike anything I've ever tasted. It's spicy, but not knock you over spicy, and is slightly sweet. It has a wonderful aftertaste that's kind of like a nice, spicy hum.
There are a couple of different Kosher brands on Amazon. I'll put affl links below.
Making the Gochujang Caramel Cookies Gluten Free
This turned out to be super simple. The Gochujang paste that I ordered was already gluten free, so I ended up using my favorite Bob's Red Mill 1:1 blue bag gluten free flour.
It worked really well. The difference was that the dough was a little thicker than the one in the original NYT recipe, and the cookies ended up not quite as flat. I considered that to be a good thing.
Making the Gochujang Caramel Cookies Dairy Free
Sometimes recipes don't convert well from being dairy to being dairy free. In the case of these cookies, I substituted plant based butter for the butter. I prefer to use specific brands of plant based butter when making cookies.
Yes, it makes a difference.
I strongly recommend Fleischmann's Unsalted Margarine first and Country Crock Plant Based Avocado Oil Butter second.
This comes from a lot of experience making pareve/dairy-free cookies.
Trust me on this one.
The one thing to understand about the big difference between butter and plant based butter is that butter comes out hard from the refrigerator and plant based butter does not. While you need to have butter come to room temperature before making cookie dough, you don't wait when using plant based butter. In fact, if you do, it may end up too soft which isn't good either.
Preparing the Gochujang Caramel Cookie recipe
There are no fireworks or magic revelations here. I followed the directions. The NYT recipe made eight huge cookies, I made twenty four normal sized ones. I felt that with all the changes, there was a greater chance of success with the smaller ones.
I also accidentally used light brown sugar in the recipe instead of dark brown. The dark brown would have given a richer caramel flavor from the increase in the molasses that dark brown sugar contributes. You can make them either way, but if you have dark brown sugar use that.
They turned out pretty darn great.
Print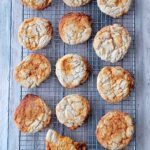 Gluten Free Gochujang Caramel Cookies
Author:

Prep Time:

15 min

Refrigeration:

10 minutes

Cook Time:

12 minutes

Total Time:

37 minutes

Yield:

24

Cookies

1

x

Category:

Snack

Method:

Baking

Cuisine:

Gluten Free

Diet:

Kosher
---
Description
Gochujang Caramel Cookies are the perfect combination of sweet and spicy…in a cookie! Gochujang is a spicy Korean paste that when combined with sweet brown sugar makes a rich spicy caramel. Added to cookie batter it makes the perfect "swicey" treat!
---
1/2

cup (8 tablespoons) plant based butter

2

packed tablespoons dark brown sugar (see note)

1

heaping tablespoon gochujang

1

cup/200 grams granulated sugar

1

large egg, at room temperature

1/2

teaspoon coarse kosher salt or 3/4 teaspoon kosher salt (such as Diamond Crystal)

1/4

teaspoon ground cinnamon

1

teaspoon vanilla extract

1/2

teaspoon baking soda

1 1/2

cups/185 grams gluten free 1:1 flour
---
Instructions
For the Gochujang Caramel Paste
In a small bowl, stir together the plant based butter, brown sugar and gochujang paste until smooth. Set aside.
For the Cookie Dough
Preheat oven tov350°F or 325°F convection mode.
In a large bowl, whisk the remaining 7 tablespoons of plant based butter, sugar, egg, salt cinnamon and vanilla until smooth.
Stir in the flour and baking soda.
Refrigerate for 10-15 minutes to thicken the dough.
To make the Gochujang Caramel Cookies
Remove the dough from the refrigerator. Spoon several, spaced out, blobs of the gochujang caramel mixture over the dough.
Using a flat spatula or knife, cut through the dough to create veins/streaks of caramel in the dough. Be careful not to overmix. You want wide, distinct strips of gochujang.
To Finish
Line two baking sheets with parchment paper or silicone mats.
Using a cookie scoop, scoop 12 cookies onto each baking sheet, making sure to leave maximum space between each cookie.
Bake for 12 minutes until the cookies are golden on the edges, rotating the pans halfway through baking.
Cool completely on a wire rack. Cookies will flatten slightly as they cool.
Store in an airtight container for up to 2 days at room temperature.
---
Equipment
---
Nutrition
Serving Size:
Calories:

100

Sugar:

8.9 g

Sodium:

103.9 mg

Fat:

3.9 g

Saturated Fat:

1.7 g

Carbohydrates:

15 g

Fiber:

0.2 g

Protein:

1.1 g

Cholesterol:

7.8 mg
Keywords: Gochujang, Cookies, Gochujang Caramel, Gluten Free, Dairy Free, Pareve, Vegetarian, Cookie Recipe
Recipe Card powered by
More Captivating Cookie Recipes!
CHECK OUT THE KOSHER EVERYDAY AMAZON INFLUENCER STOREFRONT!
I'm excited to announce the launch of my brand, spankin' new, Amazon Influencer storefront. The purpose of this store is to share with you all of my favorite tools, ingredients and accessories that I use on Kosher Everyday. If there's something you'd like to see please let me know and I'll make sure to add it. I'm updating the storefront all the time.
I've put together a complete Gluten Free Challah Storefront with everything you need to make fabulous Gluten Free Challah!
Additionally there is a Small Appliance Storefront with many awesome small appliances that I recommend for your kitchen…even if you have a small space!
I'd love to hear what you think!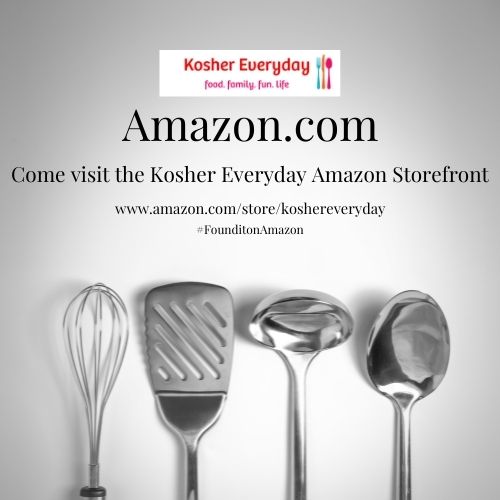 FOLLOW ME!
Don't forget to follow Kosher Everyday on Instagram @koshereveryday! and on Facebook You don't want to miss all the fun and interesting posts and reels that can be found nowhere else!
You can find reels showing how to make most of my recipes on Instagram!
Also, make sure to tag @koshereveryday when you make Kosher Everyday recipes! I LOVE to see your creations!!!
Please note that this post contains affiliate links. Thanks for your ongoing support!