The end of the Optimistic Garden and Heirloom Tomato season
It's the end of the gardening season here in Chicago, and Optimistic Gardens everywhere are being put to sleep until next year.
However, while my Optimistic Garden yields were only average this year, many of my friends and family had bountiful crops of Heirloom Tomatoes.
They were happy to share!
Heirloom Tomato Red Lentil Penne
Just before Rosh Hashanah I had found some beautiful red lentil penne at Trader Joe's. I really wanted to make something that would compliment the flavor and color of the pasta.
Ding!
I had gorgeous Heirloom Tomatoes that were just waiting to be utilized in a magnificent dish. While the rest of my Optimistic Garden yield was only average, my basil plants were blooming! What could be better than Heirloom Tomatoes and fresh, aromatic basil?
Roasted Heirloom Tomatoes, fresh basil and red lentil penne.
Putting together the Heirloom Tomato Red Lentil Penne
I decided to slow roast the tomatoes with a little garlic oil, salt and black pepper. I sprinkled a generous amount of freshly picked, freshly chopped herbacious basil over the top.
Then I slow roasted the tomatoes for maximum flavor.
It smelled amazing.
Once the tomatoes and basil were done roasting and cooled, I chopped them into chunks and tossed them with the penne. For a little more zing, I added some plant based feta and the dish was done.
That's it.
The flavors that were in the roasted Heirloom Tomatoes and basil were all that were needed to compliment the subtle taste of the red lentil penne.
And the color!
Why I use garlic oil and green onion
I've been using a lot of garlic oil lately. The reason is simple. Garlic (and onions) don't agree with my digestive system. It's a fairly common malady, and using garlic infused oil that does not contain actual pieces of garlic, seems to work. It also gives a huge punch of fresh garlic flavor without the overpowering taste of fresh garlic.
It's a great substitute for people that have GI sensitivity and/or are on the FODMAP diet.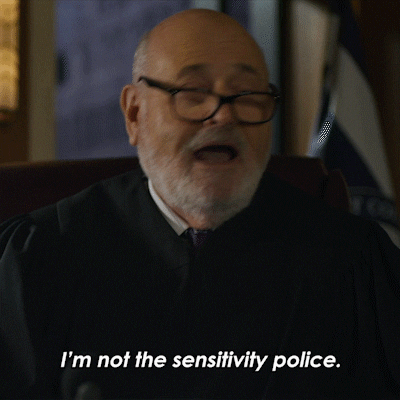 However…
For those of you that can eat, or love fresh garlic, simply substitute one large, finely chopped clove of fresh garlic and two tablespoons of extra virgin olive oil for every two tablespoons of garlic oil.
For the same reasons I also use the green part of scallions or chives. Yellow/white/sweet onions and me just don't get along. I also love the more subtle onion taste of green onion/chives in many of my recipes. Feel free to substitute your favorite traditional onion in place of green onion in any of my recipes.
Easy peasy.
The Recipe
Everyone loved the aromatic, healthy, fresh Heirloom Tomato Red Lentil Penne. There was a lot of anticipation for the dish as you could smell the roasting tomatoes and fresh herbs all through the house.
I used multi colored Heirloom Tomatoes, but you could use traditional red tomatoes as well and it would be nearly as good.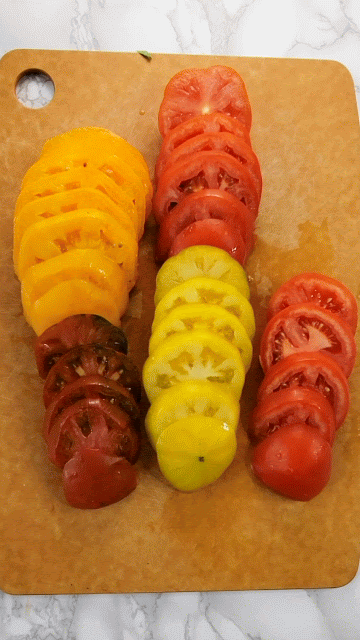 Another time I made it, I actually added a little dehydrated basil just before serving (it was Chag and I didn't have any fresh basil on hand), and it was also super tasty.
Print
Heirloom Tomato Red Lentil Penne
Author:

Category:

Pasta

Method:

Baking

Cuisine:

Plant Based

Diet:

Kosher
---
Description
Heirloom Tomato Red Lentil Penne packs a burst of garden fresh, seasonal, flavors! It's colorful beauty is enhanced by the slow roasting of just picked tomatoes and basil.
You can use any tomato for this dish and it will still be awesome, but fresh, heirloom tomatoes and just picked basil is best.
---
nonstick vegetable spray

1 1/2

pounds Heirloom Tomatoes, sliced

1/2 cup

fresh basil, chopped

2 tablespoons

garlic oil (or 1 large chopped garlic clove and

2 tablespoons

extra virgin olive oil)

1 teaspoon

kosher salt

1/2 teaspoon

freshly ground black pepper

1 tablespoon

dried green onion/chives

8 ounces

red lentil penne pasta, cooked and rinsed

8 ounces

feta (I used plant based)
---
Instructions
Preheat oven to 325°F, or 300°F convection.
Line a half sheet pan with foil and spray with nonstick vegetable spray.
Place the sliced tomatoes in a single layer on the prepared pan. Evenly distribute the chopped basil over the tomatoes.
Sprinkle the garlic oil evenly over the tomatoes, then top with the salt, black pepper and green onion.
Bake for 45 minutes.
Remove the tomatoes from the oven and allow to cool for 15 minutes.
Coarsely chop the tomatoes. Make sure to reserve all the oils and spices on the pan.
Place the cooked red lentil penne in a large bowl. Add the chopped tomatoes, baking oils and spices to the penne. Toss to combine.
Add nearly all the feta to the pasta, reserving a few tablespoons for finishing. Gently toss to distribute the feta throughout the dish.
Top with remaining feta before serving.
---
---
Notes
For those of you that can eat, or love fresh garlic, simply substitute one large, finely chopped clove of fresh garlic and two tablespoons of extra virgin olive oil for every two tablespoons of garlic oil.
Feel free to substitute your favorite traditional onion in place of green onion.
You can actually make this dish without roasting the tomatoes. Simply seed and dice the tomatoes and toss with the fresh basil and spices. Then add them to the pasta with the (plant based) feta for a fresh, seasonal pasta dish.
Nutrition
Serving Size:
Calories:

227

Sugar:

4.2 g

Sodium:

421.1 mg

Fat:

10.2 g

Carbohydrates:

25.8 g

Protein:

8.5 g

Cholesterol:

25.2 mg
Keywords: Tomato, Heirloom Tomato, Red Lentil Pasta, Penne, Plant Based, Vegan, Dairy Free, Gluten Free
Recipe Card powered by
More Pasta Recipes
FOLLOW ME!
Don't forget to follow Kosher Everyday on Instagram @koshereveryday! and on Facebook You don't want to miss all the fun and interesting posts and reels that can be found nowhere else!
You can find reels showing how to make Brown Sugar Meringue with Apple Filling and many other recipes on Instagram!
Also, make sure to tag @koshereveryday when you make Kosher Everyday recipes! I LOVE to see your creations!!!
Please note that this post contains affiliate links. Thanks for your ongoing support!