Green Shakshuka
I often come up with recipes on my own, combining ingredients that intrigue me. I also subscribe to several magazines as well as food websites for additional inspiration. One of my favorite sites is the New York Times website. I subscribe to their emails, which discuss current food trends and great recipes. Recently they published an awesome recipe for Green Shakshuka. It was SO beautiful and healthy looking I simply had to make it.
Making Green Shakshuka
As you probably already know, our family recently came back from a "vacation" completely ill. It turns out the vacation wasn't really a vacation but a trip where we got to see our family (who were all sick). Seeing everyone was great, getting sick wasn't.
After two weeks, Dear Husband and I finally felt better enough to have a date.
On our date we:
Unwrapped presents Microplane sent me (we toveled them).

Did an Amazon return.

Exchanged items and shopped at Kohls.

Went grocery shopping at Food For Less.

Got gas at Shell (where we saved 75 cents per gallon due to my most excellent app coupon usage).

Went to an awesome dinner at Evita's.

And then went to a presentation about Israeli real estate.
Whew!
It was the best. date. ever!
Dear Husband and I were super relaxed and made the whole experience fun.
We really needed some Zen for a change.
Buying Green Shakshuka Ingredients
While we were at Food For Less I realized that I could purchase all the ingredients for the Green Shakshuka. Dear Husband and I brought the recipe up on our phones and had a super fun time looking for all the ingredients .
There was no Green Swiss Chard so we ended up buying Red Chard, which is absolutely beautiful.
So happy. So Zen.
Prepping the Ingredients for Green Shakshuka
The real time consuming part of making Green Shakshuka is prepping the vegetables. Any type of green lettucy vegetable requires serious washing and checking for bugs. It takes a little time.
Aside from that part of the recipe, all the rest of the chopping and dicing was pretty straight forward.
I got to use my brand spankin' new garlic slicer that Microplane send me to try.
It's a fun little gadget. It did a pretty good job slicing my garlic. I generally don't make recipes that require actual fresh garlic or onions (due to my body generally rejecting them) but I'm making an exception for this recipe because it's so darn pretty!
I made the recipe Vegetarian
So, from what I understand, Vegetarians will eat eggs, making this recipe Vegetarian friendly. Woot!
I also wanted to make this recipe dairy free, so I used plant based ingredients other than the eggs. I ended up using plant based half and half, and chopped Good Planet Smoked Gouda Cheese wedges instead of using Queso Fresco. The truth is I couldn't find a kosher Queso Fresco easily (even dairy), so using the Good Planet Smoked Gouda Cheese wedges ended up being a recipe saver.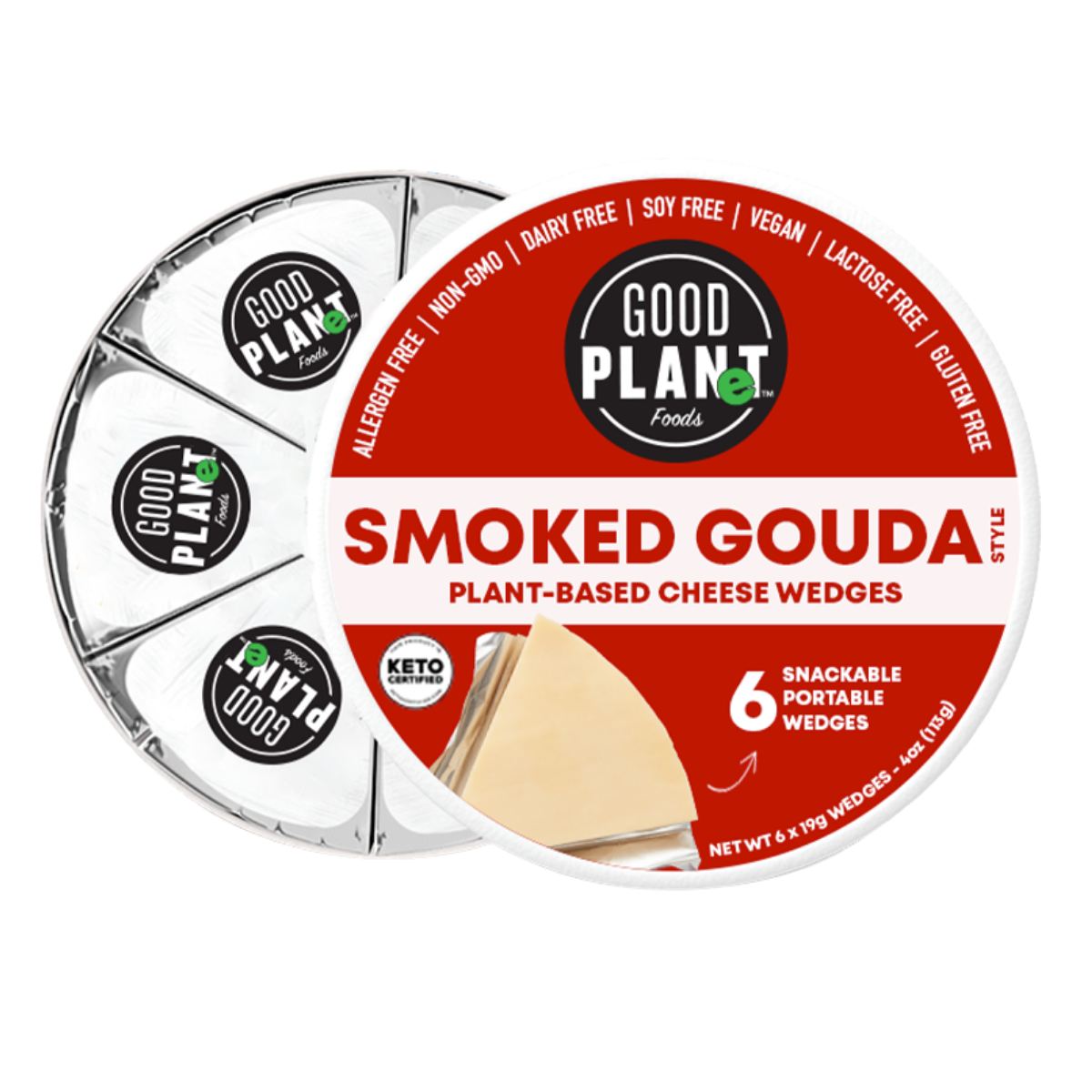 And then I overcooked the eggs…
Dear Husband and I aren't super big fans of runny eggs. My Dear Mother In Law (z"l) used to love runny eggs. She'd dip her toast into it and was incredibly satisfied. Since I'm not an expert at making eggs that are white around the edges but still soft in the middle I overcooked the eggs.
When I showed my fabulous pictures to Dear Social Media Guy, he promptly sent me back a gazillion pictures of what shakshuka is supposed to look like – runny eggs and all.
Bummer.
Mine was SO pretty…just the stupid runny egg yolks weren't visible…primarily because they weren't runny egg yolks anymore and they were covered with cooked egg whites.
So I made it again.
You're welcome.
Making Green Shakshuka again so the eggs are runny
I was super careful when making the second batch of the Green Shakshuka. I carefully made the little holes where the eggs would rest, separated the egg yolk and white, poured the white into the nest, and then topped it with the yolk. This ensured that the yolks weren't covered with whites like they were in my first attempt.
If you don't care, then don't bother making the effort 😀
I think I could have probably sauteed the chard for a little less time, but I was worried that if I didn't then the eggs wouldn't sit properly.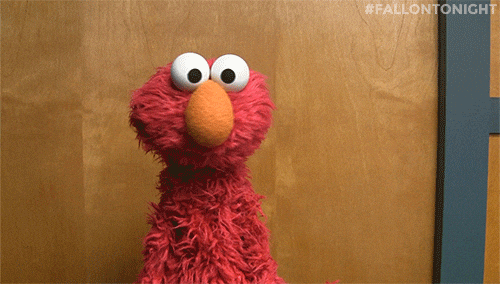 Toasting the Corn Tortillas
When we were at the store we bought two sizes of corn (gluten free) tortillas. One was a "street taco" size and the other just a small corn tortilla. I decided to use the larger of the two for the photos etc. but the smaller ones would work as well.
I toasted the tortillas in a skillet, but also wondered what would happen if I actually stuck them in the toaster.
Hmmm…
They actually toasted pretty nicely. The only issue was that they curled kind of weirdly, so I'm sticking with the skillet or stovetop grill method.
The final conclusion to the New York Times Green Shakshuka
I really liked this recipe and would highly recommend it. As with any recipe you can make it your own as I did.
Feel free to use dairy ingredients if you choose.
Additionally, I think this recipe would be fabulously colorful if you substituted Rainbow Chard for the Swiss Chard. I really liked the color pop of the Red Chard, but it's completely up to you and depends upon what you find in your local grocery store.
Print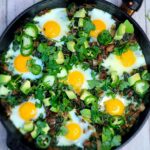 Green Shakshuka
Author:

Prep Time:

30 minutes

Cook Time:

30 minutes

Total Time:

60 minutes

Yield:

8

servings

1

x

Category:

Main Dish

Method:

Cooking

Cuisine:

Gluten Free

Diet:

Kosher
---
---
3

tablespoons olive oil

1

yellow onion, peeled and thinly sliced

2

garlic cloves, thinly sliced

1

large bunch/1 1/2 pounds Swiss chard, stems and leaves separated and chopped (about

9 cups

)

1/2

teaspoon salt, plus more as needed

1/3

cup half-and-half or heavy cream (I used plant based)

8

large eggs

1/4

teaspoon black pepper, plus more as needed

3

ounces Cotija cheese or queso fresco, crumbled (about

3/4 cup

) (I used Good Planet Plant based Smoked Gouda Cheese Triangles)

1

avocado, sliced, for serving

1

small jalapeño, thinly sliced, for serving
Chopped cilantro, for serving
Smoked hot sauce, for serving
Corn tortillas, toasted, for serving

1

lime, cut into wedges, for serving
---
Instructions
(Directly from the NY Times Recipe Instructions)
Heat oil in a large cast-iron skillet over medium-low heat. Add onion and cook until softening, 5 minutes. Add the garlic and cook until fragrant, 5 minutes more.

Raise the heat to medium-high, add the chard stems, and cook to release some liquid, 5 minutes. Add the chard leaves, in batches, adding more as they wilt, and continue cooking, stirring occasionally, until completely wilted, 3 to 5 minutes more. Season with ½ teaspoon salt, pour in the half-and-half and stir loosely together.

Make eight small hollows in the cooked chard with the back of a spoon. Gently crack an egg into each hollow. Cover with a lid or foil and cook on medium-low until the eggs are just set, but still soft, about 7 to 9 minutes. Remove the lid, sprinkle with salt, pepper, Cotija, avocado, jalapeño and cilantro. Serve with smoked hot sauce, toasted tortillas and lime wedges.
---
---
Notes
I used red chard instead of traditional green Swiss Chard.
Since Kosher, and plant based, Queso Fresco is super hard to find I used Good Planet Smoked Gouda Plant Based Cheese Triangles. They ended up working very well. You can use any type of cheese you prefer.
The original recipe says "serves 4". If you are eating the shakshuka as a meal with two eggs per person then the recipe does serve 4. Otherwise I specified service for 8, with one egg per person.
To make this recipe even more colorful, you can use Rainbow Chard instead of traditional Swiss Chard.
Nutrition
Serving Size:
Calories:

266

Sugar:

3.3 g

Sodium:

566.3 mg

Fat:

19.8 g

Saturated Fat:

6 g

Carbohydrates:

13.8 g

Fiber:

4.4 g

Protein:

11.4 g

Cholesterol:

202.3 mg
Keywords: Shakshuka, Green Shakshuka, Pareve, Dairy Free, Gluten Free, Healthy, Healthy Eating, Kosher, Kosher Recipe, Breakfast, Brunch
Recipe Card powered by
Here's my Instagram reel on how to make Green Shakshuka
View this post on Instagram
More Vegetable Based Recipes
CHECK OUT THE KOSHER EVERYDAY AMAZON INFLUENCER STOREFRONT!
I'm excited to announce the launch of my brand, spankin' new, Amazon Influencer storefront. The purpose of this store is to share with you all of my favorite tools, ingredients and accessories that I use on Kosher Everyday. If there's something you'd like to see please let me know and I'll make sure to add it. I'm updating the storefront all the time.
You can find all my Cookware and Bakeware including ones like the HexClad 14 Inch Hybrid Stainless Steel Frying Pan with Lid, Stay-Cool Handle – PFOA Free, Dishwasher and Oven Safe, Non Stick with lid on my storefront.
I've put together a complete Gluten Free Challah Storefront with everything you need to make fabulous Gluten Free Challah!
Additionally there is a Small Appliance Storefront with many awesome small appliances that I recommend for your kitchen…even if you have a small space!
I'd love to hear what you think!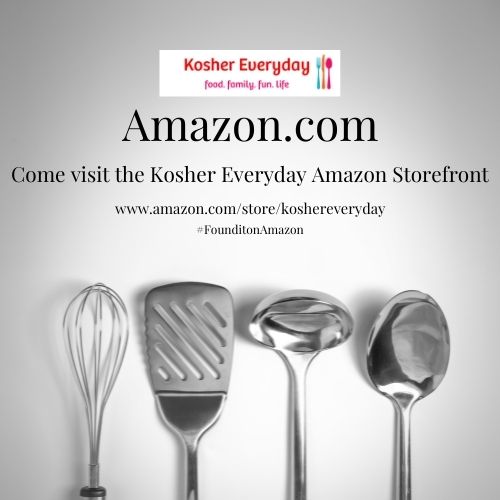 FOLLOW ME!
Don't forget to follow Kosher Everyday on Instagram @koshereveryday! and on Facebook You don't want to miss all the fun and interesting posts and reels that can be found nowhere else!
You can find reels showing how to make most of my recipes on Instagram!
Also, make sure to tag @koshereveryday when you make Kosher Everyday recipes! I LOVE to see your creations!!!
Please note that this post contains affiliate links. Thanks for your ongoing support!
Oh and because I love Hast Knives and have a media affiliate relationship with them you get a 15% discount for using the code KED15 when you order: