Starburst Chicken…a burst of
delicious flavor!
Here in Chicago we are fortunate to have a number of terrific day schools, so when my oldest son was old enough to start school we underwent the task of visiting the different schools to determine which one would best suit our family. So, off to visit the schools we went! When we got to my alma mater, Arie Crown, we met with the principal Rabbi Meir Shapiro, who had been my principal! ("Wow Rabbi Shapiro, it's so weird to be in your office and not be in trouble!!"). We got a tour of the school, and the rest is history!
We have now been at the school a long time, and have had the privilege of working on various school committees and projects. My favorite school project of all time was the Arie Crown Cookbook – "A Crowning Elegance". Although I wasn't one of the primary editors of the book, I had the opportunity to be a more minor editor, contributor, and participant. The Chief Editors, Valerie and Mandy, organized fabulous (and incredibly fun) "tasting parties" where everyone got to make, taste, and rate/critique the recipes. The final book is really beautiful, with gorgeous pictures, and delicious recipes (yes…some of them are mine) that are not too complicated for the everyday "chef" to make.
One of my favorite recipes from the cookbook (and I love a lot of them so it was hard to choose!) is Starburst Chicken (page 182). I keep my bookmark on that page because it's my "go to" recipe when I want a quick, healthy, delicious, and colorful meal that can be made without a lot of cleanup. This recipe is also flexible enough that I can add more chicken, vegetables, or pasta without changing the taste of the dish too much (and I often do!).
As a kid I never imagined being a parent at my school! I warn my kids to be nice to their teachers and principal…you never know!! In a few short years my youngest daughter will be graduating, but I know that I'll be using my "Crowning Elegance" cookbook long after my kids are out of Arie Crown…
Print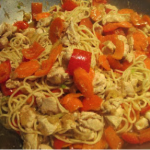 Starburst Chicken
Cook Time:

7

Total Time:

7 minutes
---
2 tablespoons

olive oil

1 1/2

pounds boneless, skinless chicken breasts, sliced into

1/2

inch strips

2

cloves garlic minced ( or

2

frozen cubes*)

1/4 teaspoon

ground giner

1

20 ounce can crushed pineapple, drained, 1/3 cup juice reserved

2

medium carrots, sliced ( diagonally*)

1

medium green or red bell pepper, thinly sliced ( or cut into squares*)

2

scallions, thinly sliced

4 ounces

spaghetti, cooked according to packaged directions, drained ( or

8 ounces

*)
Sauce
1/3 cup

reserved pineapple juice

1/4 cup

soy sauce

1 tablespoon

cornstarch

1 tablespoon

olive oil
---
Instructions
For the chicken
In a large skillet over medium-high flame, heat oil.
Stir fry chicken and garlic, sprinkle ginger over chicken.
Stir fry for about 2 minutes.
Add drained pineapple, carrots, pepper and scallions.
Reduce heat to medium.
Cover and steam for 2 to 3 minutes.
Stir in cooked spaghetti.
For the sauce
In a small saucepan away from heat, combine the pineapple juice, soy sauce, cornstarch and oil.
Stir until cornstarch is dissolved.
Place saucepan over medium heat, stirring constantly for 1 to 2 minutes until sauce thickens.
Pour sauce over pasta with chicken.
Toss and serve immediately.
---
Notes
Notes
* denotes my alternatives for the recipe
To make this dish for the GFE (Gluten Free Eater) substitute gluten-free pasta, and use gluten-free soy sauce.
Recipe Card powered by
KosherEveryday is one of the finalists for the
2011 CBS Most Valuable Blogger Awards!!
Please click on the link below to vote for the
PLEASE vote early and often!