Soft Sweet Potato Cookies
The concept of Soft Sweet Potato Cookies came to me right after the Purim Holiday this year, while we were downing massive amounts of Purple Sweet Potato Hamentashen with Chocolate Orange Ganache Filling. The hamentash cookies were on the softer side, and it occured to me that I could probably develop a recipe for more traditional cookies using the ubiquitous, more easily accessible, orange sweet potato. They would also be a softer cookie, and if I was careful, the recipe could even be Kosher for Passover.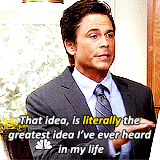 Developing the recipe for Soft Sweet Potato Cookies
I have to admit, this recipe wasn't as much of a challenge as some of my other creations. Using some basic baking principles, I was able to come up with a fairly simple recipe, using ingredients most people have in their homes.
The Sweet Potatoes in Soft Sweet Potato Cookies
I knew that using sweet potato would eliminate the fat that would normally go into the recipe, as sweet potatoes are sometimes used as a fat/oil replacement in recipes. I ended up using two medium sweet potatoes, around a pound total, and once cooked they were around two cups of sweet potato. A good amount for the recipe.
It was very helpful to have a food processor to pulverize the sweet potato so that it was super smooth for the cookies. Theoretically if you don't have a food processor, your could smush the potatoes very well with a fork until they were smooth.
Up to you.
The Flour in Soft Sweet Potato Cookies
During the year I rely heavily on gluten free 1:1 flour replacers. Those generally have rice and other flours that aren't considered Kosher for Passover acceptable for Ashkenazi Jews like myself.
I've spent a lot of time researching flours and know that certain flours lend tenderness to baked goods, while others are great for binding. I put together an even ratio of potato and tapioca starch as the best blend of flours for the Soft Sweet Potato Cookies.
Adding baking powder (Kosher for Passover or year round) and baking soda, gives these cookies a little lift for the cakelike texture.
Blending all the ingredients for Soft Sweet Potato Cookies in a food processor
It's always best to not have a huge cleanup when making a recipe. Especially on Passover!
I blend the entire recipe in my food processor and it makes cleanup super simple.
As an aside, I strongly recommend getting a food processor for Passover. It's my work horse and I'm not sure how I ever made Passover without it. If you can, invest in one. You won't regret it for a minute.
Here's the recipe for Soft Sweet Potato Cookies
I really wish I had more insight to give you about this recipe. It's just so simple!
Although…
Something I discovered when entering the ingredients into Nutrifox to calculate the calorie and nutrition content for the Soft Sweet Potato Cookies is that they are only 20 calories per cookie!!!! They're low in fat too, and relatively high in vitamin A. Bonus!
Two things that are additionally helpful and important to pay attention to.
First, a cookie scoop is also extremely helpful when making these types of cookies, It allows you to not have to touch the batter/dough, and you get even cookies every time.
Second, when making gluten free cookies, it's good to let the batter/dough rest for a few minutes before scooping/baking. This allows the gluten free flours to absorb the liquid in the recipe and thicken slightly.
Print
Soft Sweet Potato Cookies
Author:

Prep Time:

10 minutes

Cook Time:

10 minutes

Total Time:

20 minutes

Yield:

36

cookies

1

x

Category:

Snack

Method:

Baking

Cuisine:

Gluten Free

Diet:

Kosher
---
Description
Soft Sweet Potato Cookies are cakelike cookies, filled with sweet potato goodness. They're easy to make with simple ingredients, like fresh sweet potato! Soft Sweet Potato Cookies are perfect for a break with a cup of coffee or a quick grab and go snack. They're also Gluten Free and Kosher for Passover,
---
1

pound

sweet potato, peeled and cooked (around 2 cups cooked)

1/2

cup

brown sugar

1 teaspoon

ground cinnamon

2

large eggs

1 teaspoon

pure vanilla extract

1/4

cup

potato starch

1/4

cup

tapioca starch

1 teaspoon

baking powder

1 teaspoon

baking soda
powdered sugar for finishing
---
Instructions
Preheat oven to 350°F or 325°F Convection.
Line two baking sheets with parchment paper. Set aside.
Place the cooked sweet potato in the bowl of a food processor. Pulse until smooth.
Measure the brown sugar and cinnamon into the bowl and pulse until combined.
Add the eggs and vanilla extract, then pulse again until combined.
Add the potato starch, tapioca starch, baking powder and baking soda and pulse until smooth, scraping down the bowl periodically.
Allow the batter to rest for 5 minutes to thicken.
Using a cookie scoop, scoop cookies onto the prepared baking sheets.
Bake for 8 minutes, then rotate the pans and bake for an additional 2-3 minutes until set.
Remove from the oven and allow to cool completely.
Sprinkle with powdered sugar to finish.
Store in an airtight container in the refrigerator.
---
Equipment
---
Notes
For Passover, use Kosher for Passover baking powder.
You can make these cookies purple by substituting purple Stokes sweet potatoes.
Nutrition
Serving Size:

1 Cookie

Calories:

31

Sugar:

3.2 g

Sodium:

46.9 mg

Fat:

0.3 g

Saturated Fat:

0.1 g

Carbohydrates:

6.7 g

Fiber:

0.4 g

Protein:

0.6 g

Cholesterol:

10.3 mg
Keywords: Sweet Potato Cookies, Cookie, Cookie Recipe, Kosher For Passover, Kosher for Pesach, Gluten Free, Dairy Free, Pareve, Non-Gebroks, Meat Free, Low Fat, Low Calorie
Recipe Card powered by
Here's how I made Soft Sweet Potato Cookies on Instagram @koshereveryday
View this post on Instagram
More Palatable Passover Cake and Cookie Recipes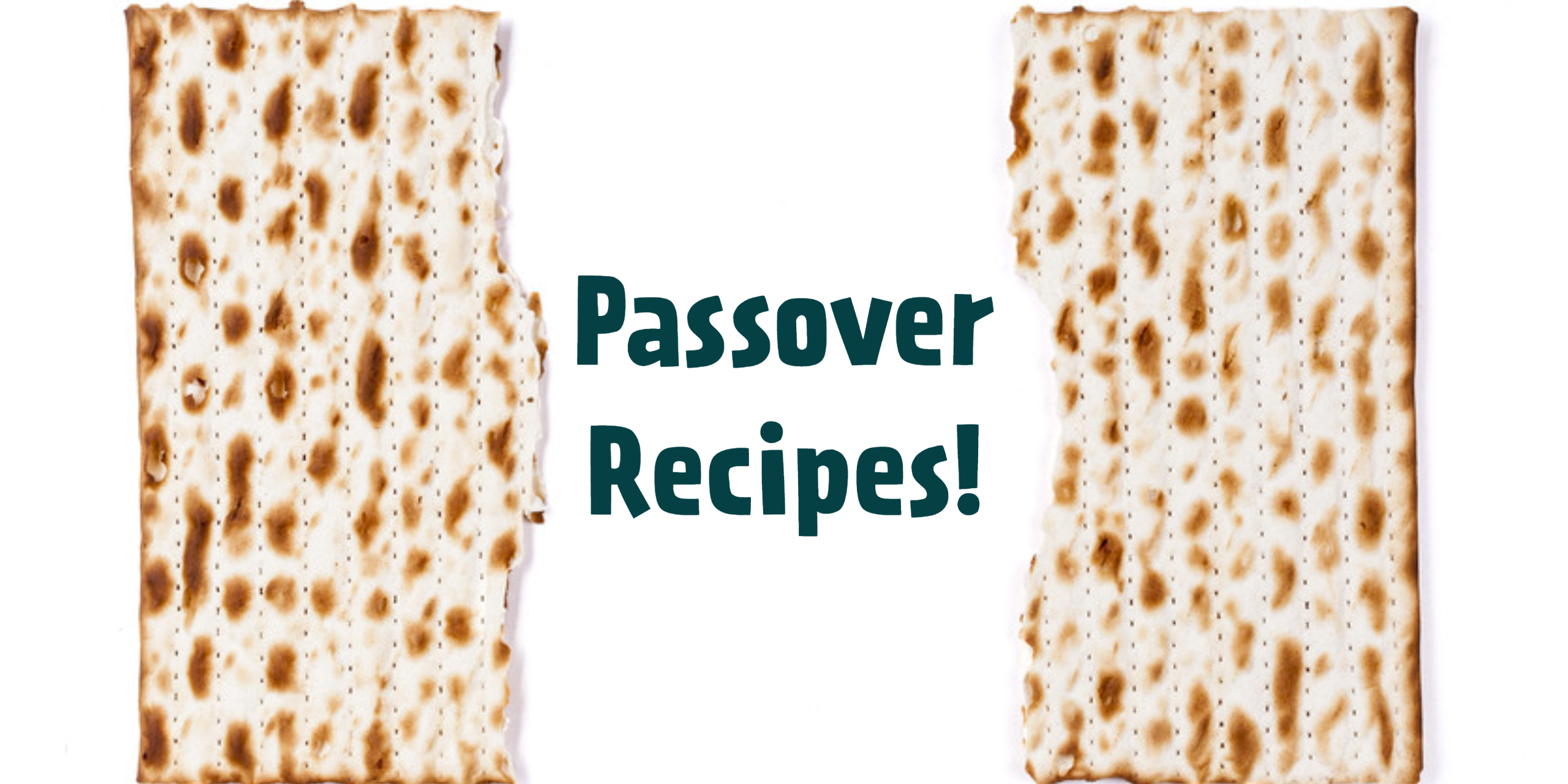 SHABBOS UNDER PRESSURE IS GREAT FOR PASSOVER!
FYI: I'm here to help make it way easier for you and reduce your pressure with my book "Shabbos Under Pressure". I've found that using my electric pressure cooker to prepare for Passover, makes the cooking way easier and more efficient. For example, instead of cooking a huge pot of chicken soup on the stove for three hours, taking up valuable space on my stovetop, I can make even better soup in just an hour/hour and a half in my Instant Pot. I've even put together a Shabbos Under Pressure Passover Recipe Guide to help you convert the recipes in the book to Passover friendly recipes. If you don't already have "Shabbos Under Pressure" now would be a great time to order it to ensure that you receive it with enough time to plan and cook your Passover meals.
You can order it here: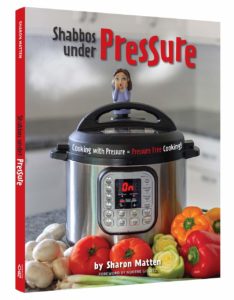 Here's the Passover Under Pressure – The Shabbos Under Pressure Passover Guide: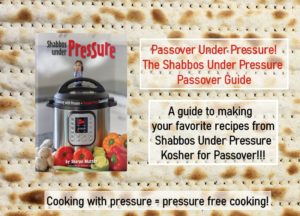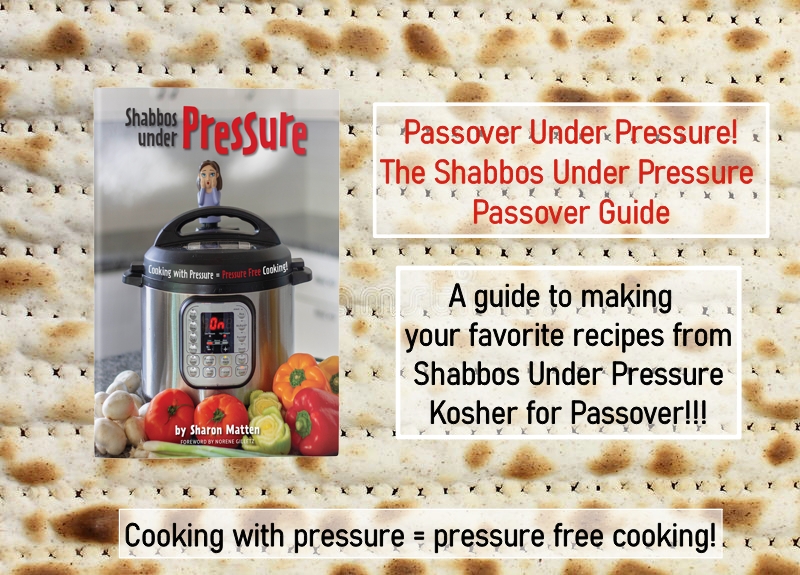 PASSOVER IDEA LIST ON AMAZON
I also put a Passover Idea List on Amazon.
These are item's I recommend to help make your Passover even more wonderful.
Make sure to follow Kosher Everyday on Facebook and Instagram so you don't miss the latest and greatest Passover recipes and fun from Kosher Everyday!