For those of you that don't know, I used to be a personal pastry chef and Wilton cake decorating instructor.
It's true.
I love baking.
A lot.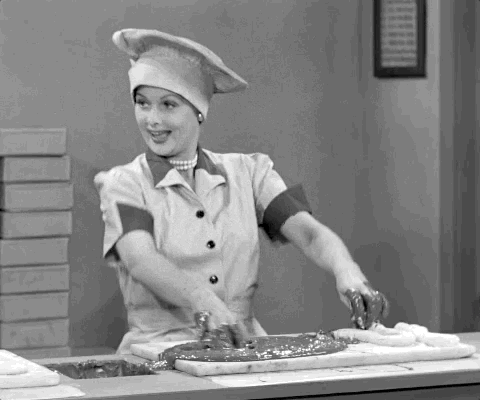 I recently came up with the now famous Almond Cream Cheese recipe. After making a batch, I had a tub of almond cream cheese sitting in my fridge. While I really liked the cream cheese, I felt like I needed to do something with it. The baker in me immediately SCREAMED: CHEESECAKE.
I wondered how the new variety of vegan cream cheese would translate to a pareve cheesecake. It was a given that the crust would be made from Passover canned macaroons. It's completely the simplest crust you can possibly make during Passover. And there are SO many flavors. I had a can of chocolate macaroons in the pantry (don't ask why), so the crust was going to be chocolate.
I also wasn't 100% confident in the resulting cheesecake. I mean, I've made pareve cheesecakes before, but this cheesecake would be a complete experiment. I decided to add some chocolate to the batter for a marbling effect and to add a flavor guarantee.
I was wowed by the result. It was even better than I imagined.
I made the cake in a 9-inch springform pan, and the resulting cake was thinner than I normally like a cheesecake to be. There are pros and cons to that. More delicious servings is always a plus. I might try to make it in an 8-inch pan for Passover, as there aren't going to be that many of us at our Passover meals and I prefer a thicker cake. I think that you could probably make it in a large pie pan rather than a springform pan too.
I topped the cake with some Kosher for Passover chocolate bar, whole almonds, and a little powdered sugar for dramatic effect.
The family loved it and couldn't believe it was Kosher for Passover, pareve/dairy free, made from scratch!
Here's the recipe! Enjoy!!
Print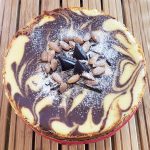 ---
Description
Rich, creamy, chocolately, decadent, delicious…and no one will believe it's non-dairy AND Kosher for Passover!
---
10 ounces

canned chocolate macaroons, ground
parchment circle
nonstick spray

1

recipe Almond Cream Cheese, room temperature

1/2 cup

granulated sugar

3

large eggs, room temperature

1 teaspoon

pure vanilla extract

1/4 cup

chocolate chips, melted and cooled slightly
Additional nuts, chocolate and powdered sugar for garnish
---
Instructions
Preheat oven to 350°F.
Spray the bottom only of an 8 or 9-inch springform pan with nonstick spray. Do not spray the sides.
Place the parchment circle on the bottom of the pan.
Press the macaroons onto the bottom and 1/2-inch up the sides of the pan. Set aside.
In the bowl of a mixer using the paddle attachment, blend together the sugar and cream cheese. Mix in the eggs one at a time. Blend in the vanilla extract.
Pour all the batter into the prepared pan EXCEPT 1 CUP of batter.
Blend the melted chocolate into the reserved batter.
Spoon batter into the cake, then swirl with a knife or offset spatula.
Bake for 30 minutes until set.
Refrigerate at least 1 hour before serving.
Garnish with additional chocolate and nuts.
Sprinkle powdered sugar over the top.
I
---
Notes
You can find the recipe for Almond Cream Cheese here: https://koshereveryday.com/almond-cream-cheese-kosher-for-passover/
If you don't have a springform pan you can use a deep pie dish.
If you'd like a thinner crust use 1/2-3/4 of the can of macaroons.
You can also make this a plain vanilla Almond Cream Cheesecake. Simply omit the chocolate from the recipe.
You can also top this cheesecake with your favorite fruits/berries.
You can make a completely chocolate Almond Cream Cheesecake by using 3/4 cup melted chocolate chips instead of just 1/4 cup.
It's important not to spray or grease the sides of the pan as it will hamper the rising of the cake.
---
Recipe Card powered by
Please let me know what your favorite Passover foods are. I'd love to hear from you!
I'm sure you're looking for Passover recipes…
Here are a ton! Click on the image!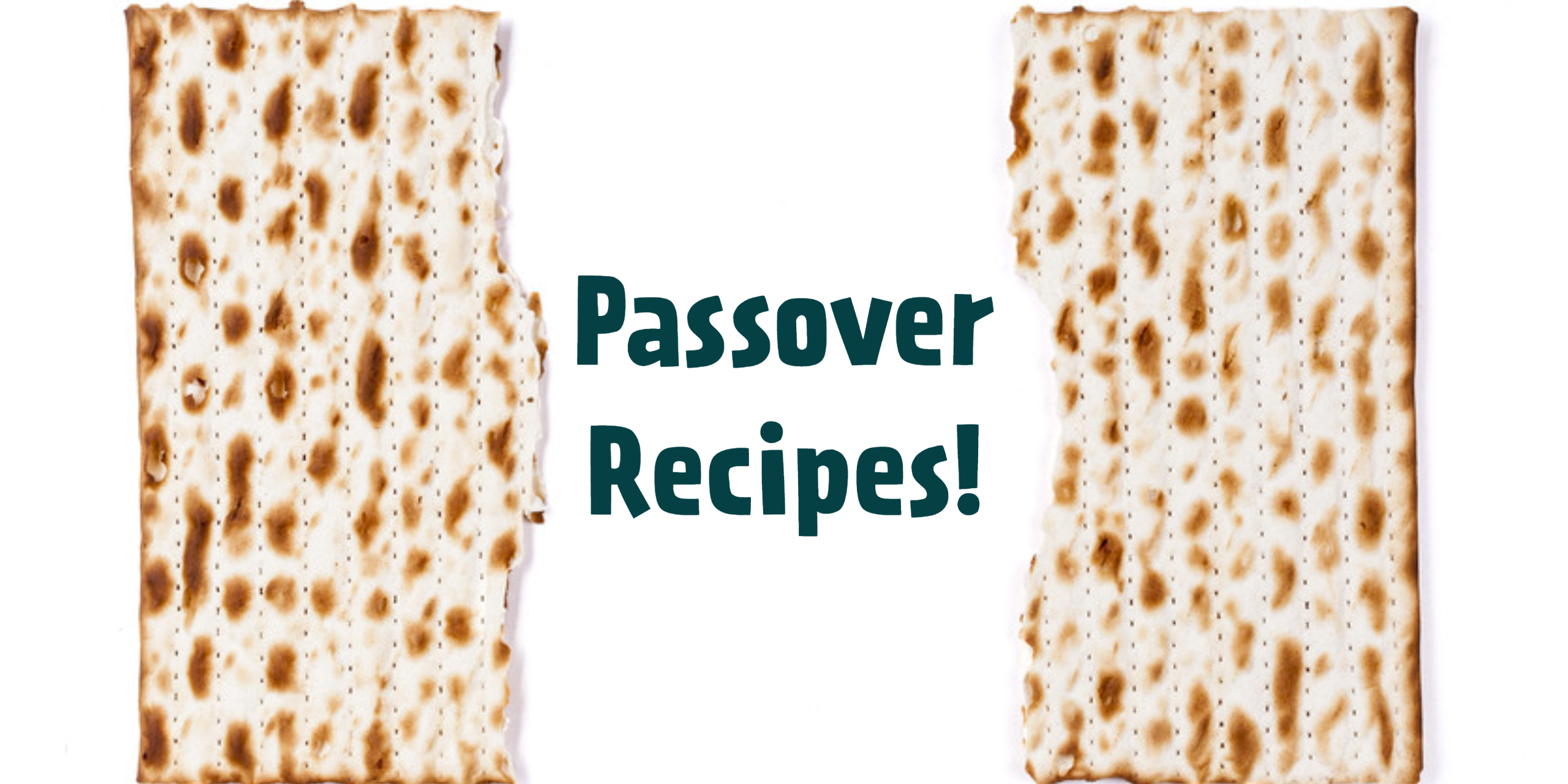 FYI: I'm here to help make it way easier for you and reduce your pressure with my book "Shabbos Under Pressure". I've found that using my electric pressure cooker to prepare for Passover, makes the cooking way easier and more efficient. For example, instead of cooking a huge pot of chicken soup on the stove for three hours, taking up valuable space on my stovetop, I can make even better soup in just an hour/hour and a half in my Instant Pot. I've even put together a Shabbos Under Pressure Passover Recipe Guide to help you convert the recipes in the book to Passover friendly recipes. If you don't already have "Shabbos Under Pressure" now would be a great time to order it to ensure that you receive it with enough time to plan and cook your Passover meals.
You can order it here: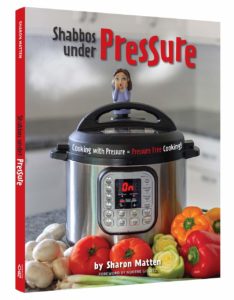 Here's the Passover Under Pressure – The Shabbos Under Pressure Passover Guide: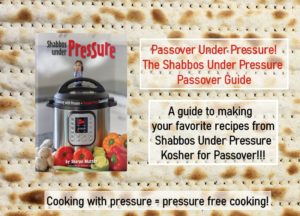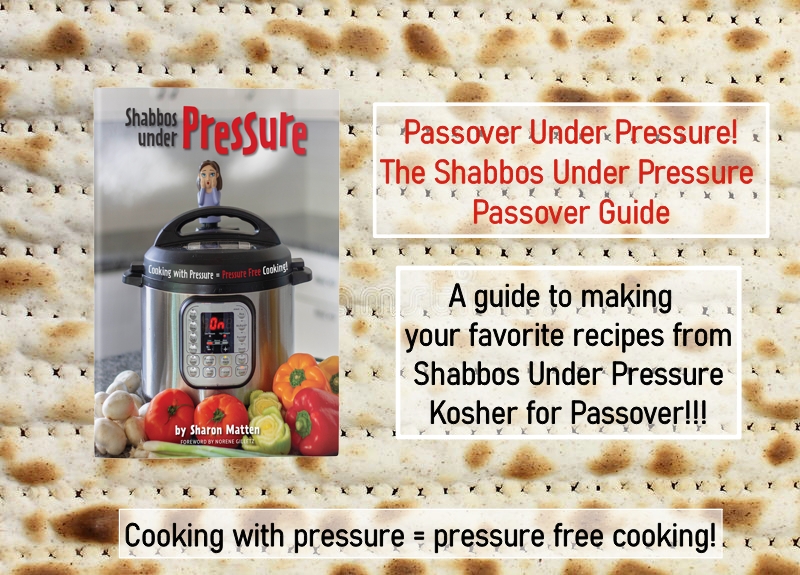 Make sure to follow Kosher Everyday on Facebook and Instagram so you don't miss the latest and greatest Passover recipes and fun from Kosher Everyday!