Purple Sweet Potato Hamentashen with Chocolate Orange Ganache
I know, I know, Purple Sweet Potato Hamentashen with Chocolate Orange Ganache is a long name for a ubiquitous Purim treat, but I simply couldn't shorten it without letting you know how special these unique hamentashen are!
How I came up with Purple Sweet Potato Hamentashen with Chocolate Orange Ganache
A few weeks ago I went on a FODMAP field trip with my Dear Friend Shoshie to Whole Foods. We were going up and down the aisles looking for FODMAP friendly foods.
For those of you who don't know what FODMAP is, it's an elimination diet mostly used for people with GI issues.
I'm an expert on FODMAP, so I wanted to help my Dear Friend find friendly foods.
While going through the produce section I found the most fantastic purple sweet potatoes.
Coming up with the recipe for Purple Sweet Potato Hamentashen with Chocolate Orange Ganache
At the beginning of January, Dear Social Media Guy sent me a spreadsheet of ideas for me to consider. Several of them used Ube, a purple Philippian sweet potato that is gaining popularity here in the US. It looks so fun, but after a lot of searching, I couldn't find Kosher Ube products.
It was disappointing.
So, when I found the gorgeous purple Stokes sweet potato at Whole Foods, I was stoked!
While it wasn't Ube, it was bright purple and a sweet potato. Directionally correct.
Coming up with the Purple Sweet Potato Hamentash recipe
Substituting sweet potato for fat in recipes is actually a thing. Kind of like substituting carrot puree or applesauce for fat in recipes.
I wondered if I could substitute some of the fat in my gluten free hamentash dough with some natural purple sweet potato. I figured it would make the texture a little lighter and beautifully colored.
I made two batches of dough. The first I left the natural light purple color that resulted from adding the sweet potato to the recipe.
The second I added a little purple food coloring to make the dough more vibrant.
One Potato Two
The Hamentashen were awesome. I actually made two different batches, one using one cup of sweet potato and the second with two cups. I liked the way the two cup batch turned out. The dough was more malleable and had a moister texture.
Filling the Purple Sweet Potato Hamentashen with Chocolate Orange Ganache Filling
I wanted a unique flavor that would complement the sweetness of the potato. I thought about my original Classic Gluten Free Hamentash recipe, which contains orange juice, and decided to build upon that. I ended up adding a little bit of orange extract to the dough and some to the chocolate ganache filling.
It really really worked.
Decorating the Purple Sweet Potato Hamentashen with Chocolate Orange Ganache Filling
I simply drizzled the hamentashen with white chocolate and sprinkled colored sugar on the top. You don't have to use the sugar, but I strongly recommend the white chocolate drizzle. It adds a lightly sweet creamy element to the hamentashen that really elevates the flavors.
Here's the recipe for Purple Sweet Potato Hamentashen with Chocolate Orange Ganache
As with nearly every recipe, you can make this one your own, using different decorations or sprinkles. I also made a batch using ready made, store, bought hazelnut filling and that worked as well…but the Chocolate Orange Ganache was way better.
Print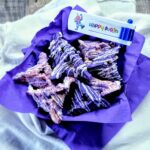 Purple Sweet Potato Hamentashen with Chocolate Orange Ganache
Author:

Prep Time:

60 minutes

Refrigeration:

30 minutes

Cook Time:

10 minutes

Total Time:

100 minutes

Yield:

64

Hamentashen

1

x

Category:

Cookie

Method:

Baking

Cuisine:

Gluten Free

Diet:

Kosher
---
Description
Purple Sweet Potato Hamentashen with Chocolate Orange Ganache are a sweet treat made out of fresh, purple sweet potatoes. You can leave the hamentashen their natural light purple or add some purple coloring for a more vibrant hamentash.
---
For the Purple Sweet Potato Hamentash Dough
2

cups

purple sweet potato, cooked (from around 1 pound of sweet potato)

1 teaspoon

freshly squeezed lemon juice

1/2 teaspoon

orange extract

3/4

cup

sugar

1

cup

plant based butter (I prefer Fleischmann's or Country Crock Sticks)

3

large eggs

3/4

cup

orange juice

4 1/2

cups

flour (gluten free 1:1)

1 tablespoon

baking powder

1/2 teaspoon

salt
purple food coloring (optional)
For the Chocolate Orange Ganache
1

cup

dairy-free heavy whipping cream

12

ounces

semi-sweet chocolate chips

2 teaspoons

orange extract
To Finish
Additional flour for rolling the dough

10

ounces

white chocolate, melted
assorted colored sugars (optional)
---
Instructions
For the Purple Sweet Potato Hamentash Dough
Process the purple sweet potato with the lemon juice and orange extract in a food processor until smooth.
In the bowl of a large mixer, using a paddle attachment, beat the sweet potato, plant based butter and sugar until completely blended. You can also do this step in the bowl of the food processor if it is large enough, then transfer the mixture to a large mixing bowl.
Add the egg and beat until combined.
Add in the flour, baking powder and salt and mix until a well blended dough is formed, scraping down the sides to ensure that the dough is completely blended.
If using, mix in a some purple food coloring at this time.
Cover with plastic and refrigerate for at least 30 minutes and up to 24 hours.
For the Chocolate Orange Ganache
Thirty minute before rolling out the hamentash dough, prepare the ganache.
Place the whipping cream in a very large 4-cup microwave safe measuring cup or bowl.
Microwave the cream for one minute until hot. If the cream is not hot, microwave it for an additional 30 seconds.
Pour the chocolate chips into the cream and shake to cover the chocolate. Allow the chocolate to rest in the cream for 5 minutes.
Using a whisk or spatula, stir the chocolate and cream until a smooth ganache forms. If the ganache is not smooth and the chocolate is not completely melted, return the ganache to the microwave for an additional 30 seconds.
Whisk the ganache until completely smooth, then stir in the orange extract.
Refrigerate the ganache for 30 minutes, stirring at least every 10 minutes to ensure that the ganache remains smooth.
When the ganache is thickened, remove from the refrigerator and set aside.
To Finish
Remove the dough from the refrigerator and knead to smooth.
Preheat oven to 350°F or 325° convection.
Cover three baking sheets with parchment or silicone mats. Set aside.
Sprinkle a large rolling mat/board with flour.
Remove a portion of dough, then roll it out on the prepared mat to 1/4-inch thick. Using a round fluted cookie cutter, cut out circles from the dough.
Return the extra dough to the remainder to still be rolled out.
Place a 1/2 teaspoon of chocolate ganache in the center of each circle. Pinch the dough together around the filling to form a hamentash.
Place the hamentash on the prepared baking sheet and repeat with the remainder of the circles and dough.
Bake for 10 minutes until firm.
Allow the hamentashen to cool completely.
Melt the white chocolate, then drizzle it over several hamentashen at a time, sprinkling with colored sugar as you go. Do not drizzle too many at once or the sugar will not adhere to the dried white chocolate.
Store in an airtight container for several days, or freeze for several weeks.
---
Equipment
---
Notes
You can also use ready made hazelnut filling instead of the Chocolate Orange Ganache.
I use a rolling pin with guides on the ends. This helps me to make sure that my dough is completely even before I cut out the circles.
Nutrition
Serving Size:

1 Hamentash

Calories:

79

Sugar:

3.2 g

Sodium:

52.2 mg

Fat:

3.1 g

Saturated Fat:

1.3 g

Carbohydrates:

11.3 g

Fiber:

0.5 g

Protein:

1.4 g

Cholesterol:

8.7 mg
Keywords: Hamentash, Hamentasch, Hamentashen, Hamentaschen, Purim, Gluten Free, Dairy Free, Pareve, Purple Sweet Potato, Sweet Potato, Ganache, Orange Ganache
Recipe Card powered by
Here are more awesome Gluten Free Hamentash recipes!
Looking for even more Purim Recipes!
CHECK OUT THE KOSHER EVERYDAY AMAZON INFLUENCER STOREFRONT!
I'm excited to announce the launch of my brand, spankin' new, Amazon Influencer storefront. The purpose of this store is to share with you all of my favorite tools, ingredients and accessories that I use on Kosher Everyday. If there's something you'd like to see please let me know and I'll make sure to add it. I'm updating the storefront all the time.
Make sure to check out my new PURIM page where you can find my special picks to help make your Purim Prep easier!
I've put together a complete Gluten Free Challah Storefront with everything you need to make fabulous Gluten Free Challah!
Additionally there is a Small Appliance Storefront with many awesome small appliances that I recommend for your kitchen…even if you have a small space!
I'd love to hear what you think!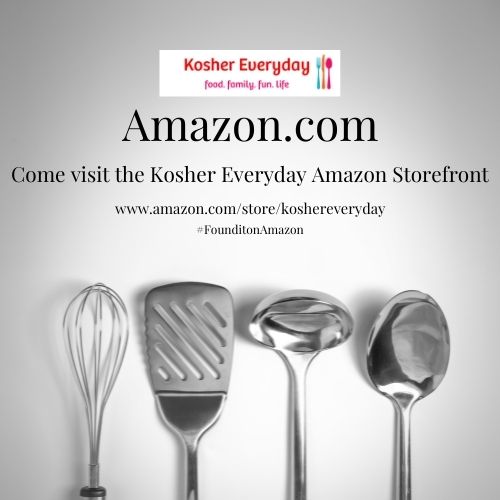 FOLLOW ME!
Don't forget to follow Kosher Everyday on Instagram @koshereveryday! and on Facebook You don't want to miss all the fun and interesting posts and reels that can be found nowhere else!
You can find reels showing how to make most of my recipes on Instagram!
Also, make sure to tag @koshereveryday when you make Kosher Everyday recipes! I LOVE to see your creations!!!
Please note that this post contains affiliate links. Thanks for your ongoing support!
Oh and because I love Hast Knives and have a media affiliate relationship with them you get a 15% discount for using the code KED15 when you order: