Brilliant Beefless Burgers
I originally was going to post the recipe for Brilliant Beefless Burgers over Passover, and then decided to wait until after the holiday when everyone was looking for healthier alternatives after eating all the volumes of Passover foods!
The idea behind Brilliant Beefless Burgers is a simple one. Take ingredients that have a "meaty" flavor and combine them into a burger.
Brilliant, I say!!!
Simply brilliant!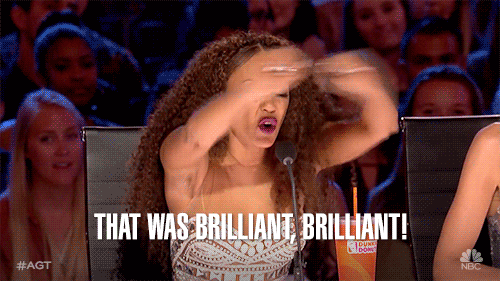 About the Brilliant Beefless Burger Ingredients
There are certain aspects of the recipe that bring all the flavors together.
First are the onions.
Growing up, Dear Mother (z"l) would always brown onions until they were almost burnt (but not quite) when she was making homemade chopped liver. Caramelizing and crisping the onions gave them a lot of flavor and really added to the taste of the chopped liver. I used that concept here.
Thanks Mom.
What kind of mushrooms should we use?
I wanted a darker mushroom that would give a meatlike flavor. I've used portobello mushrooms for burger recipes in the past, but I didn't think they would be the best match for this recipe.
Rather than white button mushrooms, I went with crimini/baby bella mushrooms. The darker mushrooms give a richer flavor that standard, ubiquitous white mushrooms.
Sauteeing until the moisture is evaporated gives the burger all the flavor without all the extra moisture, resulting in the need for fillers.
I'm Nuts about Brilliant Beefless Burgers
Over Passover I used a lot of almond flour for recipes instead of rice or corn flour. What's great about almond flour is that it has a very mild flavor that doesn't present in recipes. It's a great year-round gluten-free flour replacer.
It's not what was needed here.
Walnuts have a strong nutty flavor, and when ground have a great texture. Combined with the crispy onions and sauteed crimini mushrooms, walnuts were the perfect ingredient I was looking for the Brilliant Beefless Burgers.
To Egg or Not to Egg, that is the question
I really debated about using eggs in this recipe. Originally, I was planning on using soaked chia seeds as an egg replacer. I was hoping it would work to bind the whole recipe together without using eggs of any type, making this a completely plant based recipe.
It didn't work the way I hoped.
While the Brilliant Beefless Burgers tasted delicious, they didn't brilliantly stay together. I'm not 100% sure if I was too impatient, but I usually have a pretty good feel for these things, and the chia seed method just didn't meet expectations.
So I ended up with adding egg to the recipe.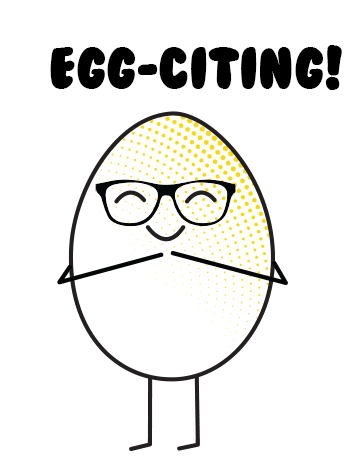 Keep in mind, if you'd like these burgers to be 100% plant based, you can use an egg substitute like JUST Egg (my favorite) instead of the two eggs in the recipe. They just held together much better with the egg.
Herbs and spices
I'm a big believer in trying to use ingredients that are readily available to most Home Chefs (that means you!). Taking that into consideration, this recipe calls for salt, freshly ground black pepper and a dash of crushed red pepper for a little extra kick.
I pulled out my jar of Optimistic Garden 2021 Crushed Red Pepper and it was just what was needed.
Brilliant.
Brilliant Beefless Burgers are the canvas for your creativity
It's important to remember that "You are the Executive Chef in Your Kitchen". Just as you would with any burger you make, you may choose to add additional herbs and spices to the Brilliant Beefless Burger.
That's fine. That's great!
Let me know what you do!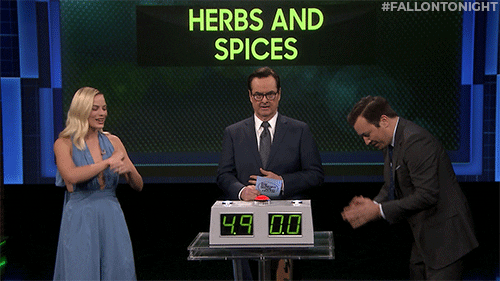 Dear Husband loves to add a ton of additional strong flavors to a lot of what I make. He considers what I'm making to be a canvas for his creativity and taste buds. While I already had the sriracha mayo out for him, as well as other burger toppings, he went to find even more flavorings to add.
It's all good.
That's kind of the whole point of Kosher Everyday in general. I love it when readers let me know how they upgraded my recipes. It gives me, and other readers, more options than I might have thought of. Contrary to popular opinion, I (shockingly) don't know everything.
I really do appreciate your comments and input. Please keep them coming.
That being said, I'll reiterate that the Brilliant Beefless Burgers are mildly seasoned. Feel free to use more crushed red pepper, or any other spices.
The Recipe for Brilliant Beefless Burgers
Print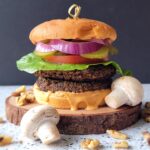 Brilliant Beefless Burgers
Author:

Prep Time:

20 minutes

Cook Time:

30 minutes

Total Time:

50 minutes

Yield:

8

Burgers

1

x

Category:

Main Dish

Method:

Grilling

Cuisine:

Plant Based

Diet:

Kosher
---
Description
Brilliant Beefless Burgers are made from ingredients that when combined in harmony taste like a beefy, meaty burger! These Brilliant Beefless Burgers are a combination of crispy browned onions, sauteed crimini mushrooms, healthy flavorful walnuts and a blend of herbs and spices. You'll never wonder "Where's the beef?" because these are brilliantly, stealthily "beefily" delicious.
---
2 tablespoons

avocado oil

1

medium sweet onion, diced (around

1 1/2 cups

)

1

clove garlic, minced

1

pound

crimini/baby bella mushrooms, sliced

2 1/2

cups

chopped walnuts

1/2 teaspoon

kosher salt

1/4 teaspoon

finely ground black pepper
dash crushed red pepper

2

large eggs, or equivalent plant based egg replacer (like JUST Egg)
oil for frying (optional)
Favorite condiments (optional)
---
Instructions
Heat the avocado oil in a large skillet over medium high heat.
Saute the diced onion and garlic until the onions are caramelized and crisped on the edges. Be careful not to let them burn.
Add the sliced mushrooms and saute until the mushrooms have released their liquid and all the liquid has evaporated.
Remove the skillet from the heat and allow the mushroom mixture to cool for around 5 minutes until cooled.
Place the mushroom mixture, walnuts, salt, black pepper and crushed red pepper in the bowl of a food processor. Pulse the mixture until completely ground, but not smooth. The mixture should be almost smooth but still have a little bit of texture.
Add the eggs and pulse to just combine.
Form the ground "beef" into 8 burgers.
Heat a stovetop grill or large skillet over medium heat. Add oil (if using) and fry the burgers in batches until browned on both sides.
Serve with your favorite toppings on Gluten Free Potato Buns.
---
---
Notes
It's important to remember that "You are the Executive Chef in Your Kitchen". Just as you would with any burger you make, you may choose to add additional herbs and spices to the Brilliant Beefless Burger.
You can add additional vegetables to the raw burgers if you like cooked/canned/frozen carrots, corn, peas, spinach, broccoli or other vegetables to make these even more fabulously brilliant.
It's important to make sure that the sauteed mushroom mixture is on the dryer side and doesn't have too much moisture. The extra liquid will effect the texture of the burgers.
Nutrition
Serving Size:
Calories:

411

Sugar:

3.9 g

Sodium:

29.4 mg

Fat:

38.3 g

Saturated Fat:

4.1 g

Carbohydrates:

11.6 g

Fiber:

4.4 g

Protein:

12.1 g

Cholesterol:

62 mg
Keywords: Plant Based Burger, Beefless Burger, Gluten Free, Meat Free, Beef Free, Dairy Free, Plant Based, Healthy, Pareve
Recipe Card powered by
I'd love to hear how you personalize your burgers!!! Please leave your upgrades in the comments!!
More Mouthwatering Mushroom Recipes
HERE'S SOMETHING NEW – THE KOSHER EVERYDAY AMAZON INFLUENCER STOREFRONT!
I'm excited to announce the launch of my brand, spankin' new, Amazon Influencer storefront. The purpose of this store is to share with you all of my favorite tools, ingredients and accessories that I use on Kosher Everyday. If there's something you'd like to see please let me know and I'll make sure to add it. I'm updating the storefront all the time.
Here is the burger press I used in this weeks recipe. You can find most of the tools from this weeks post in the Must Have Kitchen Tools section.
I'd love to hear what you think!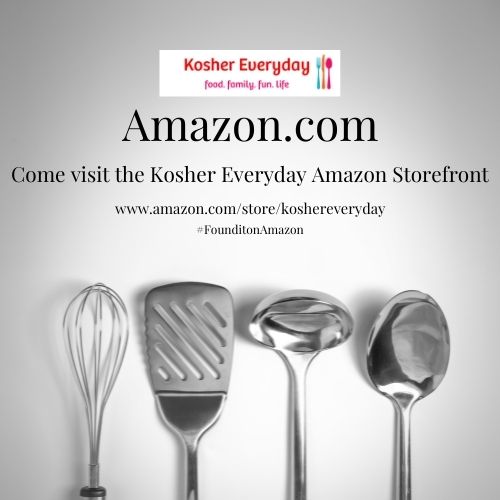 FOLLOW ME!
Don't forget to follow Kosher Everyday on Instagram @koshereveryday! and on Facebook You don't want to miss all the fun and interesting posts and reels that can be found nowhere else!
You can find reels showing how to make most of my recipes on Instagram!
Also, make sure to tag @koshereveryday when you make Kosher Everyday recipes! I LOVE to see your creations!!!
Please note that this post contains affiliate links. Thanks for your ongoing support!