Gluten Free Egg Rolls and Pockets
I've been on a quest to create recipes for those hard to find gluten free doughs, like puff pastry and egg roll/wonton wrappers to make Gluten Free Egg Rolls.
Developing the recipe for Gluten Free Egg Rolls
My success in creating gluten free egg rolls came from discovering a new ingredient.
Checking out other Gluten Free cookbooks
I've been working on my second book (SPOILER!). To facilitate the writing of my cookbook proposal that delineates my new book from other gluten free cookbooks, I purchased the top 5 gluten free cookbooks that are bestselling on Amazon. I was pretty excited to see what other experts have cooked up. I found gold.
Expandex Modified Tapioca Starch
One of the top selling cookbooks is by glutenfreeonashoestring.com – Gluten Free on a Shoestring: 125 Recipe for Eating Well on the Cheap by Nicole Hunn. The most valuable thing I learned from that book was about Expandex Modified Tapioca Starch.
Now, I'm not a big fan of purchasing non-traditional ingredients. I like to cook gluten free from things you would normally have on hand, with the exception of gluten free 1:1 flour. What I learned about Expandex Modified Tapioca Starch is that it changes the dynamic of the dough you are making and makes it more elastic and less likely to break.
It was an eye opener.
One of the biggest challenges of creating a dough like gluten free egg roll or wonton dough is that it just doesn't turn out right if you imitate an existing glutenous recipe.
Full disclosure: I did try the Egg Roll Recipe from the book and it didn't turn out the way I would have liked it to. My updated recipe does have some components of the books, but it is not the same.
Making multiple trial batches of Gluten Free Egg Rolls
With my new knowledge I tried several variations of different gluten free egg roll dough. I wanted the dough to be able to roll as thinly as traditional egg roll wrappers without breaking, but not be too doughy or tough.
It was a challenge.
The first Gluten Free Egg Rolls
My first batch, the one from Nicole Hunn's book, was way too thick and chewy. I wanted something closer to original glutenous dough.
The Second Gluten Free Egg Rolls
The second batch was a cross between the first batch and a glutenous recipe. I also added a little more water. While the egg rolls tasted great, they were a little too moist and as such were hard to roll. It's how the concept of egg roll pockets came to be.
I basically plopped some of the stuffing in to the center of a dough circle and smushed the dough around it. After frying, I tried them and they were awesome. Just not exactly what I was looking for.
More batches until I got it right!
I kept trying until I got what I think is the perfect gluten free egg roll dough. It rolls well. I was able to roll it to about 1/16 -inch, which is pretty thin, without it breaking. That's something.
Assuming you don't completely overfill the dough before rolling, they come out perfectly.
I'm excited.
It's a big deal.
Making Gluten Free Egg Roll Pockets
I still liked the idea of Gluten Free Egg Roll Pockets. If you don't have the time, or don't want to make the effort, Gluten Free Egg Roll Pockets are easy to make and take more filling than traditional egg rolls. They're cute and delicious.
What more could you want?
Here's the recipe for Gluten Free Egg Rolls and Pockets
Here are some great things to note about this recipe.
For the Gluten Free Egg Rolls Filling
I wanted to make the filling easy to make, especially since there is a little bit of effort required to make the egg rolls and pockets. To that end I used a bag of ready made Tri-Color Coleslaw, Kosher certified, that I just tossed into the wok without extra cutting/washing steps.
I'm also a HUGE fan of Trader Joe's High Protein Tofu. It's even more firm than firm tofu and has a "chickenlike" consistency. In other words it's pretty solid so it works really well in stir frys without falling apart. I've purchased other similar brands with good results.
Additionally, you can substitute your favorite protein for the tofu, like chicken or beef. If you like you can even leave out the tofu, or any other protein, completely. Totally your choice.
For the Gluten Free Egg Roll Wrappers
I know I spoke about the magic of the Expandex Starch, and I feel it's pretty essential for this recipe. You can theoretically leave it out but the dough won't behave as nicely and the consistency, even after frying, will be different.
Given that, you know what we always say:
"You are the executive chef in your kitchen. You make the final decisions about what goes into your recipes and how you ultimately make them. I will not come to your house (unless invited 😉 ) and check on how you are making the recipe. Promise"
I also recommend using a rolling pin with guides on it. Those are attachments that you add to the rolling pin to ensure your dough is rolled to an even depth. I actually rolled the Gluten Free Egg Roll dough to 1/16-inch.
Print
Gluten Free Egg Rolls and Pockets
Author:

Prep Time:

45 minutes

Cook Time:

30 minutes

Total Time:

75 minutes

Yield:

24

egg rolls

1

x

Category:

Side Dish

Method:

Frying

Cuisine:

Gluten Free

Diet:

Kosher
---
Description
Gluten Free Egg Rolls and Pockets are the gluten free egg rolls you've been searching for. The dough is easy to roll and fries like a dream. You can make traditional egg rolls, or stuff the delicious filling into gorgeous pocket bundles. Add a dipping sauce and your fans will shout with joy.
---
For the Egg Roll Dough
4

cups

gluten free flour

1/4

Expandex Tapioca Starch

2 teaspoons

kosher salt

4

large eggs, room temp

1 1/4

cups

water, room temp
Additional corn or tapioca starch for rolling
For the Filling
1 tablespoon

garlic oil, or

1 tablespoon

avocado oil plus one minced garlic clove

1 teaspoon

toasted sesame oil

16

ounces

high protein extra firm tofu, diced into 1/4 – inch cubes

1

cup

thinly sliced celery

16

ounce

Tri-Color Cole Slaw Mix

1 tablespoon

soy sauce

1

cup

green onions
To Finish
1

beaten egg for brushing
(Peanut) Oil for Frying
Sweet and Sour Sauce for dipping (optional)
---
Instructions
For the Egg Roll Dough
In the bowl of an electric mixer, using a paddle attachment, combine the flour, starch and salt.
Add in the eggs and water and mix until a stiff dough is formed.
Tightly cover the dough and let rest for 10 minutes.
For the Filling
While the dough is resting, heat a large skillet or wok over high heat. Add the garlic oil and toasted sesame oil.
Add the tofu and saute until it starts to brown, then add the celery and cook for another minute until the celery starts to soften.
Toss in the slaw vegetables, the soy sauce and the green onions. Cook, stirring constantly, until the vegetables have softened, about 2-3 minutes. Set aside.
To Finish
Uncover the egg roll dough and cut it in half. Return half to the bowl and recover tightly.
Divide the dough into 12 even pieces. Cover the pieces with plastic wrap.
Lightly sprinkle starch onto a pastry board. Take a piece of dough and roll it into either a rectangle for egg rolls or a circle for pockets. Using a large offset spatula or knife, lift the dough off of the pastry board to ensure it's not sticking before adding the filling.
Brush the edges of the dough with egg.
Place some of the filling onto the lower half of the dough for egg rolls, or the center for pockets.
Roll the egg roll, pressing to seal the end. Set aside seam side down. If making a pocket, bring all the edges of the circle together and press to seal to form a pocket. Set aside, seam side up.
Repeat with the remaining dough.
Fill a pot around 3 to 4-inches full of oil. Over medium high heat, using a candy thermometer, bring the oil to 350°F.
Add several of the egg rolls/pockets to the oil. Fry on both sides until golden brown.
Repeat with the remaining egg rolls/pockets.
Serve with your favorite dipping sauce or sweet and sour sauce.
---
---
Notes
These can be reheated using the "Reheat" mode of your air fryer.
I use a rolling pin with guides to ensure that the dough is super thin and evenly rolled out.
These wonderful Gluten Free Egg Rolls and Pockets are perfect for your fried Chanukah meals!!!
I know I spoke about the magic of the Expandex Starch, and I feel it's pretty essential for this recipe. You can theoretically leave it out but the dough won't behave as nicely and the consistency, even after frying, will be different.
You can substitute a different protein for the tofu, like thinly sliced chicken or beef. Before sauteeing the chicken/beef lightly toss it in corn starch and add a little extra oil. This will help the chicken/beef have a great texture. Just make sure to cut them into small enough pieces for the egg rolls/pockets.
You can also leave the tofu out completely if you like.
I recommend using a large offset spatula to loosen/remove the dough circle from the pastry board before egging and rolling. It helps to make sure the dough isn't sticking to the board before rolling into an egg roll or pocket.
Nutrition
Serving Size:
Calories:

370

Sugar:

1.9 g

Sodium:

151.5 mg

Fat:

15.3 g

Saturated Fat:

2.2 g

Carbohydrates:

28.5 g

Fiber:

4.7 g

Protein:

29.3 g

Cholesterol:

31 mg
Keywords: Gluten Free, Gluten Free Egg Rolls, Gluten Free Wonton Wrapper, Vegan, Plant Based, Vegetarian, Pareve, Dairy Free, Meat Free. Chanukah, Hanukkah
Recipe Card powered by
More Fried Chanukah Treats!
HERE'S A FABULOUSLY PERFECT CHANUKAH GIFT!
If you've been searching for the perfect Chanukah Gift, search no further! My cookbook, "Shabbos Under Pressure – Cooking with Pressure = Pressure Free Cooking" makes a wonderful Chanukah present for friends, family or yourself! Especially if you're planning on buying the Instant Pot you've always wanted on Black Friday, this cookbook is for you!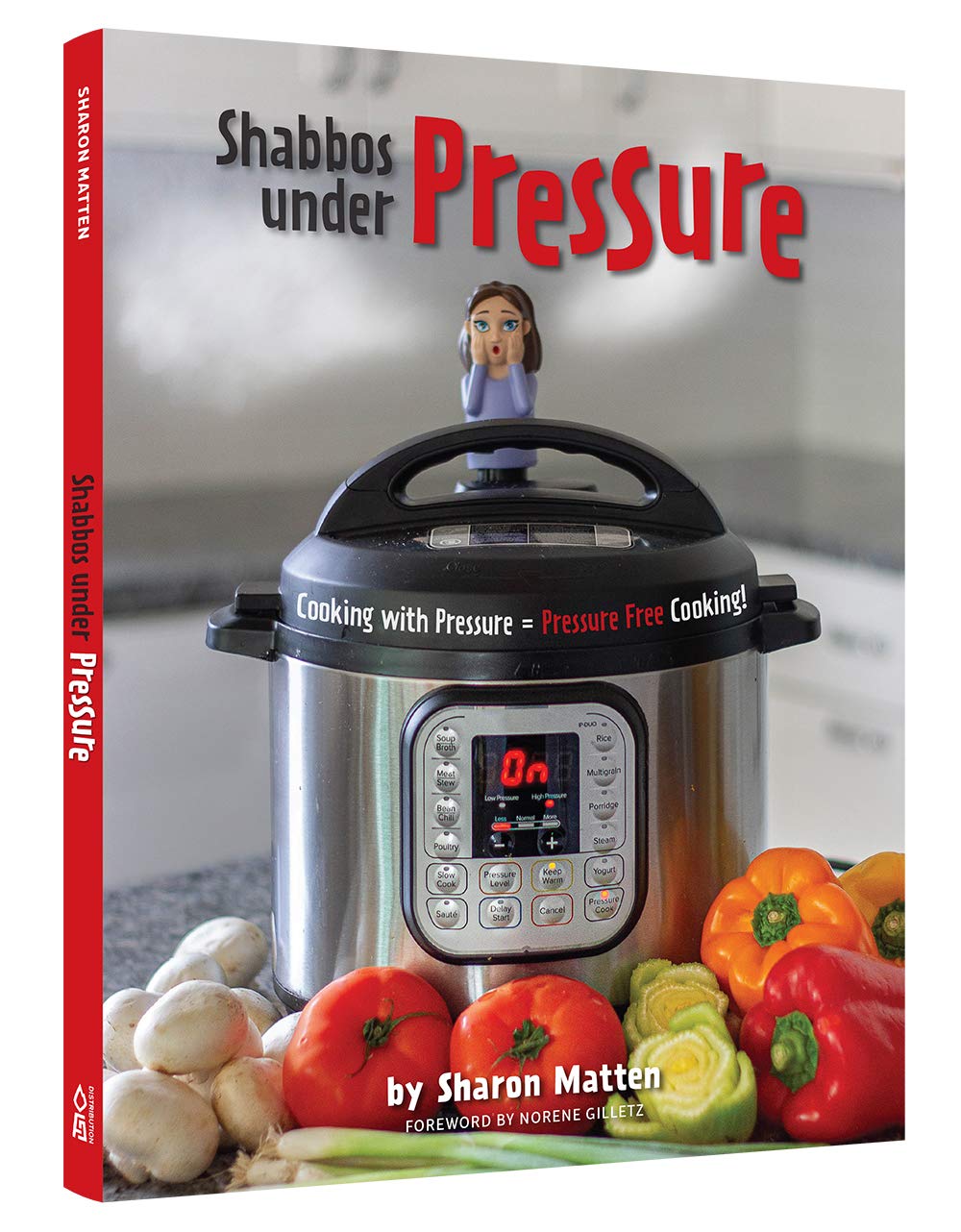 The recipes in this cookbook offer a tantalizing blend of traditional and not so traditional, written with easy to follow, step-by-step language. Each recipe is paired with beautiful, full-color photographs of completed dishes. Sprinkled throughout, you'll find welcome time saving ideas, personal stories and delightful anecdotes.
While Shabbos Under Pressure is not specifically a gluten free cookbook, nearly every recipe in the book has a method for making it gluten free. The recipes and tips in Shabbos Under Pressure work for every brand of Electric Pressure Cookers.
Over 70 time saving recipes and full-color photos
Suggestions and advice for using your Electric Pressure Cooker
Clear instructions with highlighted portions, so you don't miss an important step
Comprehensive terms and tools in super-useful sections for all users
Lay-flat pages for easy reading and use
"Shabbos Under Pressure" is your solution for pressure-less meal preps for Shabbos, holidays, and everyday!
You can find "Shabbos Under Pressure" on Amazon.
There's still time to Register!
NOW FOR MORE CHANUKAH FUN!!!
I've put together an Amazon Influencer Chanukah Page with SO many fun things you won't know what to check out first!!! You can find entertaining Chanukah gifts for yourself, your friends and your family. Here are some of my favorites:
HERE'S THE CHANUKAH PAGE YOU'VE BEEN WAITING FOR: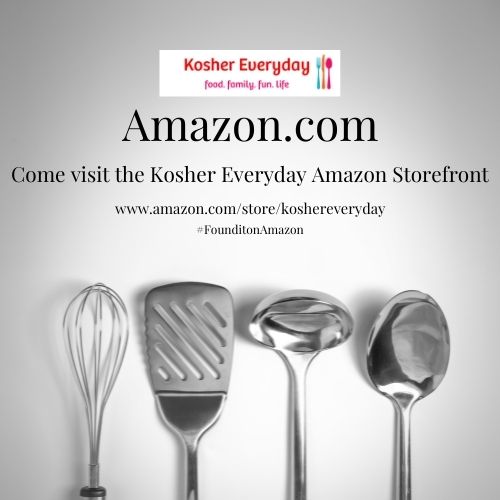 FOLLOW ME!
Don't forget to follow Kosher Everyday on Instagram @koshereveryday! and on Facebook You don't want to miss all the fun and interesting posts and reels that can be found nowhere else!
You can find reels showing how to make most of my recipes on Instagram!
Also, make sure to tag @koshereveryday when you make Kosher Everyday recipes! I LOVE to see your creations!!!
Please note that this post contains affiliate links. Thanks for your ongoing support!