DONUTS!
Gluten Free DONUTS!
FRIED DONUTS!
Perfect for Chanukah.
What?!!!
It's true.
I knew. KNEW! That it was essential to come up with a fabulous gluten free, tastes-like-the-real-thing donut recipe this year.
We NEED donuts.
Ok. So maybe I need donuts.
Anyway…
As per my usual way of doing things, I scoured the web to see what other people had come up with rather than starting at zero. I came up with a few really good options. Of course, I modified them to make them Kosher and pareve. I also modified some of the ingredients according to my tastes. But…I'm a big proponent of giving credit for the recipes that I modify so here is the absolute original: Gluten Free Fried Maple Donuts by Living Freely Gluten Free.
Now…
These are the donuts you've been looking for.
They taste like the donuts I remember before I became a GFE (gluten free eater). They are light and fluffy, and I just wanted to keep eating them.
And eating them.
And eating them.
Rather than a maple glaze I made a chocolate glaze, because…it's chocolate! Then I made them festive with sprinkles and chocolate candy bits.
I made some of the donuts thicker and some thinner. I really recommend the thick ones. Way better. Also, be careful not to overcook them, lightly browned is best.
And…of course I made DONUT HOLES! Which I proceeded to dip in hazelnut spread…just because I could! YUM!!!
Here's the recipe and pictures. Make sure to have a napkin handy for the drooling.
Print
Bakery Style Gluten Free Donuts
---
Description
These are the OMG yeast/fried bakery style donuts you're looking for. My family couldn't believe they were gluten free and even the glutenous eaters scarfed these down!
---
FOR THE DOUGH

1 tablespoon

sugar

1/2 cup

water, baby bottle warm

1 tablespoon

yeast

2

large eggs, room temperature

3/4 cup

margarine, melted then cooled slightly

1 cup

almond milk

4 1/2 cups

gluten free one-to-one flour with xanthan gum

1 tablespoon

baking powder

1 teaspoon

salt

1/4 cup

sugar
peanut oil or canola oil for frying – at least 3-inches of oil in the pan/pot
FOR THE GLAZE

2 cups

powdered sugar

1/2 cup

cocoa powder

1 tablespoon

corn syrup
Additional sprinkles and decorations
---
Instructions
FOR THE DOUGH
In a large measuring cup, whisk together the water, sugar and yeast. Set aside
Place the eggs in a mixing bowl. Beat the eggs on medium speed with a whisk attachment for four minutes.
Add the yeast, margarine and almond milk and mix on low speed for two minutes to combine.
Add the flour, baking powder, salt and sugar. Switch to a dough hook attachment. Mix for two minutes until a dough ball forms.
On a large pastry board, sprinkle a little bit of gluten free flour. Pat/roll the dough to 1/2-inch thick. Cut out the donuts and set aside on the pastry board or a baking sheet covered with parchment/silicone mat.
Cover the donuts with plastic and let rise for 20 minutes.
Place a large cooling rack over a baking sheet covered with paper towels. Set aside.
Heat the oil in a deep fryer or large dutch oven to 275-300 degrees F. Use a candy thermometer clipped to the side of the pot to maintain the temperature.
Fry the donuts on each side for 1-1 1/2 minutes until lightly browned. Transfer to the prepared cooling rack. Allow to completely cool before frosting.
FOR THE CHOCOLATE GLAZE
In a medium bowl whisk together the powdered sugar, cocoa and corn syrup until smooth. Frost the donuts using an offset spatula. If the glaze starts to thicken before all the donuts are frosted, add a little warm water until the glaze is the right consistency.
---
Recipe Card powered by
Time to make the donuts!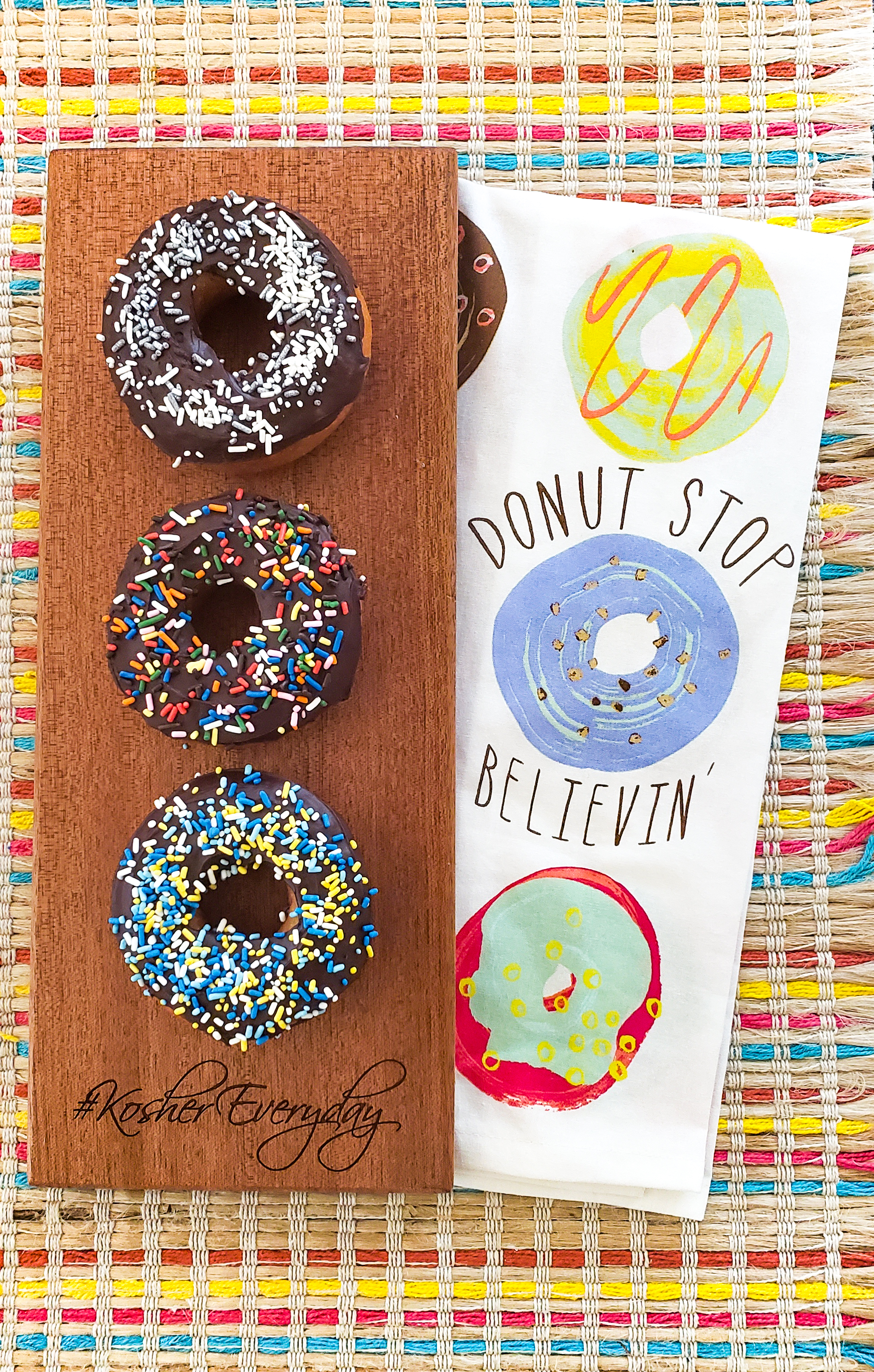 I'm sure you're looking for the perfect Chanukah gift and more fabulous recipes! Make sure to check out Shabbos Under Pressure, Cooking with Pressure = Pressure Free Cooking on Amazon!! There are tons of hearty, warm, savory and sweet recipes that you can make in the new Instant Pot you bought on Black Friday, get as a Chanukah gift, and that you might already have. You can even buy a new pressure cooker and Shabbos Under Pressure as a gift for yourself!!!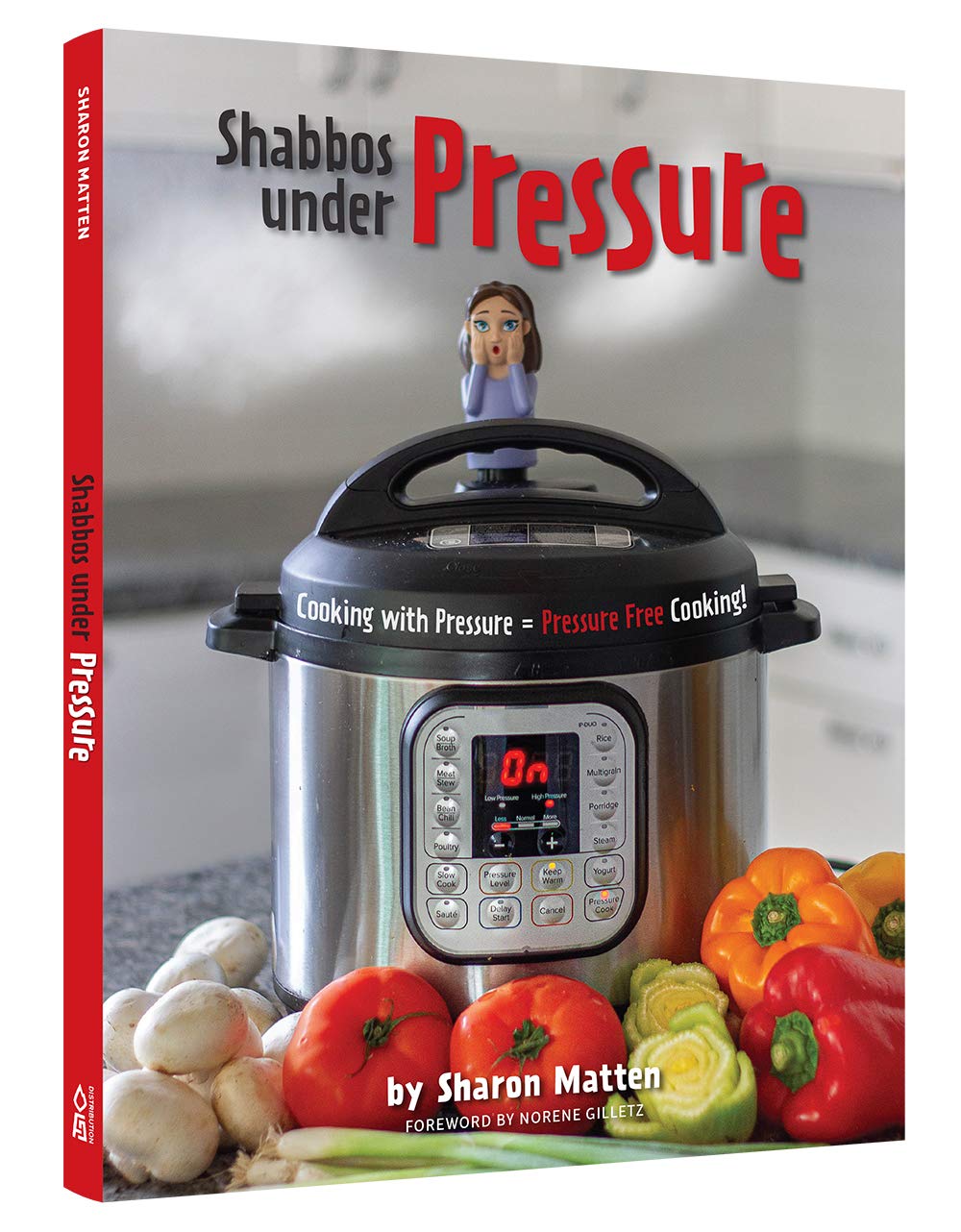 Looking for more Chaukah recipes??? Here you go!