Here's a fun way for you to include kids of all ages in the Purim food preparations. This painted cookie recipe was given to me by my dear friend Hindy who used to make these cookies every Chanukah/Purim with her now-grown kids.
These cookies really let the budding artist in everyone shine. You just paint the cookies with an egg yolk based "paint" which dries into a shiny glaze while baking. They're beautiful and simple to make – a great addition to your Purim celebrations!!
When my girls were little, I'd let them pick four "paint" colors to keep the project manageable. Too many colors tend to be overwhelming for small kids.
We found that lighter/brighter colors work a little better than darker ones. We also found that if you would like to layer the colors, start with a lighter color on the bottom. Let it "dry" for a few minutes and then paint over it with your accent colors.
I also like to use pasteurized eggs. Since the recipe calls for raw egg yolks in the "paint", using pasteurized eggs is an easy way to avoid bacteria like salmonella. If you can't find pasteurized eggs in your local grocery store, here's a way to pasteurize your own by Baking Bites.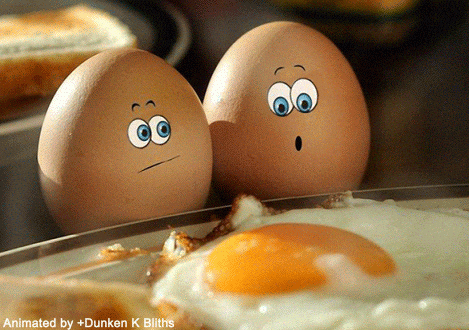 Most importantly…have fun!!
Print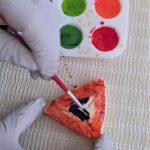 Awesome Painted Cookies – Family Fun in a Treat
---
Description
Fun for the whole family! Even the littlest family member can display their artistic talents with these easy to paint homemade cookies.
---
For the cookies
1 cup

sugar

½ cup

margarine

2

large eggs

1 tablespoon

orange juice

1 teaspoon

pure vanilla extract

3 cups

flour (can be glu

ten

free one-to-one)

2 teaspoons

baking powder

½ teaspoon

salt
additional flour for rolling dough
For the glaze
1

large egg yolk, lightly beaten

¼ teaspoon

water
assorted food colors.
---
Instructions
Preheat oven to 375° F. Cover 2 baking sheets with parchment paper or a silicone baking mat. Set aside.
In a medium bowl, combine the flour, baking powder, and salt. Set aside. In a large mixing bowl with a paddle attachment, cream the sugar and the shortening. Add eggs one at a time, then add the orange juice and vanilla and mix until completely blended. Add the dry ingredients and mix until thoroughly combined and dough is formed.
Divide into dough in half, and wrap each half in plastic wrap. Refrigerate for 30 minutes until dough is chilled and easier to handle.
Roll out dough with floured rolling pin on floured board. Use your favorite cookie cutters to cut out shapes. Transfer cookies to prepared baking sheets. Paint with Cookie Glaze.
Bake 8-10 minutes on prepared cookie sheets. Makes a little over 1 pound of dough.
For the glaze
Mix yolk, water and food coloring together in a small bowl. Paint the cookies!
Let air dry until dry to the touch.
---
Notes
I like to use pasteurized eggs for the glaze.
Use new or thoroughly washed paint brushes. You can divide the glaze or make a separate batch for each "paint" color. Use one paintbrush for each different color.
Recipe Card powered by
Are you looking for some additional last minute Purim Seudah recipes? You can find them here:
Finally…
Sorry to bring this up…but…
It's that time of year to start thinking about Passover! I'm here to help make it way easier for you and reduce your pressure with my book "Shabbos Under Pressure". I've found that using my electric pressure cooker to prepare for Passover, makes the cooking way easier and more efficient. For example, instead of cooking a huge pot of chicken soup on the stove for three hours, taking up valuable space on my stovetop, I can make even better soup in just an hour/hour and a half in my Instant Pot. I've even put together a Shabbos Under Pressure Passover Recipe Guide to help you convert the recipes in the book to Passover friendly recipes. If you don't already have "Shabbos Under Pressure" now would be a great time to order it to ensure that you receive it with enough time to plan and cook your Passover meals.
You can order it here: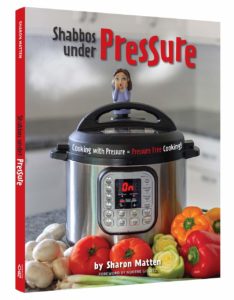 Here's the Passover Under Pressure – The Shabbos Under Pressure Passover Guide: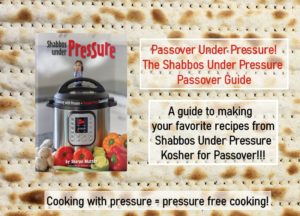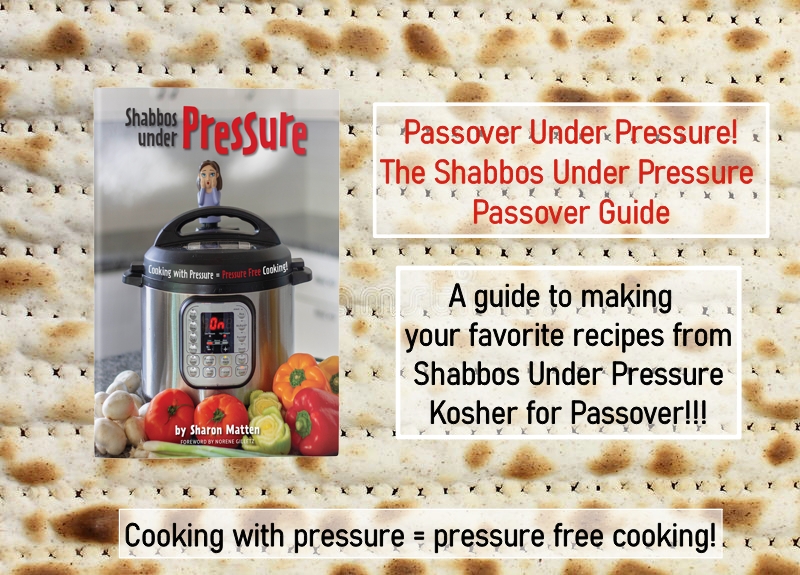 Make sure to follow Kosher Everyday on Facebook and Instagram so you don't miss the latest and greatest recipes and fun from Kosher Everyday!