Cheesy Eggy Bagels with Avocado Mash
I wrote this post about Cheesy Eggy Bagels with Avocado Mash using AI – how fun is that!
Before I start the post, I just wanted to let you know that I used my favorite O'Dough's gluten free bagels for the recipe. I'm insanely in love with them, and while they're a little thinner than traditional bagels, they're lower in calories and the perfect medium to hold any of your favorite toppings – which are the most important anyway!
No. I'm not an O'Dough's affiliate and I'm not getting paid by them. I just really love their products!
Making Cheesy Eggy Bagels with Avocado Mash with AI!
Oh boy, do I have a treat for you! Get ready for a gluten-free delight that'll make your taste buds dance with joy. Introducing the magnificent Gluten-Free Cheesy Eggy Bagels with Avocado Mash! We're talking about bagels that are so heavenly, they'll have you doing a happy bagel dance.
Here's how we create these scrumptious wonders. First things first, gather your ingredients. You'll need gluten-free bagels (of course!), some eggs, and glorious part-skim mozzarella cheese. Oh, and don't forget the star of the show—the avocado mash, which we'll conveniently grab from the store.
Now, picture this: a sizzling skillet, heating up with anticipation. We'll start by slicing the bagels in half, creating that oh-so-famous hole in the center. But wait, it gets even better! We're going to crack a whole egg right into that bagel hole. Yes, you heard me right—a glorious, runny yolk just waiting to burst with flavor.
We want that cheesy goodness enveloping every nook and cranny. After all, who can resist melty, ooey-gooey deliciousness?
Time to introduce our skillet…
Now, it's time to introduce our skillet to this cheesy egg extravaganza. We'll heat it up over medium heat, and once it's ready, sprinkle a little mozzarella on then pan then gently place our bagels into the skillet. Hear that sizzle? That's the sound of mouthwatering goodness in the making.
We want that cheesy goodness enveloping every nook and cranny. After all, who can resist melty, ooey-gooey deliciousness?
Make sure to keep an eye on the Cheesy Eggy Bagel
Keep a close eye on our bagels as they cook to perfection. We want the cheese to melt and the egg to cook just right. It might take a few minutes, but trust me, the wait will be worth it.
Time for the Avocado Mash
While our bagels are getting all toasty and golden, let's not forget about our trusty store-bought avocado mash. This creamy green delight will be the perfect companion to our cheesy eggy bagels. Grab a generous dollop and plop it on the side of your plate. It's like a little avocado oasis waiting to be enjoyed.
Once our bagels have reached their cheesy, eggy nirvana, carefully remove them from the skillet. Place them gently on a plate, making sure not to let that beautiful runny yolk escape. Now, it's time to indulge.
Cheesy Eggy Bagels with Avocado Mash are everything you could hope they would be
Take a bite and let the explosion of flavors enchant your taste buds. The crispy bagel, the gooey melted cheese, and the rich, velvety egg yolk—it's a symphony of deliciousness. And don't forget to scoop up some avocado mash for that extra creamy kick.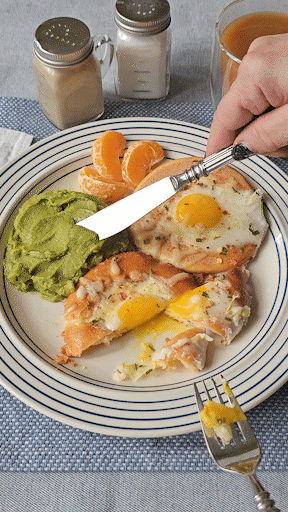 These Gluten-Free Cheesy Eggy Bagels with a surprise whole egg center and a side of store-bought avocado mash are like a culinary adventure in your own kitchen. So go ahead, whip up these quirky delights and treat yourself to a breakfast that's truly extraordinary! Enjoy!
Here's the Recipe for Cheesy Eggy Bagels with Avocado Mash
Feel free to use your favorite (gluten free) bagel. I also ended up using medium rather than large eggs for this recipe because they fit way better in the smaller bagel holes. You can, of course, use whatever eggs you have handy…they'll just run a little more.
Print
Cheesy Eggy Bagels
Author:

Prep Time:

5 minutes

Cook Time:

10 minutes

Total Time:

15 minutes

Yield:

1

Cheesy Eggy Bagel

1

x

Category:

Breakfast

Method:

Cooking

Cuisine:

Gluten Free

Diet:

Kosher
---
Description
Cheesy Eggy Bagels with Avocado Mash are the best, protein packed, super simple, cheesy, delicious breakfast or lunch. Prepare your taste buds for a flavor explosion like no other!
---
1

bagel, split in half, toasted (glu

ten

free)

1/4 cup

shredded part skim mozzarella cheese

2

medium or large eggs
crushed red pepper
dried green onions
salt to taste
freshly ground black pepper

2

ounces

avocado mash
---
Instructions
Preheat a preferably non-stick skillet over medium-high heat.
Sprinkle half of the cheese onto the skillet. Place each bagel half on top of the cheese, cut side down.
Carefully set a whole egg into the hole of one of the bagel halves, then repeat with the other half and egg.
Top with crushed red pepper, dried green onions, salt and pepper to taste.
Sprinkle the remaining mozzarella over the top of the bagels.
Loosely cover with foil or a splatter screen and cook for 3-5 minutes until the cheese has melted and the egg is slightly set.
Transfer to a plate and serve hot with avocado mash.
---
---
Notes
You can also use a larger gluten free bagel, just make sure to lightly toast it before adding it to the skillet.
Love cheese like I do? Add as much as you want!!!
If you aren't a GFE (Gluten Free Eater) feel free to use a huge, fluffy glutenous bagel. Enjoy!
Nutrition
Serving Size:
Calories:

308

Sugar:

3.9 g

Sodium:

478.6 mg

Fat:

15 g

Saturated Fat:

5.6 g

Carbohydrates:

22 g

Fiber:

2 g

Protein:

17.6 g

Cholesterol:

386 mg
Keywords: Breakfast Bagel, Cheesy Bagel, Egg, Egg Bagel, Gluten Free, Avocado, Dairy, Breakfast
Recipe Card powered by
More Beautiful Breakfast Recipes
CHECK OUT THE KOSHER EVERYDAY AMAZON INFLUENCER STOREFRONT!
I'm excited to announce the launch of my brand, spankin' new, Amazon Influencer storefront. The purpose of this store is to share with you all of my favorite tools, ingredients and accessories that I use on Kosher Everyday. If there's something you'd like to see please let me know and I'll make sure to add it. I'm updating the storefront all the time.
I've put together a complete Gluten Free Challah Storefront with everything you need to make fabulous Gluten Free Challah!
Additionally there is a Small Appliance Storefront with many awesome small appliances that I recommend for your kitchen…even if you have a small space!
I'd love to hear what you think!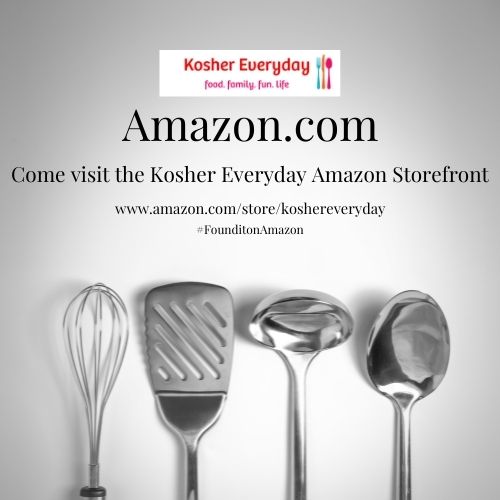 FOLLOW ME!
Don't forget to follow Kosher Everyday on Instagram @koshereveryday! and on Facebook You don't want to miss all the fun and interesting posts and reels that can be found nowhere else!
You can find reels showing how to make most of my recipes on Instagram!
Also, make sure to tag @koshereveryday when you make Kosher Everyday recipes! I LOVE to see your creations!!!
Please note that this post contains affiliate links. Thanks for your ongoing support