Super Creamy High Protein Spinach Pasta
Food is so much more appealing when the color is naturally insanely vibrant and has a ton of sneaky nutrition as well. The recipe for High Protein Spinach Pasta from So Vegan really grabbed me, first because of it's awesome visual draw and second because of the fact that I'm looking for foods that are deliciously high in protein.
Super Creamy HIgh Protein Spinach Pasta is packed with protein! We're talking about a sauce that'll give Popeye a run for his money. It's like the Super Creamy High Protein Spinach Pasta decided to flex its muscles and show off its high-protein prowess. This is a powerhouse pasta!
Nutritious Super Creamy High Protein Spinach Pasta
There were a lot of things I really liked about the High Protein Spinach Recipe.
We've got a generous helping of fresh spinach in there. Not only does it add a vibrant pop of color, but it also brings a fresh, earthy flavor that complements the creaminess perfectly. It's like the pasta and spinach are having a flavor party in your mouth, and everyone's invited!
I think the next time I make it I might even add more spinach. The recipe can handle it and it would add even more spinach flavor and nutrition to the recipe.
I also liked the fact that there were a few ingredients that I stock in my pantry but don't always think to use even though they are really good for you, like nutritional yeast and hemp seeds.
Here's what makes Super Creamy High Protein Spinach Pasta so high in protein.
All about hemp seeds
Knowing that hemp seeds are nutritious and knowing that help seeds are nutritious are two different things.
I went onto helpline.com and found that hemp seeds are really nutritious! You can read the article but what's especially germane is that hemp seeds are a great source of plant based protein.
Here's the science stuff:
"About 25% of calories in hemp seeds come from protein, which is relatively high.
In fact, by weight, hemp seeds provide similar amounts of protein as beef and lamb — 30 grams of hemp seeds, or 2–3 tablespoons, provide about 11 grams of protein (1).
They are considered a complete protein source, which means that they provide all the essential amino acids. Your body cannot produce essential amino acids and must obtain them from your diet.
Complete protein sources are very rare in the plant kingdom, as plants often lack the amino acid lysine. Quinoa is another example of a complete, plant-based protein source.
Hemp seeds contain significant amounts of the amino acids methionine and cysteine, as well as very high levels of arginine and glutamic acid (18).
The digestibility of hemp protein is also very good — better than protein from many grains, nuts and legumes (19Trusted Source).
Summary
About 25% of the calories in hemp seeds come
from protein. What's more, they contain all the essential amino acids, making
them a complete protein source."

About Nutritional Yeast
Again I went to healthline.com to read up on nutritional yeast. Just two teaspoons of Nutritional Yeast contain 3 grams of protein.
Woot!
"Fortified nutritional yeast is a vegan-friendly source of protein, B vitamins, and trace minerals that support optimal health."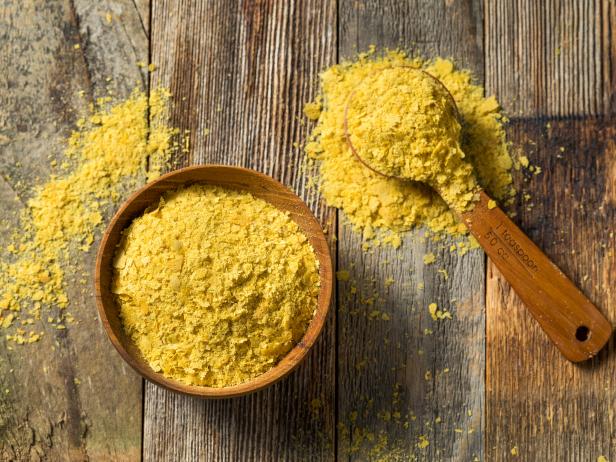 The Silken Tofu
One more trip to healthline.com for the tofu nutrients.
"Tofu is condensed soy milk that people press into blocks of different firmness. It is a nutrient-dense food that is high in protein and contains all the essential amino acids your body needs."
Just 3.5 ounces of tofu contains 17 grams of protein. That's a lot.
Making Super Cream High Protein Spinach Pasta
While making Frog Eye Salad, I came across a great website, Yummy Bazaar, that had a lot of gluten free products that I couldn't find in other places. The prices were competitive and when I purchased the Acini De Pepe for the Frog Eye Salad, I tossed the ingredeints for Super Creamy High Protein Spinach Pasta into my cart as well.
What I didn't expect was how nicely the delivered products were wrapped, as well as the quality of the items.
I immediately signed up for the affiliate program, although my application is still pending. I liked the company that much.
The Pasta in Super Creamy High Protein Spinach Pasta
It can be hard to find gluten free pasta in interesting shapes. You can easily find rotini, penne and spaghetti in your local grocery store, but beyond that, finding other types of gluten free pasta can be a challenge.
So…when I found Farabella Organic gluten free Mezzi Rigatoni on Yummy Bazzar, I immediately put three packages in my cart. I later found the same pasta on Amazon, but it was nearly twice as expensive.
What's so awesome about this pasta in comparison to traditional penne is that the holes are much bigger so the sauce gets into every nook and cranny of the pasta. OMG!
If you can't find/order the Mezzi Rigatoni I'd probably go with a gluten free rotini rather than a penne so the sauce permeates every part of the pasta.
The Silken Tofu
When I came across silken tofu on Yummy Bazaar I was a little confused as to how it was going to arrive. I was under the impression that all tofu needed to be refrigerated, right? So, when it came shelf stable I did a little dance. Shelf stable tofu is really a game changer. It means that I can keep some in my pantry and use it as needed rather than making sure it's on my grocery list. Impromptu tofu dishes here we come!
The soft, silken tofu is perfect for creamy sauces like the Super Creamy High Protein Spinach Pasta sauce.
Here's the recipe for Super Creamy High Protein Spinach Pasta
Be prepared for the creamiest spinach pasta you've ever had. It's protein party, packed with protein from spinach, tofu, nutritional yeast, cashews and hemp seeds.
Feel free to change up the pasta if you like, a gluten free rotini would be best.
Additionally, since I'm not a garlic eater, I substituted garlic oil for the olive oil and left out the garlic. I'll keep the original recipe and add a note at the end if you choose to leave the garlic out like I did.
Print
Super Creamy High Protein Spinach Pasta
Author:

Prep Time:

15 minutes

Cook Time:

12 minutes

Total Time:

27 minutes

Yield:

4

servings

1

x

Category:

Main Dish

Method:

Cooking

Cuisine:

Plant Based

Diet:

Kosher
---
Description
Super Creamy High Protein Spinach Pasta is packed with protein! We're talking about a sauce that'll give Popeye a run for his money. It's like the Super Creamy High Protein Spinach Pasta decided to flex its muscles and show off its high-protein prowess. This is a powerhouse pasta! Packed with nutritious spinach, hemp seeds, silken tofu and nutritional yeast, this is the naturally vibrant, super creamy, good-for-you pasta you've been craving!
---
320

g

(11.3oz) gluten-free pasta
salt + pepper

250

g

(8.8oz) baby spinach

350

g

(12.3oz) silken tofu

4 tbsp

nutritional yeast

40

g

(1.4oz) cashews, see notes

60

g

(2.1oz) hemp seeds, shelled or milled

2

garlic cloves, peeled

2 tablespoons

olive oil
vegan parmesan, to serve (optional)
---
Instructions
Cook the pasta in a pot of salted boiling water as per the packet instructions. Once the pasta is ready, drain it and reserve about half a cup of the pasta water for later.
Meanwhile, add the spinach to a pan on a medium heat and cook for 2-3 minutes or until wilted. Add a tablespoon of pasta water to the spinach if it's sticking to the pan.
Next, transfer the spinach to a high speed blender along with the silken tofu, nutritional yeast, cashews, hemp seeds, garlic, 2 tablespoons of olive oil and generous pinches of salt and pepper. Blend until the sauce is smooth, adding a tablespoon or so of the reserved pasta water to the sauce, if needed, to loosen it up.
Pour the spinach sauce into the pan you used earlier and heat it on a low temperature until warm. Tip the pasta into the sauce and stir to combine.
Serve the pasta with a drizzle of olive oil, an extra pinch of pepper and some grated vegan parmesan, if you like.
---
---
Notes
If you can't find gluten free rigatoni you can use rotini or your favorite other pasta.
Because it doesn't like me, I don't use fresh garlic when cooking. If you're like me, feel free to leave out the garlic and substitute garlic oil instead of the olive oil. If you don't have garlic oil, just leave out the garlic although the substitution adds a lot of flavor.
Here is a link to the original recipe on So Vegan: High Protein Spinach Pasta.
Nutrition
Serving Size:
Calories:

508

Sugar:

3.4 g

Sodium:

645.8 mg

Fat:

15.3 g

Saturated Fat:

2 g

Carbohydrates:

69.3 g

Fiber:

5.9 g

Protein:

25.1 g

Cholesterol:

0 mg
Keywords: High Protein, Spinach, Pasta, Vegan, Plant Based, Vegetarian, Pareve, Dairy Free, Nutritious, Kosher, Gluten Free
Recipe Card powered by
More Perfect Pasta Recipes
CHECK OUT THE KOSHER EVERYDAY AMAZON INFLUENCER STOREFRONT!
I'm excited to announce the launch of my brand, spankin' new, Amazon Influencer storefront. The purpose of this store is to share with you all of my favorite tools, ingredients and accessories that I use on Kosher Everyday. If there's something you'd like to see please let me know and I'll make sure to add it. I'm updating the storefront all the time.
I've put together a complete Gluten Free Challah Storefront with everything you need to make fabulous Gluten Free Challah!
Additionally there is a Small Appliance Storefront with many awesome small appliances that I recommend for your kitchen…even if you have a small space!
I'd love to hear what you think!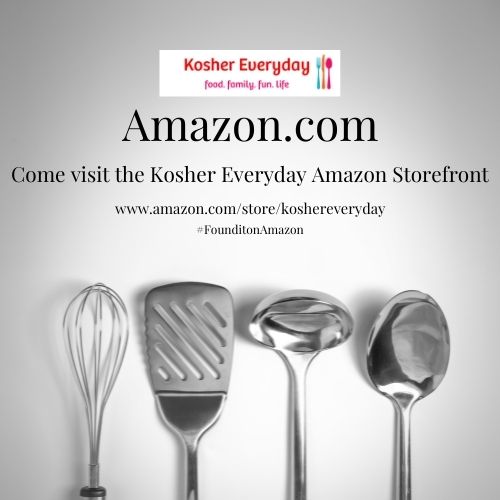 FOLLOW ME!
Don't forget to follow Kosher Everyday on Instagram @koshereveryday! and on Facebook You don't want to miss all the fun and interesting posts and reels that can be found nowhere else!
You can find reels showing how to make most of my recipes on Instagram!
Also, make sure to tag @koshereveryday when you make Kosher Everyday recipes! I LOVE to see your creations!!!
Please note that this post contains affiliate links. Thanks for your ongoing support