I love bagels.
A good bagel (in my opinion) has a chewy exterior and a yummy, bagely interior. You can toast them and top them with just about anything (even another bagel). They are one of the most excellent sandwich exteriors you can eat.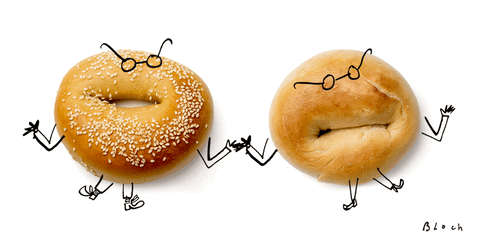 I've been searching for a good bagel/bread recipe to make during Passover. I spent a lot of time online and found that many Keto recipes are actually Kosher for Passover. That's super useful information.
Really.
I sorted through the bread and bagel recipes and found two that were not complicated to make with lots of weird ingredients. They also had to be gluten-free (i.e. non-gebroks) for me the GFE – Gluten Free Eater, and Non-Sephardi Passover friendly (i.e. no kitniyot).
I had to wait until today to try them out because we just turned over our range top for Passover yesterday. I made the bagels today, hoping to eat my favorite bagel, cream cheese, lox, and thick slice of tomato for lunch. In my first batch, I forgot to add the cider vinegar that the recipe specified. In my defense, I was hungry and really wanted to eat bagels, and thus was distracted enough to forget an ingredient. It turned out they were amazing without the cider vinegar. Really, really, delicious. Non-Passover worthy.
It's true.
So…I made my sandwich, took some pictures to share with you, then ate my fabulous lunch.
YUM!
Then, for the sake of quality control, I made a double recipe using the cider vinegar. I ended up adding an extra ½ cup of almond flour per-recipe (1 cup total) and making the bagels.
It's a close call as to which batch was better. I think the textures were slightly different, and the second batch did have a little different taste. Both were very very good.
Bottom line?
Make the bagels.
If you have the cider vinegar you can add it along with the extra ½ cup of almond flour. Otherwise, the bagels come out beautifully without the cider. If you don't have the cider, it's still all good.
I just sent dear daughter out to buy more almond flour. I have a feeling I'm going to need to make a lot more of these bagels!!!
Here's the recipe:
Print
I Can't Believe They're Passover Bagels
---
Description
These bagels take a little effort to make, but they are a lot delicious. They are part of a perfect grab and go sandwich, and you won't even know they are gluten free and Kosher for Passover!
---
3

cups

blanched almond flour (3 1/2 if including the apple cider vinegar)

1

cup

tapioca starch

2 teaspoons

baking powder

1 teaspoon

kosher or sea salt

2 tablespoons

apple cider vinegar (optional)

2 tablespoons

honey

2/3

cup

warm water
For Boiling
Medium pot of water 2/3 full

4 tablespoons

baking soda (added

3.30.22

from notes)
For the Finishing
1

large egg beaten
dried toasted onions or garlic (optional)
---
Instructions
Preheat oven to 350° F. Line a baking sheet with a silicone mat or parchment paper. Set aside.
In a large bowl, blend together the dry ingredients, ensuring there are no lumps. Make a "well" in the center.
Add the vinegar (if using), honey, and warm water. Stir together until completely blended and smooth. Allow the dough to rest for 2-3 minutes.
Divide the dough into 6 even pieces.
For Boiling
Bring the pot of water to a simmer over medium heat. Whisk in the baking soda.
Roll a piece of dough between your hands (wet hands or vinyl gloves work best) until a ball forms. Pat the dough down slightly to make a disk. Using your index finger, make a hole in the center of the disk.
Carefully place the bagel in the simmering water. Allow it to cook until it floats to the top. Using a slotted spoon or spatula remove the bagel from the water and place on the prepared baking sheet. Repeat with the remaining dough.
Bake the unegged bagels for 10 minutes.
For Finishing
Remove the bagels from the oven and brush with the beaten egg. Top with the dried onion and/or garlic if using.
Return the bagels to the oven and bake for an additional 20-25 minutes until golden brown. Remove the bagels from the oven and allow them to rest for 10-15 minutes. Kiwi and Carrot suggests that allowing the bagels to rest allows the center to firm up a bit.
---
Notes
For a more golden finish to the bagels, for the egg wash use egg yolks only instead of whole eggs.
For a more chewy, bagel like exterior add 4 tablespoons of baking soda to the boiling water.
Nutrition
Serving Size:

1 Bagel

Calories:

350

Sugar:

7.8 g

Sodium:

391.9 mg

Fat:

10 g

Saturated Fat:

0 g

Carbohydrates:

18.7 g

Fiber:

2.1 g

Protein:

8 g

Cholesterol:

0 mg
Keywords: Passover Bagel, Passover, Pesach, Gluten Free, Dairy Free, Non-Gebroks
Here's how I made them:
Here's my latest Passover recipe on my other website www.everydaygluten-free.com:
More Kosher Everyday Passover Recipes:
More Everyday Gluten Free Passover Recipes:
What exciting new dishes are you making for Passover?? I'd love to hear from you!
Finally…don't forget to follow me on Instagram for up to the minute exciting updates – @koshereveryday