Overnight Blueberry French Toast
This is part two of the "I got my recipes by the pool in Sanibel from my Dear Sister-In-Law, Sharon Matten Rane". The first recipe, which was a massive hit, was Plant Based Hamburger Soup.
Because that recipe turned out so well, I couldn't wait to try recipe number two…Overnight Blueberry French Toast.
The original Overnight French Toast
What was incredibly appealing about Dear SIL's Overnight French Toast recipe was that you can prepare it the night before serving, then pop it in the oven around 45 minutes before you're going to serve it. Dear SIL raves about this recipe and serves it frequently at brunches and other gatherings.
It sounded wonderful.
Making Overnight French Toast Kosher Everyday
While the original recipe was definitely Kosher, I wanted to update it to be gluten free, dairy free and possibly plant based. It meant changing a few ingredients, then crossing my fingers in the hope that it would work.
It had to be gluten free
The original recipe calls for French Bread. While you can find gluten free French Bread in various locations, I ended up using the bread from my affiliate Bread SRSLY Gluten-Free Sourdough Bread. The loaves are a pound each, and I keep them frozen and defrost them as necessary. My loaves are uncut whole loaves. I cut around six thick slices from the center of the loaf for this recipe.
My favorite Bob's Red Mill 1:1 flour was an easy replacement for the glutenous flour. I hoped it would achieve similar results compared to the original recipe.
I wanted it to be Dairy Free
In order for this recipe to be dairy free, I used unsweetened plain almond milk and plant based margarine. I'm avoiding dairy right now so selfishly, I wanted the recipe to be dairy free…just for me.
While I did use eggs, you could substitute 2/3 cup JUST egg to make the entire recipe plant based.
Putting the whole thing together
I have to admit, I was a little nervous about how my Overnight French Toast was going to turn out. I was changing quite a few variables at one time, totally obliterating any semblance of following the scientific method. That fact alone gave me the willies.
First, I wasn't sure how the sourdough bread would work in this recipe. It was close enough to French Bread for the purposes of the recipe, but I was still concerned.
Second, changing out all the dairy products could really impact the taste. I think it's important to use a very good tasting plant based butter if you're going to make the recipe dairy free. Adding a little extra vanilla, or using an unsweetened vanilla flavor almond milk would also be good.
Finally, the recipe calls for blueberries or strawberries as the fruit. I liked the concept of baked blueberries and Aldi actually had blueberries on sale for $1.99. Decision made.
Letting the Overnight Blueberry French Toast sit…overnight
Dear Husband was thrilled that I was making this recipe. It meant that I had to clean out the refrigerator enough that the pan would fit. What makes the Overnight Blueberry French Toast so good is that by sitting overnight, the delicious egg mixture becomes infused in the bread. I hoped the sourdough would absorb the egg mixture the way it was supposed to.
And then the Overnight Blueberry French Toast Was Done!
I wasn't quite sure what to expect when I tasted the final result. I was blown away by how good it is. The blueberries add freshness to the dish, and the bread was soft on the inside with a crispy topping.
Final observations
I think that you could serve eight with this recipe. You could either use a smaller loaf, like a French bread, or cut larger loaf slices. You can't really tell where the bread begins and ends in the final dish because the whole thing ends up looking kind of like a French Toast casserole.
Print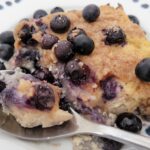 Overnight Blueberry French Toast (Gluten Free)
Author:

Prep Time:

20 minutes

Refrigeration:

Overnight

Cook Time:

40 minutes

Total Time:

60 minutes
---
Description
Overnight Blueberry French Toast is the perfect make ahead, family friendly, gluten free breakfast/brunch/party food. Bursting with blueberry flavor it's sure to be a hit with your family and friends!
---
Step 1
Nonstick vegetable spray

1

(9-ounce) day old French Bread or Sourdough bread, sliced

3

eggs or

2/3 cup

plant based eggs

3 tablespoons

granulated sugar

2 teaspoons

pure vanilla extract

2 1/4

cups

unsweetened almond milk
Step 2
1/2

cup

gluten free flour

6 tablespoons

brown sugar, light or dark

1/2 teaspoon

ground cinnamon

1/4

cup

plant based margarine, 1/2

stick

1

cup

fresh blueberries plus more for garnish
maple syrup (optional)
---
Instructions
Step 1
Grease a 9-inch x 13-inch baking dish with nonstick spray. Arrange the sliced bread in the dish. Set aside.
In a medium bowl, whisk together the eggs, sugar and vanilla.
Stir in milk until well blended.
Pour the milk mixture over the bread in the baking dish. Turn the bread slices to coat well.
Tightly cover the baking dish and refrigerate overnight.
Step 2
Preheat the oven to 375°F.
In a medium bowl combine the flour, brown sugar and cinnamon.
Cut in the margarine until the mixture resembles coarse crumbs.
Remove the baking dish from the refrigerator and uncover. Turn the bread slices over.
Scatter the blueberries over the bread, then evenly sprinkle the crumb mixture over the top.
Bake 40 minutes until golden brown.
Serve hot with additional blueberries and maple syrup.
---
---
Notes
The original recipe calls for dark brown sugar. I used light brown sugar but the dark will result in a slightly richer flavor.
If you can find gluten free French bread it will result in a slightly milder flavored French toast.
In a pinch you can use any day old gluten free bread, although it may result in a mushier French toast and the bread (depending upon many variables) may dissolve.
Nutrition
Serving Size:
Calories:

240

Sugar:

13.3 g

Sodium:

298.8 mg

Fat:

8.5 g

Saturated Fat:

1.2 g

Carbohydrates:

34.9 g

Fiber:

2.3 g

Protein:

5.8 g

Cholesterol:

69.8 mg
Keywords: Overnight French Toast, Blueberry French Toast, Baked French Toast, Gluten Free, Plant Based, Dairy Free, Brunch, Breakfast
Recipe Card powered by
Here's a bonus for you! You can use code KOSHEREVERYDAY for free shipping on your first order at Bread SRSLY!
More Best Breakfast Ideas
FOLLOW ME!
Don't forget to follow Kosher Everyday on Instagram @koshereveryday! and on Facebook You don't want to miss all the fun and interesting posts and reels that can be found nowhere else!
You can find reels showing how to make most of my recipes on Instagram!
Also, make sure to tag @koshereveryday when you make Kosher Everyday recipes! I LOVE to see your creations!!!
Please note that this post contains affiliate links. Thanks for your ongoing support!