Air Fried Hash Brown Potato Latkes
I originally came up with the concept of the Original Hash Brown Potato Latkes way way back in 2011 for a Chicago Tribune Article. The article introduced the concept of using the much much quicker Simply Potatoes pre-shredded potatoes instead of taking the time and effort to peel and shred fresh potatoes by hand. It's way faster to open a bag, dump the contents into a bowl, and have the heavy, time consuming prep for latkes all done.
It was considered innovative at the time.
In fact, I got a letter from Simply Potatoes thanking me. There had been such a significant uptick in sales of Simply Potatoes after the Chicago Tribune article, and the publishing of my Original Hash Brown Potato Latke post on Kosher Everyday, that they wanted to thank me personally with a letter. The sales were so significant at the time that our local Jewel-Osco was completely sold out of Simply Potatoes right before Chanukah that year!
Even More Hash Brown Potato Latke Recipes
Once I had developed the basic latke recipe the sky was the limit. I've continued to create new and exciting variations of Hash Brown Potato Latkes ever since.
I wrote a series of recipes for Aish.com and did a Hash Brown Potato Latke Revisited post that included the recipes from the Chicago Tribune.
It's exciting!
Making the Original Hash Brown Potato Latkes Current
I actually had someone tell me today: "I love how you get the fact that we're all busy and make this recipe so much more doable. It's a great idea!"
True story.
I was showing her the new reel making my new, updated version of the Original Hash Brown Potato Latkes… Air Fried Hash Brown Potato Latkes.
Healthier Air Fried Hash Brown Potato Latkes
I recently bought an air fryer. I know everyone has had one for quite a while but I was really hesitant to add another tool/gadget/appliance to my already full kitchen. I happened to be in Costco and found this fabulous air fryer on a great sale and bought it.
I love it!
Using my Air Fryer to make Hash Brown Potato Latkes
I've been having loads of fun playing with my new air fryer trying out new recipes. It occured to me that I could actually make my Original Hash Brown Potato Latkes in my air fryer and still be "frying" them on Chanukah.
OMG!
All about why we fry latkes on Chanukah
I'm a huge fan of not redoing something that's already been done. That being said here's a great article from Kosher.com called "Why do we eat latkes and sufganiyot on Chanukah". Here's a quote from the first paragraph. You can read the rest of the outstanding post here.
"The short answer is because the holiday of Chanukah is about the small jar of oil miraculously lasting for eight days and therefore, frying foods in oil commemorates that miracle."
I know a lot of people would like to make latkes a little/lot healthier, I mean 8 days of eating fried foods can get to anyone.
There have been people who have suggested baking latkes, but I shake my head. The problem is that the whole point of making latkes to begin with is the oil!!!
Air frying latkes was my awesome solution for resolving the healthier but still frying conundrum. You're still frying the latkes, but they're way healthier because of the way smaller amount of oil that's being used!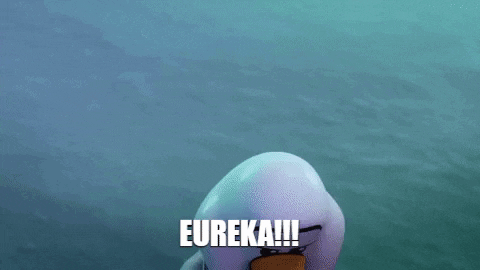 Making Air Fried Hash Brown Potato Latkes Gluten Free
This one was a no brainer. Simply substituting 1:1 gluten free flour worked super well.
I also substituted green onions for traditional onions. I like them better with their slightly milder taste and they agree with my GI system better than traditional onions.
You can still use traditional yellow onions if you choose. Totally up to you.
I like Garlic Oil
If you haven't noticed by now, I'm obsessed with garlic oil. It gives food so much flavor without any additional effort.
I brushed the air fryer pan with garlic oil and then brushed/sprayed garlic oil on the tops of the latkes before putting them in the air fryer.
Here's the Recipe for Air Fried Hash Brown Potato Latkes
If you don't have an air fryer you can always fry the Hash Brown Latkes in a skillet with a little less oil. They will be completely delicious. I promise.
If you don't have garlic oil don't stress. You can use olive oil/olive oil spray and they will be fabulous.
Print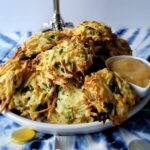 Air Fried Hash Brown Potato Latkes
Author:

Prep Time:

10 minutes

Cook Time:

30 minutes

Total Time:

40 minutes

Yield:

18

latkes

1

x

Category:

Side Dish

Method:

Air Frying

Cuisine:

Gluten Free

Diet:

Kosher
---
Description
Air Fried Hash Brown Latkes are an easy way to make fabulously delicious, healthier, less greasy, super quick, Chaunkah potato latkes. Using hash brown potatoes speeds up the latke prep, and using an air fryer allows you to still fry the latkes without all the fatty oil. Air Fried Hash Brown Latkes are a Chanukah miracle!
---
1

(20-ouce) bag shredded potatoes (Simply Potatoes)

1

medium onion, finely diced or

1 cup

/bunch green onions, thinly sliced

2

large eggs, lightly beaten

1/3

cup

(gluten free) flour

1 teaspoon

baking powder

1/2 teaspoon

kosher salt

1/2 teaspoon

freshly ground black pepper
garlic oil for brushing, optional
favorite latke toppings.
---
Instructions
Combine the hash browns, onion, eggs, flour, baking powder, salt and black pepper in a large bowl until completely blended.
Spray/brush an air fryer pan with (garlic) oil.
Form the hash brown mixture into latke shapes and place them on the greased air fryer pan.
Lightly spray/brush the latkes with (garlic) oil.
Place the latkes in the air fryer and bake at 400°F for 10 minutes or until browned. Repeat with the remaining latke batter.
Serve hot with your favorite latke toppings.
---
---
Notes
To reheat, simply place the latkes on the air fryer sheet and use the reheat setting. They will be crisp and hot.
You can also use a non-aerosol spray of your choice to grease the pan and latkes.
If you like you can use any flavored oil to top the latkes. There are a ton of different flavored sprays on the market. Think spicy, truffle, garlic or other flavors.
If you'd like to make these latkes plant based, substitute an egg replacer like Just Egg instead of the two eggs.
Nutrition
Serving Size:

1 Latke

Calories:

45

Sugar:

0.3 g

Sodium:

80.2 mg

Fat:

0.8 g

Saturated Fat:

0.2 g

Carbohydrates:

8.3 g

Fiber:

0.6 g

Protein:

1.7 g

Cholesterol:

20.7 mg
Keywords: Latke, Latkes, Hash Brown, Hash Brown Latkes, Chanukah, Gluten Free, Dairy Free, Air Fryer, Air Fried Latke
Recipe Card powered by
Here's How to Make Air Fried Hash Brown Potato Latkes from @kosherveryday on Instagram!
View this post on Instagram
When my kids were growing up it was super important to me to have Jewish books that spoke to them about traditions, proper behavior and Holiday customs. I wanted the books to be super fun to read, but also to have a "takeaway".
One of my all time favorite Chanukah books is The Chanukah Guest by Eric A. Kimmel. There is a wonderful Bubbie, Bubba Bryna, who must be at least a hundred years old and insists on making latkes for everyone in the community. There's also a bear in the story and tons of latkes. I won't be a spoiler but this is a fantastic Chanukah story, and I can totally relate to the amount of latkes Bubba Bryna makes. I also sometimes feel like there are bears coming in and out of our house to eat all the latkes!
More Marvelous Chanukah Latke Recipes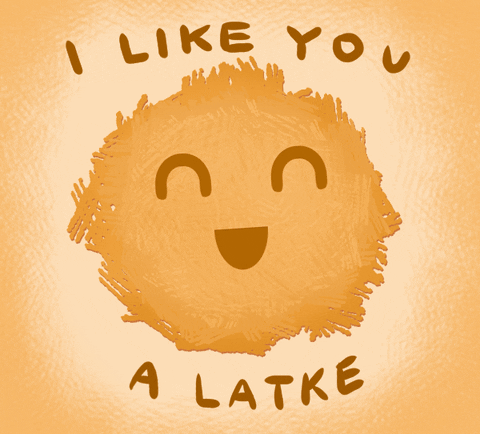 CHECK OUT THE KOSHER EVERYDAY AMAZON INFLUENCER STOREFRONT!
I'm excited to announce the launch of my brand, spankin' new, Amazon Influencer storefront. The purpose of this store is to share with you all of my favorite tools, ingredients and accessories that I use on Kosher Everyday. If there's something you'd like to see please let me know and I'll make sure to add it. I'm updating the storefront all the time.
You can find all my Small Appliances including ones like the Instant Pot Vortex Air Fryer!
Additionally, I've put together a complete Gluten Free Challah Storefront with everything you need to make fabulous Gluten Free Challah!
My a Small Appliance Storefront has many awesome small appliances that I recommend for your kitchen…even if you have a small space!
I'd love to hear what you think!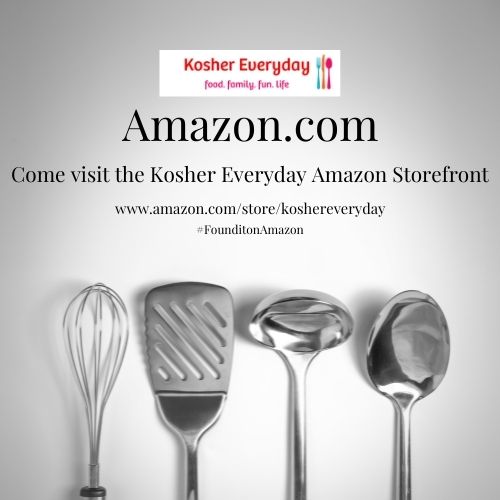 FOLLOW ME!
Don't forget to follow Kosher Everyday on Instagram @koshereveryday! and on Facebook You don't want to miss all the fun and interesting posts and reels that can be found nowhere else!
You can find reels showing how to make most of my recipes on Instagram!
Also, make sure to tag @koshereveryday when you make Kosher Everyday recipes! I LOVE to see your creations!!!
Please note that this post contains affiliate links. Thanks for your ongoing support!