Double Chocolate Gluten Free Donuts
Here's why I created Double Chocolate Gluten Free Donuts.
One of the joys I have is taking my family to one of the Kosher Dunkin Donuts nearby. They love standing in front of the display, carefully examining all the sweet, delicious, fried donuts coated with glazes and sprinkles. It's hard to choose between Boston Cream, Double Chocolate Donuts, Apple Fritters or cute little munchkins. They're SO happy, it's infectious.
It's excruciating.
As a GFE (Gluten Free Eater), I can only drool at the complete yumminess behind the glass.
However, on the flip side…no donuts = no donut calories. Making Double Chocolate Gluten Free Donuts
While I can obviously purchase some ready-made frozen donuts, they just don't compare with freshly made fried donuts.
So…when do I pull out the oil to fry up some fantastic, drool worthy donuts?
On Chanukah!
Frying stuff on Chanukah
On Chanukah it is a custom to fry foods to commemorate the miracle of the small amount Temple oil burning in the Menorah for a full eight days.
Fried food is amazing.
The one time a year that I'll indulge in fatty, fried, heavenly foods is Chanukah.
What could possibly be better than fried foods?
CHOCOLATE fried foods… a.k.a..
Double Chocolate Gluten Free Donuts!!!!!
Making Double Chocolate Donuts Gluten Free
Those glutenous family members and friends can always go to the store/bakery and buy fresh, crispy, soft in the middle, gorgeous topping donuts.
We GFE's (Gluten Free Eaters) sadly cannot.
While there are a few gluten free bakeries on the planet, they are not everywhere.
The only solution?
Make them yourself!
Frying things is scary
For some people frying can be scary and/or challenging. The oil is super hot, how do you fry donuts without getting third degree burns??? Or smoking up/burning down the house?
Don't worry. I'm here to help.
Make sure you have the right oil
Using an oil with a high smoke point like peanut or avocado oil That means, the oil can get pretty hot without smoking up your house. It's a helpful tip. I actually prefer peanut oil over all the others. It crisps really well and doesn't smoke.
Make sure you have a candy thermometer
Having a thermometer that you can clip to the side of the pot is super important. You want to make sure that the oil is the correct temperature for optimal frying. If the temperature is too low, the donut's won't fry properly. If the temperature is too high, the donuts can burn. You want to make sure the temperature of the frying oil stays around 350°F. I'm including several different models in my Amazon Chanukah Shop.
Make sure you have a deep and large enough pot
The size of the cookware is important. You want to have at least three inches of oil in the pot. A skillet just won't do, whereas a dutch oven would be perfect.
Making sure the pot is wide enough is also critical. The donuts need to have enough room to fry properly being completely surrounded by hot oil. A too small pot will cause crowding and the donuts won't fry correctly.
You can also use an electric deep fryer
Another option is to use an electric deep fryer. There are a few varieties on the market. Just make sure that it's large and wide enough to fry a few donuts at a time. The benefit of an electric deep fryer is that most will maintain the temperature you set it at so you don't have to monitor.
Slotted Spatula
I like the idea of something like this, where it's silicone and therefore heat resistant. The handle is long, so there is less change of burning yourself, and there are enough holes to drain excess oil.
Don't use an air fryer for Double Chocolate Gluten Free Donuts
The truth is that I haven't tried making these guys in an air fryer. In this case, I'd just fry them up using a lot of oil.
Nuff said.
Making the Double Chocolate Gluten Free Donuts Super Pretty for Chanukah
I spent quite a bit of time online looking for the perfect sprinkle mix for the perfectly decorated donuts. I actually had some trouble. I needed my mix to be Kosher Certified (of course), gluten and dairy free. It wasn't as simple as I had hoped. I ended up taking a bunch of sprinkles that I already had and mixed them together. I love the way the donuts turned out.
If I had had time I would have spent some time looking for 6 pointed Star of David and menorah sprinkles. That would have made these absolutely perfect.
What's great about these donuts is that you can add any type or color of sprinkles to match your occasion. Some people like them with no sprinkles at all!
Gasp.
Here's the Recipe for Double Chocolate Gluten Free Donuts
I made several batches of these donuts to make sure that they were moist and perfectly shaped.
The First Batch
The first batch turned out dryer than I had hoped. I think that it partially had to do with how long I fried them and the recipe. I also didn't roll them out, but cut the dough into 12, shaped each piece of dough in to a ball, flattened it and then used my finger to make a hole in the center. The shape was fine, but I would have done a little better job by making the donut dough flatter and the holes bigger.
The Perfect Batch
I adjusted the ingredients in the final batch, as well as shortening the frying time. Additionally, I rolled the dough to about 1/2 – inch, used a large round cutter to cut out the shapes and a smaller round to make the hole in the center. The rolling method resulted in 18 donuts instead of 12 and a couple of cute donut holes.
These modifications worked really well. The trick is to not make the donuts too thin or to fry them too long.
The Perfect Glaze
I make the Double Chocolate Gluten Free Donut glaze using powdered sugar, cocoa powder and a little bit of corn syrup. The corn syrup makes the glaze shiny and helps it to set nicely. If you are someone who does not use corn syrup, feel free to leave it out.
I also add the powdered sugar in two separate additions. The first with the cocoa, corn syrup and water, and the second after those ingredients are mixed together. It makes the mixing easier and allows for any necessary texture adjustments.
Print
Double Chocolate Gluten Free Donuts
Author:

Prep Time:

40 minutes

Rest time & Decorating:

40 minutes

Cook Time:

30 minutes

Total Time:

110 minutes

Yield:

18

donuts

1

x

Category:

Dessert

Method:

Frying

Cuisine:

Gluten Free

Diet:

Kosher
---
Description
Double Chocolate Gluten Free Donuts are rich, cakey, fried and decadent. The fudgy, shiny indulgent chocolate glaze elevates these babies to a whole nother level. You can decorate them with your favorite Holiday sprinkles for a super festive touch. I mixed a bunch of different varieties together for the perfect Chanukah fried donut.
The Double Chocolate Gluten Free Donuts may take a little time to prepare, but they are completely worth the effort!
---
For The Donut Dough
1

stick (8 tablespoons) plant based margarine

3

large eggs

1

cup

granulated sugar

1 tablespoon

pure vanilla extract

2 1/2

cups

gluten free 1:1 flour

1

cup

pure cocoa powder

1 tablespoon

baking powder

1 teaspoon

baking soda

1 teaspoon

salt
Homemade Dairy Free Buttermilk
1 tablespoon

lemon juice (or white vinegar)
enough almond milk added to the tablespoon of lemon juice to make

1/4

cup
For the Rich Chocolate Glaze
3

cups

powdered sugar, divided

1

cup

pure cocoa powder

1 tablespoon

corn syrup

1/2

cup

hot water, plus more as necessary
To Finish
oil for frying
additional gluten free 1:1 flour for rolling
large wire rack over a baking sheet
Heat resistant slotted spoon/spatula
sprinkles for decorating
---
Instructions
For The Donut Dough
In the bowl of an electric mixer, using a paddle attachment, blend together the margarine, eggs, granulated sugar and vanilla extract.
Pour the lemon juice into a 1 cup measuring cup. Add enough almond milk to reach 1/4 cup. Set aside.
In a medium bowl whisk together the flour, cocoa, baking powder, baking soda and salt.
While the mixer is running, lowly add the dry ingredients to the wet ingredients and mix until combined.
Gradually add the "buttermilk" and mix until the dough is smooth and completely blended.
Cover the dough and let it rest for 10 minutes.
Roll and Fry the Donuts
While rolling out the dough pour at least 3-inches of oil into a large pot. Using a candy thermometer to measure the temperature, bring the oil to 350°F over medium heat.
Cut the dough into half. Sprinkle some additional flour on a pastry board/mat. Roll the dough into a large rectangle, half and inch thick.
Using two round cutters, one large and one small, or a donut cutter, cut out donut shapes from the dough. Bring the scraps of dough together and continue to roll and cut the dough into donut shapes, incorporating the second half of the dough.
Fry the donuts in batches, maintaining the temperature of the oil, around 1 minute one each side.
Place the fried donuts on the prepared rack. Repeat with all the donuts.
Allow the donuts to cool completely.
For the Rich Chocolate Glaze
In a medium bowl, whisk together 2 cups of powdered sugar, cocoa, corn syrup and water until completely blended. The glaze will be very loose.
Add an additional cup of powdered sugar and stir together, using a spatula, until smooth.
To Finish
Using an offset spatula, frost the donuts with the Rich Chocolate Glaze. Immediately decorate the donuts with your favorite sprinkles.
Eat immediately!
---
Equipment
---
Notes
Double Chocolate Gluten Free Donuts are best when eaten fresh. If you have leftovers, store them in the refrigerator in an airtight container for up to two days.
If you don't have time to make the Rich Chocolate Glaze you can use your favorite store bought frosting.
Some people do not like to use corn syrup. If you prefer, you can leave it out.
The Rich Chocolate Glaze will set fairly quickly if left uncovered. If this happens before you are finished frosting the donuts, add a tablespoon of hot water at a time until the frosting is the correct consistency.
If you don't have a donut cutter or the appropriate sized round cookie cutters, another method to preparing the donuts is by cutting the dough into 12-18 pieces. Roll each piece into a ball, then flatten to 1/2-inch. Using your index finger, make an 1 1/2 inch hole in the center of the flattened ball.
You can use any type of dairy free beverage you prefer instead of almond milk, like soy or oat milk.
If you don't want to use peanut oil for frying, use another high smoke point oil like avocado oil.
Nutrition
Serving Size:

1 donut

Calories:

238

Sugar:

31.9 g

Sodium:

223.5 mg

Fat:

2.7 g

Saturated Fat:

1.3 g

Carbohydrates:

54.8 g

Fiber:

3.4 g

Protein:

3.9 g

Cholesterol:

31 mg
Keywords: Gluten Free Donuts, Chocolate Donuts, Fried Donuts, Double Chocolate Donuts, Donuts, Chanukah, Dairy Free, Meat Free, Pareve, Chanukah, Chanuka, Hanukkah
Recipe Card powered by
Here's my video from @koshereveryday on Instagram!
View this post on Instagram
More Perfect for Chanukah Fried Foods & Treats
CHECK OUT THE KOSHER EVERYDAY AMAZON INFLUENCER STOREFRONT!
I'm excited to announce the launch of my brand, spankin' new, Amazon Influencer storefront. The purpose of this store is to share with you all of my favorite tools, ingredients and accessories that I use on Kosher Everyday. If there's something you'd like to see please let me know and I'll make sure to add it. I'm updating the storefront all the time.
You can find all my Chanukah stuff including ones like the Chefman 4.5 Liter Deep Fryer, perfect for frying up all your Chanukah dishes.
Additionally, I've put together a complete Gluten Free Challah Storefront with everything you need to make fabulous Gluten Free Challah!
My a Small Appliance Storefront has many awesome small appliances that I recommend for your kitchen…even if you have a small space!
I'd love to hear what you think!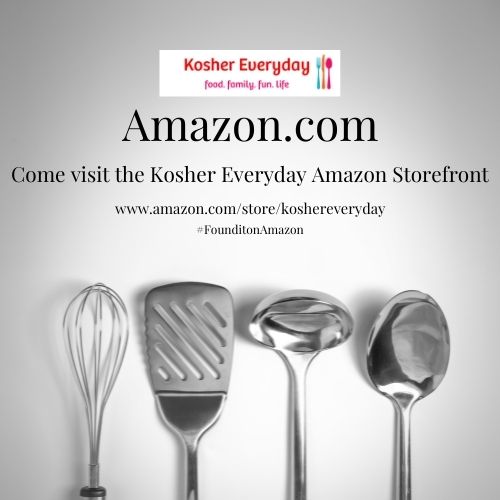 FOLLOW ME!
Don't forget to follow Kosher Everyday on Instagram @koshereveryday! and on Facebook You don't want to miss all the fun and interesting posts and reels that can be found nowhere else!
You can find reels showing how to make most of my recipes on Instagram!
Also, make sure to tag @koshereveryday when you make Kosher Everyday recipes! I LOVE to see your creations!!!
Please note that this post contains affiliate links. Thanks for your ongoing support!