Pumpkin Spice Flower Shaped Squash Kugel
It's pumpkin season and all around us is everything pumpkin! It's not so much the actual pumpkin itself that I think is so popular, but the pumpkin spice flavoring that goes with the pumpkin. You find pumpkin spiced snacks, gourmet coffees, pies, and anything else you can add pumpkin spice to.
I happen to really like pumpkin spice. To me it feels like a warm hug.
How I came up with Pumpkin Spice Flower Shaped Squash Kugel
Many of my newer recipes are based upon ones that I created a while back. I like to try to improve recipes that are already tried and true by adding new flavors or a twist on ingredients.
In the original Flower Shaped Squash Kugel recipe, I used ubiquitous frozen squash bricks, added some flavor and stabilizers, then put them in my brand new flower shaped silicone pan.
At the time (yes…this was a while ago) silicone bakeware was just becoming a thing. As a Personal Pastry Chef I was always looking for high quality, new and innovative bakeware. I found Demarle.
And so…I made the first Flower Shaped Squash Kugel !!!
Taking the Flower Shaped Squash Kugel to new places
After the creation of the first flower shaped squash kugel, I took the idea to new places. The next thing I did was to make mini Flower Shaped Squash Kugels for an event. They were beautiful with a little cherry center.
Now it's easy to find all different shapes of silicone molds. The only issue I've found is, depending upon the quality of the mold, you may need to spray the pans with non aerosol spray. Otherwise I've found that the foods will stick to the pans.
I specify non aerosol spray because the ingredients in the aerosol sprays will gunk up your molds and make them very hard to clean. This also goes for non-stick cookware as well.
I found this cute, similar to the Demarle, silicone flower shaped mold on Amazon for only $7.99. I haven't tried it but it should work if sprayed properly.
And then it became Pumpkin Spice Season
This year especially, I found a plethora of new items that were pumpkin spice flavored! When looking for my favorite dairy free, caramel flavored almond creamer, I came across a lot of different brands of dairy free pumpkin spice creamers.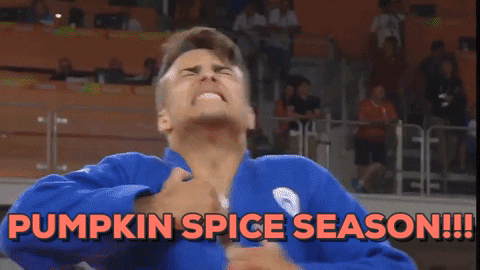 Yes…you know what's coming….
I decided to make my favorite into a Flower Shaped Squash Kugel as a Pumpkin Spice Squash Kugel!!!!!!!
The official changes to the original Flower Shaped Squash Kugel that made the Pumpkin Spice Squash Kugel a Pumpkin Spice Squash Kugel
I absolutely wanted to keep the shape of the kugel. I mean, what could be better than lobbing off a leaf of the absolutely divine squash kugel?
Using Dairy Free Pumpkin Spice Creamer
The original recipe called for your favorite non-dairy beverage in the recipe. I substituted dairy free pumpkin spice creamer instead. It gives the kugel a super rich, pumpkin flavor. YUM!
Adding MORE Pumpkin Spice Flavor
In addition to the pumpkin spice creamer, I added some actual pumpkin spice seasoning. While it made the kugel a little darker, it gave a ton of flavor to the kugel.
I used fresh squash
Instead of frozen squash, this time I used a fresh butternut squash. I peeled, seeded, and cut the squash into large cubes, then put it in a bowl with a little water and microwaved it to cook the squash. The biggest issue I had was making sure to sufficiently drain the cooked squash so that it didn't make the kugel too liquidy.
I made this kugel many times to make sure I had the recipe right. The first time I made it I just smushed the squash with my hands (that's the example in the reel). It worked well, but wasn't quite as smooth as I would prefer. The next iterations were with cooked squash pulverized in a food processor. That was the best. The squash was smooth and the perfect consistency for the kugel. It reminded me of how the squash came out of those little rectangular frozen bricks.
I cut the sugar
With all the sweetness from the creamer, the candied pumpkin seeds and the natural sweetness of the squash, I cut the sugar from 1/2 cup to 1/4 cup. It's perfectly sweet now.
The Pumpkin Spice Squash Kugel Candied Pumpkin Seed Topping
The Candied Pumpkin Seed Topping is the pièce de ré·sis·tance of the Pumpkin Spice Squash Kugel.
Seriously.
There had to be a crunchy element to finish off the Pumpkin Spice Squash Kugel. While the kugel is awesome without the candied pumpkin seeds (pepitas), they are without a doubt the "icing on the cake".
The candied pumpkin seeds take this kugel to a whole new level but are surprisingly easy to make.
Basically, I threw some sugar in a skillet and added the pumpkin seeds. Stirring constantly, the pumpkin seeds toasted and the sugar caramelized around them. Oh the aroma! Heavenly.
I made a little extra candied pumpkin seeds, which can be served in a bowl when bringing out the kugel or as a crunchy sweet addition to your favorite salad. You can even store the extras in an airtight container.
Here's the recipe for Pumpkin Spice Squash Kugel with Candied Pumpkin Seed Topping
While I totally love the flower shape of this kugel, you can make it in your favorite round pan or 9×9-inch square pan. It just won't be as fabulous.
You can also serve this kugel without the Candied Pumpkin Seed Topping and it will be super tasty, just not as wonderful.
Print
Pumpkin Spice Squash Kugel with Candied Pumpkin Seed Topping
Author:

Prep Time:

10 minutes

Cook Time:

45 minutes

Total Time:

55 mintues

Yield:

1

kugel

1

x

Category:

Side Dish

Method:

Baking

Cuisine:

Gluten Free

Diet:

Kosher
---
Description
Pumpkin Spice Squash Kugel with Candied Pumpkin Seed Topping is the perfect side dish. It's beautiful, and the pumpkin spice makes it taste like a warm and welcoming hug. I topped it with candied pumpkin seeds for added texture and flavor. If there are any leftovers, just grab a squash kugel petal for a quick snack!
---
For The Pumpkin Spice Squash Kugel
20

ounces

cooked butternut squash, thoroughly drained and processed until smooth

1/2

cup

pumpkin spice creamer (dairy free)

3

large eggs

1/4

cup

granulated sugar

1/2

cup

flour (gluten free)

1 teaspoon

pumpkin pie spice
nonstick spray
For the Candied Pumpkin Seed Topping
1

cup

raw pumpkin seeds

1/4

cup

granulated sugar
---
Instructions
For The Pumpkin Spice Squash Kugel
Preheat oven to 350°F. Spray a cake pan with nonstick, non aerosol spray.
In a large bowl, whisk together the blended squash, pumpkin spice creamer, eggs, granulated sugar, flour and pumpkin spice until completely smooth.
Pour the kugel batter into the prepared pan, and bake for 45-60 minutes until the center of the kugel is set, checking the kugel at 45 minutes. If the center still looks "raw", bake for an additional 15 minutes until the edges start to brown and the center of the kugel looks set and cooked through.
Remove from oven and allow to cool for at least 15 minutes before unmolding.
For the Candied Pumpkin Seed Topping
Place a large silicone mat or parchment sheet on a baking pan. Set aside.
In a large (preferably non-stick) skillet, cook the sugar and pumpkin seeds, stirring constantly with a heat resistant spatula, until the sugar starts to brown. Make sure all the seeds are completely coated.
BE CAREFUL NOT TO OVERCOOK THE SUGAR OR IT WILL BURN.
Carefully spread the candied pumpkin seeds onto the prepared mat.
Allow to cool completely, then break up the seeds into nearly individual candied pumpkin seeds.
To Finish
Unmold the kugel onto a large circular platter.
Decoratively place the candied pumpkin seeds onto the center of the kugel.
Serve the kugel with additional candied pumpkin seeds.
---
---
Notes
I prepared the squash by peeling it, seeding it, cutting it into large cubes, then placing it in a microwave safe bowl with 1/4 cup water. I microwaved it for 7 minutes, covered but vented, until the squash was completely soft.
You can serve any additional candied pumpkin seeds with the kugel, or store them in an airtight container.
The Candied Pumpkin Seeds can be used in salads for a sweet crunch.
Nutrition
Serving Size:
Calories:

76

Sugar:

6.4 g

Sodium:

14.8 mg

Fat:

1.7 g

Saturated Fat:

0.3 g

Carbohydrates:

13.7 g

Fiber:

0.8 g

Protein:

1.8 g

Cholesterol:

34.9 mg
Keywords: Squash Kugel, Pumpkin Pie Spice, Pumpkin Spice, Squash, Pareve, Dairy Free, Meat Free
Recipe Card powered by
View this post on Instagram
More Super Squash and Cravable Kugel Recipes
CHECK OUT THE KOSHER EVERYDAY AMAZON INFLUENCER STOREFRONT!
I'm excited to announce the launch of my brand, spankin' new, Amazon Influencer storefront. The purpose of this store is to share with you all of my favorite tools, ingredients and accessories that I use on Kosher Everyday. If there's something you'd like to see please let me know and I'll make sure to add it. I'm updating the storefront all the time.
You can find all my Cookware and Bakeware including ones like the Eorta Silicone Large Flower Shaped Cake Mold!
I've put together a complete Gluten Free Challah Storefront with everything you need to make fabulous Gluten Free Challah!
Additionally there is a Small Appliance Storefront with many awesome small appliances that I recommend for your kitchen…even if you have a small space!
I'd love to hear what you think!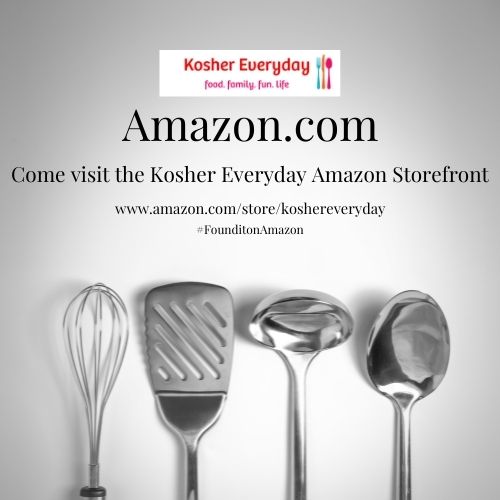 FOLLOW ME!
Don't forget to follow Kosher Everyday on Instagram @koshereveryday! and on Facebook You don't want to miss all the fun and interesting posts and reels that can be found nowhere else!
You can find reels showing how to make most of my recipes on Instagram!
Also, make sure to tag @koshereveryday when you make Kosher Everyday recipes! I LOVE to see your creations!!!
Please note that this post contains affiliate links. Thanks for your ongoing support!