Herbed Potato and Squash Torte
This time of year, with all the Jewish Holidays, we're eating a ton of food. I wanted to make a recipe that at least resembled something healthy(ish), with vegetables included. One of our family's favorite dishes is Scalloped Potatoes, it really tastes like comfort food. Dear Daughter has become famous among her friends for her most excellent skill in preparing it for Shabbat meals. I took that recipe and converted it to Herbed Potato and Squash Torte, adding fresh zucchini and yellow squash and Optimistic Garden thyme. It's really wonderful and was a big hit on Rosh Hashanah. I even made another one for Sukkot. It's definitely going to be a new staple recipe in our house!
How to make Herbed Potato and Squash Torte
One of the most helpful tools I used when making the Herbed Potato and Squash Torte was my mandolin. I'm a big fan on the OXO Good Grips Simple Mandolin Slicer. It's compact, easy to clean and the slicing width is easily adjustable. Big fan.
Using a mandolin to slice the potatoes and squash makes the slicing task speedy quick and the slices are perfectly even. I also use the Microplane Cut Resistant Glove so that I don't slice my fingers when cutting the vegetables.
The seasoing and magical flavors
When all blended together, the flavors are pretty magical.
I cut some Optimistic Garden fresh thyme and blended it with some gluten-free 1:1 flour and plant based parmesan. That mixture gets sprinkled between thinly sliced Yukon Gold potatoes, yellow squash and zucchini.
Circles and more circles make the Herbed Potato and Squash Torte
Once all the vegetables and the flour mixture is prepped all that's left is assembling the torte. I started with a layer of potatoes, then zucchini, then potatoes, then yellow squash, finishing with potatoes with a sprinkling of the flour mixture in between each layer.
It's pretty straight forward.
Baking the Herbed Potato and Squash Torte
The torte is baked in two steps. First it's baked covered to allow the potatoes to suffcienttly cook through, then it's uncovered and baked some more allowing the top of the torte to brown and the liquid to thicken.
I did spray the top of the torte with nonstick avocado spray after removing the foil to help the browning process. It worked nicely.
Extra vegetable dilemma
The first time I made the Herbed Potato and Squash Torte I sliced too many vegetables. I ended up making a second plate of the layered dish with the extra. If you have bigger squash/zucchini or more potatoes, feel free to make an extra.
I did.
Here's the recipe for Herbed Potato and Squash Torte
I love the way using the different colored squash looked in the final version of this dish. If you don't have yellow squash feel free to use only zucchini with the potatoes. Tthe contrast of colors will be beautiful.
If you like you can also make this dish dairy by using fresh, dairy grated parmesan.
Print
Herbed Potato and Squash Torte
Author:

Prep Time:

15 minutes

Cook Time:

75 minutes

Total Time:

90 minutes

Yield:

1

Herbed Potato and Squash Torte

1

x

Category:

Side Dish

Method:

Baking

Cuisine:

Plant Based

Diet:

Kosher
---
Description
Herbed Potato and Squash Torte is a rustic, comforting dish that feels like a warm hug on a chilly day. It's layers of thinly sliced potatoes and delicately flavored squash with fresh thyme and plant based parmesan for a huge burst of fall flavor! As you take a bite, the potatoes and squash melt in your mouth, the thyme infusing every forkful with it's delightful herby essence. It's comfort food with a gourmet twist that's perfect for Sukkot, Shabbat or any fall meal.
---
nonstick spray

1/2

cup

flour, gluten-free 1:1

1 tablespoon

fresh thyme, chopped

1 teaspoon

kosher salt

1/2 teaspoon

freshly ground black pepper

3/4

cup

plant based parmesan

1 1/2

pounds

yukon gold potatoes, sliced 3mm thick (1/8-inch)

1/2

pound

fresh zucchini, sliced 3mm thick (1/8-inch)

1/2

pound

yellow squash, sliced 3mm thick (1/8-inch)

3 tablespoons

extra virgin olive oil
---
Instructions
Preheat oven to 375°F or 350°F Convection. Spray a 10-inch round baking pan with nonstick spray. Set aside.
In a medium bowl, whisk together the flour, thyme, salt, pepper and parmesan.
Place a layer of potatoes on the bottom of the baking dish, working in concentric circles. Sprinkle the flour mixture over the potatoes.
Top with a layer of zucchini, then flour mixture, then another layer of potatoes, then flour mixture, then yellow squash and flour mixture, finishing with a layer of potatoes topped with the flour mixture.
Drizzle the oil over the top of the torte. Spray a piece of aluminum foil, then cover the torte (greased side on the torte) and bake for 45 minutes.
After 45 minutes, uncover the torte and generously spray with nonstick spray.
Bake for an additional 30 minutes until the top is browned.
Allow the Herbed Potato and Squash Torte to rest for 10 minutes before serving.
---
---
Notes
You can also add some chopped fresh rosemary and chives if you like.
If you don't have yellow squash, you can use zucchini instead for a full pound of zucchini.
Try to use squash and potatoes that are approximately the same width for best results.
Nutrition
Serving Size:

1 slice

Calories:

175

Sugar:

0.8 g

Sodium:

287.4 mg

Fat:

7.4 g

Saturated Fat:

2.1 g

Carbohydrates:

22.9 g

Fiber:

2.1 g

Protein:

5.2 g

Cholesterol:

5.4 mg
Keywords: Potato dish, Potato and Zucchini dish, Vegetable side, Fall, Sukkot, Gluten Free, Gluten Free Recipe, Dairy Free, Meat Free, Pareve, Plant Based, Vegetarian, Vegan
Recipe Card powered by
Here's how I made Herbed Potato and Squash Torte on Instagram @koshereveryday
View this post on Instagram
More Fabulous Fall and Sukkot Recipes

CHECK OUT THE KOSHER EVERYDAY AMAZON INFLUENCER STOREFRONT!
I'm excited to announce the launch of my brand, spankin' new, Amazon Influencer storefront. The purpose of this store is to share with you all of my favorite tools, ingredients and accessories that I use on Kosher Everyday. If there's something you'd like to see please let me know and I'll make sure to add it. I'm updating the storefront all the time.
You can find my Sukkot Storefront with all kinds of fun stuff like this Jerusalem Western Wall Backdrop!
I've put together a complete Gluten Free Challah Storefront with everything you need to make fabulous Gluten Free Challah!
Additionally there is a Small Appliance Storefront with many awesome small appliances that I recommend for your kitchen…even if you have a small space!
I'd love to hear what you think!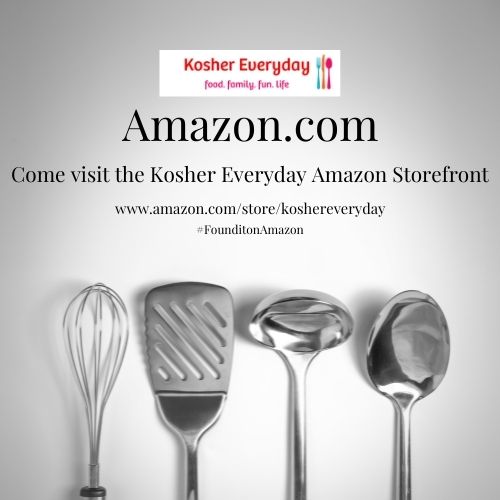 FOLLOW ME!
Don't forget to follow Kosher Everyday on Instagram @koshereveryday! and on Facebook You don't want to miss all the fun and interesting posts and reels that can be found nowhere else!
You can find reels showing how to make most of my recipes on Instagram!
Also, make sure to tag @koshereveryday when you make Kosher Everyday recipes! I LOVE to see your creations!!!
Please note that this post contains affiliate links. Thanks for your ongoing support!