Sumac Chicken with Carrots and Chickpeas
I was searching for new and exciting chicken recipes using the awesome sumac I got from Pereg before Rosh Hashanah. I found Sumac Roast Chicken with Carrots and Chickpeas on the Washington Post website and it looked SO good I knew I had to make it. I did make some minor modifications to it resulting in my version of Sumac Chicken with Carrots and Chickpeas.
Making Sumac Chicken with Carrrots and Chickpeas
This chicken is insanely flavorful! It's got a little bit of a kick from the crushed red pepper flakes, but the slightly citrusy flavor of the sumac and lemon really balances it out.
I also substituted garlic oil for the garlic, as garlic doesn't agree with my digestive system, and it turned out great. If you don't want to make that substitution you can alway use 2 cloves of garlic and traditional extra virgin olive oil instead.
Things to pay special attention to
There were a few small details that if you don't read the directions carefully you might miss. Here they are.
Save the peel from the squeezed lemon half
Nothing goes to waste in this recipe. It calls for the juice of half a lemon in sumac rub, but make sure to save the peel. You actually cut it into half and put it on the bottom of the pan with the unsqueezed half to give additional lemony freshness to the chicken and vegetables.
Don't use baby carrots in the Sumac Chicken with Carrots and Chickpeas
It's going to be incredibly tempting to use baby carrots in the recipe as a quick substitute. I know because I did it in the first pass of making this recipe.
The carrots ended up hard.
The second time I made the recipe I bought a pound bag of the thinnest carrots in the pile, peeled and cut them into 2-inch pieces, and that worked way better. The original recipe calls for "young carrots" (small and thin, not baby-cut carrots), so I felt like the ones I used would be fine, and the were.
The dry white wine adds a lot of flavor to the Sumac Chicken
Since the chicken is roasted uncovered the liquid has a tendency to dry up. I found adding the 1/2 cup of dry white wine around halfway through the roasting worked very well and helped to make a great gravy for the chicken.
Tying up the Sumac Chicken legs
I always find that the chickens roast better when the legs are tied with cooking twine. I also use a bluetooth thermometer like The Meatstick (affiliate) that lets me know when the chicken is done roasting. I generally don't assign a "done" time, but a temperature as it's the most accurate way to determine if the chicken is done.
The Hazelnuts
The original recipe calls for serving with hazelnuts. I just didn't do it. It was fine.
Here's the recipe for Sumac Chicken with Carrots and Chickpeas
The first time I made this recipe I used three smaller hens and doubled the recipe. That was the right thing to do. However, when I made two small chickens I used a single recipe and that worked as well. I think the tipping point is more than two, and then you need to double the recipe.
This chicken is really good cold or hot and is beautiful served with the carrots and chickpeas spooned over the top.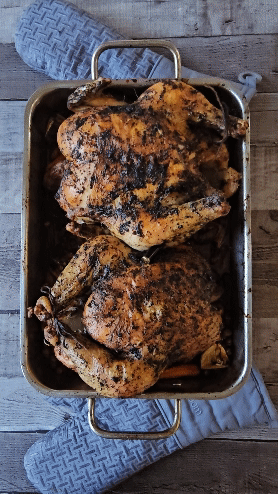 Print
Sumac Chicken with Carrots and Chickpeas
Author:

Prep Time:

20 minutes

Cook Time:

90 minutes

Total Time:

110 minutes

Yield:

1

chicken

1

x

Category:

Main Dish

Method:

Roasting

Cuisine:

Gluten Free

Diet:

Kosher
---
Description
Sumac Chicken with Carrots and Chickpeas is a flavorful and aromatic dish that combines tender pieces of chicken seasoned with sumac, a tangy and slightly citrusy spice, along with a medley of carrots and chickpeas. The sumac adds a unique and zesty flavor profile to the chicken, enhancing its taste and adding a vibrant color to the dish. It's the perfect fall or Sukkot dish, with warm welcoming flavors. I can't stop making this chicken…everyone is crazy about it!!!
---
For the Sumac Paste
2 tablespoons

ground sumac

1/2 teaspoon

ground cumin

1/2 teaspoon

ground coriander

1/2 teaspoon

crushed red pepper flakes

2 tablespoons

garlic oil or 2 tablespoons extra virgin olive oil plus 2 minced garlic cloves

1/4 teaspoon

freshly ground black pepper

1/4 teaspoon

kosher salt
juice from

1/2

lemon, reserve the peel
For the Chicken
1

–

pound

thin carrots, peeled and cut into 2-inch pieces

1

(14-ounce) can chickpeas, drained and rinsed

1 teaspoon

sweet paprika or ground Alleppo pepper

2 teaspoons

honey

1

(3 1/2 – 4-pound) whole chicken

1/2

lemon cut into

four

pieces

1/2

cup

dry white wine

1

whole head garlic, cut into quarters (optional)
---
Instructions
For the Sumac Paste
Whisk together the sumac, cumin, coriander, crushed red pepper, olive oil, salt and pepper.
Squeeze in the juice of the lemon half, reserving the spent half and stir to combine.
For the Chicken
Preheat the oven to 375°F or 350°F Convection Roast. Grease a large roasting pan.
Cut the spent lemon peel into 4 pieces to be added with the rest of the lemon to the pan.
Spread the carrots and chickpeas in the roasting pan. Sprinkle with the paprika and honey.
Place the chicken on top of the carrots and chickpeas and distribute the lemons around it.
Rub the sumac paste all over the bird. Tie the legs together with cooking twine.
Roast (middle rack) fo 1 1/2 to 2 hours or until an instant-read thermometer insterted into the thigh (away from the bone) registers 165°F.
Turn the pan front to back halfway through and add the white wine to the pan.
Remove the pan from the oven and tent loosely with foil. Let rest for 10 to 20 minutes.
Serve the hot chicken topped with the vegetables and pan juices.
---
---
Nutrition
Serving Size:

Per serving

Calories:

447

Sugar:

6.6 g

Sodium:

26170.7 mg

Fat:

15 g

Saturated Fat:

3 g

Carbohydrates:

21 g

Fiber:

3.6 g

Protein:

56.6 g

Cholesterol:

171.9 mg
Keywords: Sumac Chicken, Roasted Chicken, Kosher Chicken, Gluten Free, Dairy Free, Sukkot, Kosher
Recipe Card powered by
Here's how I made Sumac Chicken with Carrots and Chickpeas on Instagram @koshereveryday
View this post on Instagram
More Cravable Chicken Recipes

CHECK OUT THE KOSHER EVERYDAY AMAZON INFLUENCER STOREFRONT!
I'm excited to announce the launch of my brand, spankin' new, Amazon Influencer storefront. The purpose of this store is to share with you all of my favorite tools, ingredients and accessories that I use on Kosher Everyday. If there's something you'd like to see please let me know and I'll make sure to add it. I'm updating the storefront all the time.
You can find my Sukkot Storefront with all kinds of fun stuff like this Jerusalem Western Wall Backdrop!
I've put together a complete Gluten Free Challah Storefront with everything you need to make fabulous Gluten Free Challah!
Additionally there is a Small Appliance Storefront with many awesome small appliances that I recommend for your kitchen…even if you have a small space!
I'd love to hear what you think!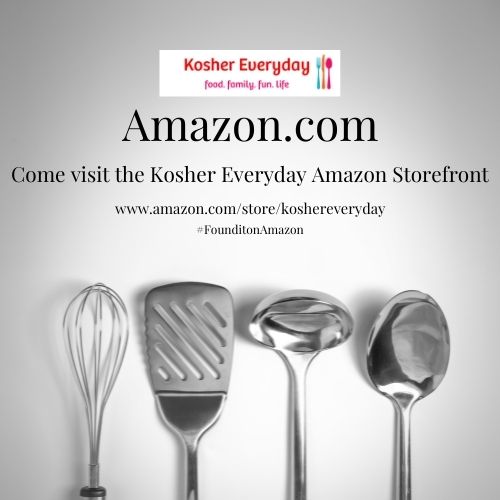 FOLLOW ME!
Don't forget to follow Kosher Everyday on Instagram @koshereveryday! and on Facebook You don't want to miss all the fun and interesting posts and reels that can be found nowhere else!
You can find reels showing how to make most of my recipes on Instagram!
Also, make sure to tag @koshereveryday when you make Kosher Everyday recipes! I LOVE to see your creations!!!
Please note that this post contains affiliate links. Thanks for your ongoing support!