I'm looking forward to a super simple Thanksgiving this year.
Really simple.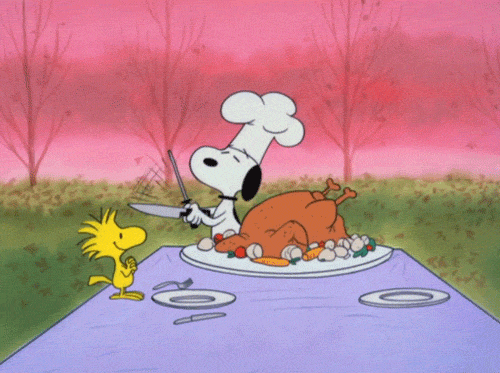 Then again, when I think about it, I've always tried to make Thanksgiving simple.
Our family "minhag" is to make a simple menu, put the turkey in the oven and then go to the movies! Usually by the time we get back, the turkey is done and we're ready to eat. And yes, the turkey is on a low temperature and usually there is someone at home to make sure the house doesn't blow up.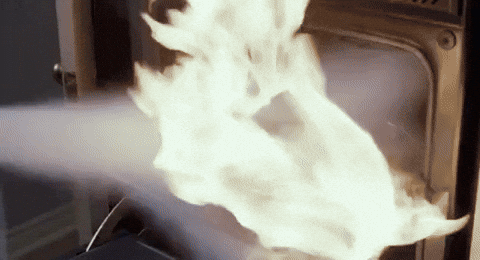 This year is really no different. Yes, we aren't having as many people as we have sometimes had in the past, however it's always been a very chill holiday.
While we won't be going out to the movies, we're still going to load one up and watch it while the turkey is roasting.
I'm going to share a story I put together to help guide you through an easy to prep, low stress Thanksgiving.
Here are the recipes and links:
Click on a photo to get to the recipe!!!
For the Soup course:
For the Main Course
For Dessert
And now for the original 2020 recipes!
Print
Pressure Cooker Pineapple Cranberry Relish
Author:

Prep Time:

5

Cook Time:

6

Total Time:

11 minutes
---
Description
I just started making this recipe in my Electric Pressure Cooker this year. It took me a while to get the consistency right. If you like a more whole berry sauce, cook for a shorter amount of time.
---
24 ounces

fresh whole cranberries

1

can crushed pineapple, with juice

1

can pineapple chunks or tidbits, with juice

1 cup

granulated sugar
---
Instructions
Combine all the ingredients in the inner pot of the pressure cooker.
Lock the lid and close the pressure valve.
Cook on manual high pressure for 6 minutes, then manually release the pressure.
Chill before serving.
---
Notes
You can also add fresh apple chunks to this recipe.
If you'd like to make this recipe on the stovetop, combine all the ingredients in a large pot. Cook over medium/low heat for around 30 minutes until the berries begin to pop.
---
Recipe Card powered by
Print
---
Description
This easy stuffing is a combination of my father's (z"l) and father-in-law's (kih) stuffing recipes. I can't think of an easier recipe to make, and it's always a family favorite
---
2 tablespoons

canola oil

1

pound

carrots, diced

6

stalks celery, thinly sliced

1

large sweet onion, diced

2

cloves garlic, minced

1

pound

fresh mushrooms, sliced

2

(12-ounce) bags herbed/seasoned croutons/stuffing (you can use Corn Chex for GF)

2

large eggs, lightly beaten

2

cups

chicken or vegetable stock
---
Instructions
In a large skillet, sauté the carrots, celery, onion and garlic in the canola oil until the vegetables are soft.
Add in the mushrooms and sauté until the mushrooms are soft.
Stir in the croutons, then the eggs.
Pour the stock over the stuffing and very gently stir, until the stuffing is completely combined.
You can stuff your bird or bake this stuffing for 30 minutes. This will stuff a very large bird, or a medium sized bird with some leftover to bake outside the bird.
---
Notes
This stuffing is great for chicken as well as turkey.
If you want to make this stuffing vegetarian, use vegetable stock and bake outside the bird.
If making this stuffing using gluten free Corn Chex, do not add the additional 2 cups of chicken/vegetable stock as it will make the stuffing mushy. Additionally, do not handle the stuffing overmuch as the Chex will disintegrate if you do. Just treat it gently and you'll be fine.
Recipe Card powered by
Print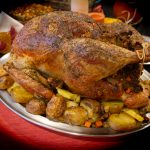 Simple Roasted Turkey and Potatoes
Author:

Prep Time:

10

Total Time:

10 minutes
---
Description
One of the easiest main dishes to make. The key is to use a temperature probe. While my parents used to say "15 minutes a pound", the MOST accurate way to make the turkey is to place a temperature probe in the meatiest part of the bird (thigh or breast). When the temperature reaches 165 degrees F, the bird is done! My parents used to say that they loved making turkey because it was a whole meal in one pan!
---
2

pounds Yukon Gold potatoes, scrubbed clean and cut into

1/2

-inch slices

1

batch Super Simple Stuffing

1

large turkey 15-20 pounds, completely defrosted
Herbed oil, like garlic oil
Herbs de Provence
Cooking Twine
Nonstick vegetable Spray
Temperature probe
---
Instructions
Preheat oven to 350 degrees F or if you have a convection oven 325 degrees F convection roast mode.
Spray a large roasting pan with non-stick spray.
Evenly place the potatoes on the bottom of the pan.
Place the turkey on top of the potatoes. Tuck the wings under the bird.
If stuffing the turkey, place the stuffing into the bird.
Cross the legs of the turkey and tie with cooking twine.
Rub the turkey with the herbed oil, then sprinkle with the herbs de provence seasoning.
Place the temperature probe into the meatiest part of the bird. I usually place it in the meatiest part of the thigh, but some people put it into the breast.
Cook until the temperature reaches 165 degrees F.
Remove from the oven, then tent with foil. Allow the bird to rest for at least 10 minutes before Carving.
Serve with potatoes, stuffing and pan juices.
---
Notes
I carve the turkey by cutting each turkey breast half completely off of the bone, then cutting them into slices.
I similarly cut the dark meat from the bone by removing it from the main part of the bird then slicing.
Recipe Card powered by
I'm sure you're looking for more fabulous recipes for Thanksgiving and Chanukah! Make sure to check out Shabbos Under Pressure, Cooking with Pressure = Pressure Free Cooking on Amazon!! There are tons of hearty, warm, savory and sweet recipes that you can make in the new Instant Pot you're going to buy on Black Friday, get as a Chanukah gift, and that you might already have.
Awesome Thanksgiving Recipes Just for You!
CHECK OUT THE KOSHER EVERYDAY AMAZON INFLUENCER STOREFRONT!
I'm excited to announce the launch of my brand, spankin' new, Amazon Influencer storefront. The purpose of this store is to share with you all of my favorite tools, ingredients and accessories that I use on Kosher Everyday. If there's something you'd like to see please let me know and I'll make sure to add it. I'm updating the storefront all the time.
You can find all my Cookware and Bakeware including ones like the Traditional Blue Speckled Roaster!
I've even made a Thanksgiving Essentials page to help with your Thanksgiving prep. Make sure to check it out!
I've put together a complete Gluten Free Challah Storefront with everything you need to make fabulous Gluten Free Challah!
Additionally there is a Small Appliance Storefront with many awesome small appliances that I recommend for your kitchen…even if you have a small space!
I'd love to hear what you think!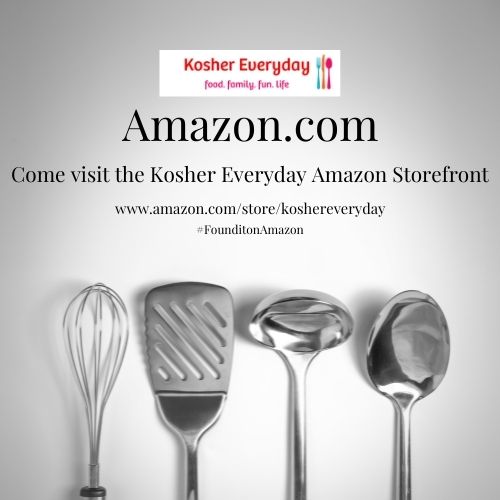 FOLLOW ME!
Don't forget to follow Kosher Everyday on Instagram @koshereveryday! and on Facebook You don't want to miss all the fun and interesting posts and reels that can be found nowhere else!
You can find reels showing how to make most of my recipes on Instagram!
Also, make sure to tag @koshereveryday when you make Kosher Everyday recipes! I LOVE to see your creations!!!
Please note that this post contains affiliate links. Thanks for your ongoing support!
Please note that links in this post are affiliate links. Thank you.