Kosherfest 2022
Kosherfest is a huge Kosher food conference where brands come to show off their latest and greatest culinary innovations. This year there were many new and exciting brands, but a significant number of the larger companies were a no show. There was still much to taste and examine, but Kosherfest 2022 was smaller with way fewer companies than in previous years.
Here are quick links to everything Kosherfest 2022
Everything you want to know about Kosherfest 2022
In this post I'm going to tell you all the awesome (and not so awesome) details about this years show.
FYI, there were a lot of wine vendors. More than I think I've seen in the past, but truthfully, there may have been as many before but this year due to the smaller amount of other vendors, the wine companies really stood out.
I'm not really into wine.
I made the mistake at the National Restaurant Show (here in hometown Chicago) a while back of doing a Bartenura wine tasting at the start of the show. Boy…was I shnockered.
This year I started with my single shot of Dolce De Leche dairy liquor and I was very happy. I did taste a few other wines, but very few. It's just not my thing.
Here are the latest and greatest products I found at Kosherfest 2022
Here is a summary of all the stuff I found at Kosherfest this year. I created a Kosherfest 2022 shop for some of the products I found, but many aren't available on Amazon yet. I'll try to add a website link whenever possible.
Additionally, some products that are at Kosherfest aren't even on the market yet, and brands were there looking for distributors. Here's hoping that they find them…some of those new products were most excellent!
Treats and Chocolate
7th Heaven Chocolate
7th Heaven Chocolate was first presented to us at the Fleishigs Media Conference on Monday afternoon before Kosherfest. We were given a sample tray of the chocolate to taste with very explicit instructions not to taste the chocolate until every piece was described in great detail.
Whatever you do DON'T TASTE THE CHOCOLATE!!!
The chocolate was incredibly delicious and really did taste completely dairy! My favorites were the peanut butter, hazelnut cream and the coconut.
You can find 7th Heaven Chocolate on their website: https://www.7thheavenchocolate.com/
Wahoo for the best popcorn straight from the Midwest! The Chicago area based company makes AMAZING popcorn, with great flavors too. The Slim Kim line is lower in calories so you can eat your popcorn guilt free.
Cream Gelateria
The Cream Gelateria gelato was insanely flavorful and refreshing. I particularly loved the Casa Limonana Sorbetto. It was super lemony and minty. According to the package: This sorbet reminds us of hand-pressed Amalfi lemonade with mint leaves. This particular version is dairy free and vegan. I was also told it's gluten free but it's not on the package.
Miele Gelato also had phenomenal gelato flavors. There were both dairy and non-dairy versions and I tasted quite a few of the flavors.
Nutty Bunny is a plant based frozen dessert company. I found the flavor I tasted to be very smooth and flavorful but it had a super strong coconut taste. It's a great dairy-free option.
I'm a HUGE fan of Molly's Bakehouse and have talked about them in previous posts. Molly's is the company that makes the insanely fabulous Kosher for Passover, gluten free cakes. I keep them frozen and use them even after Passover for a quick dessert. The cookies are so good, I have to hold myself back from eating too many of them.
True story.
If you see these in the freezer before Passover, STOCK UP! Seriously.
You might be surprised to learn that not all licorice is gluten free.
Gasp.
I know.
The ubiquitous Twizzlers actually contain gluten. Why??? I have no idea. That being said, when I find a flavorful and texturally appealing gluten free licorice I'm happy all the way down to my toes.
I really liked the Candy Tree licorice for its fruity chewiness.
This year Klein's Natural came out with about a dozen new flavors and types of dried fruit. Each flavor was surprisingly flavorful, tangy, chewy and full of fruit. My favorite was the Orange/Carrot. Who would have thought that orange and carrot would go together with such delicious results.
Deutsch Family Gluten Free Baked Goods
This innovative, Israel based, gluten free bakery came to the show looking for distributors in the US and beyond. They had super crunchy, cool cookies and best of all, teff pizza crusts. They passed out samples of gluten free pizza using those crusts and they were really satisfying. I'm hoping that they come to the US soon, I think they'd do extremely well.
Ariel Bakery & Patisserie
Here's another Israeli Company that I hope comes to the US. They have a plethora of gluten free products that taste glutenous! After tasting the California Delight Chipotle Tuna, I was desperately in need of a roll of some sort.
Tip: when eating something spicy, eat a starch (like bread or crackers) to reduce the heat. Don't drink, it will just spread the heat around in your mouth.
Ariel Bakery is super popular in Israel. They make amazing gluten free puff pastry, which is virtually unheard of here in the States, pastries and rolls. Each one is uniquely delicious, with perfect texture.
Here's hoping they come to the US!
Sauces, Dressings, Spices & Oils
Oxygen Imports
I always see Oxygen Imports sauces at food shows. They're super popular for a good reason, they make great sauces. The Oxygen sauces are great on chicken, beef, in salads, or as a dipping sauce. I love finding them in small produce stores, and am especially excited when I find one of their new flavors.
De La Rosa is known for the oils and flavorful juices. This year De La Rosa came out with amazing flavor infused oils. SO EXCITED!!! You all know that I'm crazy about garlic oil particularly, and put it in nearly everything I make. De La Rosa now has a garlic oil. WAHOO!
They've also come out with truffle oils as well as other flavored oils. Stay tuned. You'll be seeing more of DeLa Rosa products here for sure!
Pure Southern Honey was the absolute nicest company I came across. I felt like I was getting a southern hug. You can get pure honey or raw honey combs which are super cool
Here's a blurb from their website:
"Pure Southern Honey's southeast origins of primarily Gallberry with some Tupelo, Blackgum, and Palmetto flowers give it a longer shelf life compared to average honeys. It is created solely from our thousands of beehives, so you can expect to enjoy a consistent flavor in every jar."
Sunny Honey Miami had the most beautiful honey gift boxes I've ever seen. These honey's would make a wonderful gift for Chanukah and especially Rosh Hashanah!
There are a lot of cool creamed honey flavors as well like lavender, cacao, coconut, key lime, matcha, pumpkin spice and vanilla. They even have a CBD honey for when you want a sweet chill.
Hello Salad is a relatively new salad dressing company with super innovative dressing/marinade flavors. It's gluten free and plant based. Here are some of the flavors.
My dear friend, Jamie Geller (who wrote and endorsement on the back of my book "Shabbos Under Pressure – Cooking with Pressure = Pressure Free Cooking), is virtually the Queen of Kosher. She is super innovative and has come out with her dream line of spices and honeys. Each one is cooler than the next. Knowing Jamie, I'm sure that they are made of the highest quality ingredients with tons of testing to ensure the best flavors. I recommend checking out her website to see all her new innovations.
Tachbisha sauce is a chameleon sauce. It basically tastes good on everything! You can use it on chicken or fish and then pour it over pasta. I don't know how they do it, but this is a super flavorful, versatile, gluten free sauce!
Dairy & Plant Based Dairy Products
It's fun to see my friend Brent the Cheese Guy come up with incredible new varieties of cheese. While I'm not a big cheese eater, I make an exception for Brent's cheeses. This year, of course, he had a bunch of new flavors. My absolute favorite was his French Brie cheese. Brent made sure I had a huge taste and I savored every creamy, tangy bite.
Mehadrin came out with it's version of plant based yogurt introducing it's new Coconut Yogurt in a variety of flavors. It's a kosher plant based version, but it has a whopping 22g of fat per cup.
This year Natural and Kosher Cheese, a high quality kosher cheese company, came out with new products including pizza cheese and Borgonzola cheese. People loved the free pizza samples and the oozing pizza cheese on top. The Borgonzola is kind of like a Brie cheese, and comes in a beautiful, shiny blue package. You'll have to try it for yourself!
As you can tell from previous posts, I LOVE TRUFFLES!! La Rustichella has an awesome Truffle Pâté, in white and black, that is great on just about anything. It's perfect if you're a truffle maniac like me!
Enak Halloumi Cheese
Enak was another company that was hoping to find distributors for it's Halloumi Burgers. OMG! They were incredible. What they basically did is take halloumi cheese and cut it into burger shapes. Then they had an electric skillet and browned the cheese until it was crispy on the outside but soft on the inside. It was like eating cheesy heaven.
Me and my best bud, Primetime Parent, kept going back for more.
I'm super sad because after the show I tried to find their company online and just wasn't successful. If you know how to find them, or their cheese, please let me know.
It's really really good!
Veggi Products
One of the first companies I encountered at the show was Aerofarms. They had a big display of sprouts.
I've never been a huge fan of sprouts. I've tried to grow them for fun, tasted them in salads and simply wasn't impressed…until…
I tasted the Aerofarm sprouts. They had SO much flavor. I tried the Wasabi Sprouts and they really had a wasabi kick to them. They would be awesome on top of gefilte fish or in a sushi salad. They were hot and bold just as advertised.
The Cal Delight Riced Hearts of Palm are a new innovation that I think is a great idea. Now, instead of the trending cauliflower rice, you can use hearts of palm rice instead. It's a cool concept, and easy to use. Simply open a can, drain and you're good to go!
Plant Based Meat, Real Meat and Fish Products
I've actually partnered with Prairie Street Prime before. I used their brisket for my Overnight Brisket recipe and we had the Prairie Street Prime Ribs on Rosh Hashanah. They were to die for! Melt in your mouth savory goodness.
Bens Best showed off all it's cool flavors of Charcuterie beefs. Check out the video to see all the different flavors!
Meal Mart/Mon Cuisine came out with one of the most surprising products this year. Following the plant based trend, Mon Cuisine presented plant based, gluten free chicken nuggets, chicken fries chicken chunks and ground "beef". The chicken fries and nuggets were exactly what you would expect from processed products. Great for a snack or to make your kids happy, but not really gourmet food. The real surprise was the plant based ground beef. They served samples in mini tacos and they were shockingly tasty. I'm looking forward to an alternative to the plant based meats that are on the market. We'll have to see what the nutrition is like once these products are on the shelves.
If you like spicy this tuna is for you! I think if you added a little mayo and put it on a sandwich it would be epic.
Miscellaneous Stuff that Doesn't Fit Into An Above Category
I'm actually a CBD user and currently use another Kosher brand of CBD. I was interested in the Sababa CBD, and am looking forward to the samples the company will send me.
Sababa seemed to be a high quality CBD company, however I didn't try it at the show. There wasn't a bed handy in any of the booths, lol.
Whenever you go shopping for trending, fun, holiday products, you're probably looking at Rite Lite brand items. They're super fun and the display was extremely eye catching. I wanted to take everything home with me. Sadly, everything was for display only. There's still retail…sigh.
Yes, the company is called Mini Taco Shells. While the name isn't exceptionally innovative, the taco shells are super colorful and crunchy! They're great for filling with anything your heart desires for an entertaining meal. I totally want to use these for a zippy appetizer.
Luxe Party NYC is another company I've worked with in the past. I posted gorgeous tablescapes for Passover featuring Luxe Party dinnerware. Luxe Party NYC is a company that sells stunning disposable tableware. They have curated sets, or you can purchase induvial colors and sizes. This year they featured new colors and styles, updated dishes and goblets, as well as beautiful wood-like bowls and trays in different sizes and shapes. Stay tuned…I'm going to have these on Kosher Everyday in the future!
Devik Dates are the biggest, hugest, dates I've ever seen. They are sweet, juicy, plump, and pack a ton of date flavor into a small package. Can't recommend these highly enough.
Matzo Charlop
Gluten free matzoh has been known to be inedible, with an earned awful reputation of tasting indescribable. Not in a good way. A few years back I came across Matzo Charlop. This brand actually manufactures excellent Oat Matzoh – gluten free. Unfortunately, the company has stopped selling to retail and can mostly be found at resorts and assisted living facilities. Happy for them, sad for me.
Maybe if I beg…
CHECK OUT THE KOSHER EVERYDAY AMAZON INFLUENCER STOREFRONT!
I'm excited to announce the launch of my brand, spankin' new, Amazon Influencer storefront. The purpose of this store is to share with you all of my favorite tools, ingredients and accessories that I use on Kosher Everyday. If there's something you'd like to see please let me know and I'll make sure to add it. I'm updating the storefront all the time.
To celebrate all the awesome products from Kosherfest, I put together a Kosherfest 2022 Shop. Sadly, not all of the products are available, but many are, so make sure to check it out!
Make sure to check out all my Cookware and Bakeware including ones like the Traditional Blue Speckled Roaster, which are perfect for Thanksgiving!
I've even made a Thanksgiving Essentials page to help with your Thanksgiving prep. Make sure to check it out!
I've put together a complete Gluten Free Challah Storefront with everything you need to make fabulous Gluten Free Challah!
Additionally there is a Small Appliance Storefront with many awesome small appliances that I recommend for your kitchen…even if you have a small space!
I'd love to hear what you think!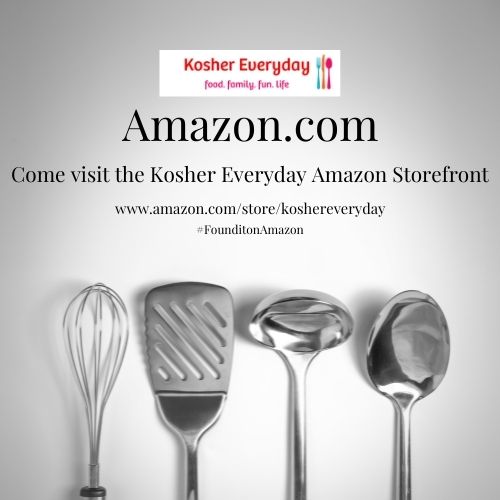 FOLLOW ME!
Don't forget to follow Kosher Everyday on Instagram @koshereveryday! and on Facebook You don't want to miss all the fun and interesting posts and reels that can be found nowhere else!
You can find reels showing how to make most of my recipes on Instagram!
Also, make sure to tag @koshereveryday when you make Kosher Everyday recipes! I LOVE to see your creations!!!
Please note that this post contains affiliate links. Thanks for your ongoing support!