Recently, Dear Son came to visit. Since DS sadly won't be with us for Thanksgiving, I decided to make a "Thanksgiving" Shabbat. We had the usual Thanksgiving fare: Festive Stuffed Delicata Squash, Cranberry Sauce, Stuffed Turkey and Potatoes, green beans, as well as other Shabbat related add ons. The Chicago dwellers of the Matten Family get to celebrate Thanksgiving, eating Thanksgiving food, twice! How fun is that???
Now DS has some (legitimate) food restrictions. I call them legitimate because, unlike other behavior common among most children designed to make parents insane, these are actually health related. My nutritionist also recommended that I try the FODMAP diet (what & why for another post), so our "Thanksgiving" meal had exceptionally creative ingredients. No onions. No garlic. No white processed sugar (ok, so the cranberry sauce had regular sugar…). No sugar free pancake syrup. No chocolate (really!). No gluten. I have to say I was incredibly proud of the resulting menu. The cholent was fabulous and, with the exception of a few potatoes, was completely gone.
Most importantly, dessert was way more than edible…it was incr-edible!!! For dessert, I made an updated version of my Easy Shmeasy Pumpkin Pie – Coconut Cream Easy Shmeasy Pumpkin Pie. While the older version was definitely most excellent, the newer version is healthier. All around better for you in general. Coconut cream instead of Pareve whipping cream (with high fructose corn syrup & hydrogenated palm/cottonseed oil), brown sugar instead of white (minimally better). I didn't use an artificial sweetener like Splenda because it doesn't agree with DS – I might try it in a pie and see how it turns out. I also topped the pie with Coconut Whipped Cream (that I had bought at Whole Foods as an experiment), and felt marginally better about using it versus the pareve whipped cream that I normally used to use. Finally, I added a dash of nutmeg…just because I could. The result? Gone. Completely. Dish. Wiped Clean. (Drop the mike) Hooray!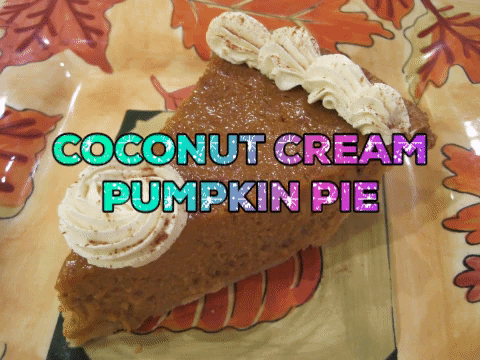 Keep in mind that I am fully aware that the updated version is not necessarily "healthy" by any stretch of the imagination, but I did feel better using more natural ingredients. Better, right?
Print
Coconut Cream Easy Shmeasy Pumpkin Pie
Author:

Prep Time:

5

Cook Time:

60

Total Time:

1 hour 5 minutes

Yield:

1

1

x
---
Description
---
15 ounces

pure pumpkin

2

large eggs

3/4 cup

brown sugar

1/2 teaspoon

salt

1 teaspoon

ground cinnamon

1/4 teaspoon

ground cloves

1/4 teaspoon

ground nutmeg

1 cup

coconut cream – pareve

1

9″ Pie Crust, unbaked
Coconut Whipped Cream (recipe below)
---
Instructions
Preheat oven to 350° F.
In a large bowl combine ingredients in order listed. Mix thoroughly. Pour into pie crust.
Bake for one hour until center is completely set. Cool.
Serve with Coconut Whipped Cream and a little cinnamon for an elegant classic dessert!
---
Notes
This recipe can easily be made gluten free by using a gluten free pie crust. I love the frozen ones at Whole Foods.
---
Recipe Card powered by
Print
Coconut Cream Whipped Cream
---
Description
A healthier pareve version of a family staple -whipped cream!
---
1

13.5 ounce can Coconut Cream, refrigerated at least 3 hours

2 tablespoons

sugar, or 4 Splenda packets (optional)
---
Instructions
Chill a mixing bowl and beater in the refrigerator for one hour. Pour the chilled Coconut Cream in the prepared mixing bowl. Add the sugar, then using a whisk attachment, whip the cream on medium/high for around 15 minutes until soft peaks are formed. Serve over your favorite dessert or eat right out of the bowl with a spoon.
---
Notes
It's nice to share…try not eat the whole thing by yourself…
---
Recipe Card powered by
I've also started to update my Kosher Everyday Pinterest Page with lots of suggestions for your Thanksgiving feast. Make sure to follow so you can get new ideas every day!
Stay tuned this week for KOSHERFEST 2017!!!!! I'll be doing lots of updates on Instagram, Twitter and Facebook so follow me to stay up to date with all the latest and greatest Kosher products from around the world!!!
I think the easiest way to learn how to do something is through example so…