You happily welcome your family and guests into your home on Thanksgiving. They are warmly greeted by the fragrant aroma of roasted turkey, stuffing, potatoes, and all the traditional scents of a Thanksgiving feast. The table is festively set, and you are the consummate, relaxed host. How is it possible not to be a frantic mess when creating a banquet of food for a large crowd? The key is to plan ahead and know the tricks and secrets to (nearly) stress free Thanksgiving meal prep. Really. Get ready to roll your sleeves up! Traditional Thanksgiving Dinner the easy (and delicious!) way here we come. You can check out my Thanksgiving Prep Guide at the bottom of this article to help make Thanksgiving prep super-de-duper easy this year!
Now – to make the prep even easier I made a cute little Thanksgiving video for you showing exactly how to make the Easy Shmeasy Pumpkin Pie. The only way it could be easier is if I actually came over to your house and made the pie myself! You can do it…I know you can! Please send me pictures of your Easy Shmeasy Pumkin Pies!!! I can't wait to see how they turned out!!!
And now for the video!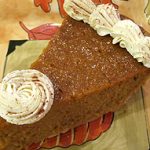 Easy Shmeasy Pumpkin Pie
Author:

Cook Time:

60

Total Time:

1 hour

Yield:

1

1

x
---
Description
With Thanksgiving right around the corner, what could be better than a pareve, easy to make Pumpkin Pie?!! By substituting pareve whipping cream for the traditional evaporated milk we get a delicious, creamy, pareve, Pumpkin Pie. This recipe uses a ready made deep dish pie crust and uses only one-bowl for a speedy quick prep and cleanup, so your time is spent with your guests this Thanksgiving!! It's "Easy Shmeasy"!!
---
15 ounces

pure packed pumpkin

3

large eggs

¾ cup

sugar

½ teaspoon

salt

1 teaspoon

ground cinnamon

¼ teaspoon

ground cloves

1 cup

whipping cream, or coconut milk – pareve

1

9-inch deep dish pie crust, unbaked
whipped topping for garnish
---
Instructions
Preheat oven to 350° F.
In a large bowl combine ingredients in order listed. Mix thoroughly. Pour into pie crust.
Bake for one hour until center is completely set. Cool.
Serve with whipped topping and a little cinnamon for an elegant classic dessert!
---
Notes
I updated the recipe to include coconut milk instead of the pareve whipping cream for the more health minded readers. I leave that decision is in your capable hands!
---
Recipe Card powered by
Guide to a nearly stress free Thanksgiving prep:
Make a list of all the ingredients you do not have currently stocked.

Around 5-7 days ahead go to the grocery store and purchase the missing items.

If buying a frozen turkey, place it in the refrigerator around 4-5 days in advance (Sunday or Monday). The turkey needs to have approximately one day per 5 pounds to defrost. Once defrosted, it can stay in the refrigerator for 2 days. I bought a 20 lb turkey and am leaving 4 days to defrost with extra refrigerator time.
Determine which foods that can be prepared 3-4 days in advance, then actually make them 3-4 days in advance. Some suggestions:
Candied Pecans

Pineapple Whole Berry Cranberry Sauce

Spiced Sweet Potato Soup with Candied Pecans
Determine which foods that can be prepared 1 day in advance, then actually make them 1 day in advance. Try to leave as little as possible for Thanksgiving day…trust me, it's good advice!
Easy Shmeasy Pumpkin Pie

The stuffing carrots and celery can be prepared and stored in an airtight zipper bag.
If things go wrong (and something always does!):
If the turkey isn't defrosted by the Thursday of Thanksgiving:

Place it in the sink on a rack. Run cool water over the turkey, turning periodically until the turkey is completely defrosted. This may take a while but it is a safe way to defrost your bird.

You can also defrost your turkey in the microwave – if you have a large enough microwave.

If you are really pressed for time, cut the Turkey into 8 bone-in pieces, 2 breasts, 2 drumsticks, 2 thighs, 2 wings. Place the potatoes under the turkey pieces and the stuffing around the edge of the pan. Bake until a meat thermometer reads 165℉ in the meatiest part of the thigh.

You burn the pecans: Oh well. Turn on the vents, open the windows, say hi to the firemen that come to your door and offer them a piece of pumpkin pie. You can either re-make the pecans or just (in honor of the Thanksgiving football tradition) punt. Serve the soup with un-candied pecans or no pecans at all (gasp!). No one will know – I promise.

Your cranberry sauce is too liquidy:

Return it to a saucepan and simmer on low heat until it thickens.

Add 2 teaspoons of cornstarch to ¼ cup of cold water. Stir it into the liquidy sauce until thoroughly combined. Warm over medium/low heat until the sauce thickens.

Serve it with a ladle and smile as if everything is under control. You know what? It is!!

Other culinary nightmares occur:

[email protected]

🙂
Here is a link to a video I did with Taped with Rabbi Doug in 2007!!! It was super fun and it will give you a good laugh! (Check out my clean kitchen…it was probably the last time it was that clean ever!)
SO, Before writing this post I sent a request out to my followers to make the Easy Shmeasy Pumpkin Pie in advance. Thank you to those that sent in photos and comments about their experiences!!!! If you'd like to see your pie here in this Pie Walk of Fame please send me your photos and comments!
The Pie Walk of Fame
Debbie Burg from Skokie, IL
Check out her gorgeous pies!!!
Debbie said:
"I dont Use coconut milk, so I substituted almond milk. also I have a friend that is allergic to cinnamon, that is why there's an N on one of the pies, for nutmeg. the recipe is very easy to double, and adjust to personal tastes. and best of all…..My house smells amazing!"
Leslie Wortman, Chicago, IL
Leslie said:
I was looking for a pareve alternative for condensed milk for my pumpkin pie and the coconut milk is perfect!!! It does not taste coconuty at all!! It tastes exactly like pumpkin pie! Ps. I didn't have cloves so I substituted pumpkin spice for cloves in the same ratio!! Kid approved!!! YUM….