Cauliflower Waffles with Dill Cream
I'm a big fan of throwing a bunch of stuff together in a bowl and then tossing them into a hot waffle iron for a cool, quick lunch. When thinking about delicious brunch ideas, I thought about putting healthy cauliflower rice with cheese and a creamy topping together. Then I started to contemplate Mother's day brunch ideas and Cauliflower Waffles with Dill Cream was born.
Making Cauliflower Waffles with Dill Cream
I'd love to say that the Cauliflower Waffle making journey was a smooth one. Early efforts resulted in something that wasn't quite waffles.
It tasted delicious, but there were technical difficulties.
So I played some more.
The ingredients in Cauliflower Waffles with Dill Cream
Here's how I came up with the ingredients that went into the Cauliflower Waffles with Dill Cream.
The Riced Cauliflower
I started out with frozen riced cauliflower that I defrosted in the microwave. Five minutes per bag was all it took.
The issue I had was that I had several bags of frozen riced cauliflower. The ones that came individually were the ones that the brands had reduced in size from 16-ounces to 12-ounces. It's the whole inflation economics thing. Sell a smaller bag for the same or increased price.
Sigh.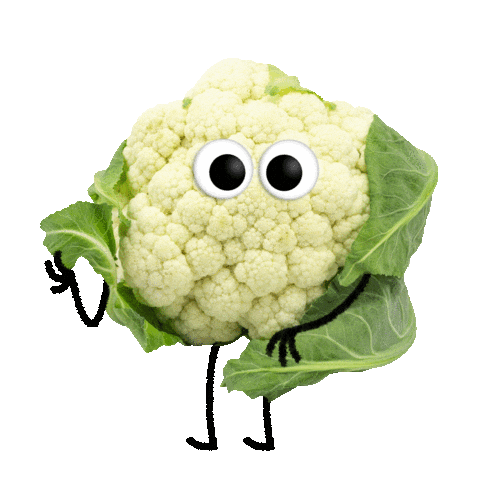 I also had a massive Costco bag of frozen cauliflower rice that contained five 16-ounce bags. Definitely recommend. The cauliflower was white and beautiful, even though it had been in my freezer for quite a while. I also felt like the value was there, bigger bags at a great price.
The recipe ended up using two 16-ounce bags of riced cauliflower. You can use the weight that you like, just keep in mind that the amount of cauliflower you use will effect the recipe. I'd err on the side of more cauliflower vs less.
The mozzarella cheese and eggs in Cauliflower Waffles
The recipe actually started out being completely plant based. I used the Soy Delicious plant based mozzarella and JUST egg instead of whole eggs. The first justification for this was I know that many of my readers prefer plant based recipes and I'm trying to accomodate you if possible.
The second was that one of my Dear Grandsons (yes, I'm too young to have grandsons, I know 😆 ) is allergic to eggs. I had bought a container of JUST egg to use for him and thought he might really enjoy these waffles.
The third and final reason was that I thought I had a huge bag of shredded dairy mozzarella in the fridge that I had planned to use for this recipe, and it turned out that Dear Daughter had taken it back to school with her after Passover, information that had not been passed on to me.
Sigh.
The herbs and spices in Cauliflower Waffles
I wanted the Cauliflower Waffles to be a little more upscale. That meant that the flavors had to be better than just salt and black pepper, but the ingredients also had to be accessible to most people.
Fesh is always best, so the recipe includes fresh dill and chives. Those are always great, especially when I wanted to add them to the sour cream topping and this way the flavors carried through from the waffles to the Dill Cream.
I also added a little surprise to the waffles which is completely optional, due to the fact that you may not have it in your pantry.
Last year Dear Husband and I took a trip to Milwaukee and went to The Spice House there. I spent quite a bit of time talking to the salesperson about Dill Pollen and ended up creating Asparagus Soup with Dill Pollen, a springtime favorite.
Since I had the Dill Pollen in my spice drawer I decided to add a small amount to the waffles. It was amazing. A very small amount of Dill Pollen packs a big punch.
The Dill Cream to go with the Cauliflower Waffles
Super crazy simple.
Light sour cream, fresh dill, fresh chives, call it a day.
Fresh.
The Plant Based Caviar on top of the Cauliflower Waffles with Dill Cream
Last summer I went to the Fancy Food Show in New York. I came across Plant Based Caviar from Season's.
I finally bought some and was super excited to add it to this recipe as an optional topping. The key word is optional. If you can't find it then please feel free to make the waffles without it.
The Season's Plant Based Caviar is really excellent tasting though.
The Challenges of making Cauliflower Waffles
I had some issues with the waffles. The first batches kept sticking to my waffle iron. It was weird. I decided to add some additional ingredients and went through a ton of riced cauliflower in the process.
They were all delicious, the issue was with the texture.
I made various versions with different amounts of eggs and cheese, using the scientific method of course 😀 .
My final iteration was with just two large eggs, real cheese and 32-ounces of riced cauliflower. Keep in mind that while 32-ounces of riced cauliflower sound like a ton, it's really not because once you squeeze out all the added liquid from the cauliflower, there's only a few cups of cauliflower left.
Here's the recipe for Cauliflower Waffles with Dill Cream
As with most of my recipes remember that you are the Executive Chef in your kitchen. I will not (most likely) be coming to check on how you made the recipe, unless I want constructive feedback.
Feel free to use plant based ingredients, they work almost equally as well as the dairy cheese and real eggs.
You can also use dried dill and chives if you need to. Fresh is always best but if you can't then don't sweat it.
Finally, the Dill Pollen and Plant Based Caviar are bonus features. If you don't have them or choose not to add them it's going to be OK.
Really.
Print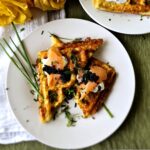 Cauliflower Waffles with Dill Cream
Author:

Prep Time:

15 minutes

Cook Time:

45 minutes

Total Time:

60 minutes

Yield:

8

whole waffles

1

x

Category:

Breakfast

Method:

Waffle Iron

Cuisine:

Gluten Free

Diet:

Kosher
---
Description
Cauliflower Waffles with Dill Cream are the perfect Mother's Day Brunch waffles! They look like you spent hours in the kitchen, but they're fairly easy to make. You can elevate them with upscale ingredients like dill pollen, smoked salmon and (plant based) caviar, but it's totally up to you how far you take these beautiful and delicious waffles. They don't just taste good, they're packed with the goodness of cauliflower, mozzarella cheese and fresh herbs. Cauliflower Waffles with Dill Cream are perfect for any Mom or anyone who likes delicious, savory waffles!
---
For the Cauliflower Waffles
32

–

ounces

frozen riced cauliflower, defrosted, all liquid squeezed out

1/4

cup

flour, gluten free 1:1

1 teaspoon

baking powder

1/8 teaspoon

dill pollen (optional)

1/2 teaspoon

Kosher salt

1/4 teaspoon

freshly ground black pepper

2

large eggs lightly beaten (can be plant based)

1 cup

part skim mozzarella (can be plant based)

1/4

cup

fresh chives, sliced

2 tablespoons

avocado oil

1 tablespoon

garlic oil, or

1 tablespoon

avocado oil
Nonstick vegetable spray
For the Dill Cream
1

cup

light sour cream (can be plant based)

1 tablespoon

fresh chives, chopped

1 1/2 teaspoons

fresh dill, chopped
To Finish
smoked salmon
(plant based) caviar
fresh dill and chives for garnish
---
Instructions
For the Cauliflower Waffles
Preheat a waffle iron while mixing the Cauliflower Waffle mixture.
In a large bowl, stir together the cauliflower, flour, baking powder, dill pollen (if using), salt and pepper until the cauliflower is completely coated.
Mix in the eggs, mozzarella, chives, dill, avocado oil and garlic oil. Stir until completely combined.
Thoroughly spray the hot waffle iron with Nonstick spray.
Place a large scoop of the Cauliflower Waffle Mixture onto each section of the waffle iron. Mine makes two large waffles.
Close the waffle iron and cook for around 10 minutes, until the waffle iron opens easily, the waffles are browned and release easily from the bottom of the iron. Continue to add additional 5 minutes of cooking time until they are if neccesary.
Repeat with the remaining waffle mixture.
For the Dill Cream
In a small bowl whisk together the sour cream, dill and chives until smooth.
Cover with plastic wrap and refrigerate until ready to serve.
To Finish
If using a square waffle iron, cut each waffle diagonally in half to make two triangular Cauliflower Waffles.
Top each Cauliflower Waffle triangle with Dill Cream, smoked salmon and (plant based) caviar if using.
Garnish with additional fresh dill and chives.
Give Mom a kiss 🙂
---
---
Notes
The Dill Pollen is optional. If omitting add an additional 1/2 teaspoon of chopped fresh dill.
If you don't have fresh chives, you can use green onion instead.
I made the recipe Vegan using plant based JUST egg instead of the egg and SO Delicious mozzarella instead of whole eggs and dairy mozzarella. They turned out great if you choose to make these plant based. You can use the plant based caviar, but leave off the smoked salmon.
For a more egglike texture use 3 large eggs instead of 2.
You can make these even more loving using a heart shaped waffle iron.
These are best freshly made, but the leftovers are delicious a day later. Store any extras tightly sealed in the refrigerator.
Nutrition
Serving Size:
Calories:

163

Sugar:

1.1 g

Sodium:

128.1 mg

Fat:

11.7 g

Saturated Fat:

4.3 g

Carbohydrates:

9.4 g

Fiber:

1 g

Protein:

6.2 g

Cholesterol:

63.6 mg
Keywords: Waffles, Cauliflower Waffles, Brunch, Breakfast, Mother's Day Brunch, Mother's Day Breakfast, Easy Mother's Day, Plant Based, Gluten Free, Kosher
Recipe Card powered by

Cauliflower Waffles with Dill Cream are incredibly beautiful and delicious no matter how you serve them!
Here's how I made Cauliflower Waffles with Dill Cream on Instagram @koshereveryday
View this post on Instagram
More Beautiful Breakfast and Brunch recipes
CHECK OUT THE KOSHER EVERYDAY AMAZON INFLUENCER STOREFRONT!
I'm excited to announce the launch of my brand, spankin' new, Amazon Influencer storefront. The purpose of this store is to share with you all of my favorite tools, ingredients and accessories that I use on Kosher Everyday. If there's something you'd like to see please let me know and I'll make sure to add it. I'm updating the storefront all the time.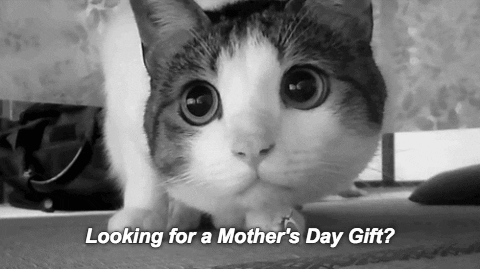 You can find most of my favorite kitchen tools and other houseware items like the Instant Pot Duo Plus 8 quart Pressure Cooker that would make an awesome Mother's Day present!
I've put together a complete Gluten Free Challah Storefront with everything you need to make fabulous Gluten Free Challah!
Additionally there is a Small Appliance Storefront with many awesome small appliances that I recommend for your kitchen…even if you have a small space!
I'd love to hear what you think!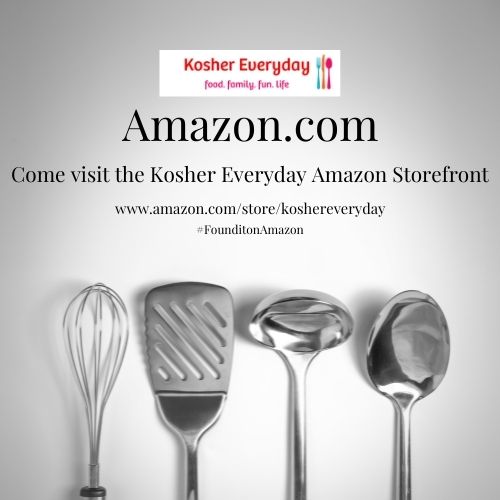 FOLLOW ME!
Don't forget to follow Kosher Everyday on Instagram @koshereveryday! and on Facebook You don't want to miss all the fun and interesting posts and reels that can be found nowhere else!
You can find reels showing how to make most of my recipes on Instagram!
Also, make sure to tag @koshereveryday when you make Kosher Everyday recipes! I LOVE to see your creations!!!
Please note that this post contains affiliate links. Thanks for your ongoing support!
Oh and because I love Hast Knives and have a media affiliate relationship with them you get a 15% discount for using the code KED15 when you order.