Air Fryer Honey Gochujang Salmon Bites
Dear Husband and I are trying to eat healthier. That means eating more good-for-you proteins and fats. Salmon is a frequent addition to our menues – especially on Dear Husband's Tuesday dinner prep night. Usually he makes super outstanding (and easy 😉 ) Lemon Pepper broiled salmon, but when Dear Social Media Guy sent me a link to Salmon Bites from @Lirim Gula on Tiktok, I knew that I had to make Air Fryer Honey Gochujang Salmon Bites.
Gochujang is my friend
I've used gochujang before when I made Gluten Free Gochujang Caramel Cookies, Quinoa Almond Crusted Turkey Tenders and Gochujang Caramel Hamentaschen with it. I keep it in the fridge for gochujang emergencies. Just to refresh your memories:
To make this simple, Wikipedia defines Gochujang as:
"Gochujang or red chili paste is a savory, sweet, and spicy fermented condiment popular in Korean cooking. It is made from gochu-garu, glutinous rice, meju powder, yeotgireum, and salt. The sweetness comes from the starch of cooked glutinous rice, cultured with saccharifying enzymes during the fermentation process."
It's a little sweet and spicy and adds great flavor to most anything.
How I made Air Fryer Honey Gochujang Salmon Bites
When I made the original recipe, I substituted miso for the soybean paste, used garlic oil instead of garlic and kind of doubled the amount of ingredients – for around a pound and a half of salmon.
Dear Husband and I absolutely loved the taste of this salmon. It was sweet, spicy and a little crispy on the exterior. The only thing we absolutely didn't like was that it made a huge mess in the air fryer.
I think there were several reasons for this.
Making Air Fryer Honey Gochujang Salmon Bites without making a Huge Mess
I think that part of my issue was that I needed to line the bottom catch with foil or something. The recipe was very drippy the way I made it. I made a second batch with less sauce and it was way better. I also adjusted the racks so the sauce didn't get everywhere. Just better overall.
When you're really busy make things that are easy
I think this should be intuitively obvious to the casual observer, but sometimes it's not.
The first time I made the Air Fryer Honey Gochujang Salmon Bites I actually pulled out my super sharp boning knife and deskinned the salmon that I defrosted from my freezer.
I'm not really sure what I was thinking.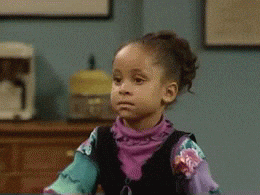 It was more effort than I wanted to spend and the salmon bites weren't equal in size. They were also a little smaller than I really wanted them to be.
The second time I made them, I worked smarter not harder and had Dear Husband pick up ready cut salmon bites from our local Jewel-Osco Kosher fish department. Forrest, the Dear Fish Guy, really takes good care of us. The fish cubes were pretty evenly cut and were a little bigger in size for the perfect bites.
Oh.. And I'm really busy because…

THANK G-D

…
Mazel Tov!!! Our Dear Daughter is engaged to our new future Dear Son-In-Law!!! We're SO thankful and grateful for this wonderful simcha!!!
Suffice it to say, Thank G-d, we're crazy thrilled, and things are a little crazier around here than they usually are.
Make sure to follow my story on Instagram @koshereveryday. I'm going to be pulling out the baking gear and it's going to be epic!
So… I'm going to wrap this up…with a bow.
Here's the recipe for Air Fryer Honey Gochujang Salmon Bites
I use a nutrition caluclator called Nutrifox. I enter the ingredients and it spits out the nutrition information that I use at the bottom of each recipe. Imagine my surprise when I found that there was a whopping 40g of protein per serving. I shouldn't have been so surprised… I mean it is protein filled salmon after all, I just didn't expect 40g! My nutritionist is going to be SO happy!!!
While I haven't personally tried it, if you don't have an air fryer you can probably convection bake the salmon with similar results. I would make sure to toss the salmon halfway through so it's evenly browned. Air fryers are basically mini convection ovens. It should theoretically work well.
And if you don't have a convection oven, just bake them and call it a day.
Print
Air Fryer Honey Gochujang Salmon Bites
Author:

Prep Time:

10 minutes

Marinade Time:

60 minutes

Cook Time:

12 minutes

Total Time:

82 minutes

Yield:

4

servings

1

x

Category:

Main Dish

Method:

Air Frying

Cuisine:

Gluten Free

Diet:

Kosher
---
Description
Air Fryer Honey Gochujang Salmon Bites is an unique fusion of flavors erupting in your mouth! The heat from the gochujang dances with the sweetness of honey, creating a harmonious balance that pleases even the most discerning palates. The crispy exterior provided a delightful contrast to the tender salmon, making each bite an unforgettable experience.
---
1 1/2

pounds

skinless salmon, cut into cubes

1 tablespoon

miso paste

1 tablespoon

gochujang paste

1 tablespoon

garlic oil or

1 tablespoon

avocado oil + 1 minced garlic clove

1 tablespoon

honey

1/4

cup

soy sauce

1 teaspoon

toasted sesame oil

1 teaspoon

freshly ground black pepper

1 teaspoon

sesame seeds

2

green onions, thinly sliced
Cooked brown rice, optional
---
Instructions
In a small bowl whisk together the miso, gochujang, garlic oil, honey, soy sauce, sesame oil and black pepper.
Place the salmon cubes in a large bowl. Pour the marinade over the salmon and stir to coat completely.
Cover and refrigerate for one hour.
Spray an air fryer insert pan with nonstick spray. Place the marinated salmon in a single layer in the pan (if possible).
Air fry for 12-13 minutes at 400°F.
Transfer the salmon bites to a serving plate, then sprinkle with the sesame seeds and green onion.
Serve with cooked brown rice.
---
Equipment
---
Nutrition
Serving Size:
Calories:

279

Sugar:

5.7 g

Sodium:

555.1 mg

Fat:

9.5 g

Saturated Fat:

1.6 g

Carbohydrates:

9.4 g

Fiber:

0.6 g

Protein:

40 g

Cholesterol:

86.9 mg
Keywords: Air Fried Salmon, Air Fryer Salmon, Gluten Free, Dairy Free, Meat Free, Nine Days, Shavuot, Gochujang, Miso Paste, Gochujang Salmon
Recipe Card powered by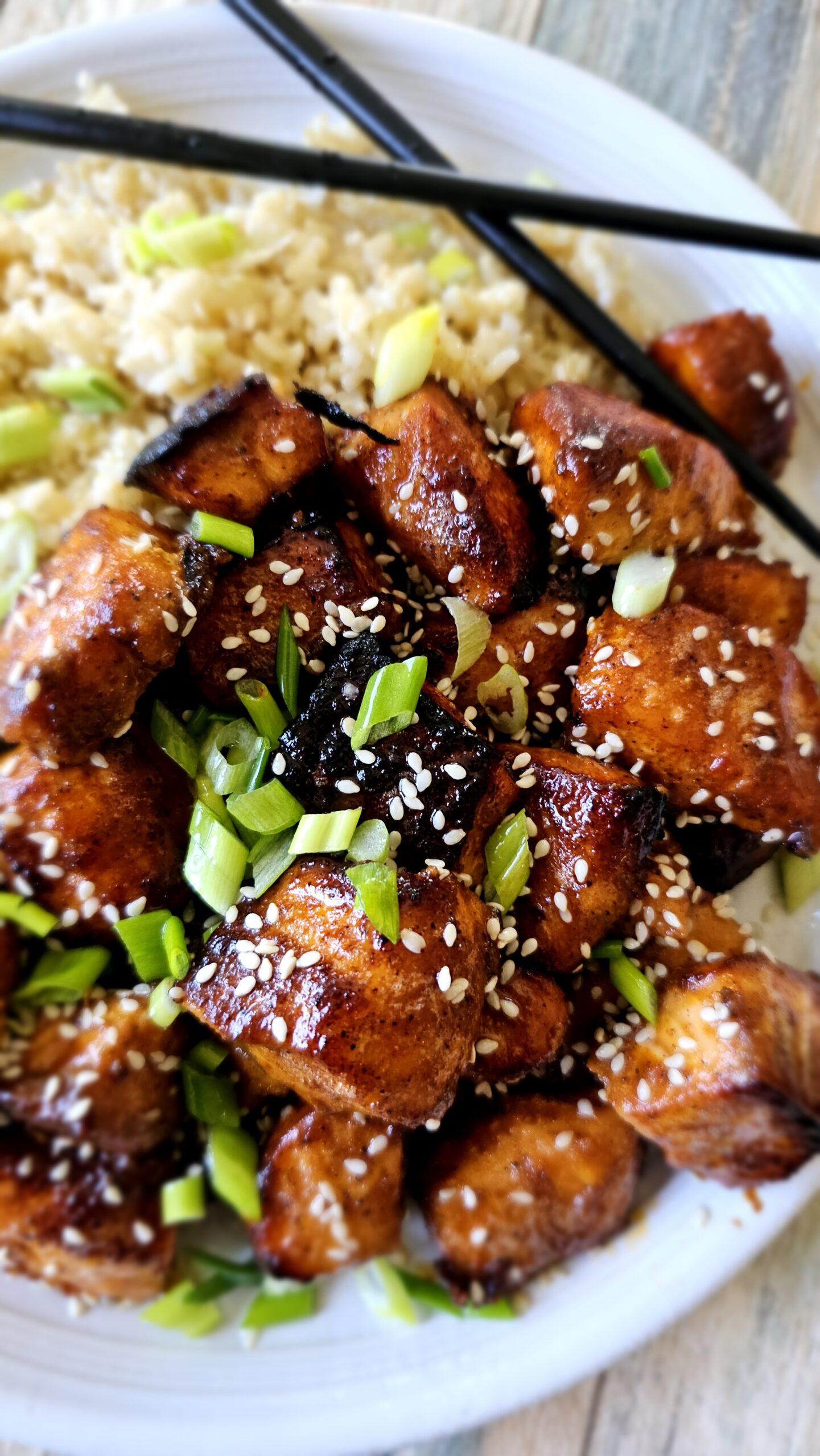 More Fabulous Fish Recipes
CHECK OUT THE KOSHER EVERYDAY AMAZON INFLUENCER STOREFRONT!
I'm excited to announce the launch of my brand, spankin' new, Amazon Influencer storefront. The purpose of this store is to share with you all of my favorite tools, ingredients and accessories that I use on Kosher Everyday. If there's something you'd like to see please let me know and I'll make sure to add it. I'm updating the storefront all the time.
You can find all my Cookware and Bakeware including ones like the HexClad 14 Inch Hybrid Stainless Steel Frying Pan with Lid, Stay-Cool Handle – PFOA Free, Dishwasher and Oven Safe, Non Stick with lid on my storefront.
I've put together a complete Gluten Free Challah Storefront with everything you need to make fabulous Gluten Free Challah!
Additionally there is a Small Appliance Storefront with many awesome small appliances that I recommend for your kitchen…even if you have a small space!
I'd love to hear what you think!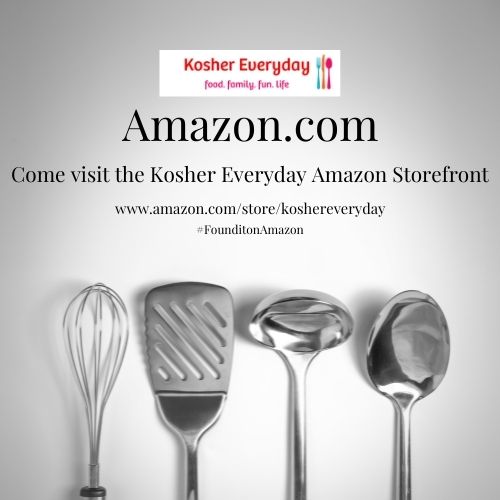 FOLLOW ME!
Don't forget to follow Kosher Everyday on Instagram @koshereveryday! and on Facebook You don't want to miss all the fun and interesting posts and reels that can be found nowhere else!
You can find reels showing how to make most of my recipes on Instagram!
Also, make sure to tag @koshereveryday when you make Kosher Everyday recipes! I LOVE to see your creations!!!
Please note that this post contains affiliate links. Thanks for your ongoing support!