Shredded Beet and Apple Salad
Shredded Beet and Apple Salad is the perfect Rosh Hashanah Salad. It's loaded with beets, apples and honey for the freshest symbolic Holiday salad you could possibly eat.
Why Shredded Beet and Apple Salad
On Rosh Hashanah there is a custom to eat symbolic foods and say "yehi ratzon" blessings on each one.
For beets we say "Yehi Ratzon….sheyistalku sonenu" – All our enemies/people who dislike us will be removed in the New Year.
I say… more beets!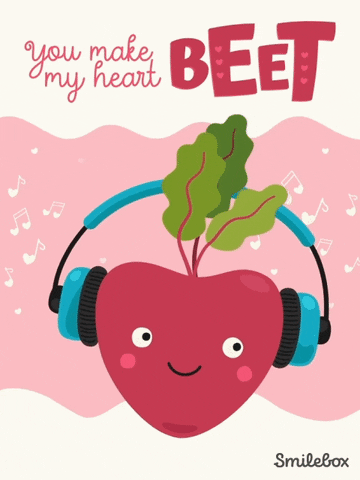 For apples and honey we say "Yehi Ratzon…shetichadesh aleinu shanah tovah umetukah" – That we should be granted a good and sweet year.
I say… more apples and honey!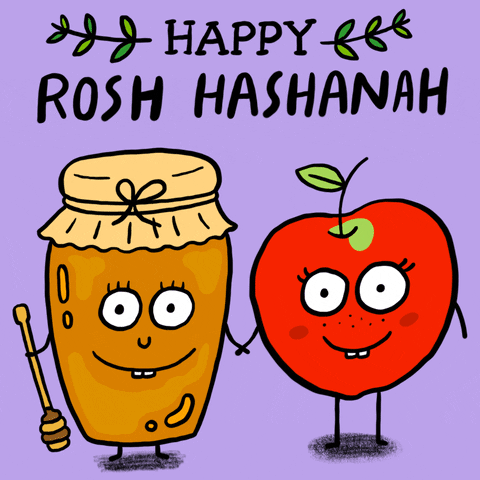 So…when I saw the recipe for Shredded Beet and Apple Salad on the Food Network website I was super excited. It's packed with fresh ingredients that are perfect for Rosh Hashanah or any fall meal.
Making Shredded Beet and Apple Salad
Making Shredded Beet and Apple Salad is very straight forward. You simply julienne the beets and apples and top the entire thing with a honey mustard vinagrette.
Tools I used to make Shredded Beet and Apple Salad
Here are some of the super useful tools I used to make the Shredded Beet and Apple Salad.
A Mandoline
It helps if you have a mandoline to julienne the beets and apples. I have a simple mandoline from OXO that I really like. It's easy to clean and store and works very well.
I used it to julienne all the beets and apples in the recipe. The task was incredibly fast using the mandoline.
Cut Resistant Gloves
If you're nervous about cutting your hands while using the mandoline, I recommend the Microplane Cut Resistant gloves. They take the totally justified fear out of using a mandoline.
A good Apple Corer
I have an apple corer that has a peeler and a core ejector attached to it. I dont' remember where I got it but did a search to find good quality apple corers. Here is what I found. All these make coring and ejecting the core easy.
Ingredients in Shredded Beet and Apple Salad
I followed the Food Network recipe pretty closely with a few clarifications and exceptions.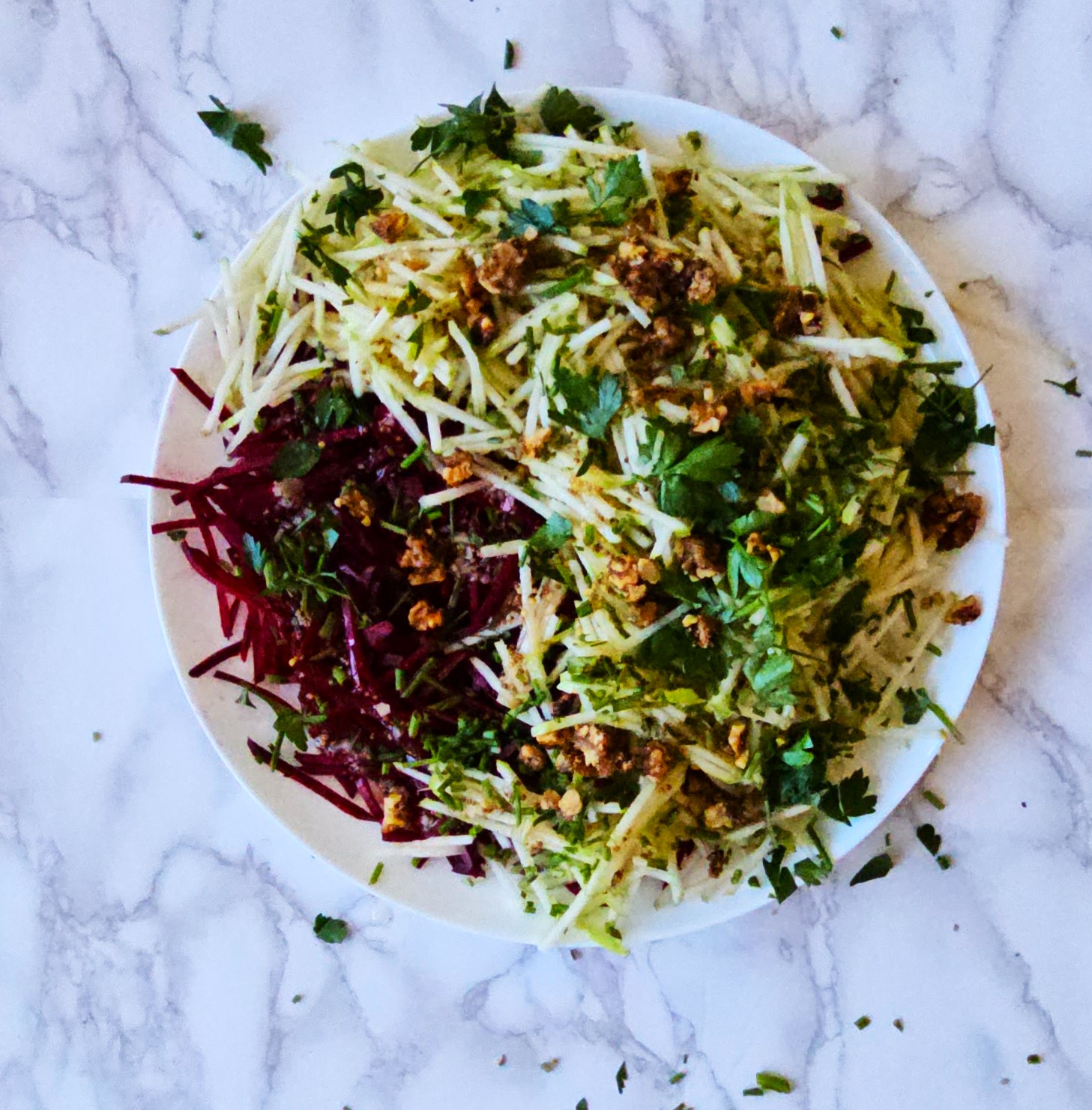 I coated the apples with a tablespoon of fresh lemon juice to keep the apples from browning. It was a simple addition and I was surprised that the original recipe didn't have it included.
There is no weight listed for the apples and beets so I kind of winged it – which I think is a good thing to do here. I used average-ish sized Granny Smith apples with the peels on but cored. For the beets, I used two smaller beets instead of one large, and did peel them but left them raw.
I also ended up making my own candied walnuts. It's pretty simple to do. I found using my HexClad skillets made the task incredibly easy. Nothing sticks to those babies. I'll included the recipe for the walnuts below.
Here's the recipe for Shredded Beet and Apple Salad
I made the recipe almost exactly as it's published on the Food Network website and used the ingredients listed. I found that each ingredient added to the overall flavor of the recipe. As always, you are the Executive Chef in your kitchen, and if you decide to change something in the recipe I won't report you to The Food Network!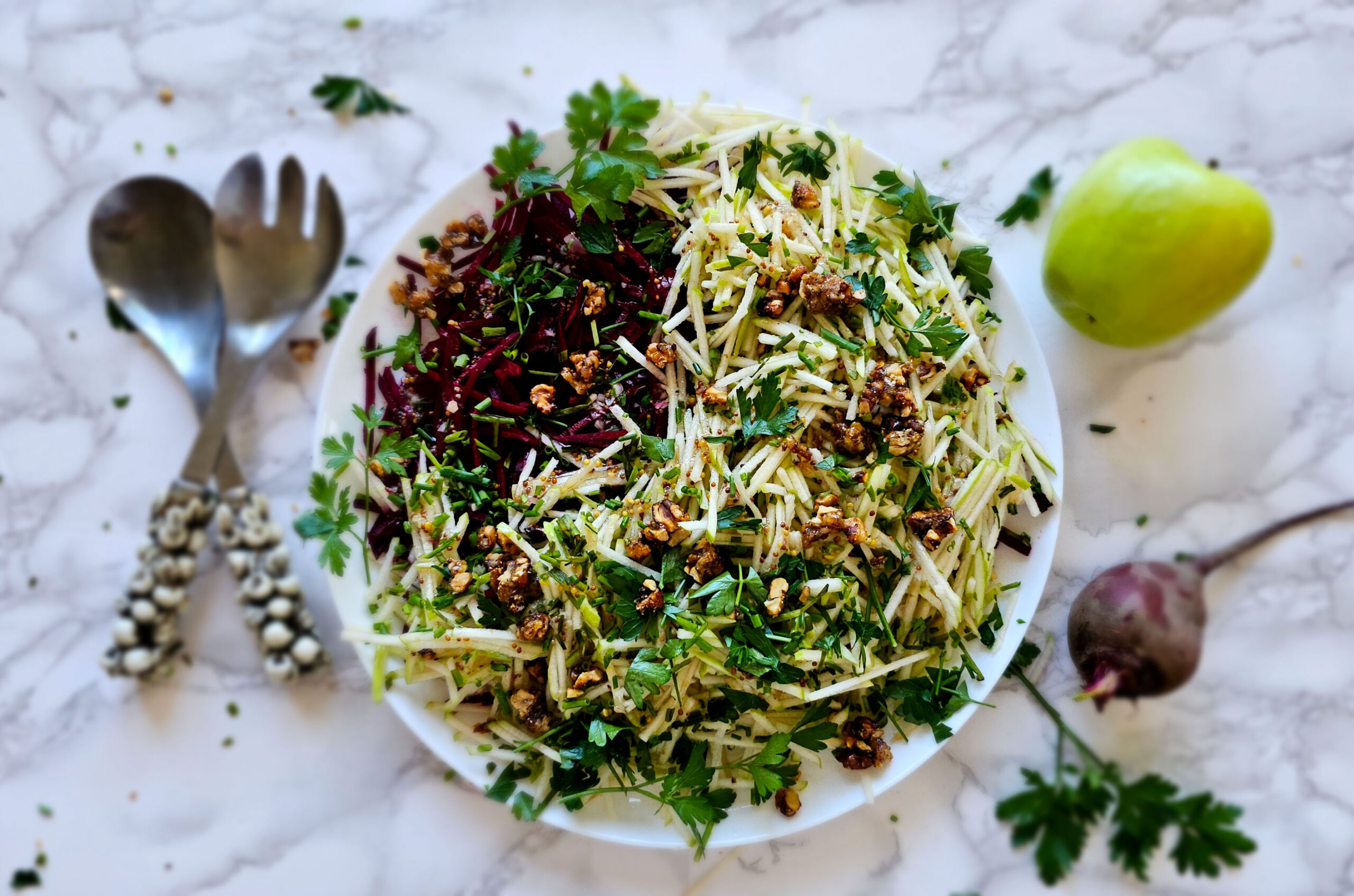 Print
Shredded Beet and Apple Salad
Author:

Prep Time:

20 minutes

Candied Walnuts:

10 minutes

Total Time:

30 minutes

Yield:

1

salad

1

x

Category:

Salad

Method:

Food Processor

Cuisine:

Plant Based

Diet:

Kosher
---
Description
Shredded Beet and Apple Salad is a refreshing, sweet, crunchy and colorful salad. It's perfect for Rosh Hashanah with symoblic beets, apples and honey. It's a healthy salad that's perfect for your Holiday meal.
The original recipe can be found .
---
For the Salad
1 tablespoon

freshly squeezed lemon juice
For the Candied Walnuts (makes 1 cup)
1

cup

walnuts

1/4

cup

sugar

1 tablespoon

corn syrup (optional)
---
Instructions
For the Salad
Whisk the shallots, vinegar, mustard, honey, salt and a few grinds of pepper in a large bowl until well combined.
Slowly drizzle in the walnut oil, whisking constantly to make a smooth, slightly thick dressing.
With a mandoline or the julienne blade of a food processor, shred the apples then the beet(s) into long thin matchsticks. Toss the apples with the lemon juice.
Spread the beets out on a serving platter and top with the apples.
Drizzle the vinaigrette over top and sprinkle with the chives, parsley, walnuts, salt and pepper.
Toss together right before serving.
For the Candied Walnuts
Line a cookie sheet with parchment paper or a silicone mat. Set aside.
Combine sugar and corn syrup in a medium skillet. Add walnuts and stir until walnuts are coated.
Cook over medium heat, continuously stirring with a wooden spoon or heat resistant (silicone) spatula until sugar coating begins to brown slightly, being careful not to burn the sugar.
Immediately turn pecans onto prepared baking sheet, spreading and separating with the wooden spoon or heat resistant spatula.
When the pecans are completely cooled break apart any large clumps of pecans.
Serve in salads or as a snack.
Store any extra in an airtight container in a cool space.
---
---
Nutrition
Serving Size:
Calories:

87

Sugar:

4.7 g

Sodium:

124.5 mg

Fat:

6.4 g

Saturated Fat:

0.6 g

Carbohydrates:

6.9 g

Fiber:

1.5 g

Protein:

0.8 g

Cholesterol:

0 mg
Keywords: Apple Salad, Beet Salad, Rosh Hashanah, Rosh Hashana, Fall Salad, seasonal salad, lowfat, healthy, plant based, vegan, gluten free, dairy free, meat free, pareve
Recipe Card powered by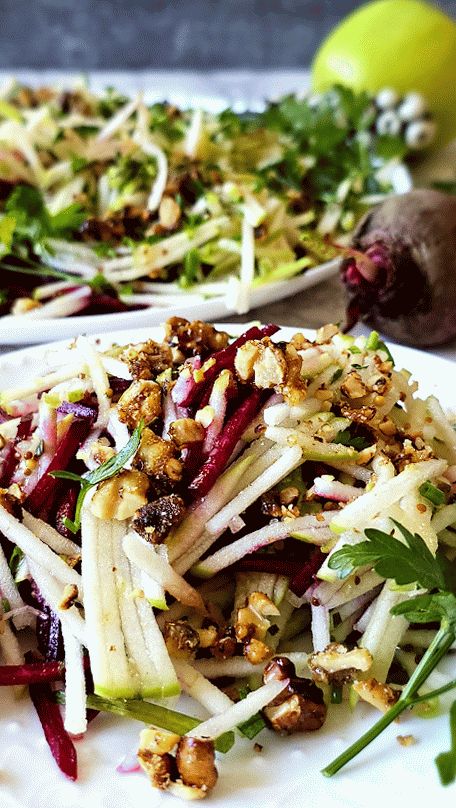 Here's how I made Shredded Beet & Apple Salad on Instagram!
View this post on Instagram
More Rosh Hashanah Recipe you'll rave about!
LOOKING FOR EVEN MORE ROSH HASHANAH RECIPES!!!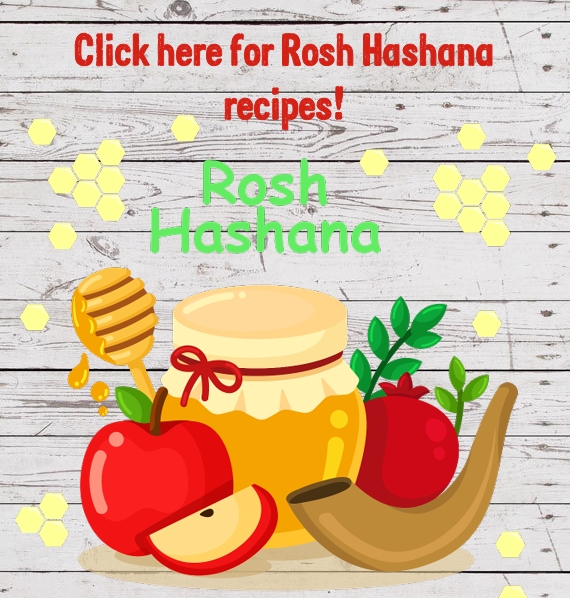 CHECK OUT THE KOSHER EVERYDAY AMAZON INFLUENCER STOREFRONT!
I'm excited to announce the launch of my brand, spankin' new, Amazon Influencer storefront. The purpose of this store is to share with you all of my favorite tools, ingredients and accessories that I use on Kosher Everyday. If there's something you'd like to see please let me know and I'll make sure to add it. I'm updating the storefront all the time.
I've put together a complete Gluten Free Challah Storefront with everything you need to make fabulous Gluten Free Challah!
Additionally there is a brand new Rosh Hashanah Storefront with fun and beautiful items to help enhance your holiday!
I'd love to hear what you think!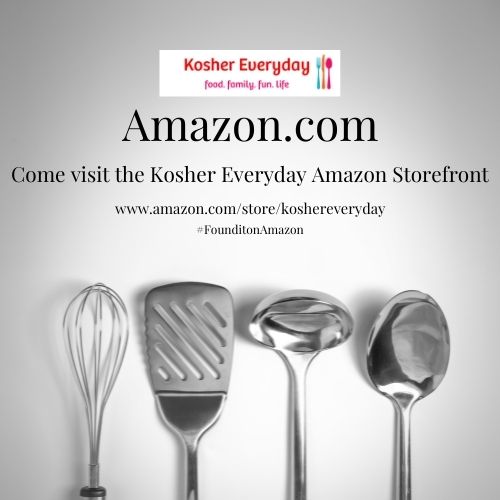 FOLLOW ME!
Don't forget to follow Kosher Everyday on Instagram @koshereveryday! and on Facebook You don't want to miss all the fun and interesting posts and reels that can be found nowhere else!
You can find reels showing how to make most of my recipes on Instagram!
Also, make sure to tag @koshereveryday when you make Kosher Everyday recipes! I LOVE to see your creations!!!
Please note that this post contains affiliate links. Thanks for your ongoing support!