Fruited Simanim Gluten Free Challah
Some of the most popular recipes on Kosher Everyday are my Gluten Free Challah recipes. Over the years, I've spent a lot of time developing gluten free challah recipes that meet the stringent standards that people are looking for in a great gluten free challah. Fruited Simanim Gluten Free Challah is the latest (and greatest!) gluten free challah recipe that meets and exceeds those expectations!!!
Why Fruited Simanim Gluten Free Challah
I've been thinking about the Fruited Simanim Gluten Free Challah recipe for a long time. I wanted to develop a gluten free challah recipe that would be extra special for Rosh Hashanah, and year round. I started collecting ingredients and even picked up some new ones when I went to the Fancy Food Show in NY in June. It was very important to have the challah bursting with traditional Rosh Hashanah fruits like dates, figs, pomegranate seeds and golden raisins.
Which Challah Recipe to use…
By now you know that I have many gluten free Challah recipes. I love them all, have updated many of them over the years, and have added ingredients for variety.
It was a little difficult to decide which recipe to use as the base of the new Simanim Fruited Gluten Free Challah, but ultimately I decided to go with the Gluten Free Water Challah recipe. It's super light and delicious, and adding the simanim fruits would only enhance the challah and the challah itself wouldn't take away from the fruit.
But you can use any of my Gluten Free Challah recipes!
The truth is that this recipe would be great with any of my Gluten Free Challah Recipes. I would halve the Honey Oat Challah recipe or double the amount of fruit. It would also be fabulous for Rosh Hashanah.
What are the important criteria for determining what is an excellent Gluten Free Challah
People are constantly asking for great Gluten Free Challah recipes. While everyone's opinions are different (of course!) there are a few details that are considered important.
You can wash, say a hamotzi blessing and say the birkat hamazon after eating the Gluten Free Challah
Since people generally are eating challah for Shabbat meals, it's important to be able to participate in all ritual aspects of the Shabbat meal such as washing for hamotzi, saying the hamotzi blessing, and being able to say birkat hamazon after the meal.
While I am not a Rabbi and have no intention of ever becoming a Rabbi do not take my word as biblical finality. PLEASE PLEASE PLEASE consult with your own Rabbi to determine how these halachot apply to your circumstances.
With that being said, in my experience the general consensus is that there needs to be at least 51% oats in the challah dough in order to be considered as "meal" worthy. In other words if you choose to, you can wash, say hamotzi and bench on this Gluten Free Challah.
It's a big deal.
You can braid the Gluten Free Challah dough!!!
One of the best things about the Kosher Everyday Gluten Free Challah recipes is that you can braid them all!!!
It's true.
While you do have to be gentler with the dough than you would with glutenous challah dough, you can braid this challah. It's best to have a large bread board or silicone mat to braid on, and I strongly recommend wearing vinyl disposable gloves.
Yes folks, vinyl disposable gloves are my secret Gluten Free Challah making weapon. Nothing sticks to them, and it makes forming the challahs so much easier.
You can also use Challah Molds as well
If you really don't want to braid your challah, you can use a challah mold. I have a bunch of them on my Gluten Free Challah Amazon Influencer Storefront. I think I got my rose molds in Israel, but these by Silikomart are pretty similar.
I also used the Silikomart Mini Girotondo Silicone Molds. Those are the ones with the spiral on top. I think they're super cool because you can spiral your honey in the grooves on top!
You don't have to egg this Gluten Free Challah
Since I chose to use the Gluten Free Water Challah as a base, you don't use eggs! I spray the tops of the braided ones with a little bit of non-stick spray before baking so they brown well. If you're not egg-phobic, you can also egg the tops of the challahs if you like. I wouldn't recommend putting any additional spices on top except maybe Honey Powder – which I think might bee cool. 😆
Here's the recipe for Fruited Simanim Gluten Free Challah
I based this recipe on my Gluten Free Water Challah. Feel free to use one of my other Gluten Free Challah recipes if you like. Just remember, if you're making the Honey Oat Challah recipe, double the fruit or halve the challah recipe.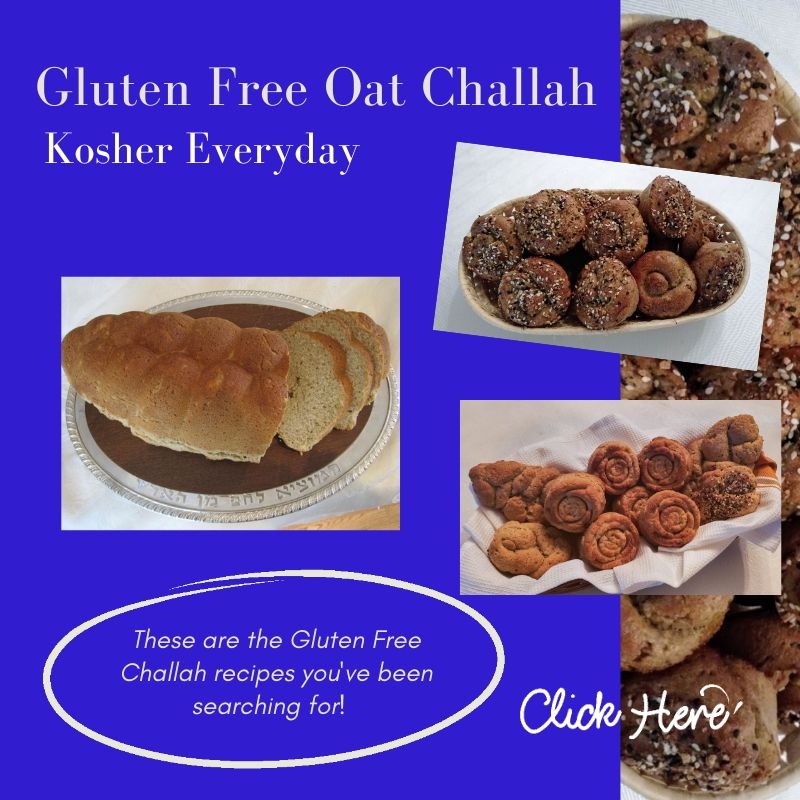 About all that fruit
There's a lot of wonderful fruit in the Fruited Simanim Gluten Free Challah. I'll put links to the ingredients following the recipe, but if you don't/can't/want to have all the fruits in the challah feel free to use only one or two (I strongly recommend the golden raisins!), or leave them out completely. Totally up to you.
Print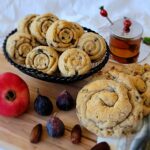 Fruited Simanim Gluten Free Challah
Author:

Prep Time:

30 minutes

Rise Time:

60 minutes

Cook Time:

20 minutes

Total Time:

110 minutes

Yield:

18

-

20

rolls

1

x

Category:

Bread

Method:

Baking

Cuisine:

Gluten Free

Diet:

Kosher
---
Description
Fruited Simanim Gluten Free Challah is now one of my absolute favorite gluten free Challah recipes. Designed specifically for Rosh Hashanah using special "simanim" or symbolic Holiday fruits. Inside are sweet chopped dates, figs, golden raisins and dried pomegranate seed. It's like having Rosh Hashanah in a Challah!!!
---
1 1/2

cups

certified gluten free oat milk, baby bottle warm

2 tablespoons

active dry yeast

4.5

cups

(575g) certified gluten free oat flour

1/2

cup

(70g) tapioca flour

1 1/3

cups

(225g) potato starch

1 tablespoon

xanthan gum

2 teaspoons

kosher salt

3/4

cup

granulated sugar

1 tablespoon

baking powder

1/2

cup

canola oil

1

cup

fresh plain seltzer

3

ounces

dried dates, chopped (around 1/2 cup)

3

ounces

dried figs, chopped (around 1/2 cup)

3

ounces

golden raisins (around 1/2 cup)

1

ounce

dried pomegranate seeds (around 1/4 cup)
Propellant free nonstick vegetable spray
---
Instructions
Preheat oven to 350°F or 325°F convection.
In a medium bowl, or large measuring cup, whisk together the oat milk and the yeast. Place in a warm spot to proof.
In a large mixing bowl, place the oat flour, tapioca flour, potato starch, xanthan gum, kosher salt, sugar, and baking powder. Whisk the dry ingredients together for 3-4 minutes, making sure all the clumps are removed and the flours are aerated.
Make a well in the center of the flour. Add the canola oil, oat milk/yeast mixture and seltzer. Using a large spatula or wooden spoon, gently stir together the ingredients until completely blended and smooth.
Carefully stir in the dates, figs, raisins and pomegranate seeds.
Allow the batter to rest for 5 minutes.
Spray 18-24 muffin tins/molds with the nonstick spray.
Make "muffin sized" balls with the dough and gently press into the muffin tins. If braiding, carefully braid the dough and place in a tin or on a prepared baking sheet*. Repeat with all the dough.
Loosely, but completely, cover the challahs with plastic wrap and place in a warm spot. Allow the challahs to rise for 60 minutes.
Bake for 20 minutes. Remove from the oven and let rest for 5 minutes before removing from the molds.
Serve warm for best taste.
---
Equipment
---
Notes
Make sure to accurately measure the ingredients. Use a kitchen scale to measure for best results.
You can spray the tops of the braided challahs with non-stick spray or if you prefer you can egg them.
If you make larger challahs, increase the baking time by 5 minutes. DO NOT OVERBAKE. Overbaking will result in challahs that suck all the moisture out of your mouth. It's better to have them a little underdone than overdone.
Be careful not to overfill the challah molds if using. The challahs will rise to an additional (approximate) third in size. It's not a huge deal – the challah will just end up taller than the mold. Just saying.
Feel free to alternate the fruits as you see fit. Totally up to you. I love the golden raisins in my challah the best. My Mother (z"l) used to insist that we use golden raisins, not traditional dark ones, because we want to start the new year with golden not dark.
Did you know that if you have one of the newer oven models there is a proofing setting!!! My dear friend Margo Strahlberg was the one who told me about it. On my oven, you set the oven to convection with the temperature at 100 degrees and it goes into proof mode. It really helps the challahs to rise beautifully!
Nutrition
Serving Size:

1 small challah roll

Calories:

226

Sugar:

12.7 g

Sodium:

127.1 mg

Fat:

7.3 g

Saturated Fat:

0.8 g

Carbohydrates:

37.6 g

Fiber:

2.6 g

Protein:

4.1 g

Cholesterol:

0 mg
Keywords: Gluten Free Challah, Challah Recipe, Rosh Hashanah, Rosh Hashana, Plant Based, Gluten Free, Pareve, Meat Free, Nut Free
Recipe Card powered by
View this post on Instagram
More Gluten Free Challah and Bread Recipes!
LOOKING FOR EVEN MORE ROSH HASHANAH RECIPES!!!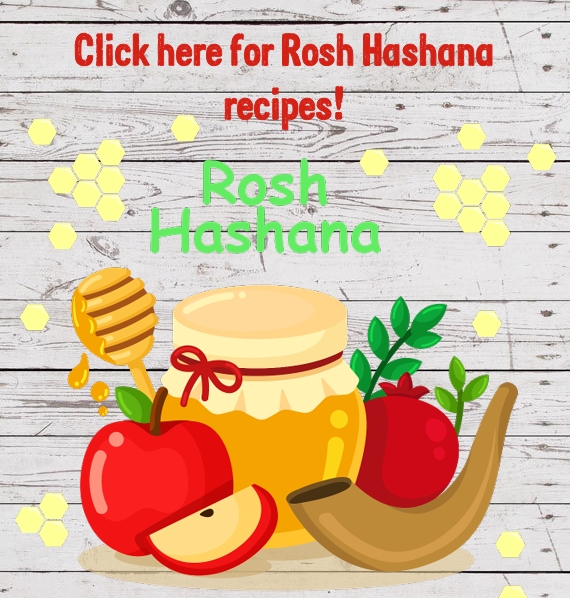 CHECK OUT THE KOSHER EVERYDAY AMAZON INFLUENCER STOREFRONT!
I'm excited to announce the launch of my brand, spankin' new, Amazon Influencer storefront. The purpose of this store is to share with you all of my favorite tools, ingredients and accessories that I use on Kosher Everyday. If there's something you'd like to see please let me know and I'll make sure to add it. I'm updating the storefront all the time.
I've put together a complete Gluten Free Challah Storefront with everything you need to make fabulous Gluten Free Challah!
Additionally there is a brand new Rosh Hashanah Storefront with fun and beautiful items to help enhance your holiday!
I'd love to hear what you think!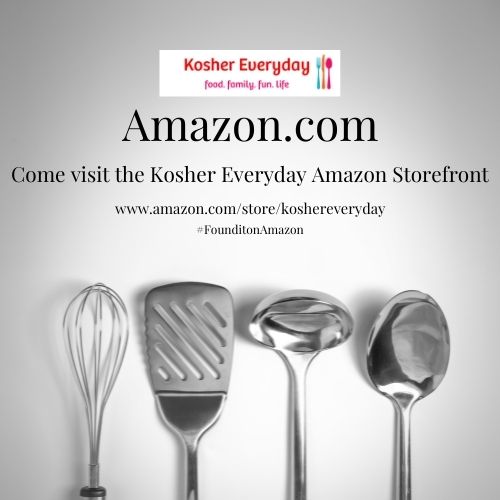 FOLLOW ME!
Don't forget to follow Kosher Everyday on Instagram @koshereveryday! and on Facebook You don't want to miss all the fun and interesting posts and reels that can be found nowhere else!
You can find reels showing how to make most of my recipes on Instagram!
Also, make sure to tag @koshereveryday when you make Kosher Everyday recipes! I LOVE to see your creations!!!
Please note that this post contains affiliate links. Thanks for your ongoing support!