Glass Potato Chips
Glass Potato Chips are the coolest chips you'll ever eat. Made from real potatoes, they're clear and glasslike but taste like crunchy, light potato chips. Baked/dehydrated and not fried, Glass Potato Chips are actually see through. You can leave them clear, sprinkled with herbs if you like, or add a little bit of color for a stained glass look.
However you make them, make sure to make them!!! They take a while to prepare, but the result is totally worth the time investment!
Why I decided to make Glass Potato Chips
The easy answer is because I'm always looking for new, fun foods to make/try. Aside from that, I have an amazing excuse…my Dear Daughter is engaged (KIH!) and I wanted to make incredibly fun, cool and unique dishes for her engagement party.
These totally fit the bill.
They are way different than anything else I've ever made. When I showed the final result to people they were awestruck…they're that unusual.
I made mine very thin, almost paper thin but I think you could make them a little thicker with a good result. The thin ones I made look delicate but still pack a huge crunch when biting into them.
The Glass Potato Chips are definitely an unexpected surprise.
SOUND ON for the below video! You can hear how crunchy these babies are!!! Sorry for the background noise in my office 😉 It's a "lived-in" kitchen!
Making Glass Potato Chips
The most important thing to consider when making Glass Potato Chips is to set aside a lot of time. Ninety-nine percent of this time isn't "active" time, but rather time spent chilling in the refrigerator and dehydrating/baking in the oven or in the dehydrator.
The Potatoes
Every recipe that I saw for Glass Potato Chips recommended Yukon Gold Potatoes. They come in a wide variety of sizes. The recipe calls for six medium, but I had 5 medium and two on the smaller size so I used seven.
Don't sweat this part of the recipe.
After you score the potatoes, you boil them to create a potato stock, which you then chill for several hours.
This is part of the time committment. It may only take 5 minutes to prep the potatoes but it takes around 25 minutes to boil them and then several chilling hours – during which you can…chill.
Making the Glass Potato Chip Goop
Once the stock has chilled, then you add some potato starch and heat it, whisking the whole time. This takes a total of five minutes.
Then you can add a little bit of food coloring to the potato goop if you like to make colored chips, or leave them colorless.
It takes a little bit of effort to transfer the goop to a squeeze bottle, squeeze out quarter size mounds, and spread them into "chips". I spread mine pretty thin, but you could leave them a little thicker. I wouldn't leave them too thick or the chips would be too thick and you want to maintain their glasslike quality.
Dehydating the Glass Potato Chips
There are two ways to dehydrate the Glass Potato Chips. You can bake them on a low temperature for a long time – low and slow, or you can use a stand-alone dehydrator. I tried both methods, and there were benefits to each.
The Oven Method
Basically, you squeeze glops of goop in rows on parchment lined baking sheets, spread them into chips and bake them for around four hours. I did it using convection mode on my oven so I could easily put all the pans into the oven at once without having to rotate them. If you don't have a convection oven, you'd have to rotate the pans somewhere at the two hour point – depending upon the number of pans you have. More pans = more rotations.
They came out great using this method and were easy to remove from the parchment.
The huge downside is that you have your oven on for four hours, even if it is on a low temperature. That's a long time.
Something to think about.
The Dehydrator Method
I liked this method because I could put the chips in the dehydrator and walk away without too much fuss. My dehydrator doesn't require a lot of power so that's a big plus.
The downside is that you need to have a dehydrator that's large enough to accommodate all the chips.
Additionally, each chip is spread on individual parchment squares – which you need to make. It wasn't a big deal, I just scored and tore the paper, but it took a little while to make the squares (5-10 min).
Just something to consider.
Here's the Recipe For Glass Potato Chips
In my opinion, the bottom line is that Glass Potato Chips are awesome, but I couldn't make them all the time. They're great for a party or a special Shabbat/Holiday treat. They're a little too "attention demanding" to make them all the time, and if you did make them all the time they'd lose that "wow" factor anyway.
Win/win.
Print
Glass Potato Chips
Author:

Prep Time:

20 minutes

Refrigeration:

4 hours

Cook Time:

4 hours

Total Time:

8 hours 20 minutes

Yield:

60

chips

1

x

Category:

Snack

Method:

Baking

Cuisine:

Plant Based

Diet:

Kosher
---
Description
Glass Potato Chips are the absolute coolest chips you will ever eat! You won't believe that these gorgeous chips are made from fresh, humble potatoes. While they may take some time to dehydrate the results are spectacular, crunchy, potatoey deliciousness.
---
6

medium Yukon Gold Potatoes (

7

if smaller)

1 teaspoon

Kosher salt

2 tablespoons

extra virgin olive oil

4

cups

water

1/4

cup

potato starch
food coloring optional
Propellant free vegetable spray
---
Instructions
With a sharp knife, score an X on each potato.
Place the potatoes in a large stock pot. Add the salt and olive oil, then cover with the water.
Bring the water to a boil over high heat, then reduce the temperature to simmer and cook for 25-30 minutes until the potatoes are soft.
Remove the potatoes from the pot. Place a sieve over a large bowl and strain the potato stock by pouring it into the sieve/bowl.
Cover the stock and refrigerate at least four hours or overnight.
Once the Potato Stock has Chilled…
Preheat the oven to 225°F.
Line 2-3 sheet pans with parchment paper. Set aside.
Return the potato stock to the pot and whisk in the potato starch until dissolved.
Cook over medium heat, whisking constantly, until the mixture form a thick gel, around 5 minutes.
Immediately remove from the heat and add food coloring if using. Allow to cool slightly.
Transfer the gel to a squeeze bottle and squeeze large blobs onto the prepared parchment paper. Smooth the blobs into chip shapes using an offset spatula or spoon.
Bake for four hours.
Remove from oven and lightly spray with vegetable spray. Carefully turn the chips over and lightly spray the second side.
Store in an airtight container.
---
Equipment
---
Notes
You can add dried herbs to the chips after shaping but before baking.
I made mine very thin but you can make yours slightly thicker if you like. I like the whispiness of the thin ones though.
Nutrition
Serving Size:

1 chip

Calories:

14

Sugar:

0.4 g

Sodium:

25.5 mg

Fat:

0.5 g

Saturated Fat:

0.1 g

Carbohydrates:

2.5 g

Fiber:

0.3 g

Protein:

0.1 g

Cholesterol:

0 mg
Keywords: Glass Potato Chips, Homemade Chips, Potato Chips, light potato chips, gluten free, dairy free, nut free, meat free, vegan, vegetarian, plant based, low calorie, pareve
Recipe Card powered by
Here's how I made Glass Potato Chips on Instagram!
View this post on Instagram
More Super Snacks!
CHECK OUT THE KOSHER EVERYDAY AMAZON INFLUENCER STOREFRONT!
I'm excited to announce the launch of my brand, spankin' new, Amazon Influencer storefront. The purpose of this store is to share with you all of my favorite tools, ingredients and accessories that I use on Kosher Everyday. If there's something you'd like to see please let me know and I'll make sure to add it. I'm updating the storefront all the time.
You can find all my Cookware and Bakeware including ones like the HexClad 14 Inch Hybrid Stainless Steel Frying Pan with Lid, Stay-Cool Handle – PFOA Free, Dishwasher and Oven Safe, Non Stick with lid on my storefront.
I've put together a complete Gluten Free Challah Storefront with everything you need to make fabulous Gluten Free Challah!
Additionally there is a Small Appliance Storefront with many awesome small appliances that I recommend for your kitchen…even if you have a small space!
I'd love to hear what you think!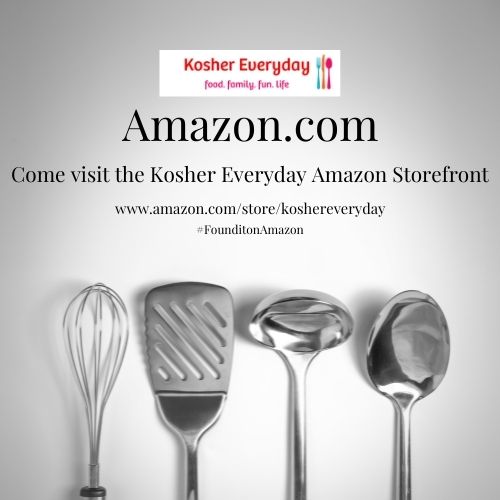 FOLLOW ME!
Don't forget to follow Kosher Everyday on Instagram @koshereveryday! and on Facebook You don't want to miss all the fun and interesting posts and reels that can be found nowhere else!
You can find reels showing how to make most of my recipes on Instagram!
Also, make sure to tag @koshereveryday when you make Kosher Everyday recipes! I LOVE to see your creations!!!
Please note that this post contains affiliate links. Thanks for your ongoing support!