Around a month ago I saw one of those ubiquitous facebook ads for stuff – but one particular ad actually caught my attention. Why? Because there was a coupon for 50% off plus $10 off your first order. I couldn't lose (too much anyway). So I became a member of Imperfect Produce.
Imperfect Produce Ad:
So far, in just a few short weeks, by using the Imperfect Produce service (according to Imperfect Produce) I've saved:
44

pounds of diverted produce

251

gallons of water

150

pounds of CO

2

out of the air
Hooray for me! I feel so ecologically friendly. In addition I get to pick interesting (and not so interesting) produce to be delivered to my door every week. How fun is that??? On the weeks that I've forgotten to specify what I want in my box (between the hours of 3pm CST on Thursday and the start of Shabbat on Friday), I basically get whatever they decide to send me. It's kind of like opening a birthday present and not knowing what will jump out of the box!!
We've had some terrific wins and some Epic Fails (Can you say Romanesco Broccoli? The company gladly refunded my money, thereby winning the Excellent Customer Service award.). One week, when I got busy with life and missed my selection window, I ended up with a fairly ginormous beet in my box.
You may not know this, but I am the only person in my entire family that will eat beets. Just me. No one else.
So, when I got a huge beet I had to figure out something creative to do with it. Of course we were having guests for Shabbat, so I decided a beet derived side dish was the answer.
Ta Da!
Even Dear Husband, who absolutely hates beets, decided that my Citrus and Beet Red Quinoa was actually edible (as opposed to completely toxic). Win for the Matten Family.
I think because the gargantuan beet was SO fresh, it didn't have the deep beety flavor beets sometimes have. I find that if you say a ridiculous statement with enough certainty and conviction people believe it to be true. Here it goes: "Fresher Beets aren't as beety tasting." Are you convinced?
Citrus and Beet Red Quinoa is a fabulous side dish for your Purim Seudah…pretty and healthy. Good for everyone (who likes beets)!
The official recipe:
Print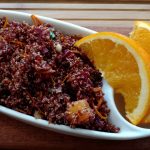 Citrus and Red Beet Quinoa
Author:

Prep Time:

20

Cook Time:

45

Total Time:

1 hour 5 minutes

Yield:

6

1

x
---
Description
This quinoa is surprisingly light and citrusy. The added orange peel, orange and lime juices compliment the beets. The red quinoa gives this recipe a nice texture as well.
---
2 cups

red quinoa, rinsed then prepared according to package directions

1

large red beet, cooked, cooled, peeled then diced into

1/2

inch pieces

1

large navel orange, washed with vegi wash or vinegar to remove the waxes on the peel

3

green onions, chopped

1 tablespoon

lime juice

2 tablespoons

canola oil

2 teaspoons

sea salt (or to taste)

1/2 teaspoon

black pepper (or to taste)

1 1/2 cups

slivered blanched almonds
---
Instructions
Place the cooked quinoa in a large bowl. Add the diced beets to the quinoa.
Using a zester (not a microplane), completely zest the outside of the orange, removing the zest in long strips. Add the zest to the quinoa.
Use a sharp paring knife to remove the peel and the pith (the white part of the orange). Cut the orange along the membranes to remove the segments of the orange from the fruit. Cut the orange segments into 1/2 inch pieces and add to the quinoa.
Squeeze the remaining orange membrane (and whatever fruit is left) over the quinoa. There should be a few tablespoons of juice left in the orange.
Add the chopped green onions, lime juice, salt, pepper and blanched slivered almonds. Toss to combine. Served chilled garnished with additional orange wedges/slices.
---
---
Recipe Card powered by
The produce boxes have meshed very nicely with the Kosher Everyday Instagram Live "Try it Tuesdays". On Tuesdays, I do a live story incorporating something that I, or you my readers, would like to try. This past week we tried to make my box's Romanesco Broccoli, which was an Epic Failure. There was plethora of tiny bugs that refused…REFUSED…to leave the florettes no matter how many times I washed them. That's what's so very beautiful about "Try it Tuesdays" I try it, so you don't have to. Sometimes things work, sometimes things don't. It's always fun, entertaining, and often educational.
If you have a suggestion for a "Try it Tuesday" please let me know – I'll mention that you suggested it during the broadcast. Hooray for you! You'll be famous.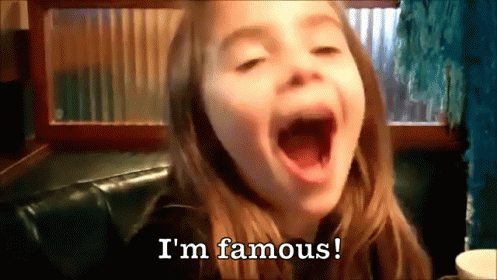 On another note, I've officially started the Chicago Tribune Chicago Now Blog www.everydaygluten-free.com. I'm incredibly excited to have the privilege of writing for Chicago Now, and I hope that you'll check it out. This week I actually made a video for my Gluten Free Honey Oat Challah recipe. You can find it on the post here. Please let me know what you think.
If you're interested in trying Imperfect Produce use the following link: Imperfect Produce By doing so you get $10 off of your order (so do I) and you can use the promo code fifty% to get half off your first order. How great is that??!!!! And it's so healthy and fun too!!!
And no…it's not like this (one of my all time favorites!!!)…
Have a Chag Purim Sameach, and make sure to eat a lot of hamentashen and make a LOT of noise when they say &#%#$@'s name during megillah reading.
For full disclosure: I did NOT get compensated in any way, shape or form, by Imperfect Produce.
Finally, I love hearing from you! Please make sure to leave your comments and ideas below. TTFN!
Here's a fun video that shows how to make Citrus and Beet Red Quinoa!
Enjoy and have fun!!!!