Ok, so I've been feeling kind of crummy lately (shocking right?). So I went to the doctors. One of the doctors was kind enough to tell me "Well if you lose weight you'll feel better…you know "calories in less than calories out…" Really? No kidding. So I have put on quite a few pounds in the past few months, it's true. Ok, a lot of pounds. So, I went to the nutritionist. "Oh honey, it's all the stress." (Really? No kidding.) "You need to exercise and get some rest!" (Hahahahahahahahahahahahahahahahaha). "And you need to be prepared with the proper foods to grab on the go…." Then she pulls a pouch of tuna out of her bag. Now the nutritionist is the sweetest person you will ever meet. And she really means well. But a pouch of tuna? Can you imagine trying to eat that in the car? Hahahahahahahahahahahahahaha!
As funny as that was to me, the message wasn't totally lost. Here I am actually writing a food blog for people with busy lives and I wasn't listening to my own advice. Doink. So after that appointment I took a much needed break, grabbed an amazing shwarma in whole wheat pita with extra techina at Mizrachi Grill, sat outside in the wonderful 70 degree sun, and contemplated what I had been told. I knew that I wasn't going to be grabbing tuna pouches, but I could make some healthy things in advance (maybe at 4 am – HA!) that I could grab and take with me. I knew where I could find some recipes just like that 😉 (www.koshereveryday.com– duh!).
Grab these & go!
What's even more funny about the whole thing was the fact that I had spent time discussing what to write about this week with my dear son Nachum (KIH). He said that since this week's Torah portion was "Lech Lecha" (loosely translated as "you should walk") I should write about something that you could grab and take to go. Perfect!! But…whatever it was it needed to be super healthy (calories in less than calories out!). So I thought about what are the healthiest, non-carb foods I know of. Salmon, quinoa, vegetables, olive oil, crushed red pepper. You get the idea. The first batch of Salmon Quinoa Patties were a little too big and didn't have quite enough eggs to bind them (can you say Salmon Quinoa Patty Scramble?). I added another two eggs to the mix, made the patties a little smaller and thinner and they were perfect! I made enough that I can put them in the fridge or freezer and when I need to grab something to take with me for lunch – poof, there they are.
In the theme of "Lech Lecha"maybe I"ll even get on the treadmill this week….
Hahahahahahahahahahahahahahahahaha!!!
Ok, I really will….

maybe

…..
Print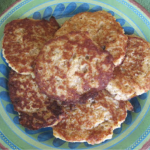 Salmon Quinoa Patties (GFE – Great for the Gluten Free Eater!)
---
2

cans (14.75 oz each) pink salmon

2 cups

cooked quinoa, cooled

4

eggs

1

small onion, minced

1/2 teaspoon

crushed red pepper
Squirt ketchup
Olive oil for frying
---
Instructions
Place the entire contents of the 2 cans of salmon in a large bowl.
"Smush" the salmon with your hands (I wear disposable gloves) breaking apart any bones in the salmon, until the salmon is smooth.
Add the quinoa, eggs, onion, crushed red pepper, and ketchup to the salmon.
"Smush" until completely combined.
Heat a large skillet over medium-high heat.
Add just enough oil to coat the pan.
Place large generous tablespoons of salmon in the skillet, being careful not to crowd the pan.
Fry until golden brown and crispy on the bottom, then flip the patties and continue frying until golden brown on the second side.
Remove from the pan and repeat with remaining salmon.
These are delicious hot or cold!
---
Recipe Card powered by
KosherEveryday is one of the finalists for the
2011 CBS Most Valuable Blogger Awards!!