Why Cinnamon Roll Challah?
As a Food Media Developer (read: I work with food media), I frequently get asked what I would recommend to make Rosh Hashanah and other Jewish Holiday foods special.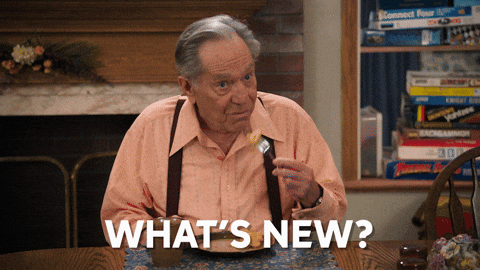 It's a good question.
This year in particular, I've felt the need to be a little more creative with my Rosh Hashanah ideas. I think it's primarily because, after staring at the same four walls for more than a year, I need to do something that "Sparks Joy" in my food. The same old, same old just won't cut it.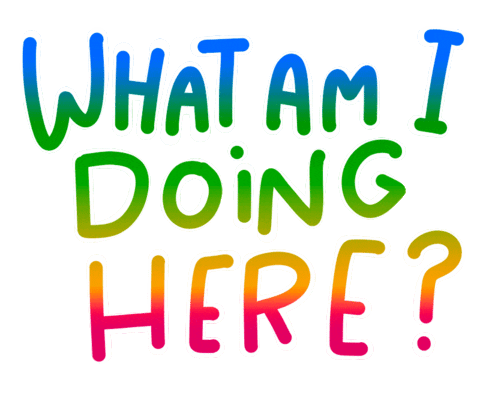 So…
I spent a lot of time figuring it out. I came up with a bunch of super cool, innovative recipes that hadn't been done before.
THE Gluten Free Honey Oat Challah Recipe
At this point everyone knows that I spent a lot of time developing three different gluten free Oat challah recipes. They are all over 51% gluten free oats so according to "most" Rabbis (as your Rabbi what works for you) say you can wash for "hamotzi" and "bench" (say Grace after Meals) on these challahs.
Woot.
What's also cool about these challah recipes is that you can braid them!
It's true.
While I strongly recommend using vinyl (not latex, not neoprene, not plastic) disposable gloves when braiding them as the dough doesn't stick to vinyl for some reason, you can braid the dough from these recipes into your favorite challah shape.
Exhibit A:
These are the Gluten Free Oat Challah recipes: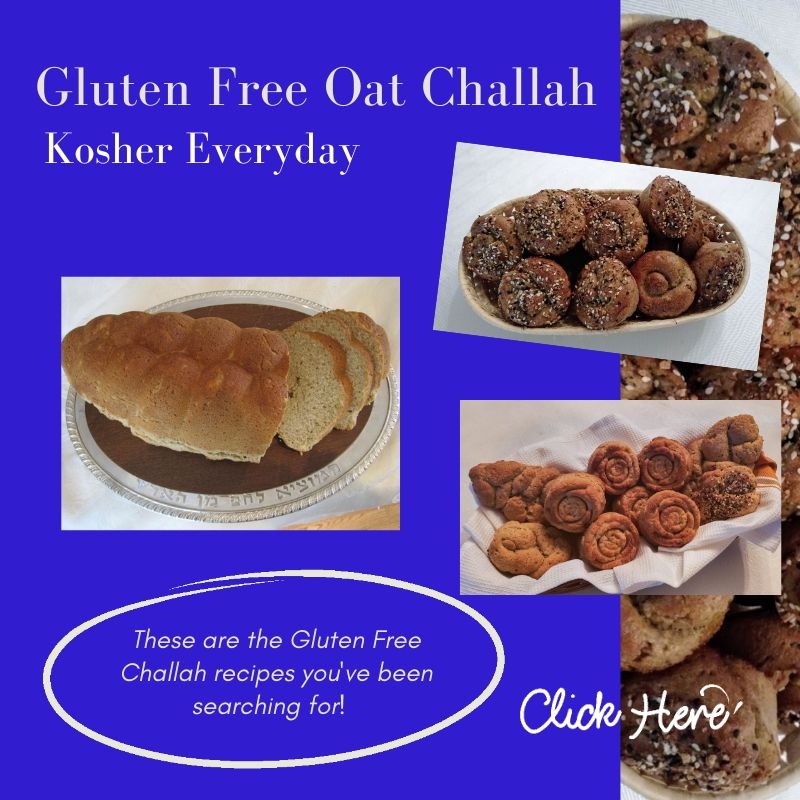 Onward and upward
While the Challah Birds are super stunningly gorgeous (ouch…my arm!), I knew that I still needed a fun and delicious recipe for the more traditional round challahs that are eaten on Rosh Hashanah, and the rest of the Holidays during the "High Holiday" season.
I came up with the idea of making a Cinnamon Roll Challah, where you take some of the components of cinnamon roll filling, roll challah dough around it, and twist it into a round challah. Then, top it with more cinnamon roll filling stuff and get ready for fun!
The Cinnamon Roll Challah Recipe
Here's the recipe. Remember, you can use any one of the gluten free oat challahs that I linked to above, and you can also use your favorite glutenous traditional challah recipe as well. Of course the textures will be different between the oat challahs and the traditional…but you already knew that.
Print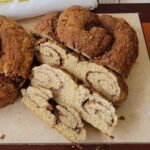 Cinnamon Roll Challah
Author:

Prep Time:

20 minutes

Rise Time:

60 minutes

Cook Time:

30 minutes

Total Time:

110 minutes

Yield:

2

challahs

1

x

Category:

Bread

Method:

Baking

Cuisine:

Gluten Free

Diet:

Kosher
---
Description
Cinnamon Roll Challah adds a special warm and welcoming festiveness to your Rosh Hashanah Meals. You can smell the cinnamon challah baking and it's the harbinger of New Year traditions.
---
For the Cinnamon Roll Filling
1/4 cup

granulated sugar

1/4 cup

brown sugar

1 tablespoon

ground cinnamon

1/8 teaspoon

freshly ground nutmeg
For the Challah Dough
nonstick baking spray
Extra gluten free oat flour for rolling
To Finish
2

large eggs, lightly beaten

1 tablespoon

water
---
Instructions
Spray two 7-inch or 8-inch round pans with nonstick baking spray. Set aside.
For the Cinnamon Roll Filling
In a small bowl combine the sugar, brown sugar, cinnamon and nutmeg. Set Aside.
For the Challah Dough
Sprinkle a large work surface with oat flour. Divide the dough into two 1/2 pound pieces.
Roll a piece into a large rectangle. Sprinkle 1/3 of the cinnamon roll filling over the dough.
Tightly roll the dough up jelly roll style, pinching the ends. Twist the long dough into a circle and place in one of the prepared round pans. Cover with plastic wrap.
Repeat with the remaining 1/2 pound of challah dough.
Allow the dough to rise in a warm location for 60 minutes.
Preheat the oven to 350°F.
Uncover the challahs, then brush with egg wash and sprinkle the tops with the remaining cinnamon roll filling.
Bake for 30 minutes. Always serve warm.
---
Equipment
---
Notes
If you have a convection oven you can have your dough rise on the proofing setting which is usually set at "bake 100°F".
If using traditional glutenous dough, allow the dough to rise before shaping.
Keywords: Cinnamon, Cinnamon Challah, Gluten Free, Gluten Free Challah, Oat Challah, Dairy Free, Meat Free
Recipe Card powered by
View this post on Instagram
MORE FABULOUS ROSH HASHANAH RECIPES
Here are some links to more wonderful Rosh Hashanah recipes!
What recipes would you like to see for this upcoming Rosh Hashanah? I'd love to get your feedback?
What are you making for the Holiday?
Rosh Hashanah Giveaway
While the Rosh Hashanah Giveaway may have ended please make sure to visit the awesome companies that participated!
Here are some extra coupon codes that you can use at these sites:
Sophistiplate – use code KOSHEREVERYDAY 20% OFF
Kids Kippot – use code KOSHEREVERYDAY 10% OFF
FOLLOW ME!
Don't forget to follow Kosher Everyday on Instagram @koshereveryday! and on Facebook You don't want to miss all the fun and interesting posts and reels that can be found nowhere else!
You can find reels showing how to make Brown Sugar Meringue with Apple Filling and many other recipes on Instagram!
Also, make sure to tag @koshereveryday when you make Kosher Everyday recipes! I LOVE to see your creations!!!
Please note that this post contains affiliate links. Thanks for your ongoing support!